Kangaroo Creek Farm In Lake Country, BC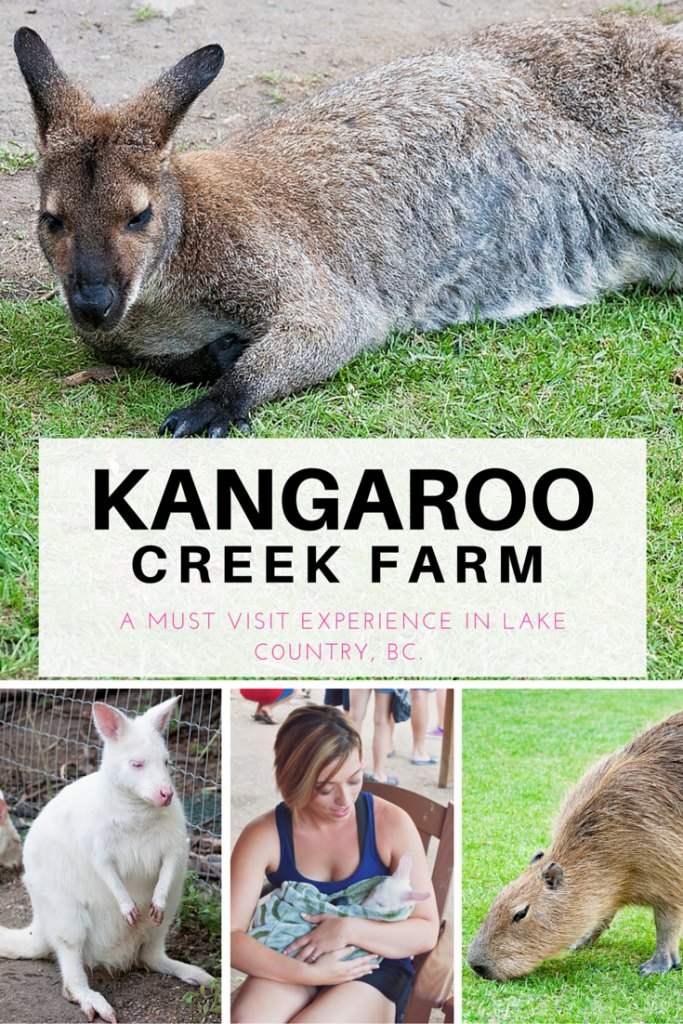 Just outside of Kelowna is the little town of Lake Country (Winfield) and it's the home of the Kangaroo Creek Farm. My family and I visited the Kangaroo Creek Farm while on vacation in the Okanagan and it was my favorite experience of the whole trip. The best part, it was cheap.
Kangaroo Creek Farm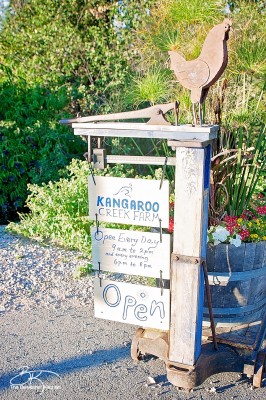 The Kangaroo Creek Farm is fun way to spend the morning or evening interacting with the animals. Not only are you getting a once in a lifetime experience with one on one time with the animals but you're also being educated by the staff.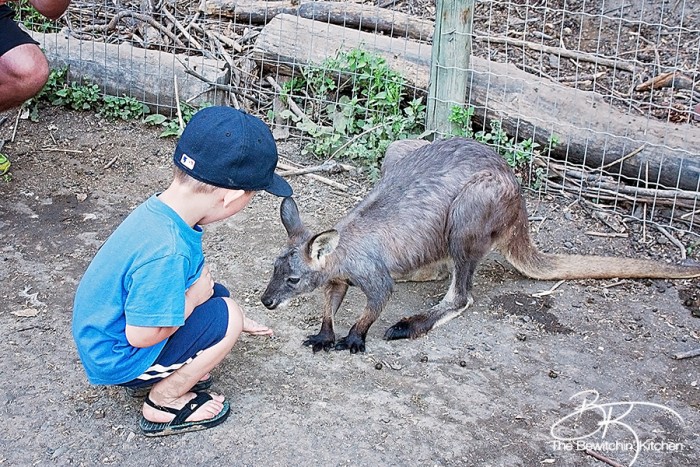 The moment we walked in I was in awe. There were Kangaroos hopping all over the place, emus walking, and chickens running. I really appreciated the staff noticing that my three-year-old was scared and they helped him understand that the Kangaroo's wouldn't hurt him and that they could be friends. He was given some food to feed them and after that moment, he fell in love with the animals.
[ctt title="Tweet this to your travel buddies%253A Heading to Kelowna%253F You have to check out the Kangaroo Creek Farm!" tweet="Heading to Kelowna? You have to check out the Kangaroo Creek Farm: http://ctt.ec/981LY+ #explorekelowna" coverup="981LY"]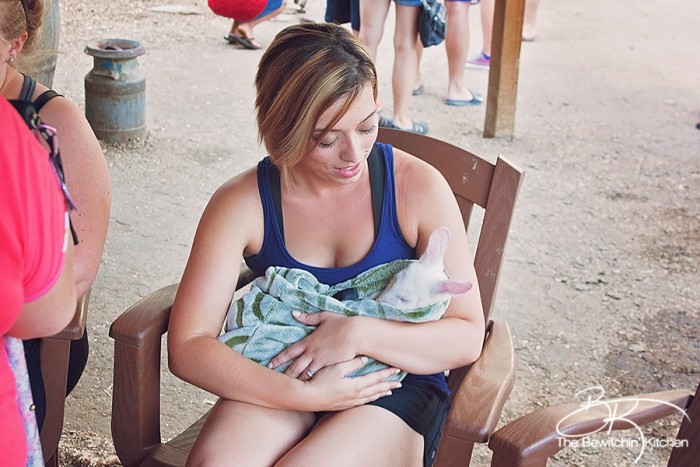 My favorite moment was when I had the opportunity to hold a baby roo (a Joey). My little guy was a little albino kangaroo and while waiting in line I had quite the education on the life stages of joeys. Although he was fresh out of the pouch, he was actually 9 months old.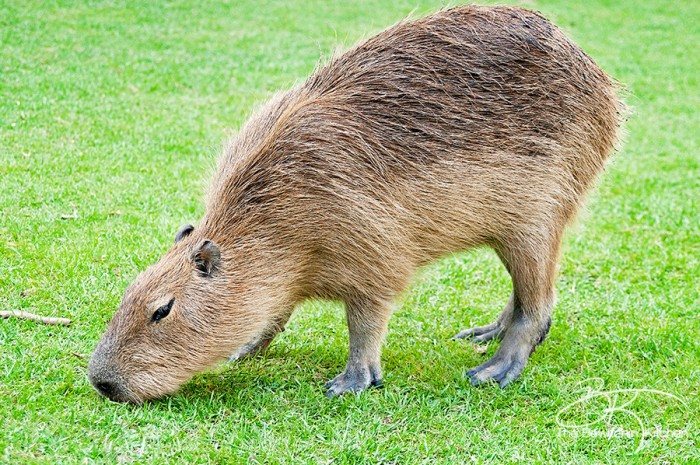 There is more to the Kangaroo Creek Farm then just kangaroos. The capybara (seen above) is the world's largest rodent and can weigh more than 150 pounds is roaming freely around the farm, there was also an emu (I have to admit, he made me nervous). In addition to them we also saw: Red Kangaroos (the largest type of kangaroo), Common Wallaroos and Bennett Wallabies (which are mid sized), and Dama Wallabies (one of the smallest wallaby species). There were also peacocks, fancy chickens, goats, parrots, a baby albino wallaby, baby kangaroos and potbellied pigs.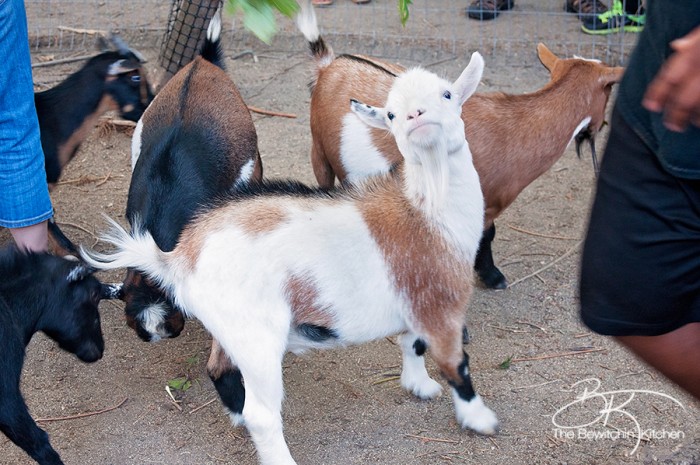 Visiting isn't expensive, in fact they only ask that you donate $5 a person (or $20 for a family). That money goes towards feeding the animals and paying the staff. I was shocked to see a few people skip the donation box while we were there, but take the free bottles of water. The donation isn't voluntary it is mandatory, the Kangaroo Creek Farm really does rely on the donations to keep running.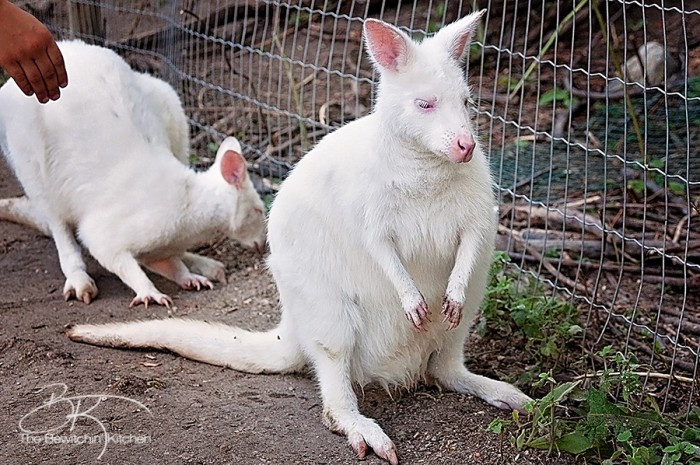 If you're heading to the sunny Okanagan area and want to visit Lake Country, I highly recommend the Kangaroo Creek Farm. Lake Country is just a few minutes away from the Kelowna Airport and it is such a fun way to spend time as a family. Please remember there are rules when visiting the farm (no running, don't chase the animals, etc) but you can learn more about those and a little bit more about the farm on The Kangaroo Creek Farm website.
Looking for a place to stay? Check out the best Kelowna resort.
My favorite Okanagan Activities
Just a little FIY – Kangaroo Creek Farm did not sponsor this post. My family and I happily donated to the farm and since I loved my experience so much I wanted to share it with all of you.
FREE Recipe Binder
Are you constantly wondering what's for dinner?
When I don't meal plan I feel behind, and we usually end up ordering take out. This recipe binder will keep you organized and make life a little bit easier.