High Protein Pudding
This High Protein Pudding is made with a simple, protein packed ingredients for a cleaner alternative to sugary, high-fat desserts! This chocolate parfait is the perfect mixture of sweet and silky to satisfy your sweet tooth without derailing your diet.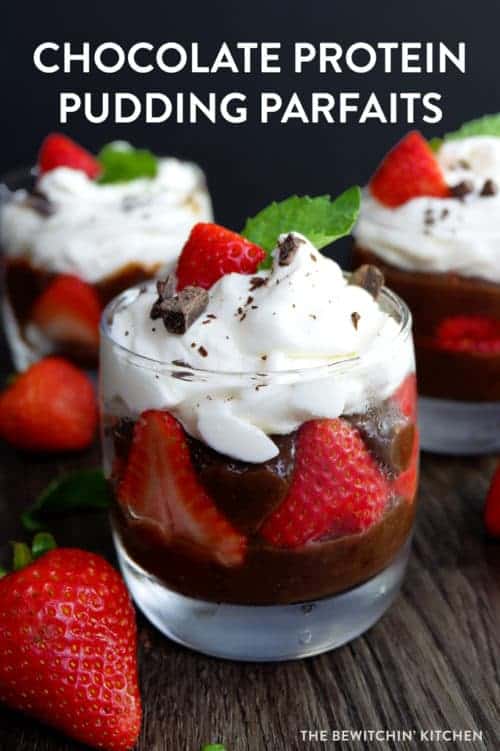 Chocolate Parfait with Protein
You don't have to miss out on good food, even when you're trying to live a healthier lifestyle. This protein pudding recipe offers over 12 grams of protein and a fraction of the sugar found in typical desserts. It's good enough to eat it alone, or it can be layered with strawberries and whipped cream for the full chocolate parfait experience.
These chocolate protein pudding cups take two minutes of whisking and 5 minutes of setting, that's it. A healthy chocolate recipe with minimal effort!
Other sweet treats to sneak into your healthy lifestyle are this Strawberry Pina Colada Protein Shaved Ice Cream and my Oatmeal Raisin Cookie Protein Shake in addition to your protein chocolate pudding.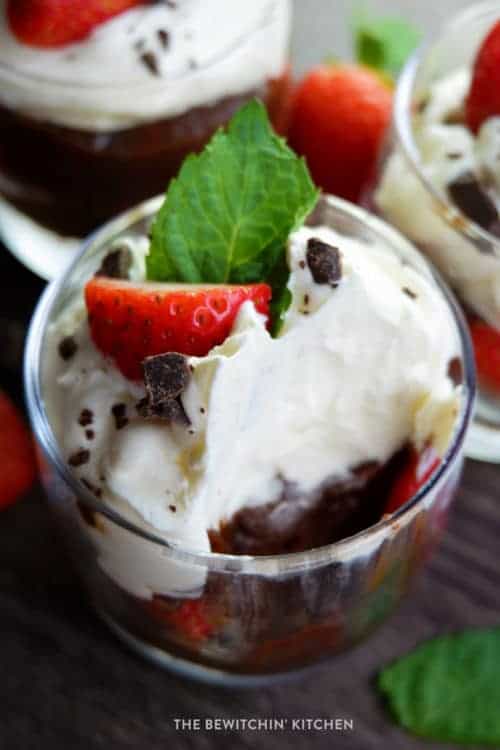 Why You'll Love This High Protein Pudding
Healthy – High in protein, low in carbs, and easy to tweak to your preferences! There's a way to fit this high protein pudding into almost any lifestyle.
Easy – The pudding itself only requires 2 ingredients! From there, just add strawberries and whipped cream for a full protein pudding parfait.
Delicious – You can never go wrong with chocolate pudding, especially when you add toppings to the mix.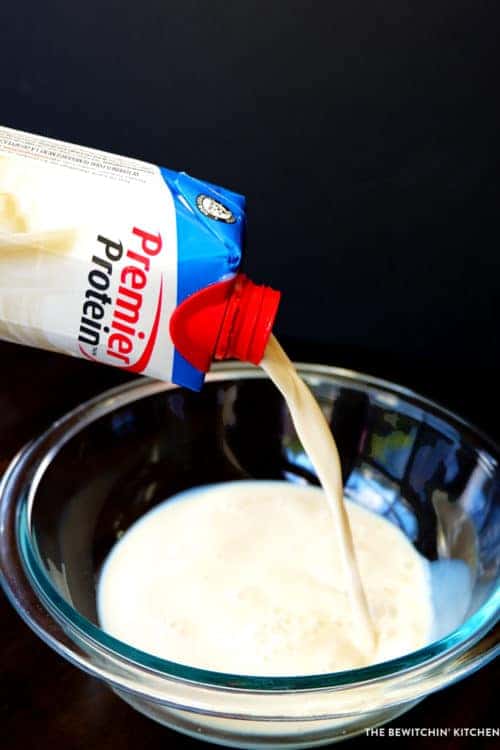 How to Make This Protein Pudding Recipe
Make the Protein Chocolate Pudding
Whisk together your pre-mixed protein shake (I love Premier Protein shakes) and the box of chocolate pudding for 2 minutes. Allow your protein chocolate pudding to set for at least 5 minutes.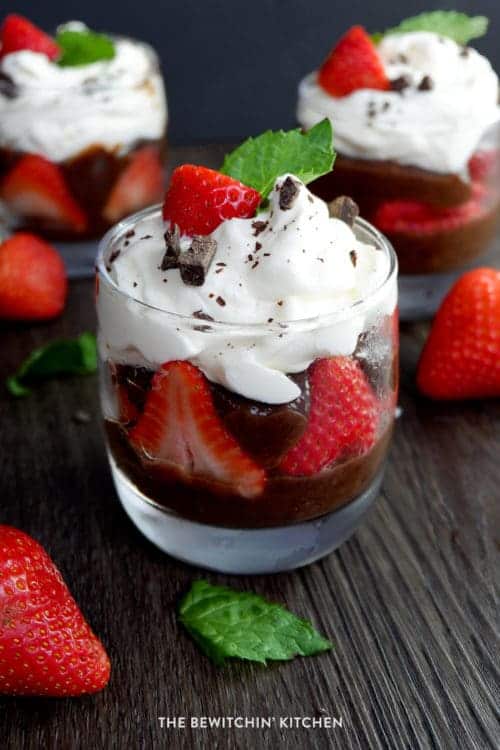 Assemble Parfaits
Spoon the chocolate pudding into shot glasses or pudding cups. Enjoy by itself, or layer with your fruit of choice (I recommend strawberries!)
You can also choose to top with whipped cream to finish out the parfait, or omit to further decrease the sugar content.
High Protein Pudding Frequently Asked Questions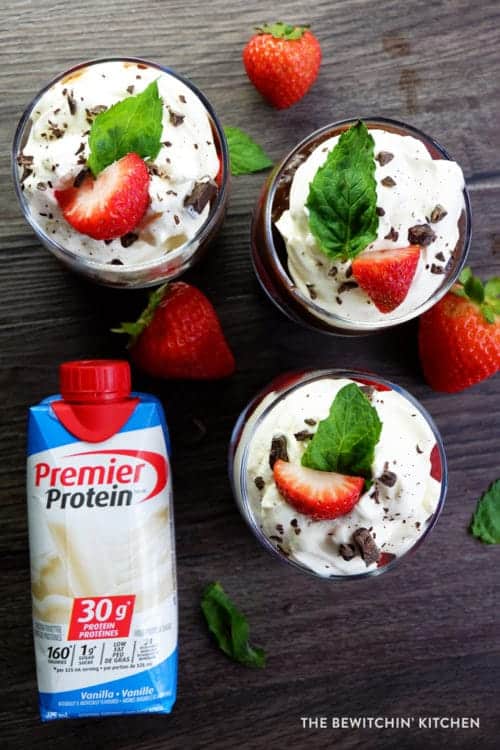 Do I Have to Use Premier Protein Shakes?
Absolutely not. I simply recommend them because you can buy them in bulk from stores such as Costco, and I like that they don't have an aftertaste. This protein pudding recipe would work with any pre-made protein shake.
Do I Have to Use A Vanilla Protein Shake to Make This Pudding?
Not necessarily. I like using the vanilla because it complements the chocolate pudding mix well and doesn't mix two competing chocolate flavors together. You could use a chocolate shake for a double-chocolate pudding, or experiment with other flavors. Let us know how it goes if you try something new!
More Healthy Dessert Recipes
Cinnamon Peanut Butter Dip with Apples
Apple Cinnamon Dessert Frittata
Chocolate Protein Pudding Parfaits
This Chocolate Parfait is made with a simple, high protein pudding for a cleaner alternative to sugary, high-fat desserts!
Servings 4
Calories 137kcal
Ingredients
2 cups Premier Protein Vanilla Shake roughly 1 1/3 containers
8 strawberries sliced
Optional garnish: whipped cream additional strawberries, mint.
Instructions
Whisk Premier Protein and pudding mix for 2 minutes, let set for 5 minutes. 

Pour into glasses or pudding bowls, and layer with fruit. Top with whip cream (I quickly whipped up mine in the Vitamix), more fruit, and any garnish of your choosing.
Nutrition
Serving: 1pudding cup (no whip or strawberries) | Calories: 137kcal | Carbohydrates: 21g | Protein: 10g | Fat: 1g | Saturated Fat: 0.4g | Polyunsaturated Fat: 0.02g | Monounsaturated Fat: 0.01g | Cholesterol: 31mg | Sodium: 698mg | Potassium: 83mg | Fiber: 0.3g | Sugar: 1g | Vitamin A: 2IU | Vitamin C: 8mg | Calcium: 79mg | Iron: 0.1mg
Follow On Pinterest
Follow @bewitchinkitchen On Pinterest for more delicious recipes!