City Grips | Baby Gift Guide

As a newly titled "mom" I want to keep my baby as germ free as possible and after months of looking into products I have found some great ways to keep my little guy safe and stay trendy at the same time. CityGrips is one of those companies that have changed the ways I look at things.
CityGrips was born purely out of necessity. It all began one hot summer day when it became unbearable to push the stroller barehanded. Grossed out by the sticky germ infested grip came the idea for a grip cover that was soft, durable, washable and stylish. City Grips are priced at $12.95 making it an easy purchase for everyone.
I never thought about how infested with germs stroller handles must be until I looked into CityGrips. The bacteria that accumulates on the handles make your skin crawl (at least they did with me) and with that bacteria begins the vicious cycle (touching handlebar, face, baby), ew.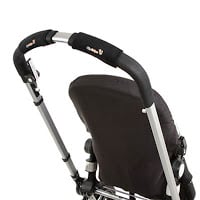 I was sent the black towel grip to review. I chose black because it was a neutral choice for my husband when he pushes the stroller, but there are some fun colors and prints to chose from.
Another reason I decided to opt for the towel grips was because of the towel-like absorbancy. My palms get a little sweaty (sorry for that pleasant bit of information) and I didn't want that bacteria to transfer to the handles on the stroller. The CityGrips are easy on, easy off so you can toss them in the washing machine when they get dirty.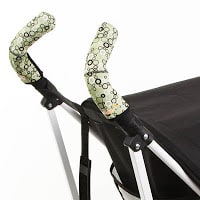 CityGrips makes handle grips for both the single bar and double bar strollers, so no matter you're stroller style – there is an option for everyone.
So, I have touched on the anti-microbial properties of CityGrips but I haven't mentioned how CityGrips can keep your stroller looking newer for longer. Using the grips can protect your handle from wear and tear, keeping your stroller looking shiny in new in the place that probably gets the most wear and tear. How many times have you seen stroller handles cracked, peeled and dull? Is your stroller already showing signs of wear? CityGrips can hide it and protect it from further damage. I also don't want to forget to point out that the grips makes your stroller one that pops out of the group, so if you're at a mommy group and there are a few others that have the same stroller as you do, you won't take the wrong one home (hey, it happens).
It's not often that I use my stroller grip (yet) because of how young Carter is, but I have tested it out before he was born and I love how comfortable they are and having the knowledge that they are protecting myself and Carter from potentially harmful germs makes me feel safe. I just had the idea to attach them to my car seat – I will let you all know if it works.
For more information, please visit the CityGrips website.
Pin It