Cottage Fries
Treat yourself to a savory, crispy side dish with these delicious Cottage Fries. Made from russet potatoes and a mouthwatering blend of spices, they complement any meal perfectly!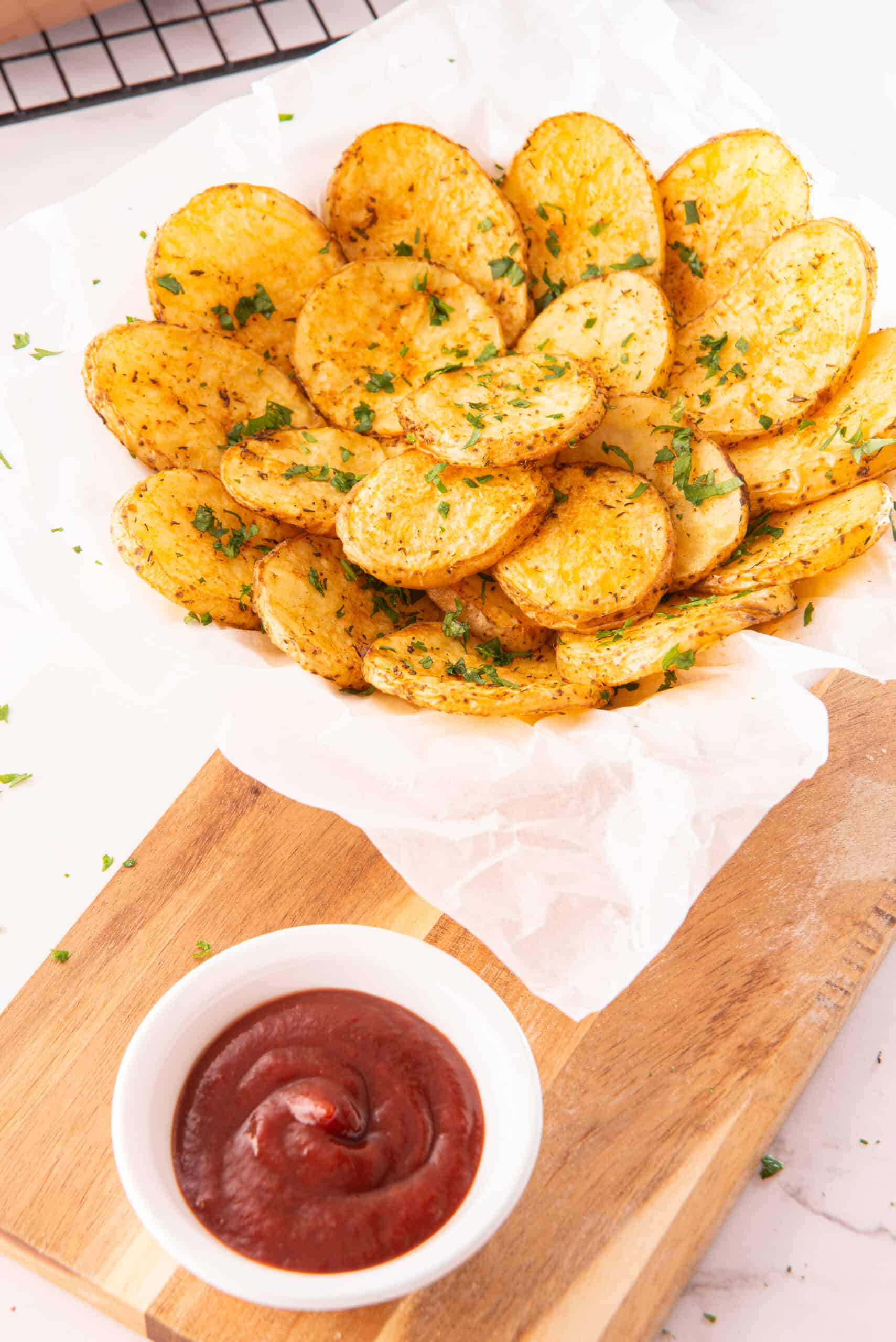 Perfect Crispy Cottage Fries
Move over french fries – these flavor-packed cottage fries are here to steal the show! Packed with flavor, these crispy, dippable delights pair flawlessly with any meal.
This savory side dish not only satisfies your taste buds, but it's easy to prepare and sure to please! You only need russet potatoes, olive oil, and a blend of spices to get the perfect crispy bite-sized snack.
Whether you're enjoying them with burgers, sandwiches, or any other meal, cottage fries are the perfect accompaniment. If you need some inspiration, we've got you covered – check out our mouthwatering Black Bean Burger, Gluten Free Thai Chicken Bites, or Perfect Pot Roast to take your cottage fries to the next level!
Why You Will Love This Recipe
The flavorful, crispy brown outside perfectly complements the soft, tender inside!
Cottage fries are the perfect crowd-pleasing side dish if you're hosting a party or gathering! They're easy to make in large batches, and their flat, round shape makes dipping easy.
One of the best things about cottage fries is their delicious blend of savory spices; they pack a flavorful punch that will leave your taste buds begging for more!
Cottage fries are a healthier alternative to traditional french fries. They're typically baked rather than fried, lowering fat and calories while maintaining their crispy texture.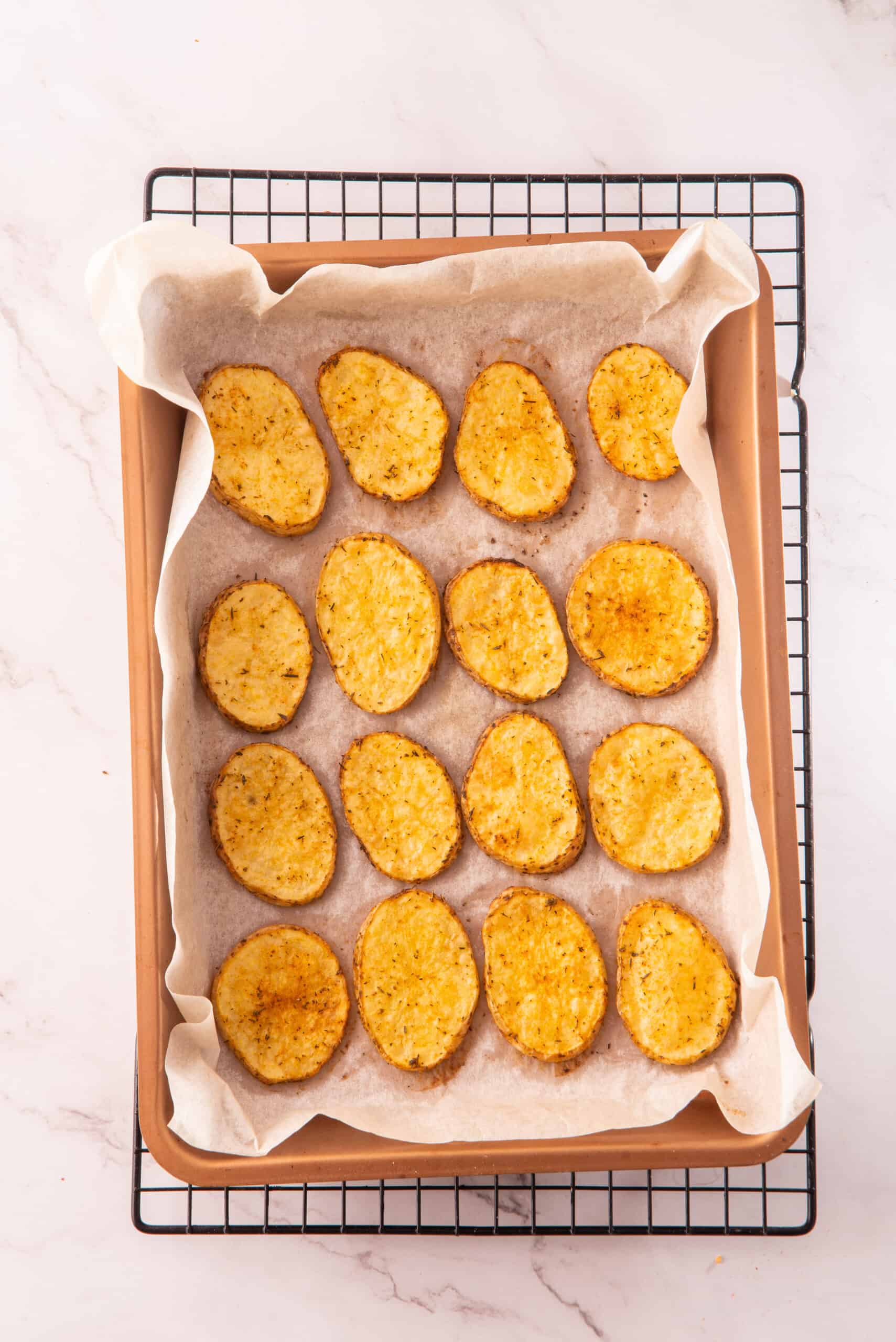 How to Make Perfect Cottage Fries
Choose the right potatoes: Russet potatoes are the best type of potato to use for cottage fries! They have a high starch content that helps them crisp up nicely in the oven.
Cut them evenly: Cut your potatoes into even slices or circles to ensure they cook evenly.
Soak them in water: Soaking your potatoes in water for at least 30 minutes before baking helps remove excess starch and ensures that they get golden brown.
Dry them thoroughly: After soaking your potatoes, be sure to dry them thoroughly with paper towels before baking. This helps them crisp up even more.
Use enough oil: Coat your potatoes generously in olive oil to ensure they get crispy and golden brown.
Season them well: Don't be afraid to be generous with your seasoning. A flavorful blend of herbs and spices will give your cottage fries a delicious flavor!
Salt them when serving: Adding the salt before baking causes the potato to release excess liquid in the oven.
Preheat your oven: Preheat your oven to 425°F before baking your cottage fries to ensure they cook thoroughly.
Don't overcrowd the baking sheet: Spread a single layer of cottage fries on a baking sheet to ensure that they get crispy! Placing them too close together causes them to steam up.
Flip them halfway through: Flip your cottage fries halfway through baking to ensure that they cook evenly and get crispy on both sides.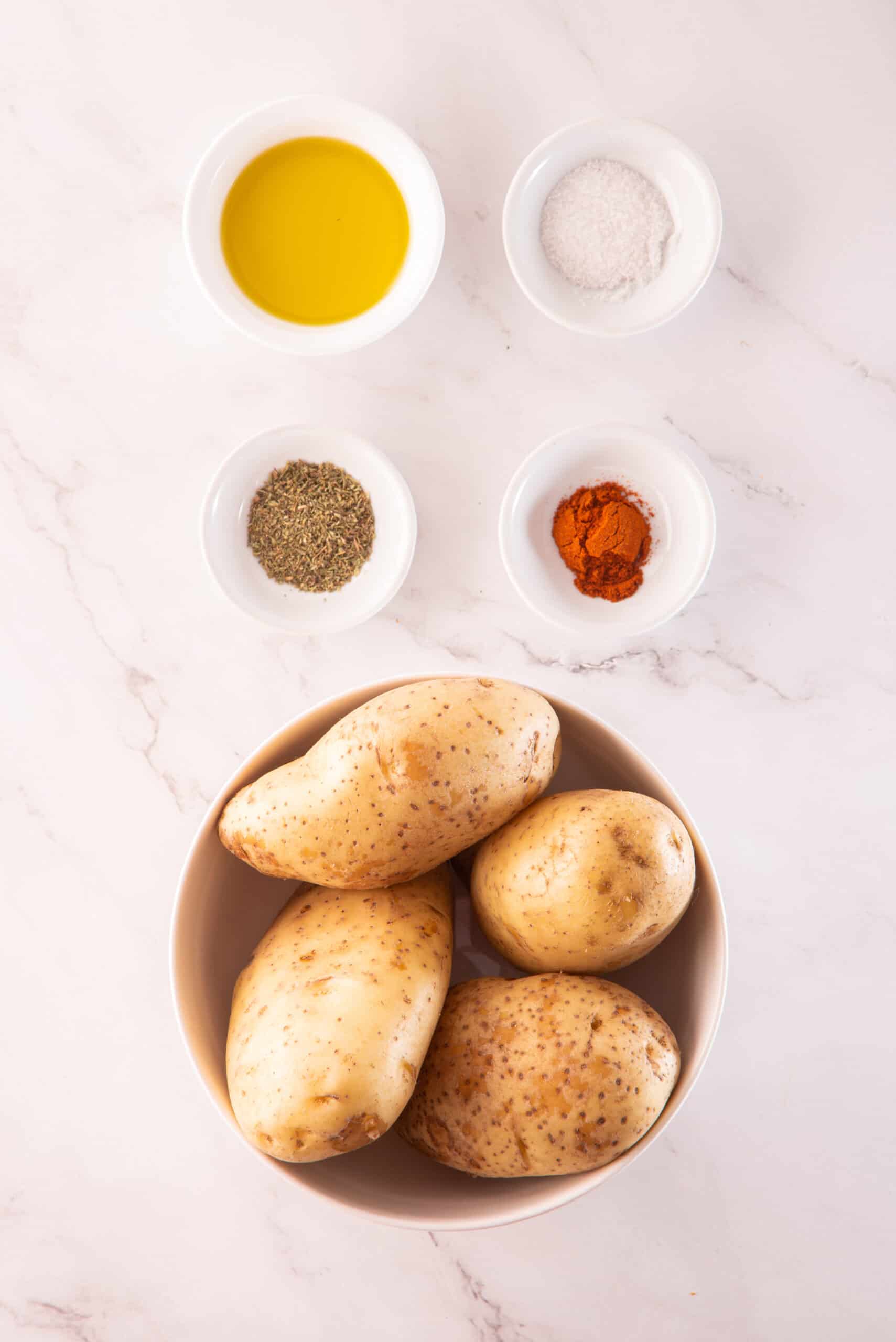 Key Ingredients for Cottage Fries their Substitutions!
Russet Potatoes: This variety of potatoes is usually used to make cottage fries because it bakes beautifully. However, if the toughness of the russet potato's skin is too tricky to work with, try substituting in Yukon Gold potatoes!
Paprika: This vibrant spice gives the potatoes their golden color! If you're looking to add even more flavor, try smoked paprika.
Olive Oil: I prefer to use olive oil for cottage fries, but any cooking oil will do! Feel free to substitute another oil in to fit your preferences.
Dried Thyme: If you don't have dried thyme available, use 2 teaspoons of fresh thyme instead! Oregano, parsley, or rosemary can also be used as substitutes if you prefer other herbs.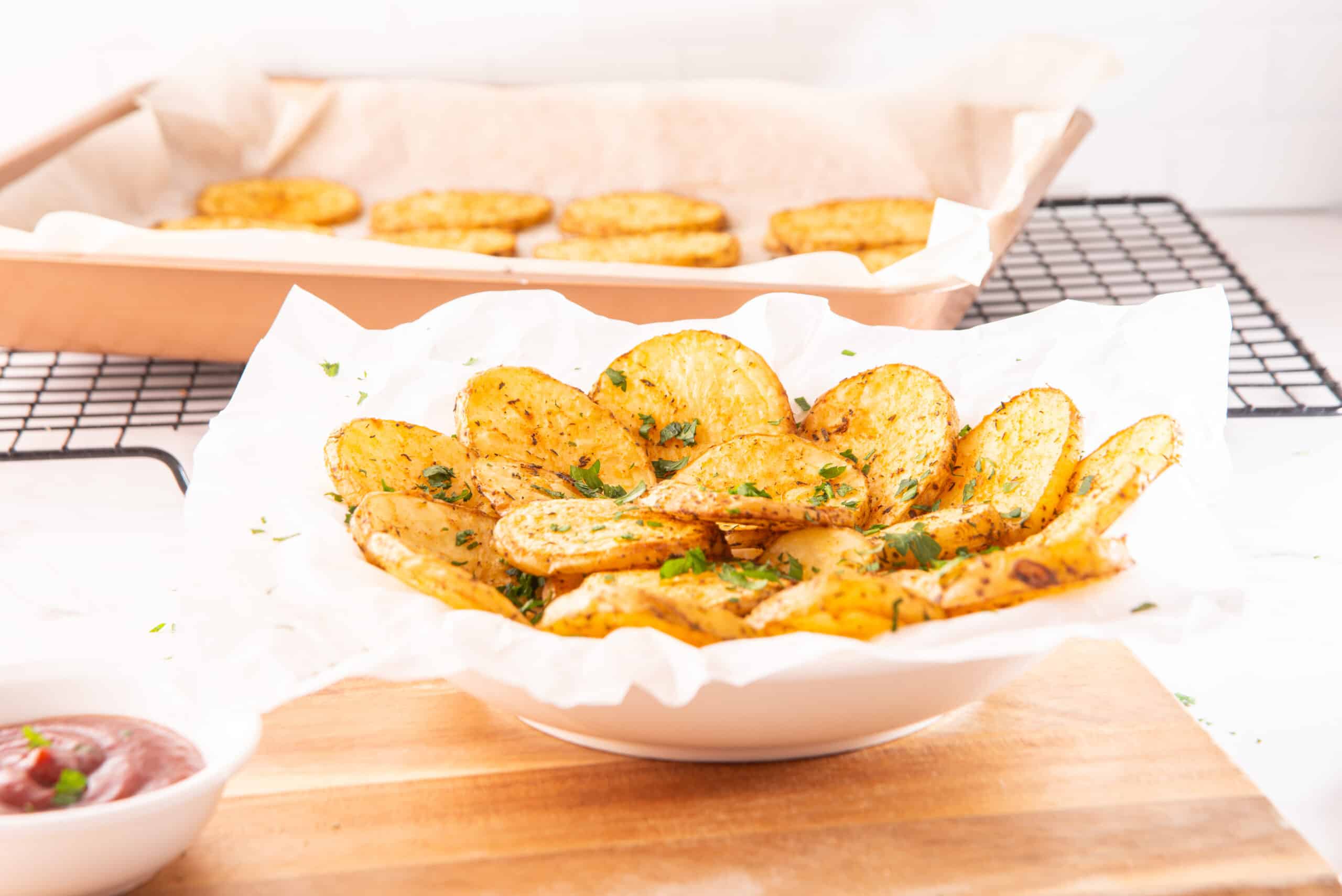 Frequently Asked Questions about Cottage Fries
How are cottage fries different from regular French fries?
Cottage fries are thicker and larger than French fries. They are also usually cooked in a single layer, while French fries are often cooked in batches.
What are some toppings that go well with cottage fries?
Cottage fries pair well with toppings like shredded cheese, bacon bits, sour cream, or green onions. They also go great with eggs and breakfast dishes!
Can cottage fries be frozen?
Yes, you can freeze cottage fries. Place the cooked and cooled cottage fries in an airtight container and store them in the freezer for up to three months.
Can cottage fries be reheated?
Cottage fries can be reheated in the oven or on the stovetop! To reheat in the oven, place the fries on a baking sheet and bake at 375°F for 10-15 minutes. To reheat on the stovetop, place the fries in a skillet over medium heat and cook until heated.
Cottage Fries
Treat yourself to a savory, crispy side dish with these delicious Cottage Fries. Made from russet potatoes and a mouthwatering blend of spices, they complement any meal perfectly!
Servings 4 Servings
Calories 349kcal
Ingredients
4 large potatoes large russet or Yukon gold potatoes
1 1/2 tsp thyme
1 1/2 tsp paprika
2 tbsp olive oil
1 tsp salt add more to taste
Instructions
Preheat the oven to 425F.

Give the potatoes a good scrub to remove dirt from the skin.

Chop the potatoes into even slices, about ⅙-⅕  inch thick. Next, soak the sliced potatoes with cold water for 30 minutes, this helps to remove excess starch, which can prevent the fries from getting crispy. Note: you can avoid this step if you're in a hurry, the result will be good as well.

Drain and pat dry with paper towels or a clean tea towel. Then transfer chopped potatoes into a large bowl.

Add dried thyme, paprika, and olive oil. Use your hands to coat.

Arrange the potato slices in a single layer on a baking sheet covered with parchment paper. I've used two medium sheets, as slices shouldn't overlap.

Bake the potatoes for 15 minutes.

Flip the slices and bake for 10-15 minutes or until the fries are golden and crispy.

Season with salt and serve immediately with your favorite dipping sauce.
Notes
If you're looking for a tasty and satisfying side dish, look no further than these crispy and flavorful cottage fries! Made with just a few simple ingredients, including russet potatoes, olive oil, and a blend of spices, these fries are easy to prepare and sure to please.
They're the perfect accompaniment to burgers, sandwiches, or just about any other meal you can think of!
Tips
To get crispy potatoes, season with salt before serving, as adding it before makes the potato to release excess liquid in the oven.
Choose the right potato: Russet potato holds great but it has a rough skin (it's not an issue for most people though!). Yukon gold is an all-purpose potato with thin skin which provides great results in this kind of recipe where we like to keep the skin on.
Don't overcrowd the pan: Make sure there is plenty of space between the fries on the baking sheet. Overcrowding can cause the fries to steam instead of crisp up.
Nutrition
Calories: 349kcal | Carbohydrates: 65g | Protein: 8g | Fat: 7g | Saturated Fat: 1g | Polyunsaturated Fat: 1g | Monounsaturated Fat: 5g | Sodium: 604mg | Potassium: 1575mg | Fiber: 8g | Sugar: 3g | Vitamin A: 412IU | Vitamin C: 74mg | Calcium: 49mg | Iron: 3mg
Follow On Pinterest
Follow @bewitchinkitchen On Pinterest for more delicious recipes!