Gluten Free Thai Chicken Bites
Crispy gluten free boneless chicken bites topped with sweet Thai chili sauce, oh yes, please! These Gluten Free Thai Chicken Bites are always the first to go at parties and on the dinner table.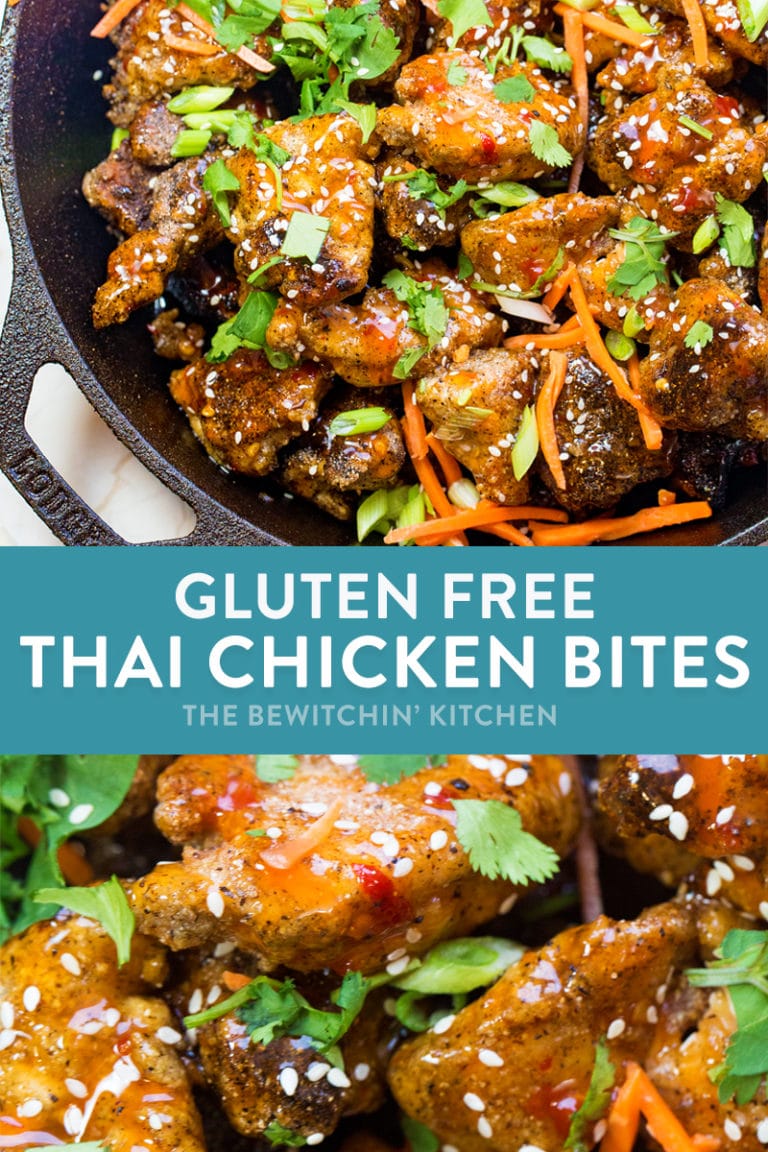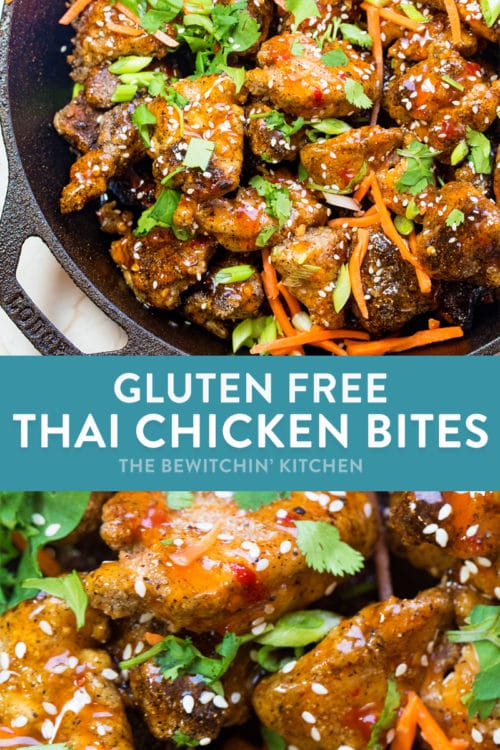 Gluten Free Thai Chicken Bites
Disclosure: I am participating in the Chicken Farmers of Canada campaign managed by SJ Consulting. I received compensation in exchange for my participation in this campaign. The opinions on this blog are my own. The opinions on this blog are my own. Search the recipe sections over at Chicken.ca to discover more holiday appetizers. Don't forget to follow them over at Facebook, Twitter, Instagram, and Pinterest.
Back in the day before the kids were born my husband and I would go to Boston Pizza for weekly snacks and cocktails. This was before health was on my radar and we would indulge in pasta, sugary martinis, and Thai chicken bites.
That feels like a lifetime ago.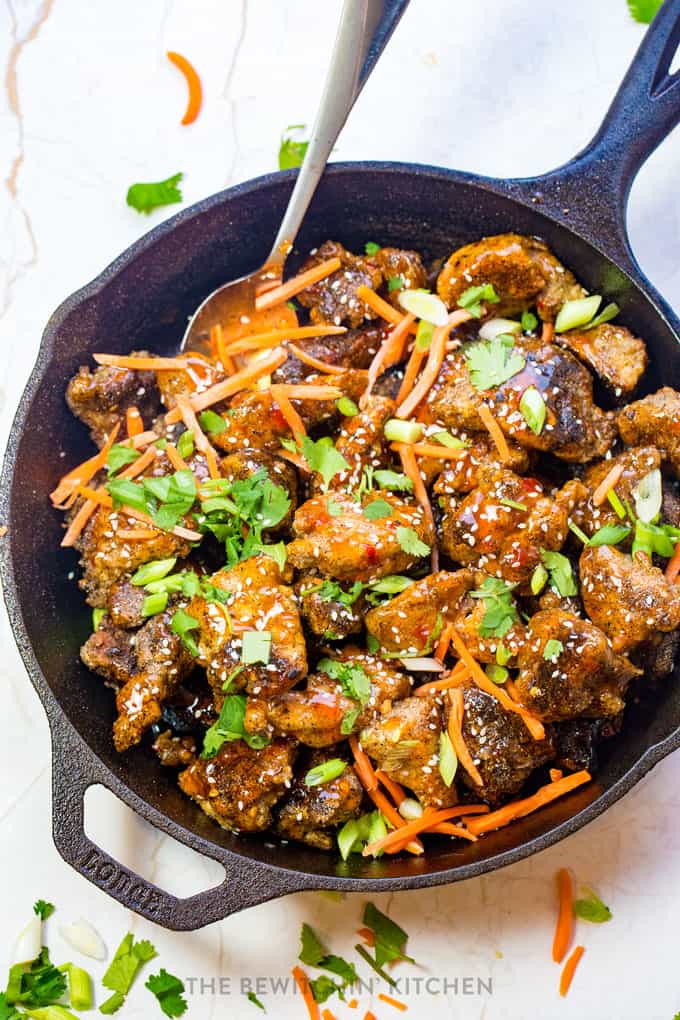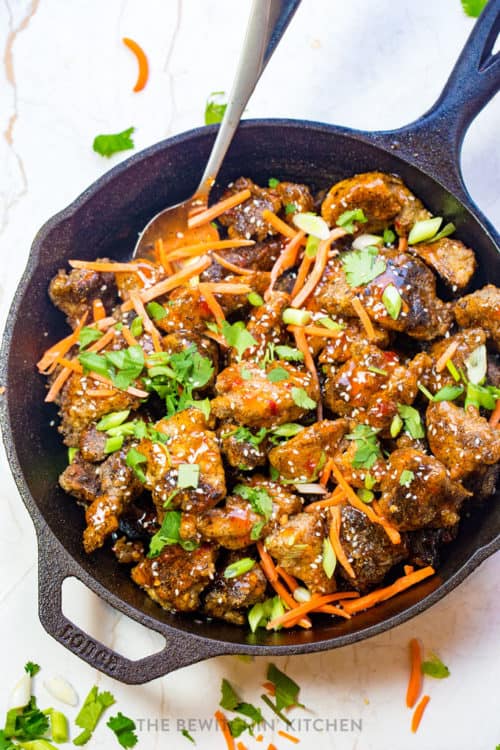 These days I'm more interested in taking a classic recipe and turning it into a healthier option. Not just a healthy option but now that I have found out that wheat brings on my chronic hives, a gluten-free option.
Easy Appetizer for The Holidays
Although these boneless Thai chicken bites are good any time of the year, they're perfect for the holiday season.
They're easy to make, they're fantastic to make ahead of time, or they're good to keep warm in a slow cooker for an easy warm appetizer for your holiday party.
Let's face it, the holidays (as wonderful as they are) can be a little hectic. I tend to get overwhelmed easily so when it comes to creating my shopping list I like to use the Chicken App.
On days where I'm crazy busy, it's nice to have the Chicken App because my husband will see the grocery list and can grab a few things on his way home from work without me texting him a list. It's also great because there are a ton of recipes and instructions on there! It has you and your sanity covered for the holidays, and any regular day for the matter (because #momlife is hard).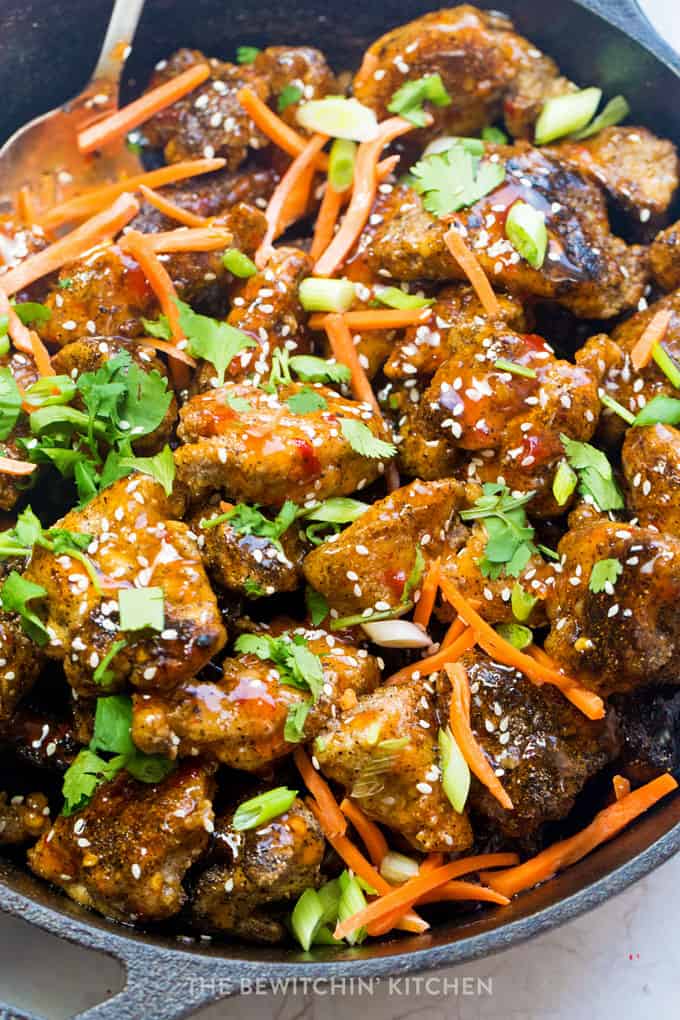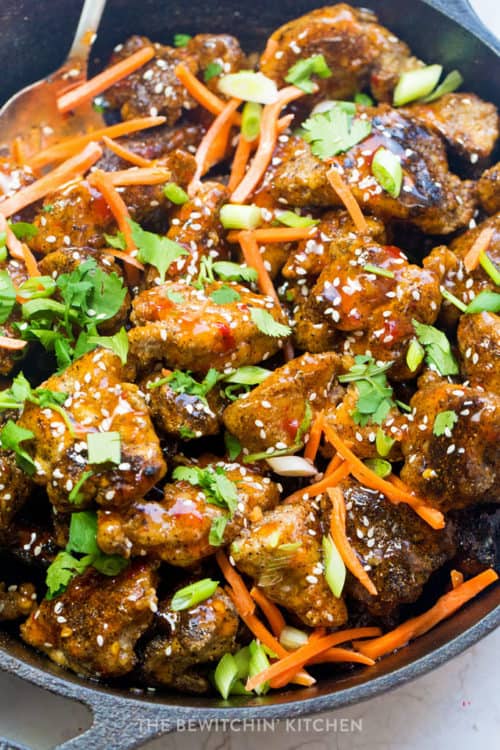 Did you know that Chicken Farmers of Canada makes it easy to find chicken that has been raised by a Canadian farmer?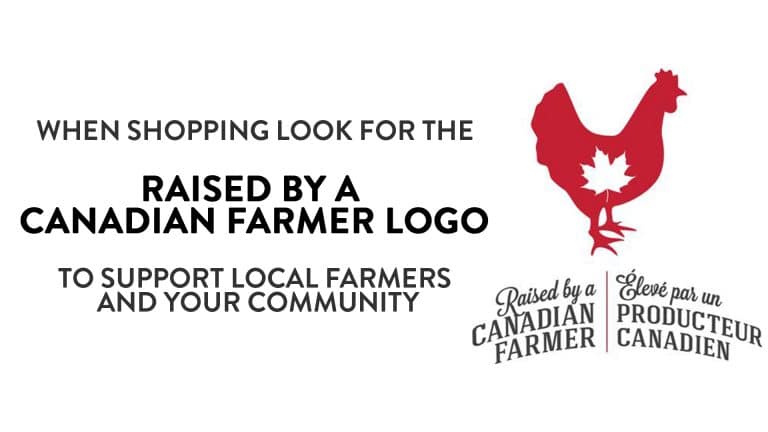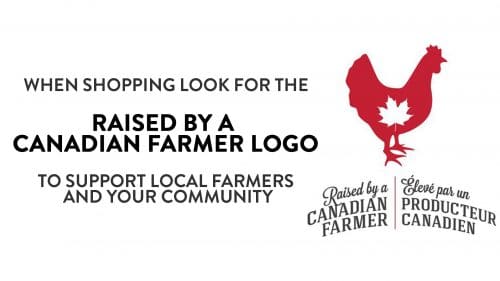 By choosing chicken that has the logo above on the packaging you're choosing to support local Canadian family farmers. If you don't see it at your grocery store, all you have to do is ask for it!
The farmers that have this logo on their chickens have to adhere to a strict (and mandatory) on-farm food safety program, animal care program (this ensures all animal care standards are upheld to the highest regards) audited by a third party certification body.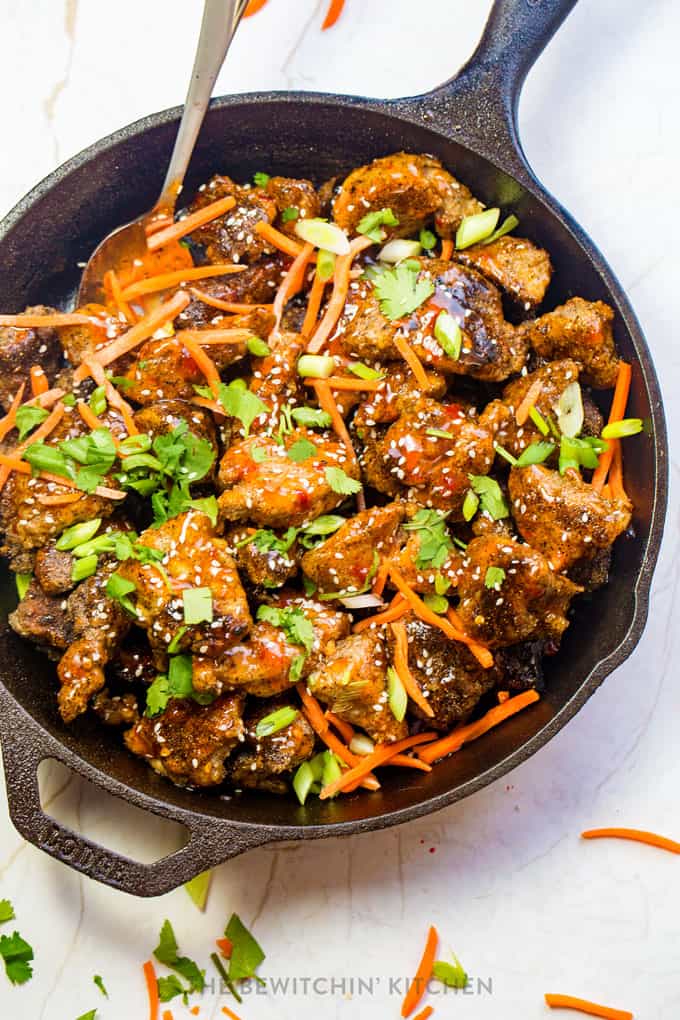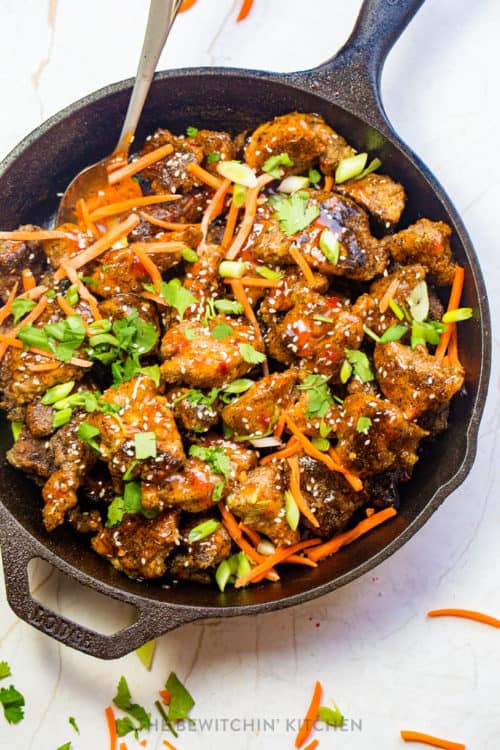 In addition to that by supporting our Canadian farmers, we are also supporting the preservation and health of the farmland and contributing to the Canadian economy. This helps make our chicken more affordable! (Fun fact: chicken is the one protein that hasn't had outrageous hikes in prices.)
Find out more information about Canadian Chicken Farmers here.
What is Buckwheat Flour?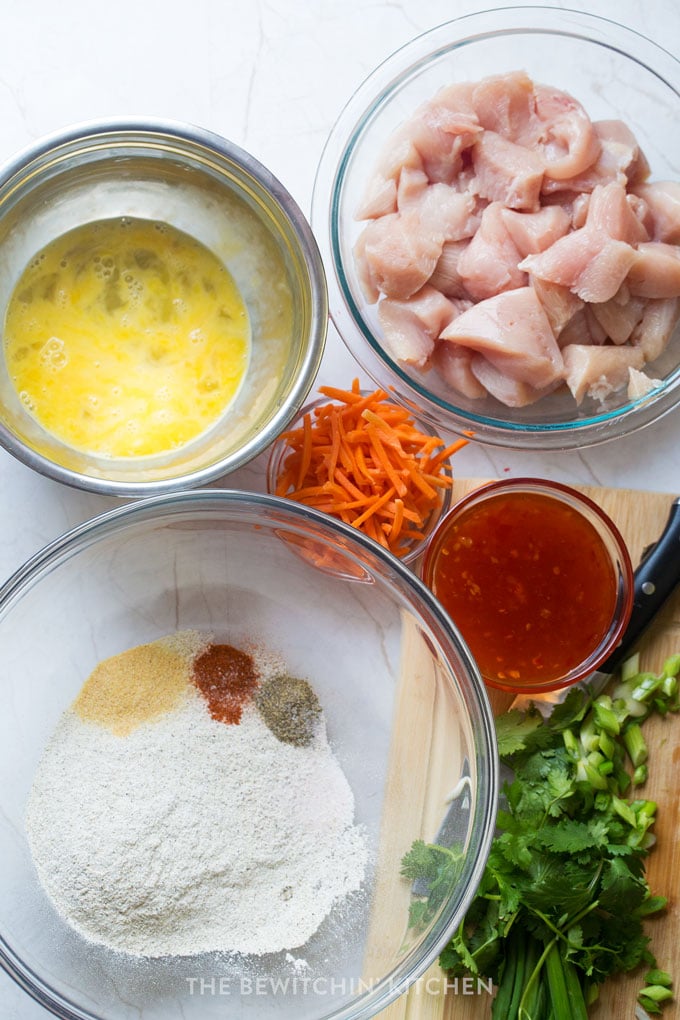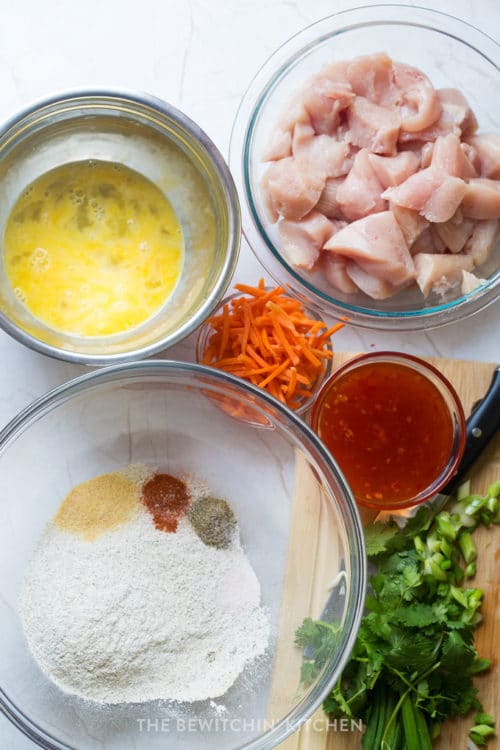 I recently discovered buckwheat flour. It was brought to my attention during my training through the Academy of Culinary Nutrition during a baking class where I made amazing gluten free ginger cookies.
Although wheat is in the name, buckwheat flour is gluten free. It's safe for celiacs and gluten sensitivities because it is from a seed, not a grain.
Buckwheat is usually mixed with other flours, as it has a bitter taste, but I found that it works perfectly with this Thai chicken appetizer.
Or you could blend together your own all purpose gluten free flour.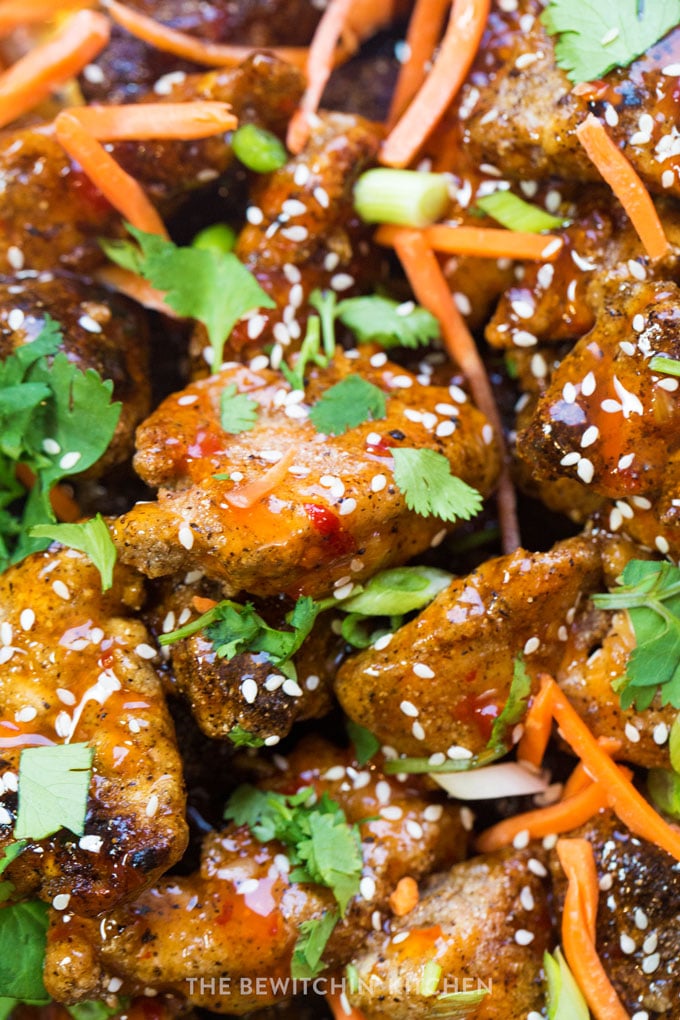 Gluten Free Chicken Recipes
These gluten free thai chicken bites are so simple. You are going to love them!
How to make Thai Chicken Bites gluten free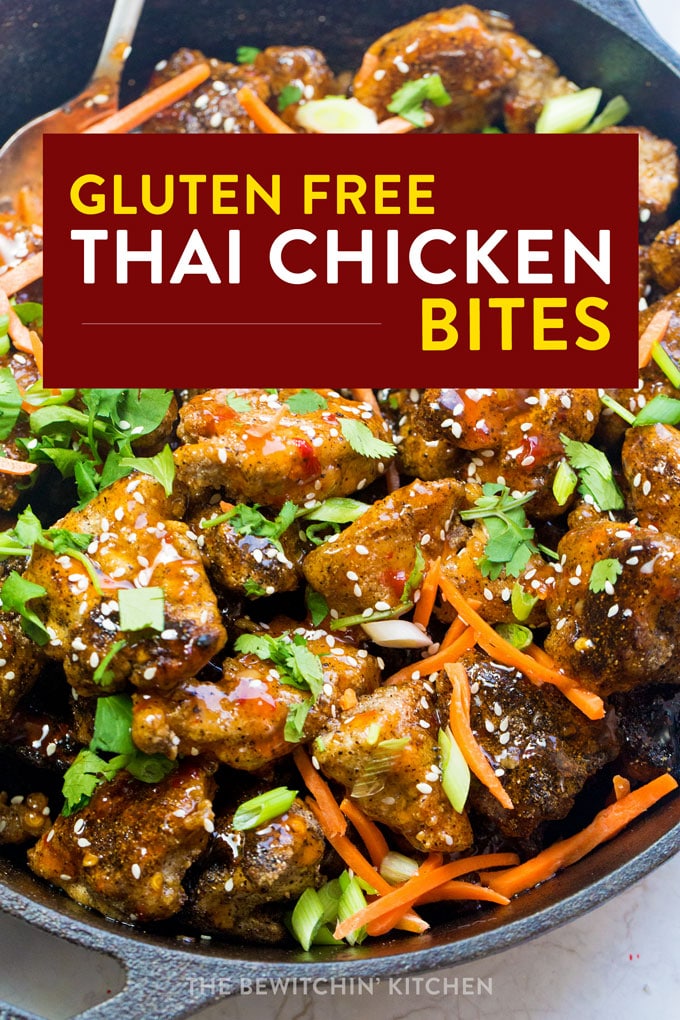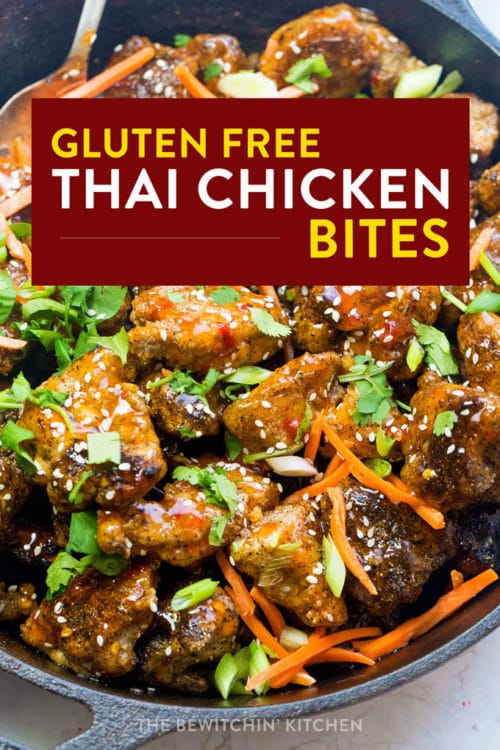 Boneless chicken bites made gluten free, paired with sweet Thai chili sauce for a sweet and spicy taste.
By swapping all purpose flour with buckwheat flour, you have a delicious and easy gluten free breaded chicken. I love it when a dish comes together without sacrificing taste!
Randa's Tip: Bring the chicken breasts to room temperature before making the dish. If you place the chicken on the skillet while cold, it will stick.
I made this recipe in a nonstick pan and a cast iron skillet. I recommend the cast iron skillet as it helped brown the breaded chicken beautifully. The pieces I did in the other pan didn't look as pretty (they were a little chared). They still tasted fine but I wanted to bring this to your attention.
Gluten Free Thai Chicken Bites
Crispy gluten free boneless chicken bites topped with sweet Thai chili sauce, oh yes, please! These Gluten Free Thai Chicken Bites are always the first to go at parties and on the dinner table.
Prep Time 10 minutes
Cook Time 20 minutes
Total Time 30 minutes
Servings 4 people
Calories 566kcal
Ingredients
4 boneless, skinless, chicken breasts cubed
2 eggs lightly beaten
1 cup buckwheat flour
1 tsp garlic powder
1/4 tsp cayenne powder
1/4 tsp pepper
1/4 tsp salt
3 tbsps avocado oil you may need to add more as you cook
3/4 cup Sweet Thai Chili Sauce
Garnish: matchstick carrots, green onions, cilantro, sesame seeds
Instructions
In a large cast iron skillet heat the avocado oil over medium-high heat.

While the skillet is getting hot, whisk together the buckwheat flour, garlic powder, cayenne, salt, and pepper in a large bowl. Add the eggs in a medium-sized bowl.

Once the pan is sizzling hot (the oil will move quickly when the pan is tilted). Add the cubed chicken in the egg bowl, then take a few pieces at a time and coat in the flour mixture.

Add to the hot skillet and cook for 4-5 minutes per side. You may need to do a few batches as you don't want to overcrowd the skillet.

Add the cooked chicken to a large plate or bowl and coat it with the sweet thai chili sauce. Adding more sauce if desired.Top with matchstick carrots, chopped cilantro, sesame seeds, and sliced green onion.
Notes
This can be made ahead of time and refrigerated.  Weight Watchers Freestyle Points: 9
Nutrition
Serving: 1serving | Calories: 566kcal | Carbohydrates: 70g | Protein: 31g | Fat: 16g | Saturated Fat: 2g | Cholesterol: 154mg | Sodium: 1421mg | Potassium: 630mg | Fiber: 3g | Sugar: 39g | Vitamin A: 200IU | Vitamin C: 1.3mg | Calcium: 30mg | Iron: 2mg
Follow On Pinterest
Follow @randaderkson On Pinterest for more delicious recipes!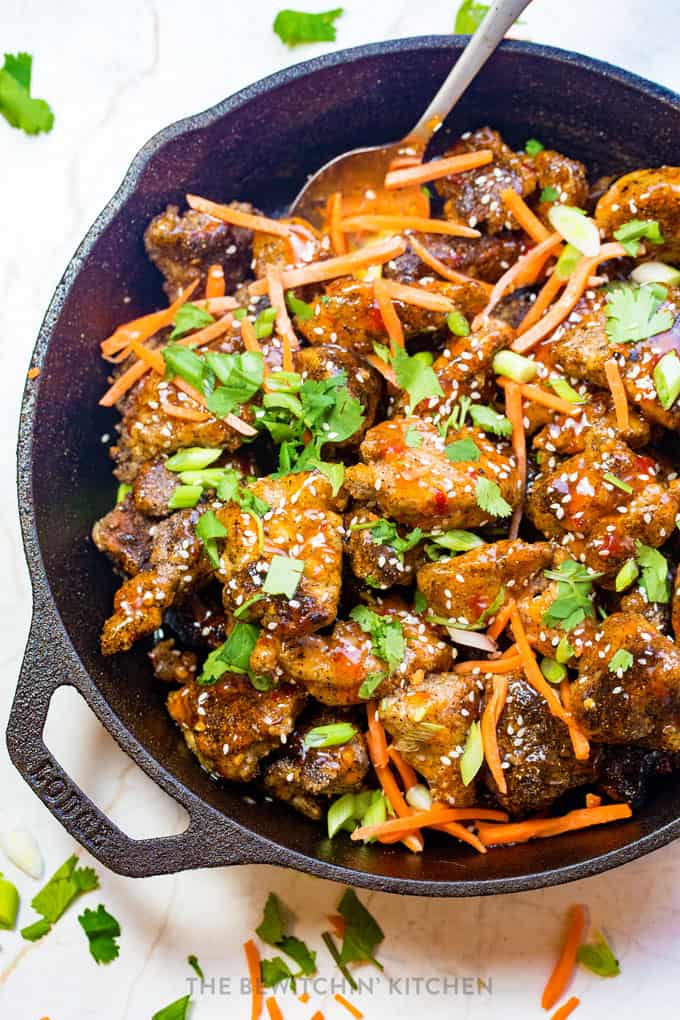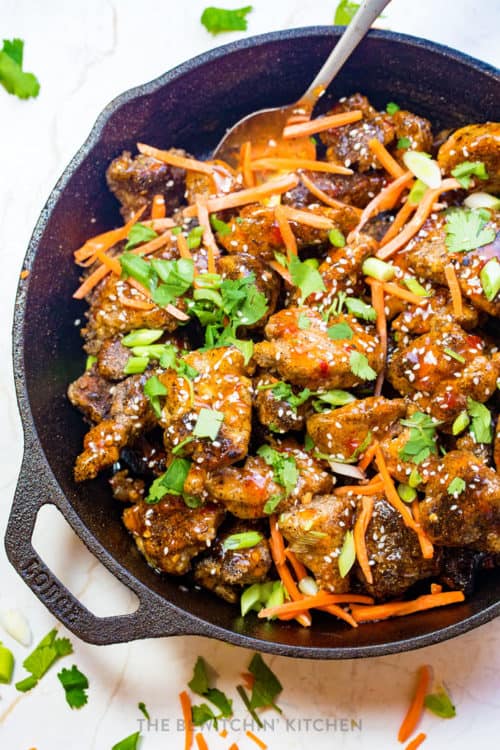 FREE Recipe Binder
Are you constantly wondering what's for dinner?
When I don't meal plan I feel behind, and we usually end up ordering take out. This recipe binder will keep you organized and make life a little bit easier.