Perfect Pot Roast
Cook up the perfect pot roast with this easy tutorial. This clean eating recipe is so simple, and you can easily make it Whole30, Keto, or whatever lifestyle you're living by omitting the gravy or adjusting it to your needs.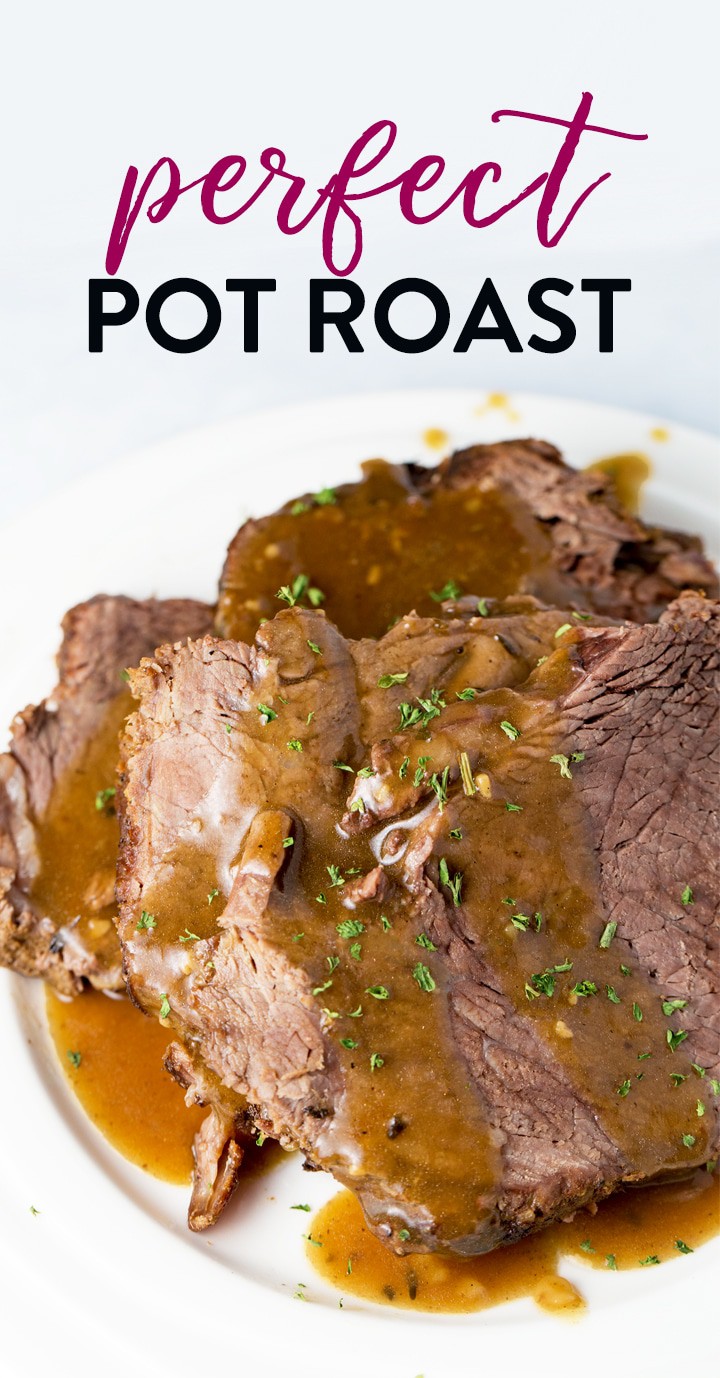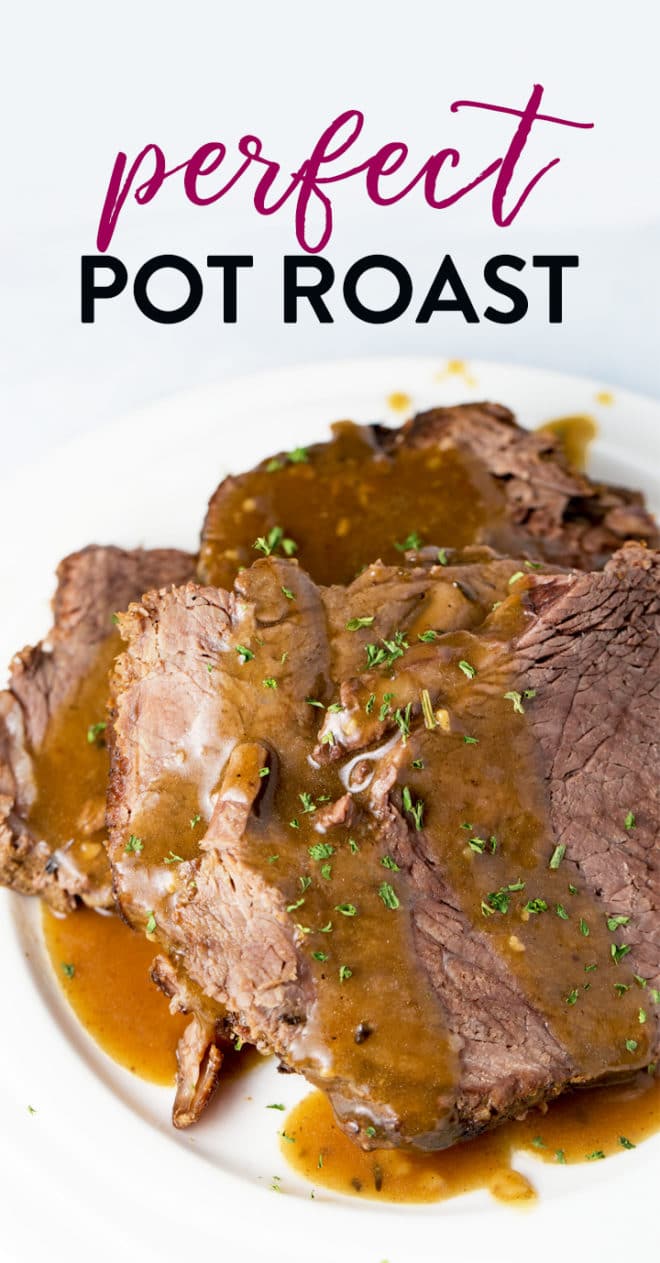 Perfect Pot Roast
Disclosure: this recipe for perfect pot roast contains affiliate links for your convenience.
Whenever I ask my husband what he wants for dinner, the answer is always the same: roast beef dinner.
I prefer pot roast, over roast beef as the beef is seared and then cooked in beef stock. This makes the roast tender and has it falling apart.
Oh. My. Yum.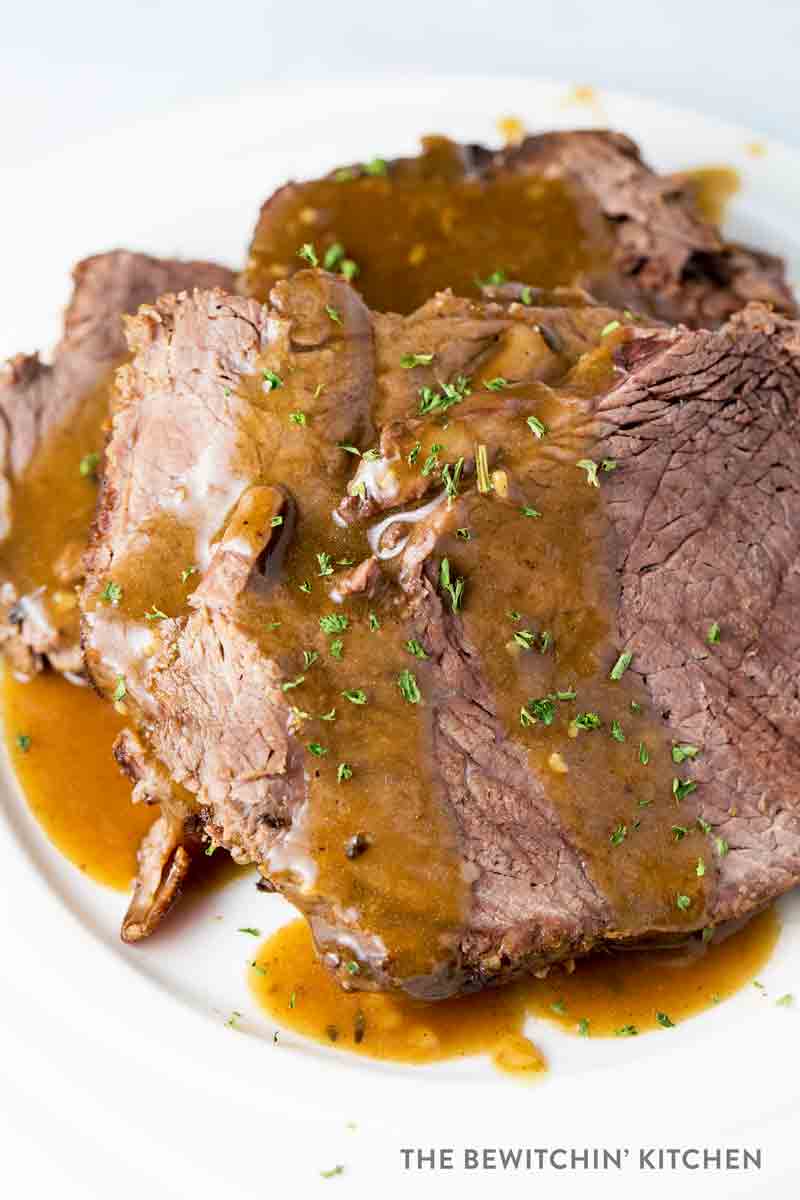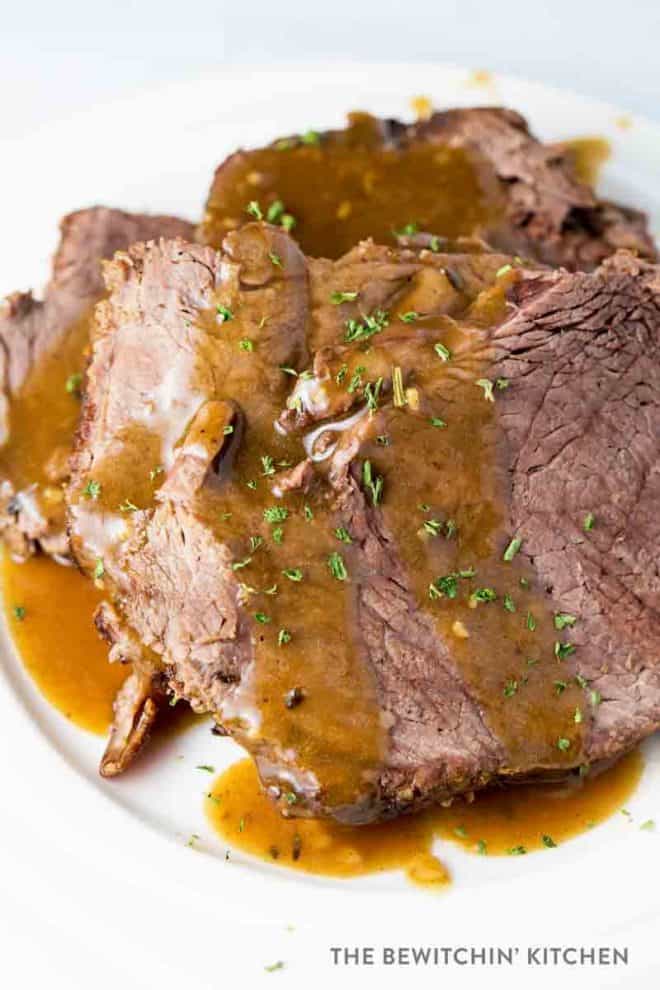 Our typical pot roast dinners involved the following:
How to Make Pot Roast
When I choose the cut of beef, I tend to choose a cut that has some fat on the outside (fat is flavor).
I'm not a beef cut expert, every time I go I buy something different (I factor in size, sales, and the end price in depending on our budget). So buy what works for your family's needs. The size is usually different each time too, but I guess it to be roughly 2 pounds (I am only feeding a family of three, and we tend to usually have leftovers).
Again, buy what works for your family and adjust cook times as necessary (Google is a fabulous tool). Cooking is about experimenting! It does not have to be perfect, as long as it's tastes good – you're golden.
My favorite dutch oven to cook the pot roast in is my Kitchenaid Cast Iron, it's super heavy, but I love it. It must be discontinued because I can't find it anywhere but this Lodge cast iron dutch oven looks similar.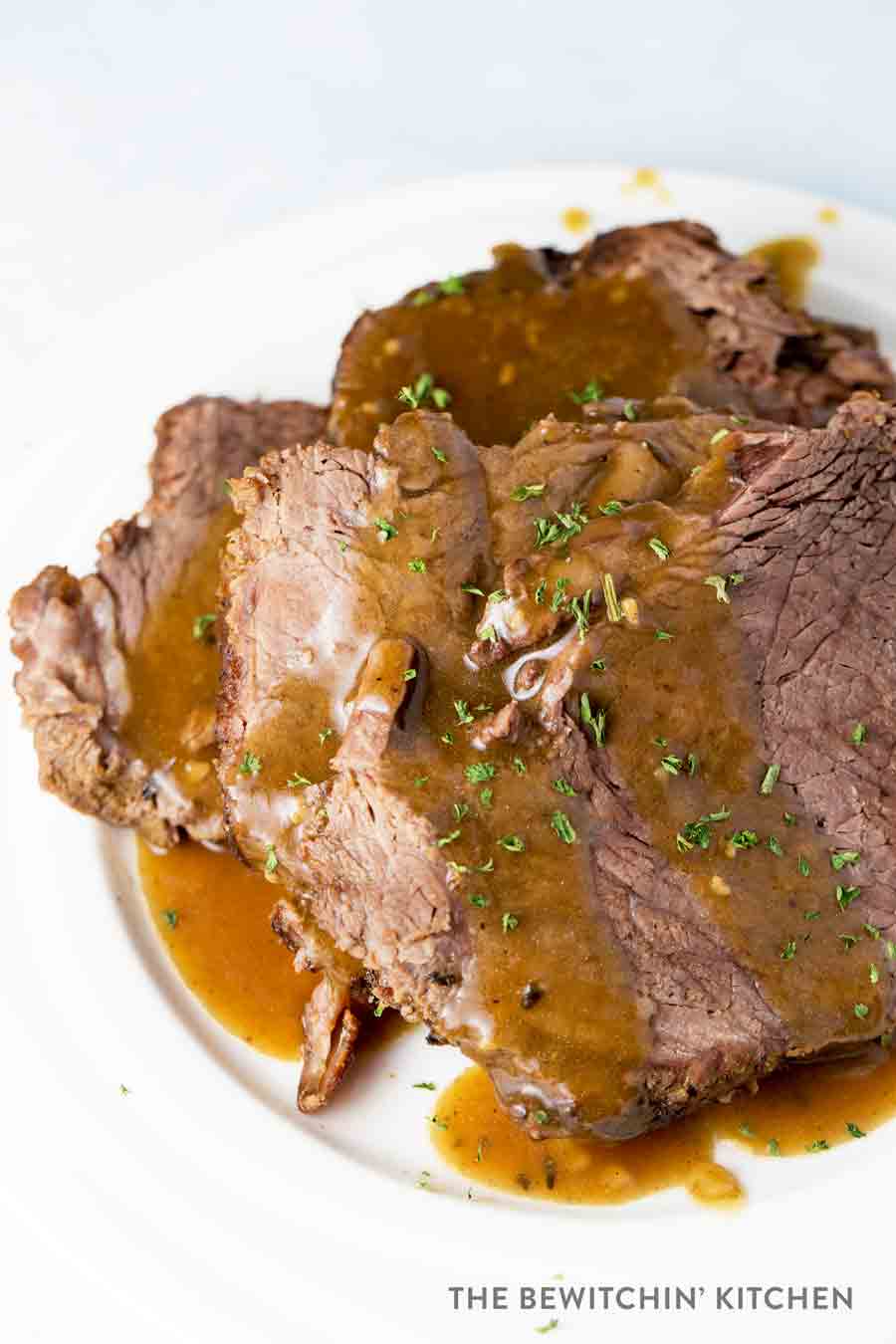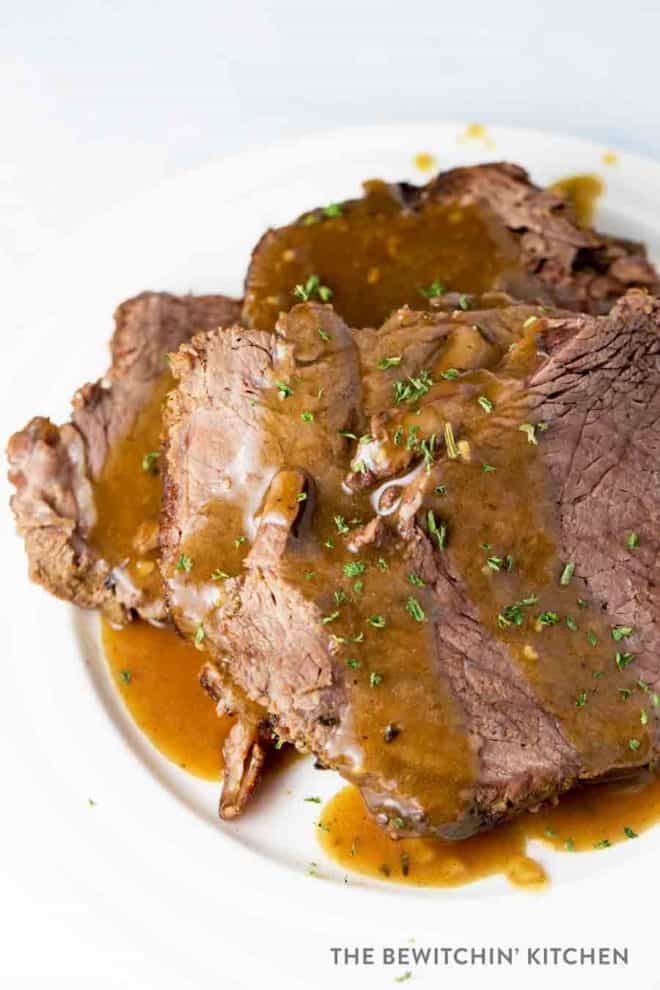 This recipe started out as this Beef Brisket recipe from Simply Recipes, but as the years progressed it has changed with our family's needs. I wanted to credit Simply Recipes as this was the first time I cooked a roast beef dinner without a Crockpot or over a bed of simply onions. It was fun digging this recipe out of the Pinterest vault, it was one of the first things I pinned! (I also found old recipes I used to love and haven't made since before my son was born – whoa!)
Perfect Pot Roast
This clean eating recipe is so simple, and you can easily make it Whole30, Keto, or whatever lifestyle you're living by omitting the gravy or adjusting it to your needs.
Servings 4 -5
Calories 107kcal
Ingredients
2-3 lbs beef cut of choice
2 tbsps olive oil
sea salt
2 onions diced
3 cloves garlic minced
2 bay leaves
2 springs rosemary
4 cups beef broth
1/2 tsp  pepper
Instructions
Preheat oven to 300˚F
Salt both sides of the beef and let it sit for 30 minutes. This will bring out excess moisture and braises nicely. After the excess moisture is drawn out, grab some paper towel and whip the meat. Get the excess moisture and water off of it.

Set the cast iron pot over medium-high heat. Add the olive oil and get it hot. Add the pot roast and sear for 5 minutes on each side.

Remove the beef, and set it aside on a plate.

Add more oil, then add the onions. Turn the heat to medium and saute until translucent.

Add the roast back to the pot, add the garlic, and the rest of the ingredients.

Bring to a boil, cover and stick it in the oven.

Slow roast until beef is fall apart tender. This takes 1 1/2 - 2 hours, depending on the size. Just keep checking on it or take it out when it's done to your liking.
Nutrition
Serving: 1g | Calories: 107kcal | Carbohydrates: 6g | Protein: 3g | Fat: 7g | Saturated Fat: 1g | Sodium: 895mg | Potassium: 218mg | Fiber: 1g | Sugar: 2g | Vitamin A: 15IU | Vitamin C: 5.1mg | Calcium: 40mg | Iron: 0.7mg
Follow On Pinterest
Follow @bewitchinkitchen On Pinterest for more delicious recipes!