Cuisipro Review
A while ago I was browsing products on Cuisipro and took a chance contacting them to see if they were interested in a review, and to my delight they were!

The great people at Cuisipro sent me the Stay Cool Rolling Pin and the Foam Pump. When I received them from the UPS man I squealed with glee, I had been anticipating the Cuisipro arrival for a long time and it was finally here…
The Stay Cool Rolling Pin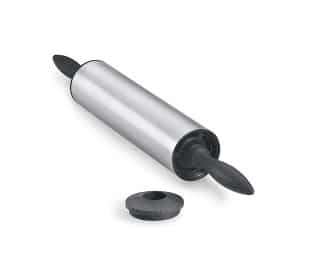 This product is genius! When I first took it out of the box I was surprised at how big it was (it is a little under twice the size of my wooden rolling pin). The surface is cool to the touch and smooth, with a removable side cap. So what is so good about this rolling pin? You add cold water!
Perfect for buttery pastry or dough. Just add water. The rolling pin's cool surface keeps dough cool, making it easier and more efficient to roll than with traditional models.
Doing so means that cold tap water reduces the surface temperature by 20F/11C and the surface stays cool for hours, without condensation.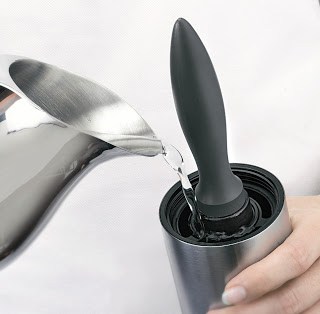 I haven't been able to bake a pie in some time so I wasn't able to try it out on pastry, but I did try it out on pizza dough. Cuisipro claims that the added weight of the water means helps with rolling and makes it smooth, and they are right! It didn't take near as long to get my dough rolled out as usual and the cool surface from the pin prevented my dough from sticking! Everything the site claims about this product is true! So don't hesitate to go out and buy one.
The Foam Pump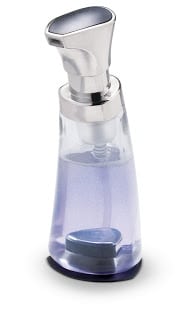 Before this foam pump, I had this tacky soap container from a kitchen store I bought years ago. I needed a change, something more modern. It was so easy to use! You just took regular antibacterial soap and filled it to the first line on the bottle and you fill with water until the next line. Pump a few times and foam soap comes out! Best of all it saves money, since you save some soap every time you re-fill it. It also has a suction cup at the bottom so it will stay put. I am going to purchase another one to place in my bathroom.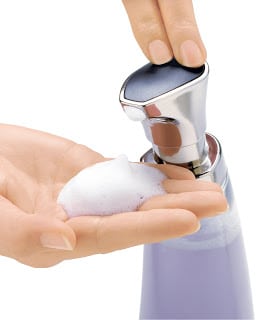 If you are interesting in purchasing The Stay Cool Rolling Pin, The Foam Pump or any other items from the Cuisipro website  please contact the Cuisipro Customer Service Department at 1-866-306-3672