Curried Cauliflower Casserole
This recipe for curried cauliflower is one of my favorites — in fact, I grew up with it! A few pantry ingredients, plenty of cheddar cheese, and a layer of panko breadcrumbs make this cauliflower casserole one dish you won't soon forget. Serve it at your holiday meal or as an easy veggie dish with weeknight dinners.
Easy and Cheesy Curried Cauliflower
Disclosure: This post contains affiliate links. This means that if you click on the links (to Amazon), I get a small commission at no added cost to you.
My mom has been making me this cheesy cauliflower bake ever since my pre-teens. It goes great with everything: roast beef dinner, BBQs, and potlucks. It's a sure-fire crowd pleaser, and I still have friends asking me for the recipe to this day.
It's not the healthiest of vegetable side dish recipes, but sometimes a person just needs some comfort food. And this Curried Cauliflower recipe is more than just comfort food to me — it's a classic dish that I will pass down to my own kids.
Listen, I know many of you come to The Bewitchin' Kitchen for healthier recipes. Today is not one of those days. You won't see a cream of whatever soup too often on this blog (it's not my favorite ingredient to cook with), but sometimes, you gotta go with the classics you grew up with.
It's called balance. Amiright?
Why You Will Love This Cauliflower Casserole
Simple ingredients – just 4 pantry staples, plus fresh veggies and cheese
Classic comfort food – warm, cheesy, and ultra savory
Versatile – serve curried cauliflower for holidays or weeknight meals
Family friendly – just enough heat without being too spicy for little ones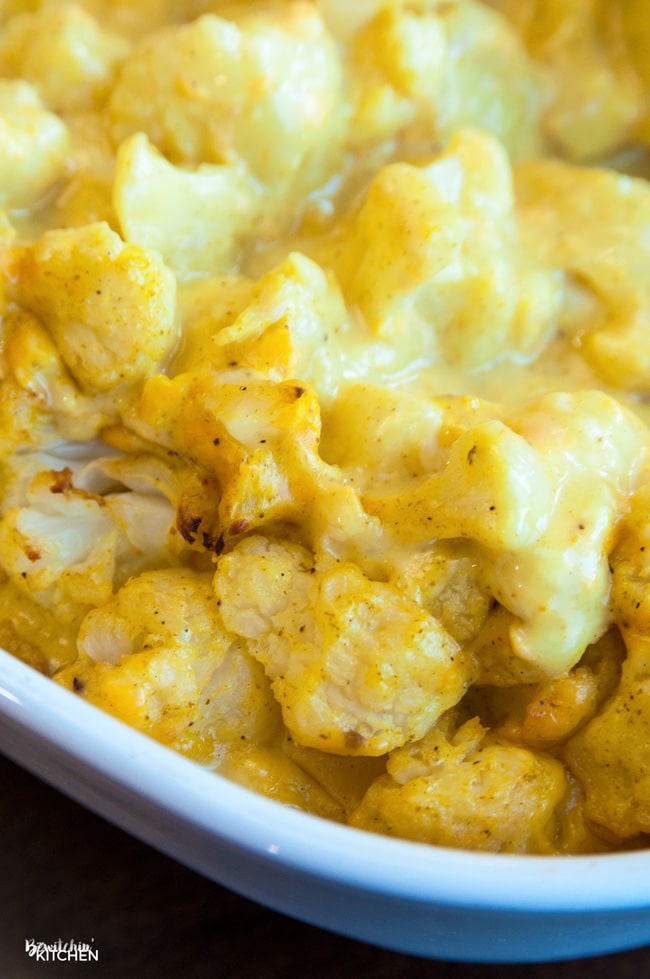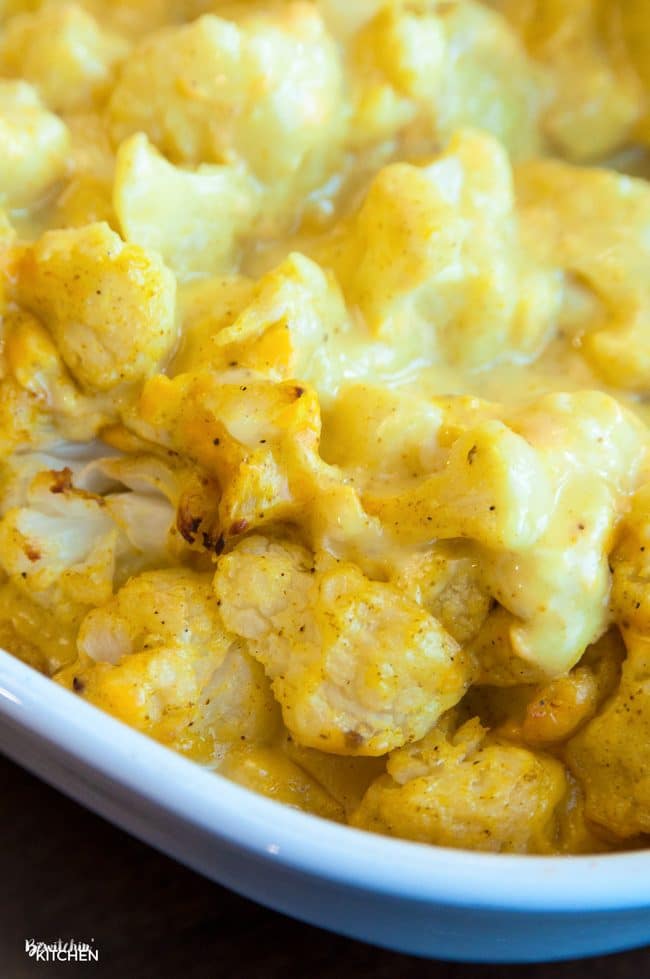 How To Make Cheesy Cauliflower Bake
My mom usually makes this at big family gatherings, or when we're celebrating something. Our family always expects it at turkey dinner (by the way, here's how to cook a turkey), so I love to pair this cauliflower casserole with my family's recipe for homemade stuffing.
Supplies and ingredients I recommend:
Prep the Ingredients
First, you'll need to cook the cauliflower until mostly tender — there should still be a little bit of crunch, since it will continue to cook in the oven.
Next, shred the cheese. I highly recommend that you grate a fresh block by hand as it melts down so much smoother than bagged shreds. That said, this curried cauliflower recipe is all about easy, so use what works for you!
Top with Breadcrumbs and Bake
The last step is to put it all together. Mix the cheese with the canned soup, curry powder, and Miracle Whip. Stir in the florets, then spread the curry cauliflower mixture into a greased 9×13 pan and top with panko breadcrumbs!
TBK's Pro Tip: Miracle Whip is a technically a sandwich spread, not just another type of mayonaisse. It has added seasonings and is typically a bit sweeter. If you prefer to use mayo, you may want to mix in just a bit of dry mustard, paprika, and garlic powder to get a similar flavor. But, I really recommend sticking to Miracle Whip for this recipe!
Bake until everything is melty and gooey, about an hour. The topping should also be a bit browned — if not, you can broil the curried cauliflower for 2-3 minutes before serving.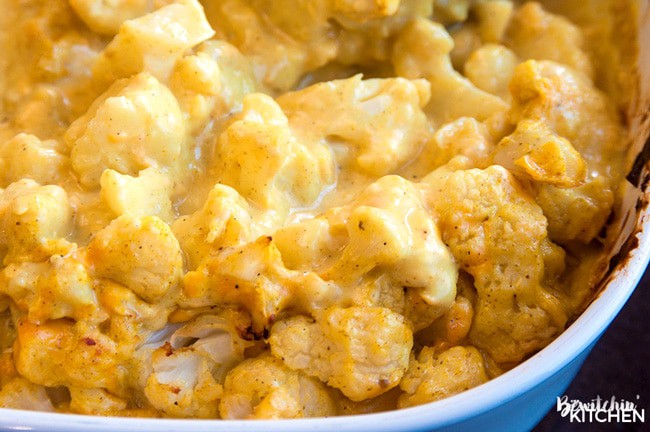 Frequently Asked Questions about Curry Cauliflower
What is curry powder made of?
This warming spice blend comes from India and can vary based on the bottle or recipe.
The main component is turmeric, which gives it that signature yellow hue. It also typically contains cumin, ground ginger, and black pepper, but this blend may also include garlic, cinnamon, and dry mustard.
Other popular additions include coriander, fenugreek, cayenne, paprika, cardamom, nutmeg, and cloves.
Can I use frozen florets in this curried cauliflower recipe?
I haven't tried it, and I wouldn't necessarily recommend it — and here's why:
If you steam the frozen florets ahead of time, they will likely turn to mush by the time the casserole is done baking.
If you add the frozen florets directly to the dish, they will release water in the oven. This will affects the consistency of the cheesy cauliflower bake and make it a bit soupy.
However, you're welcome to give it a try and let us know how it goes in the comments! One head of cauliflower typically equals one 12-ounce bag of frozen florets.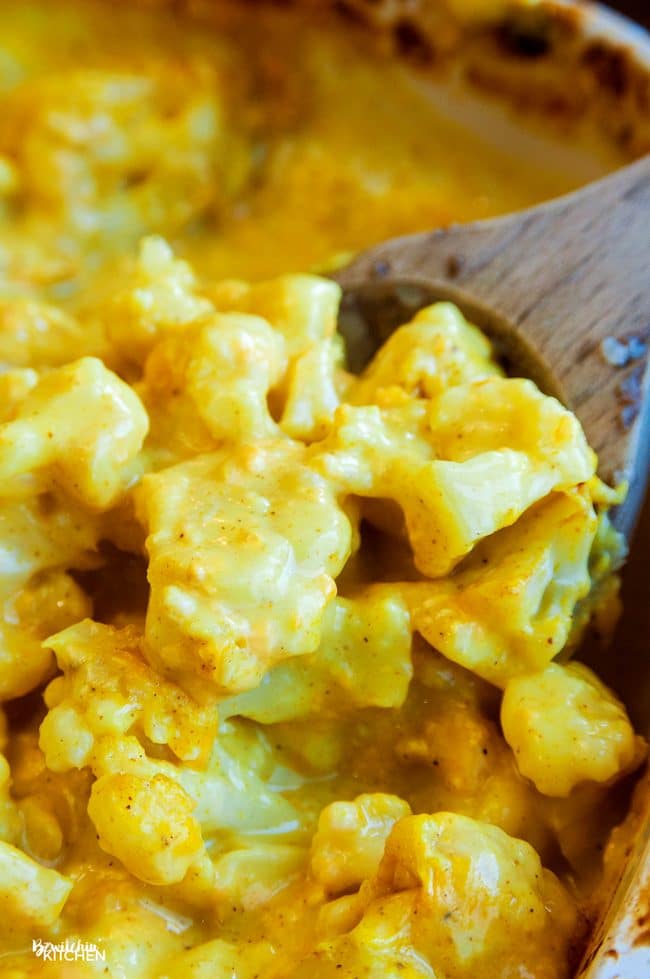 How long does cauliflower casserole last in the refrigerator?
First, I dare you to have any leftovers — you're going to want to take the pan with you to the couch!
Allow leftover curried cauliflower to cool to room temperature, then transfer it to an airtight container. Refrigerate for 3 to 4 days and reheat in the oven or microwave. Just know that the florets will continue to soften the longer the dish sits.
More Easy Cauliflower Recipes:
Roasted Cauliflower and Cheddar Soup
Curried Cauliflower Casserole
Curried Cauliflower is a great side dish for roast beef, BBQ, or any potluck. This family recipe is a crowd-pleaser, plus it's easy to make!
Servings 6
Calories 195kcal
Ingredients
1 head cauliflower cut into florets
1 cup cheddar cheese shredded
1/4-1/3 cup  Miracle Whip
1 tbsp mild curry powder
1 can cream of chicken soup
1/2 cup breadcrumbs panko, cereal crumbs, whatever you have
Instructions
Steam cauliflower in the microwave for about four minutes, until almost cooked (a little crunchy still), or boil for 5 minutes.

Preheat to 350 F

In a mixing bowl combine cheese, miracle whip, curry and soup together. Stir in the cauliflower and toss to coat. Make sure every cauliflower gets some sauce on it.

Spread in a greased 13×9 casserole dish. Top with breadcrumbs. My favorite is Panko crumbs – they stay crunchy.

Bake for 50-60 minutes.
Nutrition
Serving: 1g | Calories: 195kcal | Carbohydrates: 15.3g | Protein: 7.8g | Fat: 12.1g | Saturated Fat: 5.1g | Cholesterol: 35.7mg | Sodium: 670.9mg | Fiber: 5.5g | Sugar: 4.1g
Follow On Pinterest
Follow @bewitchinkitchen On Pinterest for more delicious recipes!