Curried Cauliflower Casserole
This recipe for curried cauliflower casserole is one of my favorites, I grew up with it.
Curried Cauliflower Casserole
Disclosure: This post contains affiliate links. This means that if you click on the links (to Amazon) that I get a small commission at no added cost to you.
My mom has been making me this dish ever since my pre-teens. It goes great with everything: roast beef dinner, BBQ's, and potlucks. It's a sure-fire crowd pleaser and I still have friends to this day asking me for the recipe. It's not the healthiest of vegetable side dish recipes, but sometimes a person just needs some comfort food. Curried Cauliflower is more than just a comfort food recipe. It's a classic recipe that I will have for the rest of my life.

My mom usually makes this at big family gatherings, or when we're celebrating something. Our family always expects it at turkey dinner (by the way here's how to cook a turkey), I love to pair this classic recipe with my family's recipe for homemade stuffing.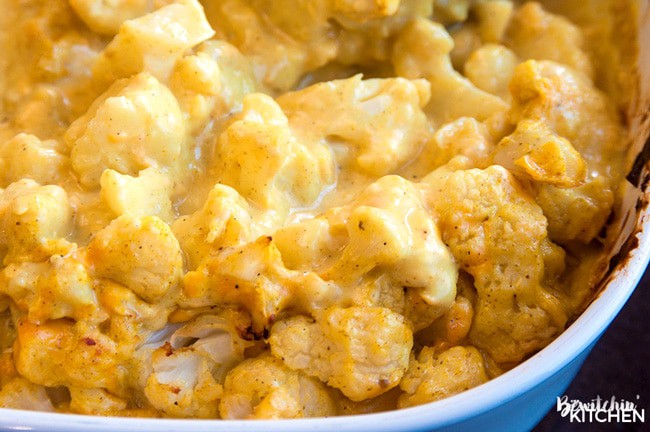 Curry Cauliflower Casserole
Listen, I know many of you come to The Bewitchin' Kitchen for healthier recipes. Today is not one of those days. You won't see a cream of whatever soup often on this blog (it's not my favorite ingredient to cook with) but sometimes, you gotta go with the classics you grew up with.
It's called balance. 
Amiright?
Supplies and ingredients I recommend:
More cauliflower recipes here at The Bewitchin' Kitchen:
Curried Cauliflower Casserole
This curried cauliflower casserole was a favorite growing up. Curry, cauliflower, cream of chicken soup, and cheese.
Servings 6
Calories 195kcal
Ingredients
1 head cauliflower cut into florets
1 cup cheddar cheese shredded
1/4-1/3 cup  Miracle Whip
1 tbsp mild curry powder
1 can cream of chicken soup
1/2 cup breadcrumbs panko, cereal crumbs, whatever you have
Instructions
Steam cauliflower in the microwave for about four minutes, until almost cooked (a little crunchy still), or boil for 5 minutes.

Preheat to 350 F

In a mixing bowl combine cheese, miracle whip, curry and soup together. Stir in the cauliflower and toss to coat. Make sure every cauliflower gets some sauce on it.

Spread in a greased 13x9 casserole dish. Top with breadcrumbs. My favorite is Panko crumbs - they stay crunchy.

Bake for 50-60 minutes.
Nutrition
Serving: 1g | Calories: 195kcal | Carbohydrates: 15.3g | Protein: 7.8g | Fat: 12.1g | Saturated Fat: 5.1g | Cholesterol: 35.7mg | Sodium: 670.9mg | Fiber: 5.5g | Sugar: 4.1g
Follow On Pinterest
Follow @bewitchinkitchen On Pinterest for more delicious recipes!
Enjoy and get ready to be requested that you make it more often.
What's your favorite vegetable side dish?
If you like this recipe, then please share it with your friends. Here is an image for Pinterest: