12 Ways to Ditch Holiday Stress #HolidayEntertaining2016
It's the time of year where we're a little busier than normal and stress can easily creep up on us. So I put together a list of ways to ditch the holiday stress and enjoy the Christmas season.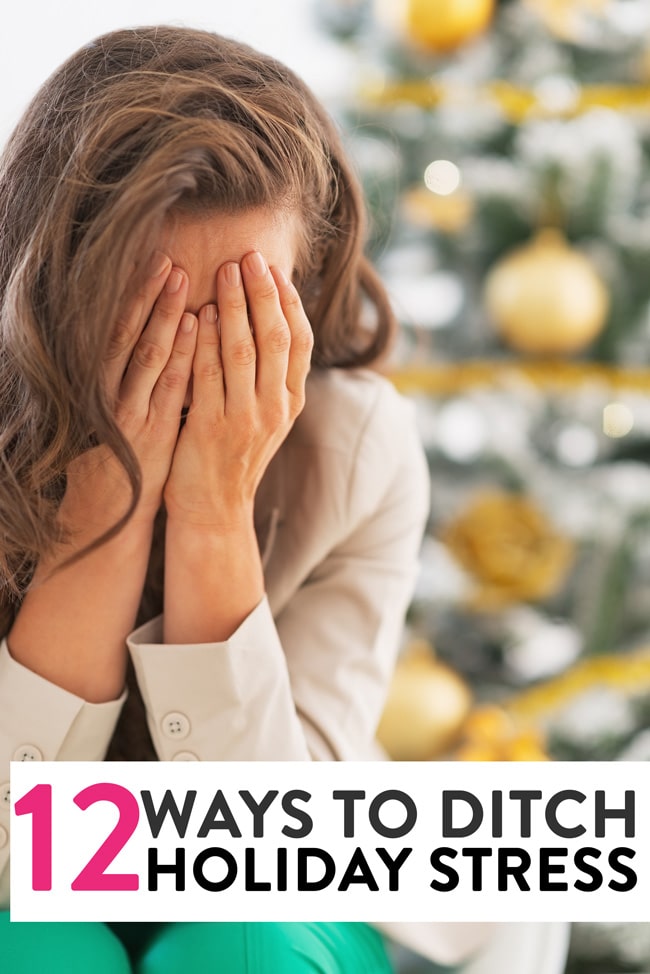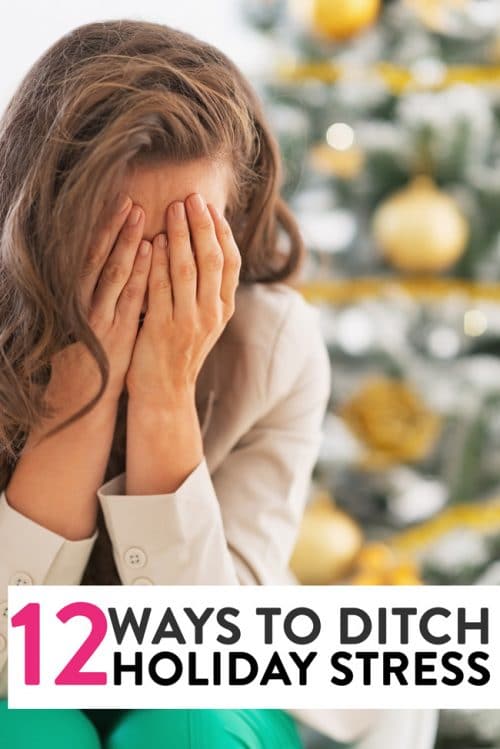 Ditch the Holiday Stress
Do you research ahead of time. Is it your first time cooking a turkey? Have your how-to guide loaded and ready to go the day of and make sure you have everything prepped and at arms. Looking for a great how to guide? Here's how to cook a turkey.
Go with what you know. Maybe now is not the time to try out that marinade you saw on Pinterest for the turkey. Stick to the basics, you can't go wrong.
Ask for help. Hosting Christmas dinner? Ask Aunt Sally to bring her famous cheesecake for dessert. There is nothing wrong with asking for help if that means that can enjoy the holidays more and spend more time with your family, creating memories.
Aromatherapy. The smell of citrus is said to boost your mood and lavender relaxes you. You can give yourself a boost by
lighting a candle, diffusing essential oils, or even cleaning with Pine-Sol. Pine-Sol's scents are fresh and long lasting so not only will your home be clean, but the aroma and benefits will stick around to support you when you need it.
Say no. Little Johnny's school needs cupcakes for their holiday party, you have 3 cookie exchanges to go to and your church is having a bake sale. That's a lot of commitments and stress being added, say no! You can do it, and your sanity will thank you.
Crank Up The Music. Turn on some music and dance out the holiday stress! Or sing along to your favorite Christmas carols, I'm listening to Michael Buble's Have Yourself a Merry Little Christmas right now.
Keep your routine. Do you usually workout in the morning? Take a break at 1pm? Keep up your usual routine.
Exercise. Pop in a workout video, take a walk, do some laps around the mall. Exercise gives you the feel-happy endorphins and gives you clarity in stressful situations.
Delegate the cleaning responsibilities. If you're like me, then cleaning stresses you out the most during the holidays but you know what? It doesn't always have to fall just on you. Get the family involved. Although my son is four, he has been picking up more responsibilities. He puts away his own laundry (it's not perfect, but it gets done) and he is responsible for putting away his toys. Those are chores he doesn't like, but he loves to wash the floors. So I'm taking advantage of that while I can. I mix up Pine-Sol and water, get the mop ready and he goes to town.
Another cleaning tip that saves time? Use a multipurpose cleaner. I use Pine-Sol because not only does it smell nice but you can use it for everything: furniture, toilets, countertops, floors, walls, appliances. It cleans dirt, grime, grease easily and it also saves me some money too.
Embrace the crazy. I have a four-year-old, and embracing the crazy is something that I'm working on personally. That gingerbread house? It doesn't have to be perfect, give your kid the royal icing and let him/her go to town! I did that the other day and it was freeing. Not only did I have one less thing to worry about but my son had a lot of fun doing it. The same goes with embracing the fact that after I clean the house, my son likes to bring all the blankets downstairs and make tents. I just have to embrace it and let him be a kid.
Take a break. I have some news, you're not superwoman/superman. You need to take time for you and take a break. Whether your break is meeting friends for a coffee or soaking in the tub it's something you must make a priorty of.
Do something you love. Whether it's baking Christmas cookies, going sledding, or driving around looking at lights don't forget to take time to do the things you love this holiday season.
How do you ditch the holiday stress?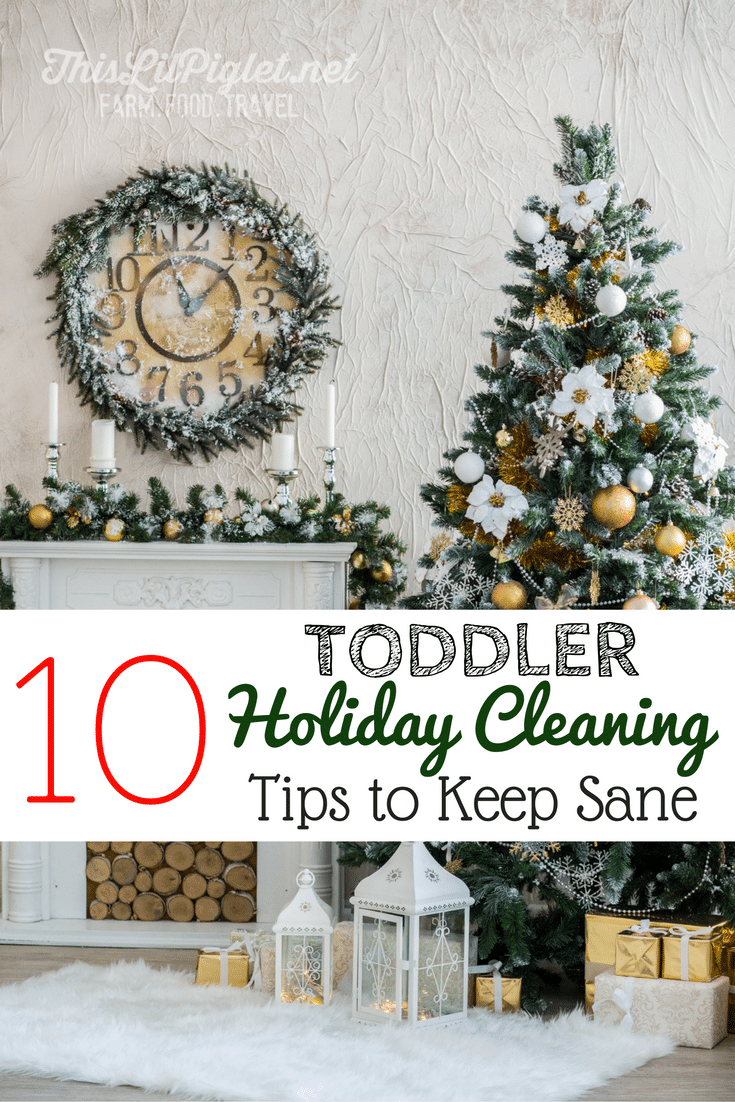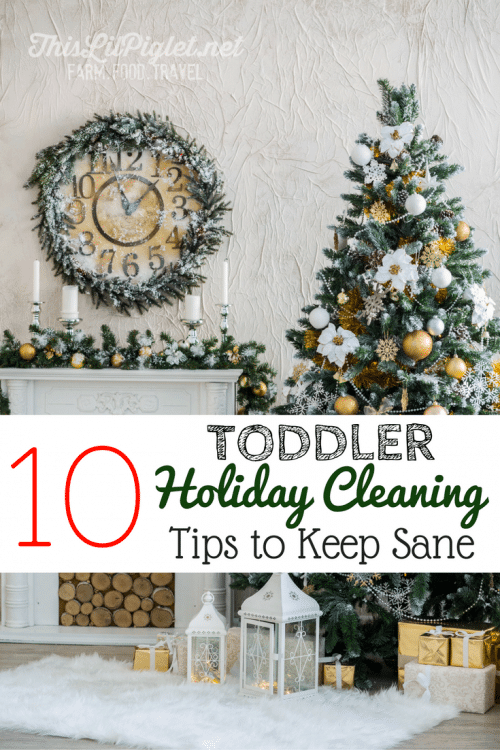 10 Toddler Holiday Cleaning Tips via This Lil Piglet


10 Cleaning Tips for the Holidays via Sober Julie
This post has been sponsored by Pine-Sol. For more information on Pine-Sol and how it brings value to your home, visit the Pine-Sol website. All opinions are my own.