Gifts for the Canucks Fan
Have a Vancouver Canucks fan to buy for? Here are some gifts for the Canucks fan.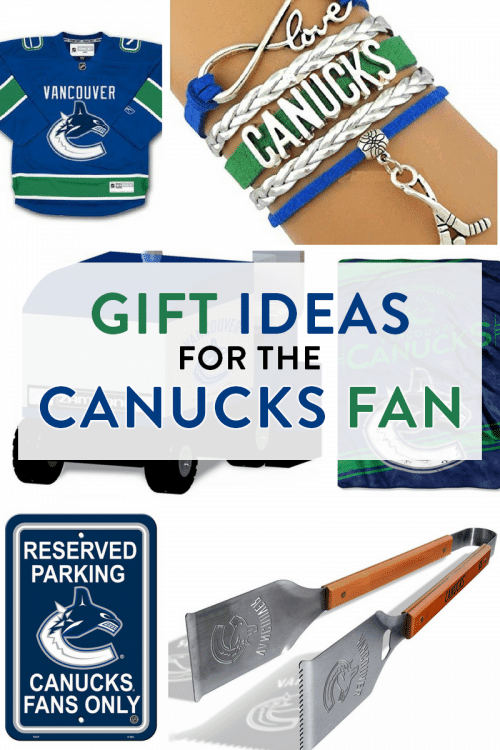 From the moment I started dating my (now) husband, there was one thing that was made clear: he was a Vancouver Canucks fan. Our first Christmas, I bought him a jersey and since then every year I look for gifts for the Canucks fan.
Being from British Columbia, the Vancouver Canucks are in our blood (well, for most of us – there are a few Oiler, Senator, and Bruins fans) so this list of gift ideas is a welcome suggestion for us Western Canadians.
Gifts for the Canucks Fan
Here are a few gift ideas for the Vancouver Canucks fan, my favorite may be the BBQ tongs but I also love the Canucks bracelet.
1. NHL Checking Buddy Inflatable Punching Bag – side note: my son would love this, I'm thinking it will make a fun Christmas gift.
2. Galanz Retro Fridge – I was gifted this and wanted to include it in the round up because it's a great mini beer fridge for the game. My husband and I are sharing it for a gym fridge/his game day fridge right now.
4. Canucks Boxed LED Ornament Set
5. Canucks Home Blue Toddler Jersey
6. Autographed Signed Cam Neely Canucks Hockey Puck
7. Canucks Hockey Fan 4-Pack  Coaster Set
8. Canucks Plastic Parking Sign
10. Men's Short Sleeved Canucks T-Shirt
11. Vancouver Canucks Domino Set in Metal Gift Tin
14. Canucks Bottle Opener Keychain
15. Canucks Stainless Steel Lined Tumbler
20. Canucks Zamboni 
This post contains links to Amazon.com, which ships to Canada but if you prefer here are some gifts for the Canucks Fan from Amazon.ca.
Disclosure: This post contains affiliate links for your convenience. As an Amazon Associate, I earn from qualifying purchases.