Keto Pumpkin Cookies
This Keto Pumpkin Cookie recipe blends the fall flavors of pumpkin and spices with vanilla, butter, and chocolate chips. Preparing this sweet treat will warm your home with familiar fall aromas, but your tastebuds will never know these cookies are low-carb!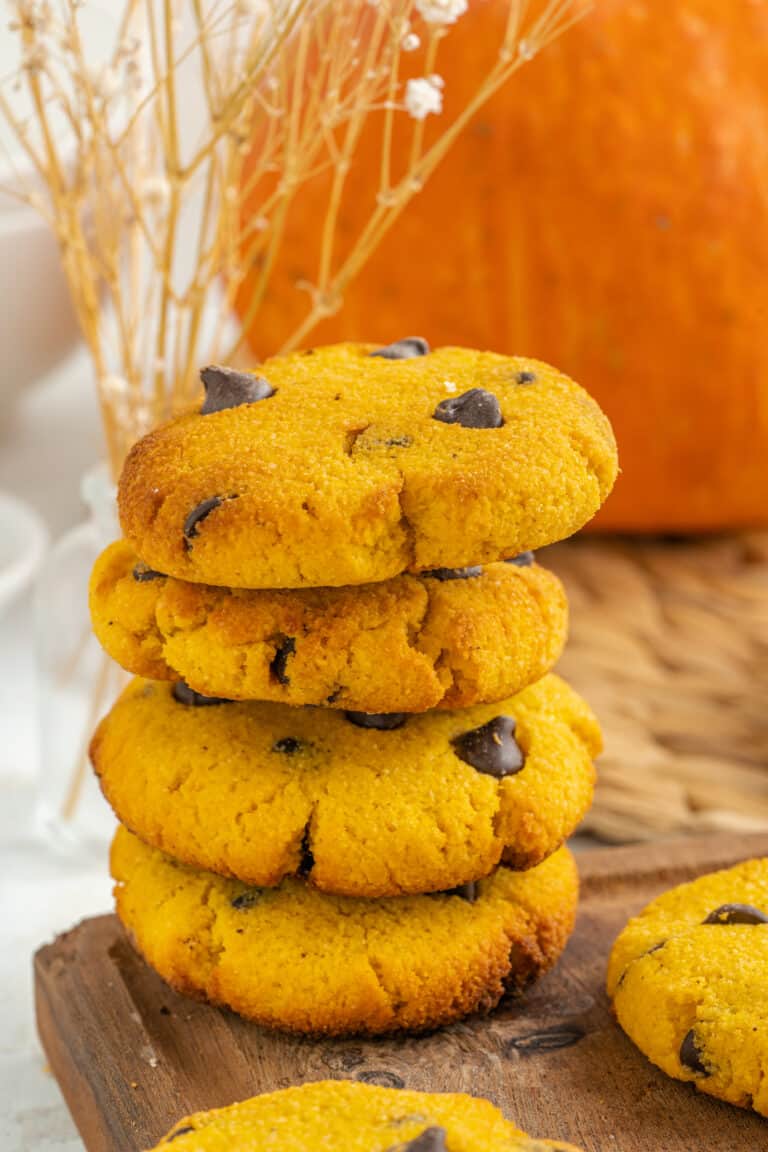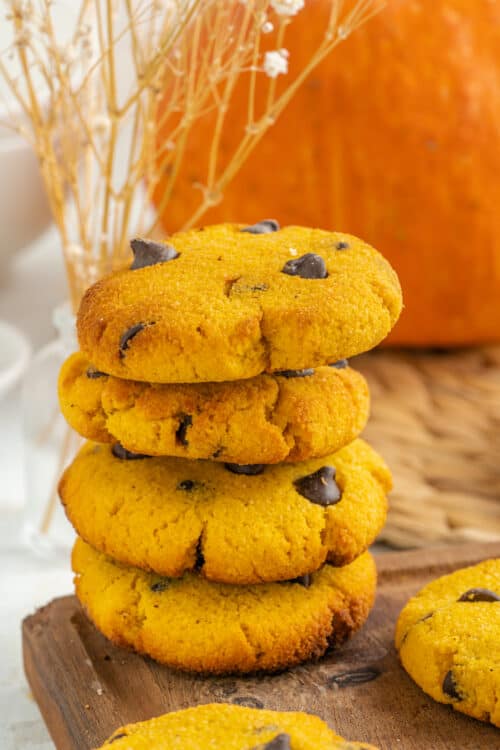 Keto Pumpkin Cookies
Pumpkins and pumpkin spice are everywhere in the fall months, and incorporating these flavors in a cookie just makes sense! The familiar flavors in these almond flour pumpkin cookies won't let on that they're healthier than traditional spice cookies: using a blend of coconut and almond flours creates a seamless low-carb substitute for the higher-carb all-purpose flour that many other cookies use.
Plenty of keto-friendly ingredients and substitutions are easier than ever to find in your grocery store or online. And once you have these staples in your pantry you'll be ready to try any number of low-carb dishes. These Keto Pumpkin Spice Cookies will help to make the switch to a low-carb lifestyle not only painless, but absolutely delicious!
For another fall inspired recipe that is keto friendly, try out our Keto Pumpkin Soup. And if our Keto Pumpkin Cookies have you craving more pumpkin desserts, try this Pumpkin and Apple Pie-in-a-Pie made with traditional flour and sugar.
Why you will love Keto Pumpkin Cookies
Quick and Easy! These almond flour pumpkin cookies don't take any more time to prepare or bake than traditional cookies. Prep time is 15 minutes for these low-carb cookies that will be out of the oven in less than 20 minutes!
Simple ingredients and tools. No fancy tools or tricks are required! Your trusty cookie sheet and mixer will get the job done. Not to mention, half of the ingredients in this recipe are probably in your kitchen right now. Lining your cookie sheet with parchment paper makes for easier cleanup: we recommend this for all cookies, keto or not.
Memorable flavors. The pumpkin spice blend baked with the chocolate chips in these Keto Pumpkin Cookies brings two cookie worlds together in delightful harmony. Neither flavor overpowers the other, but you'll get a hint of both in every bite.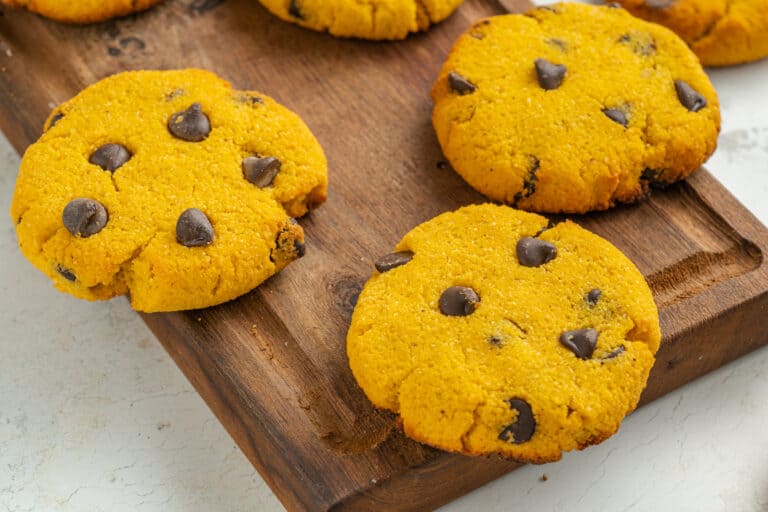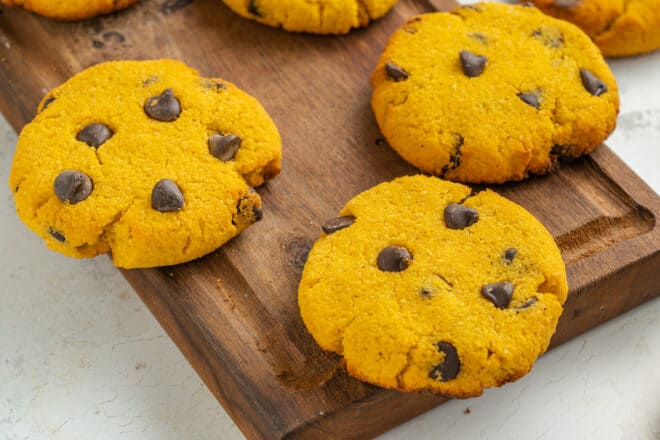 How to Make Perfect Keto Pumpkin Cookies
Step One: While your oven is preheating, line your cookie sheet with parchment paper. It only takes a few seconds but it will save you more time on cleanup!
Step Two: Give your melted butter a few minutes to cool off before you mix it in with your eggs, otherwise you may end up cooking the eggs.
Step Three: Whisk your wet ingredients together, and in a separate bowl mix the erythritol, baking powder, and pumpkin spice. Only add the flours after the other ingredients have been blended together to avoid overmixing.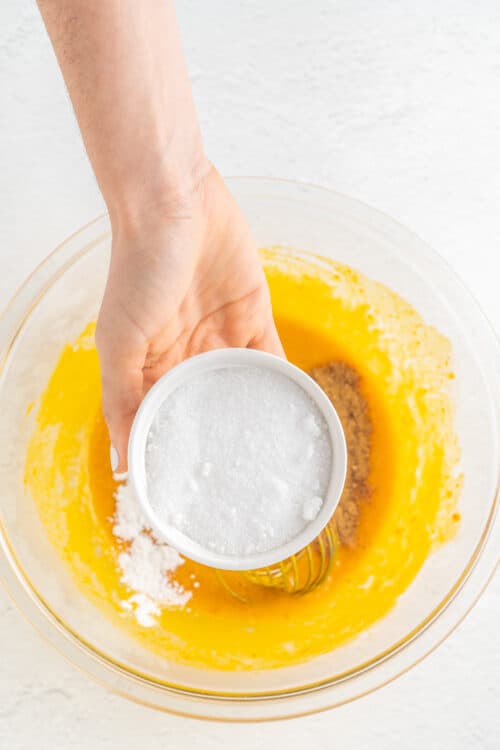 Step Four: When you roll and flatten the batter you may notice that your mixture is a little wetter to the touch than a traditional cookie batter. The water content in the pumpkin puree causes this; however, the recipe's other ingredients and the slightly lower oven temperature keep this moisture in check.
Step Five: Once you've removed the cookies from the oven, let them cool completely on the counter. Transferring them from the cookie tray too soon can result in misshapen or broken cookies!
Chef's Tip: Keep your cookies soft inside by taking them out of the oven as soon as the base is set. You'll notice a slightly darker color around the edges, even while the tops are less firm. Keep an eye on your cookies since over-baking will result in a crunchier cookie.
These cookies go perfectly with a hot coffee or hot chocolate! Check out our best of Boozy Hot Chocolate recipe post if you want to add a little adult to your dessert!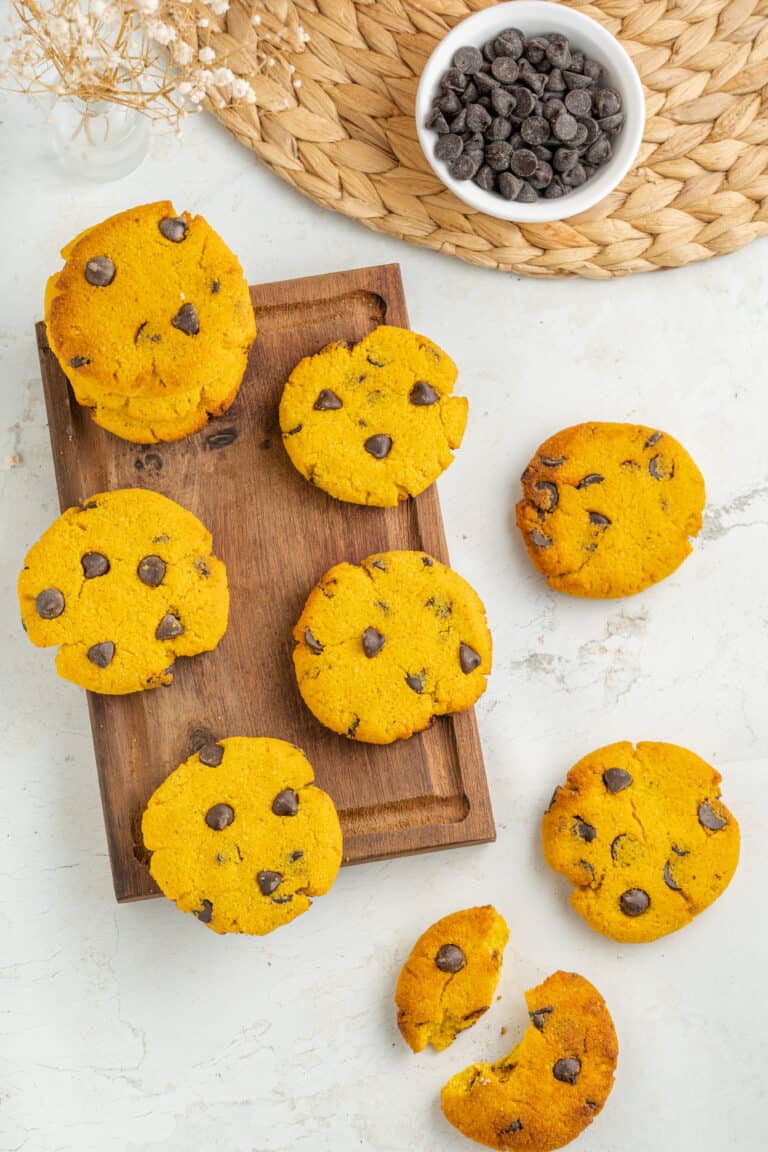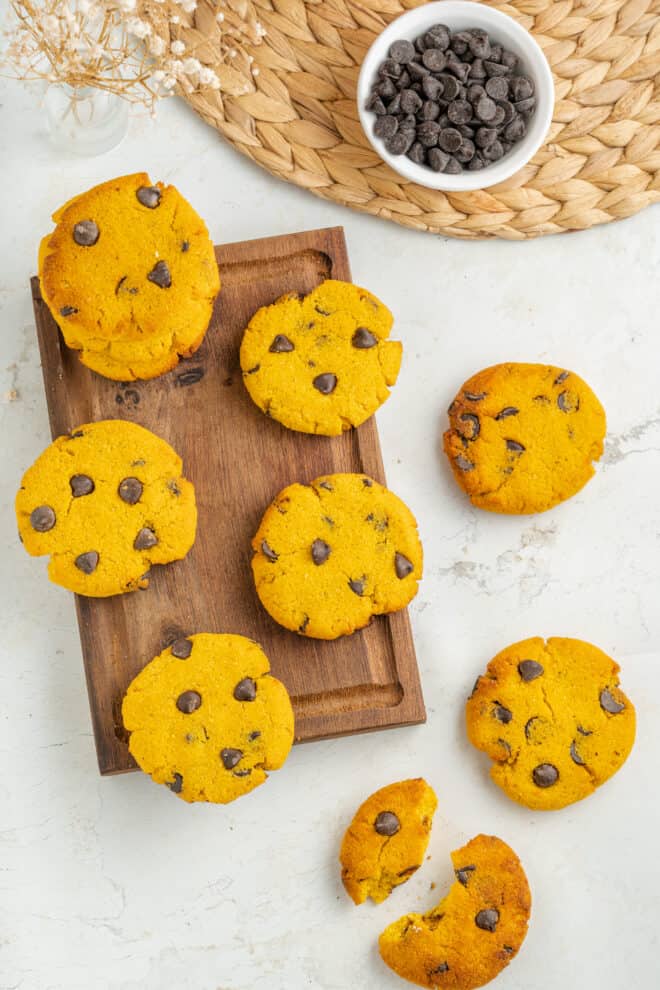 Frequently asked Questions about Keto Pumpkin Spice Cookies
Can I use Keto chocolate chips?
Yes. Chocolate with low or no added sugar works well with this recipe. There are many varieties of chocolate chips that advertise themselves as keto-friendly, but any unsweetened chocolate or dark chocolate would be great here. (Dark chocolate should be 70% cocoa solids or higher to be keto-friendly). The sweetness from the erythritol will keep you from missing any decreased sweetness from your choice of chocolate!
Why use both coconut flour and almond flour?
Coconut flour absorbs more liquid than traditional flour, while almond flour contains more moisture and can produce dense results. Mixing the two flours together creates a wonderful balance in these Keto Pumpkin Spice Cookies. Additionally, both coconut and almond flours are good sources of protein and fiber. This blend of two flours fits right in with the Keto properties of these low-carb pumpkin cookies, and both flours are also gluten-free!
Is erythritol safer than sugar?
Erythritol is different from sugar and some artificial sweeteners because there is no change in the body's glucose metabolism and it does not prompt an insulin response, no matter the body type. It may also help people who are trying to lose weight, or those with diabetes. While erythritol has been artificially produced for over thirty years, it can also be found naturally in fruits such as peaches, pears, and grapes.
Keto Pumpkin Cookies
This Keto Pumpkin Cookie recipe blends the fall flavors of pumpkin and spices with vanilla, butter, and chocolate chips
Servings 12 Servings
Calories 193kcal
Ingredients
2 cups almond flour
1/4 cup coconut flour
1/2 cup chocolate chips
2 whole eggs
2/3 cup granulated erythritol
3 tbsp butter softened
1 tsp vanilla extract
1 tsp baking powder
1/3 cup pumpkin puree
1/2 tsp pumpkin spice
Instructions
Preheat the oven to 325F and prepare a large baking tray with parchment paper.

Beat the eggs in a large bowl. Add vanilla extract, pumpkin puree, softened butter, and whisk.

Next, add granulated erythritol, baking powder, and pumpkin spice. Stir to combine.

Add almond flour and coconut flour and combine. Then, fold in chocolate chips. You can save some to place them on top of the cookies.

Roll the batter into balls 2 inches wide, then flatten them with your hand to give them a cookie shape. Top each cookie with some chocolate chips.

Bake the cookies for 18 minutes, until lightly golden on the base. These cookies will seem soft when hot, but no worries, they'll harden at room temperature. Be careful not to over-bake them, or they'll end up dry.

Let the cookies cool completely before transferring them out of the tray.
Notes
These cookies will get crunchy if over-baked, so if you'd like them soft inside, you should remove them from the oven once they're set in the base but still soft on top.
Store them in a sealed bag over the counter for up to five days
You know it is THAT time of the year when your family asks for pumpkin recipes, for that is convenient to always have a keto option like these keto pumpkin cookies. These cookies are soft and crispy on the outside, perfect when you're craving a warmly spiced cookie for fall.
Nutrition
Serving: 1g | Calories: 193kcal | Carbohydrates: 22g | Protein: 5g | Fat: 15g | Saturated Fat: 4g | Polyunsaturated Fat: 0.2g | Monounsaturated Fat: 1g | Trans Fat: 0.1g | Cholesterol: 35mg | Sodium: 74mg | Potassium: 48mg | Fiber: 3g | Sugar: 5g | Vitamin A: 1186IU | Vitamin C: 0.3mg | Calcium: 71mg | Iron: 1mg
Follow On Pinterest
Follow @bewitchinkitchen On Pinterest for more delicious recipes!