How To Cook a Turkey Like a Boss
I'll never forget my first turkey dinner. I had no idea how to cook a turkey so I called my mom and got the how-to over the phone. I now make 3-4 turkeys a year (it's my husband's favorite) and I want to share my tips and tricks with all of you.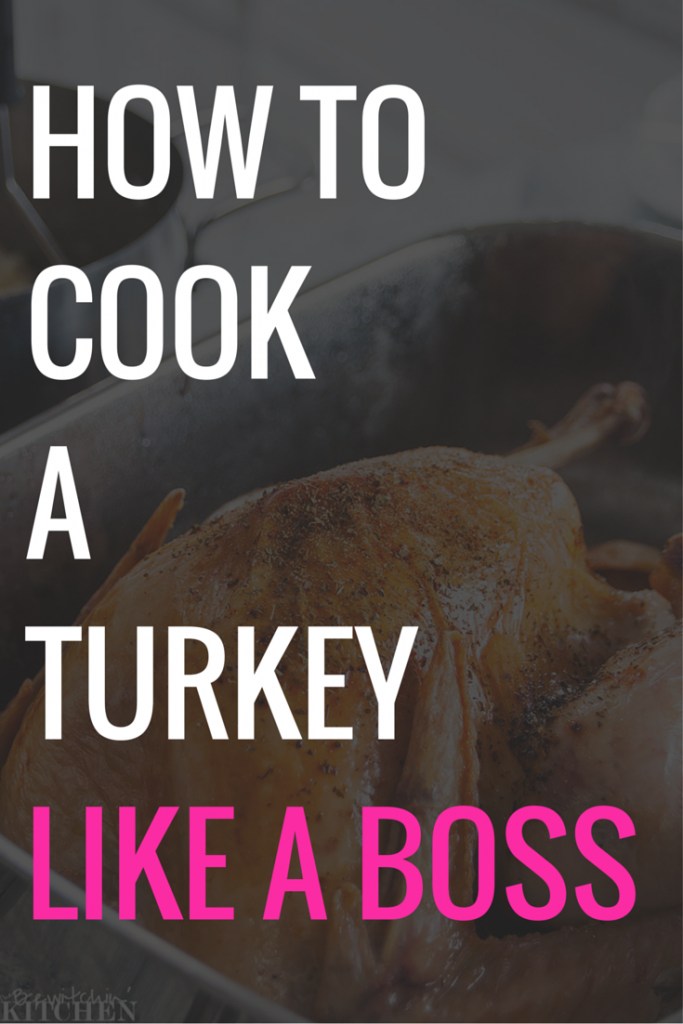 By the end of this post, you will no longer wonder how to make a turkey dinner, you'll see how easy it is! The next step? Cook a turkey and celebrate how awesome it tastes (and enjoy the leftovers for a few days too).

OUR LATEST VIDEOS
How To Make a Turkey Like a Boss: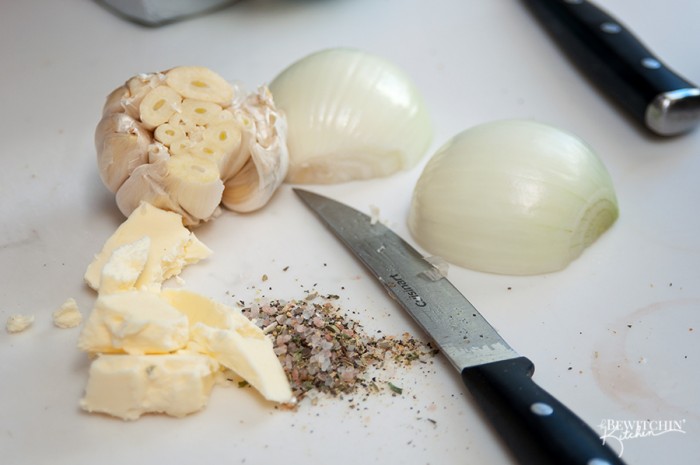 First things first get everything you need out so you're not scrambling with icky poultry hands touching everything.
Here is what you'll need to cook a turkey dinner:
I have included affiliate links for your convenience.
Turkey Lifter

I have this one and love it.

Paper Towels
Basting brush
Meat thermometer

I like to use digital thermometers so there's no second guessing myself.

Bleach
Garbage bags
Food Needed
Turkey (thawed and ready to go)
Onion
Head of garlic
Salt and pepper
Poultry seasoning
How to Cook Turkey
Pre-heat your oven to 325.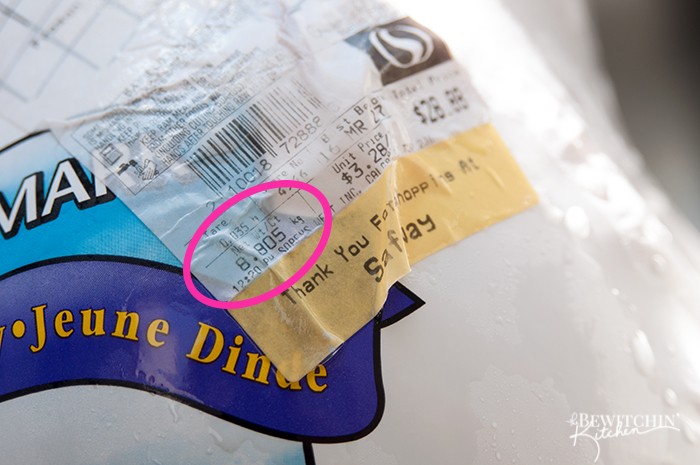 Before you unwrap your turkey (I buy mine frozen) note how much it weight and what the suggested cooking time is. In this case, my turkey is 8.8kg (19.4 pounds).
Unwrap your turkey in the sink, you want somewhere for all the blood and juices to go.
Unhook the legs out of the skin wrap thing that's going on there. Don't cut the skin, as you will need it for later. (If you do, no worries you can tie the legs together with twine later.)
Take out the neck and bagged giblets. I toss mine in the garbage, but some people make a stock out of it.
Rinse the turkey inside and out with cool water. Lift up the turkey to let it drain, get all that nastiness out.
Now you need your paper towel. Stuff the turkey with the paper towel and cover it to soak up all the water. You want it dry! Discard the paper towel.
Now it's time to stuff and flavor the turkey. I don't stuff my turkey with stuffing, my husband refuses to eat turkeys that way. If you do it, go right ahead. What I do is stuff the turkey with an onion (cut in half) and a head of garlic. It's delicious.
Next, I go in between the skin and the meat and add butter, garlic, and seasoning. When I'm not feeling lazy I'll add rosemary and sage- but I usually save that for Christmas.
Finally, I season the skin with salt, pepper, some sage (or poultry seasoning).
Wrap the legs back up with the skin.
Wash your hands and arms like you're about the scrub in with Dr.Bailey on a super important surgery.
Bleach down the sink and anything else the turkey touched.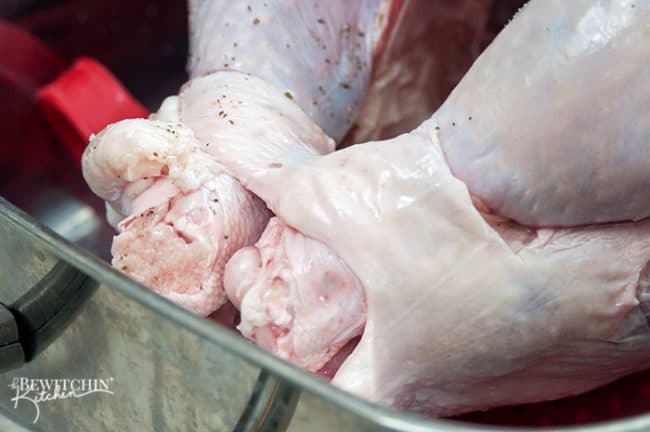 Best Way To Cook A Turkey
Once your turkey is all prepped and ready to go in the oven – just toss it in. I like to roast mine, uncovered, for roughly an hour to an hour and a half or until the skin is getting beautifully brown and crispy. When it's at that stage, I put a lid on my roasting pan (if you don't have a lid, line it with foil). If you want, you can baste at this point.
Truth be told, I rarely baste a turkey.
Turkey Cooking Time
As for cooking times and how long you should cook a turkey, I usually roast mine for 3 1/2 – 4 hours. I cook the meat thermometer reads at least 165F in the breast (180 in the thigh) but it usually reads 170 in the breast. Usually, the frozen turkey will have a suggested cook time, if yours doesn't (like mine this time around) refer to this chart: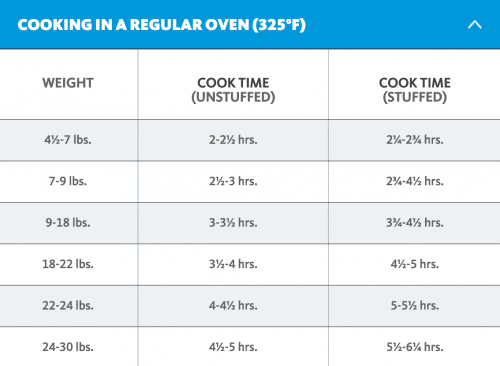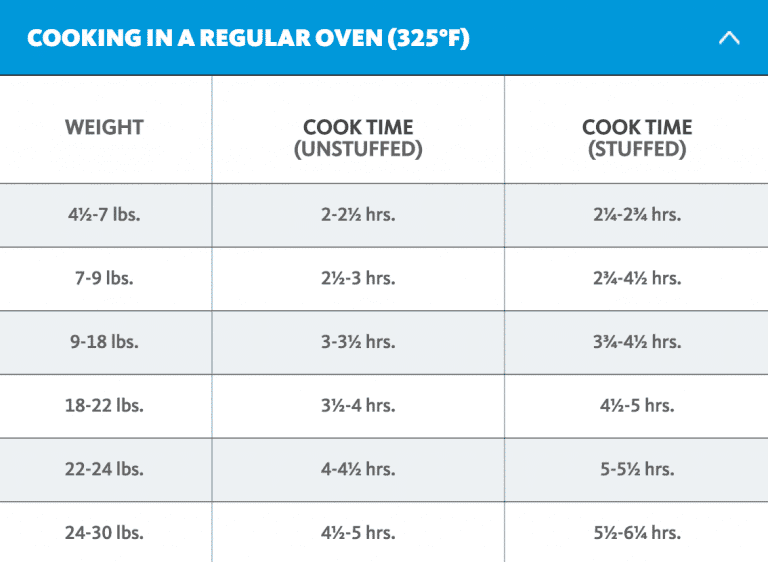 When the bird is done, let it stand covered for at least thirty minutes. You want the juices to settle, you can get the gravy and other sides ready now.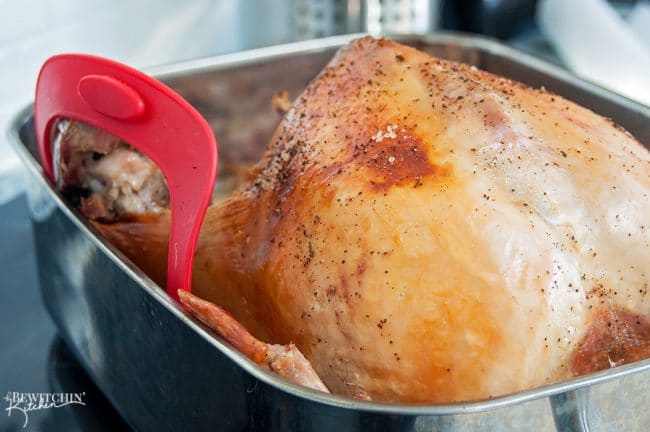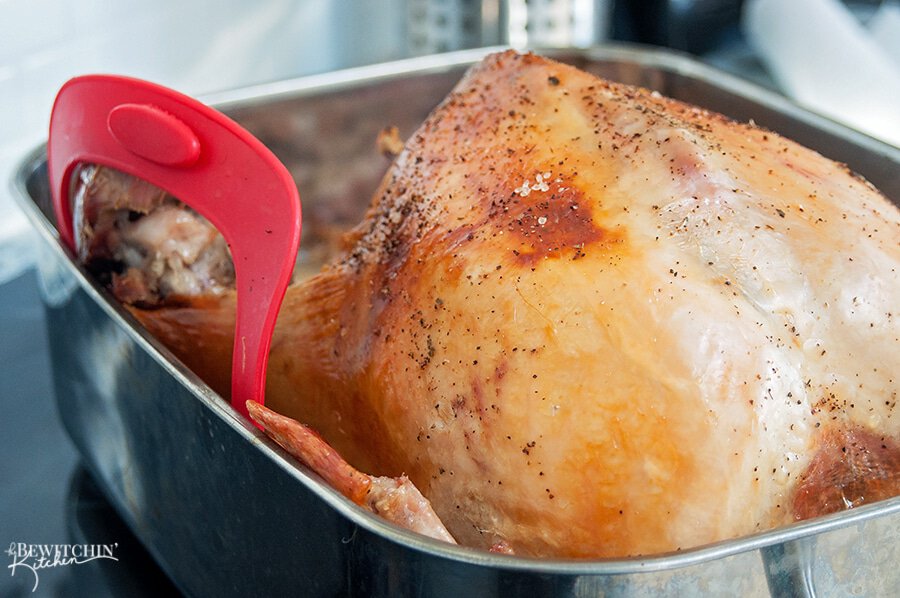 That's it, now it's time to carve that sucker up and enjoy a feast with your family and friends.
The easy way to cook a turkey dinner like a boss! via @Bewitchinkitch #turkeytime #turkeydinner
Click To Tweet
A few years ago I shared my family's classic recipe for homemade turkey stuffing, check it out.
Don't forget to learn how to make turkey gravy!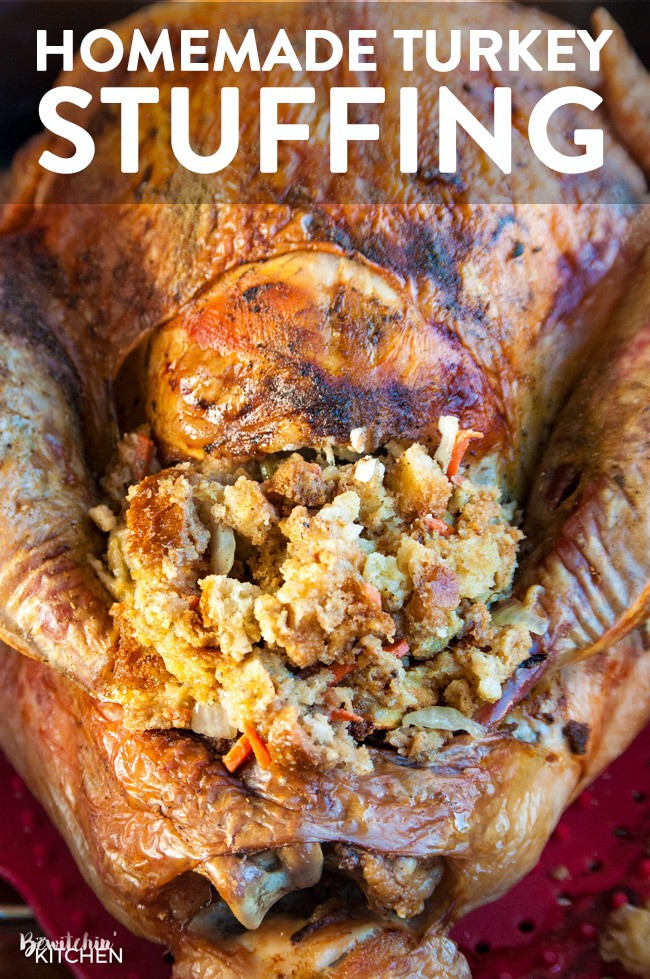 Don't forget to use up the whole turkey and make this recipe for homemade turkey vegetable soup.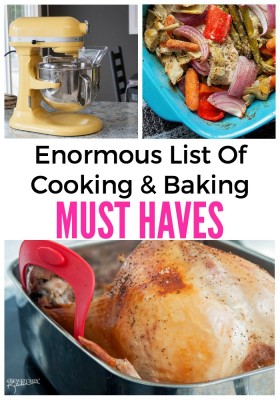 Also, be sure to check out my Enormous List of Cooking and Baking Must Haves.
What's your favorite side dish that goes along with turkey dinner?
Like this post? Please pin it:

FREE Recipe Binder
Are you constantly wondering what's for dinner?
When I don't meal plan I feel behind, and we usually end up ordering take out. This recipe binder will keep you organized and make life a little bit easier.