Spinach Artichoke Jalapeno Bake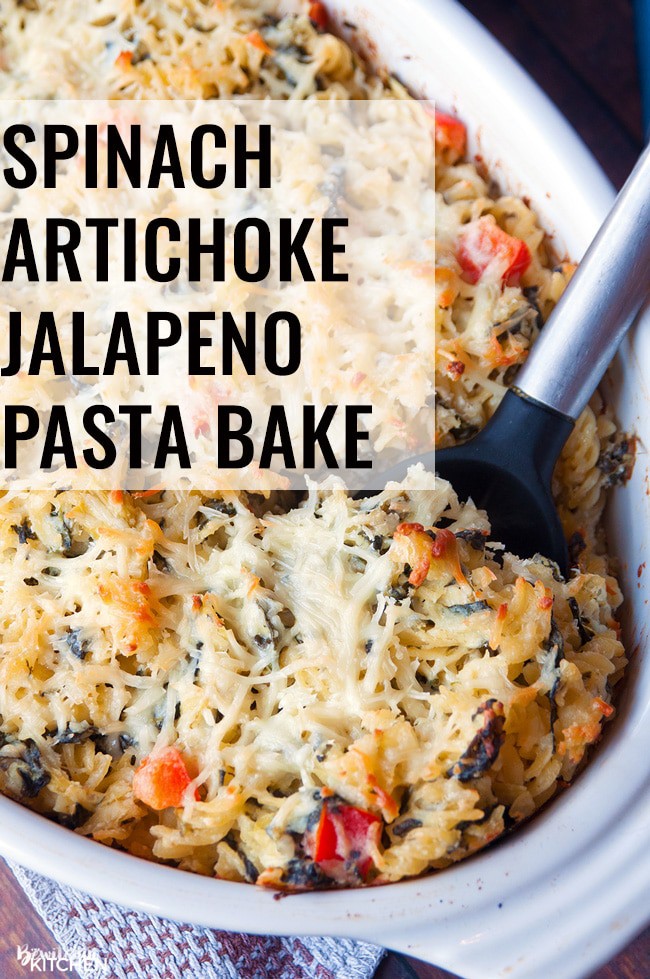 Spinach Artichoke Jalapeno Bake, I went there and I will never go back. This recipe is a little decadent but if there is ever a time where decadence is deserved, it's Mother's Day. This is the perfect Mother's Day recipe, and it's gluten free so every mom can enjoy it.
Spinach Artichoke Jalapeno Bake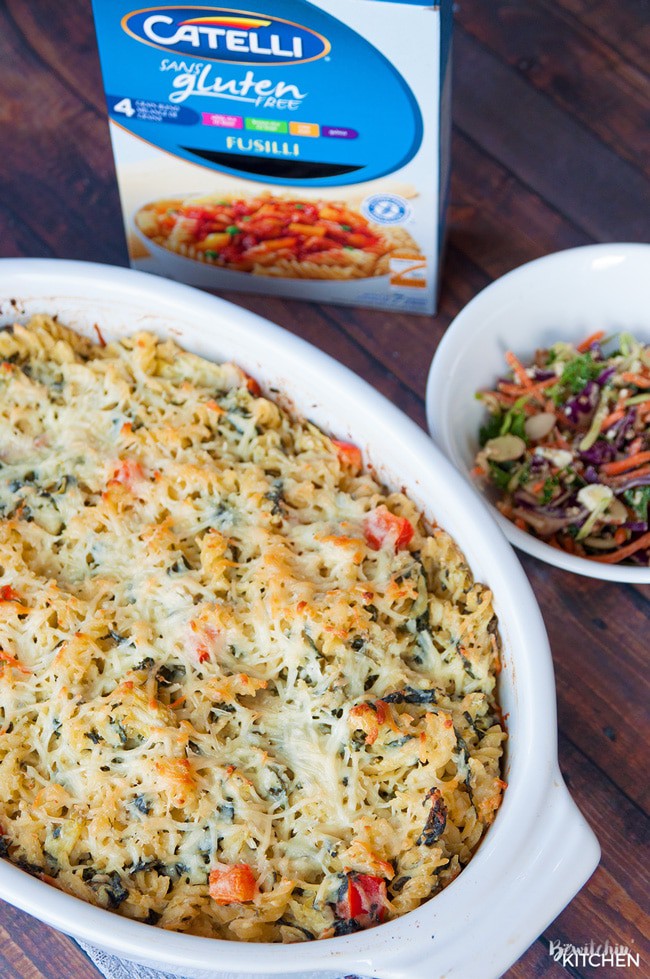 May is Celiac Awareness Month. We all have someone in our lives who has celiac disease. The first person I ever heard of having this disease is my cousin, she was diagnosed pretty young and from that point on I noticed many others around me finding themselves with the same diagnosis. In fact, more than 330,000 people in Canada have been diagnosed with Celiac disease. 
Many years ago, options were limited and people were given the choice to either give up their favorite foods or eat substitutions that had the density and taste of a brick. Gone are those days! Catelli has a delicious gluten free pasta line that tastes no different than the wheat variety. There are no sacrifices with Catelli Gluten Free.
For the month of May I will be participating in #GlutenFreeFridays. Please follow along on social media and tell me how you celebrate #GlutenFreeFridays, as I'm always looking for new inspiration.
Catelli Gluten Free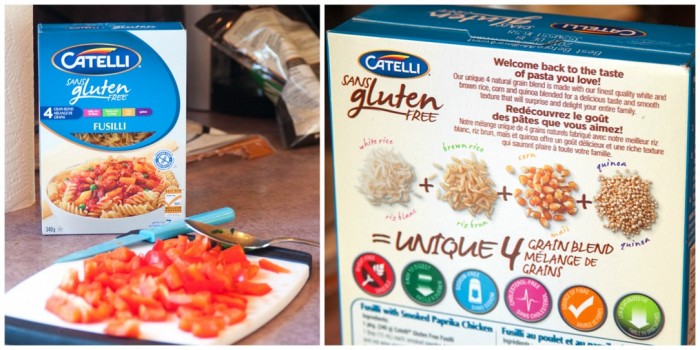 Catelli has a large line of gluten free pasta in the following varieties: lasagne, penne rigate, fusilli, macaroni, spaghetti and spaghettini. There are no preservatives and it is produced in Catelli's gluten free facility.
I was surprised with the ingredients that the gluten free pasta has, it's more than just rice. In Catelli's Gluten Free pasta you'll find ingredients such as white and brown rice, corn and quinoa. There is no "earthy" taste as I originally expected, in fact, I couldn't tell the difference between Catelli's Gluten Free vs my regular pasta. It's delicious!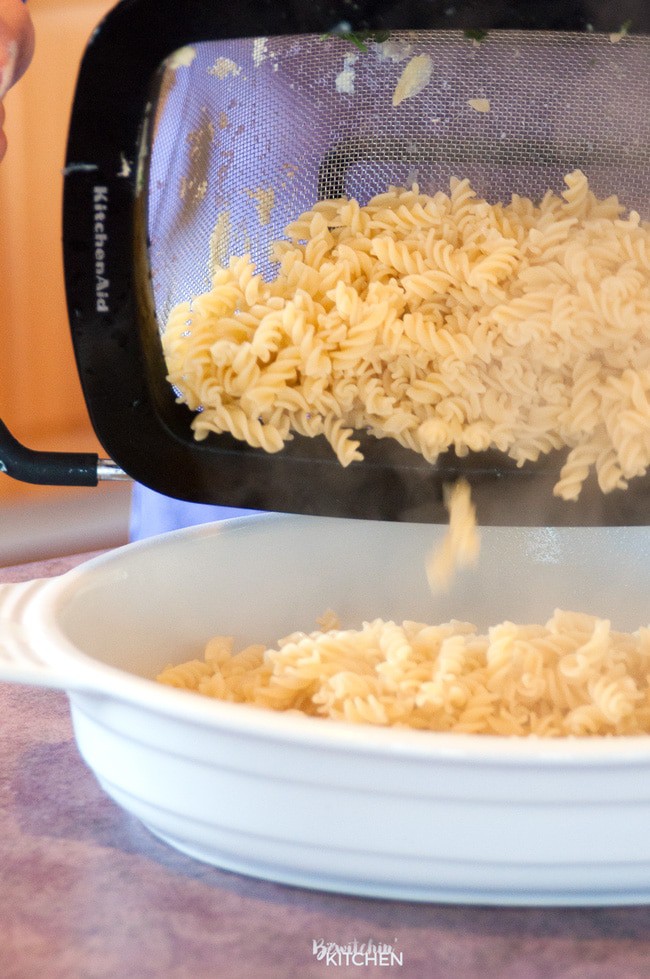 For the Spinach Artichoke Jalapeno Bake recipe that I'm about to give you, I used Catelli's Gluten Free Fusilli pasta. I wanted this recipe to feel like an "adult mac and cheese" and I thought the texture and crevasses in the fusilli pasta would be the perfect place for all the yummy sauce to hide and rest.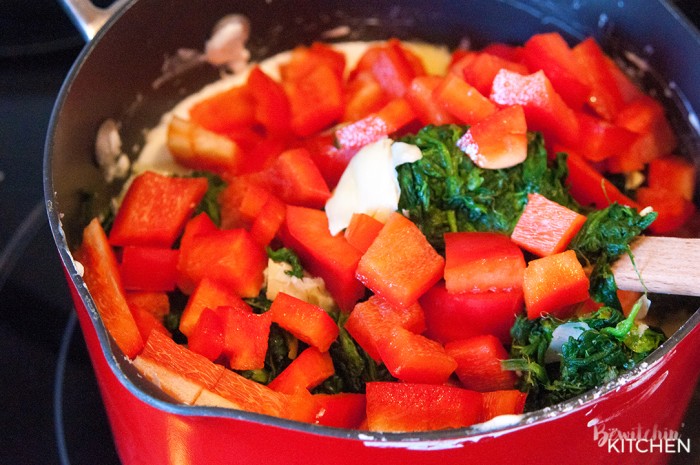 The sauce recipe is really easy, it's actually a slight variation of my favorite spinach and artichoke dip recipe from Natasha's Kitchen. Her spinach dip is the best there is (and I've tried a lot), I tweaked it a little bit for this casserole and it's super yummy.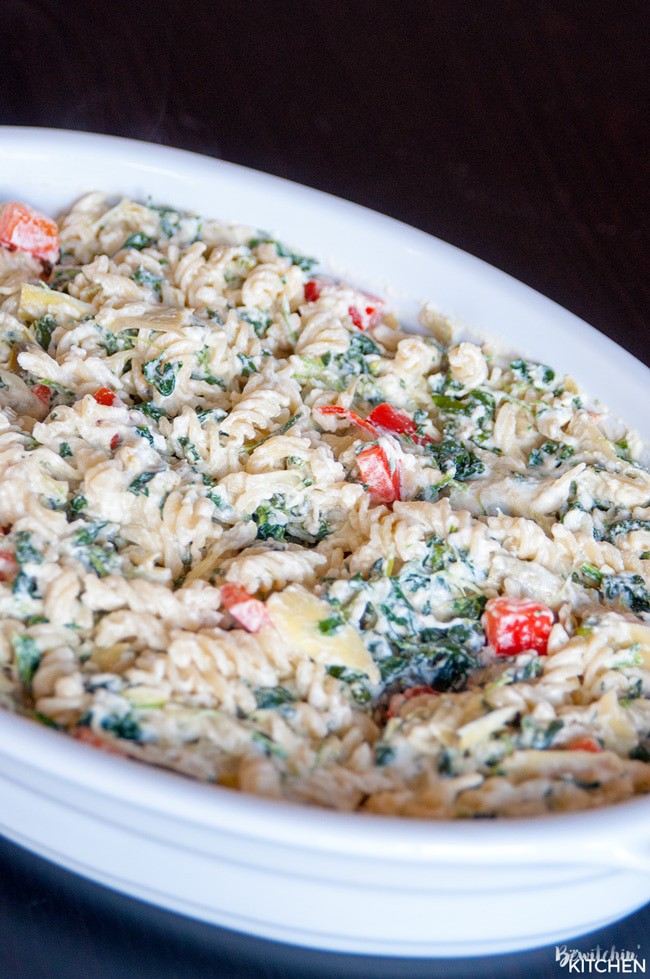 All there is to do to make this recipe a smashing success is to mix the spinach artichoke jalapeno dip with the gluten free fusilli, top with parmesan and bake. It's that easy.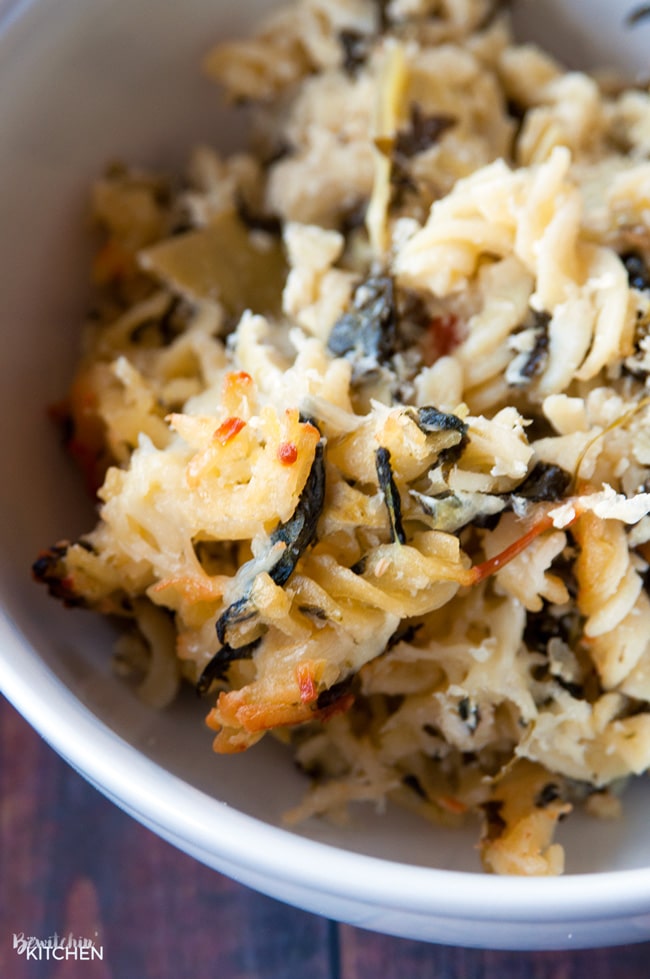 This pasta bake is incredible. I stepped outside my comfort zone with this recipe, I usually stick with tomato based sauces when it comes to pasta but since it's something you can do anything with, I wanted to try something different. Experimenting in the kitchen is how we get better and I'm thrilled with the results with this investigation.
Spinach Artichoke Jalapeno Bake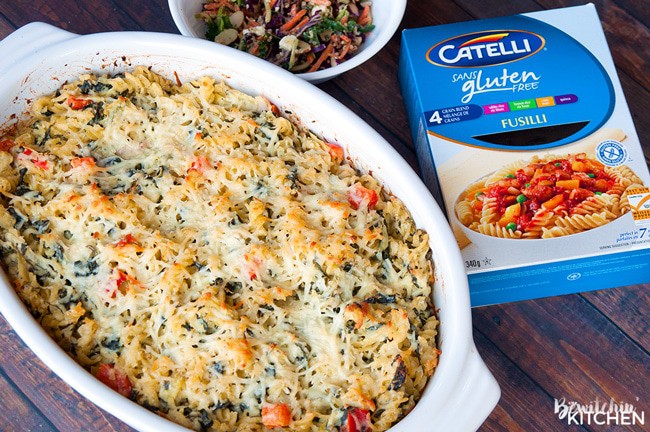 Spinach Artichoke Jalapeno Bake. This gluten free spinach artichoke pasta recipe is the ultimate comfort food. Mac and cheese meets spinach and artichoke dip, topped with parmesan and jalapenos.

Spinach Artichoke Jalapeno Bake
This gluten free spinach artichoke pasta recipe is the ultimate comfort food. Mac and cheese meets spinach and artichoke dip, topped with parmesan and jalapenos.
Servings 6
Calories 738kcal
Ingredients
1 box Catelli Gluten Free Fusilli
For the sauce:
1 cup light cream cheese 250g
2 cups greek yogurt I used 0%
1/2 cup unsalted butter
2 cups parmesan cheese reserve 1/2 cup for topping.
1 red pepper diced
300 g spinach thawed and excess liquid squeezed with paper towel
1/4 cup jarred jalapenos
1 can artichoke hearts drained (380ml)
1 tbsp minced garlic
Instructions
Preheat oven to 350 degrees.

Cook the pasta according to box instructions, while you cook the sauce.
For the spinach artichoke jalapeno sauce:
In a medium pot, over medium heat add the cream cheese, greek yogurt, butter, and 1 1/2 cups of the parmesan cheese. Stir until melted.

Add the rest of the ingredients and let simmer for roughly five minutes, enough to let the garlic and jalapenos do their thing.
Arrange the pasta bake:
Drain the pasta and add to a casserole dish sprayed with non-stick spray.

Pour the spinach artichoke jalapeno sauce over the fusilli and combine.

Top with remaining 1/2 cup of parmesan cheese and toss it in the oven for 30 minutes.

Serve warm.
Nutrition
Serving: 1g | Calories: 738kcal | Carbohydrates: 68g | Protein: 31g | Fat: 38g | Saturated Fat: 20g | Cholesterol: 88mg | Sodium: 1080mg | Potassium: 553mg | Fiber: 4g | Sugar: 6g | Vitamin A: 6965IU | Vitamin C: 58.1mg | Calcium: 597mg | Iron: 3.2mg
Follow On Pinterest
Follow @bewitchinkitchen On Pinterest for more delicious recipes!
What's your favorite ingredient to experiment with?
Pasta is such a great ingredient to experiment with, it's my personal favorite. I appreciate that on busy nights, this ingredient acts as a base to any recipe gets me from pot to plate in less than fifteen minutes (like this recipe for Penne Tomato Basil Cream Sauce). I have been sharing my creations and family's dinnertimes moments (like my picky son finally eating a "grown up meal" – high five) using the hashtag #CatelliFamilies and I encourage you all to do the same.
I want to see your recipes! In the spirit of Celiac Awareness Month, feel free to share some of your favourite gluten free recipes with me too, remember to tag me @RandaDerkson (IG) or @BewitchinKitch (Twitter).

This recipe has been sponsored by my friends over at Catelli. All thoughts and opinions are my own.