Gluten Free Quiche
This Gluten Free Quiche is a fluffy baked breakfast bolstered and brightened with fresh tomatoes and spinach, stuffed with cheddar and feta cheeses, and baked in an almond flour crust.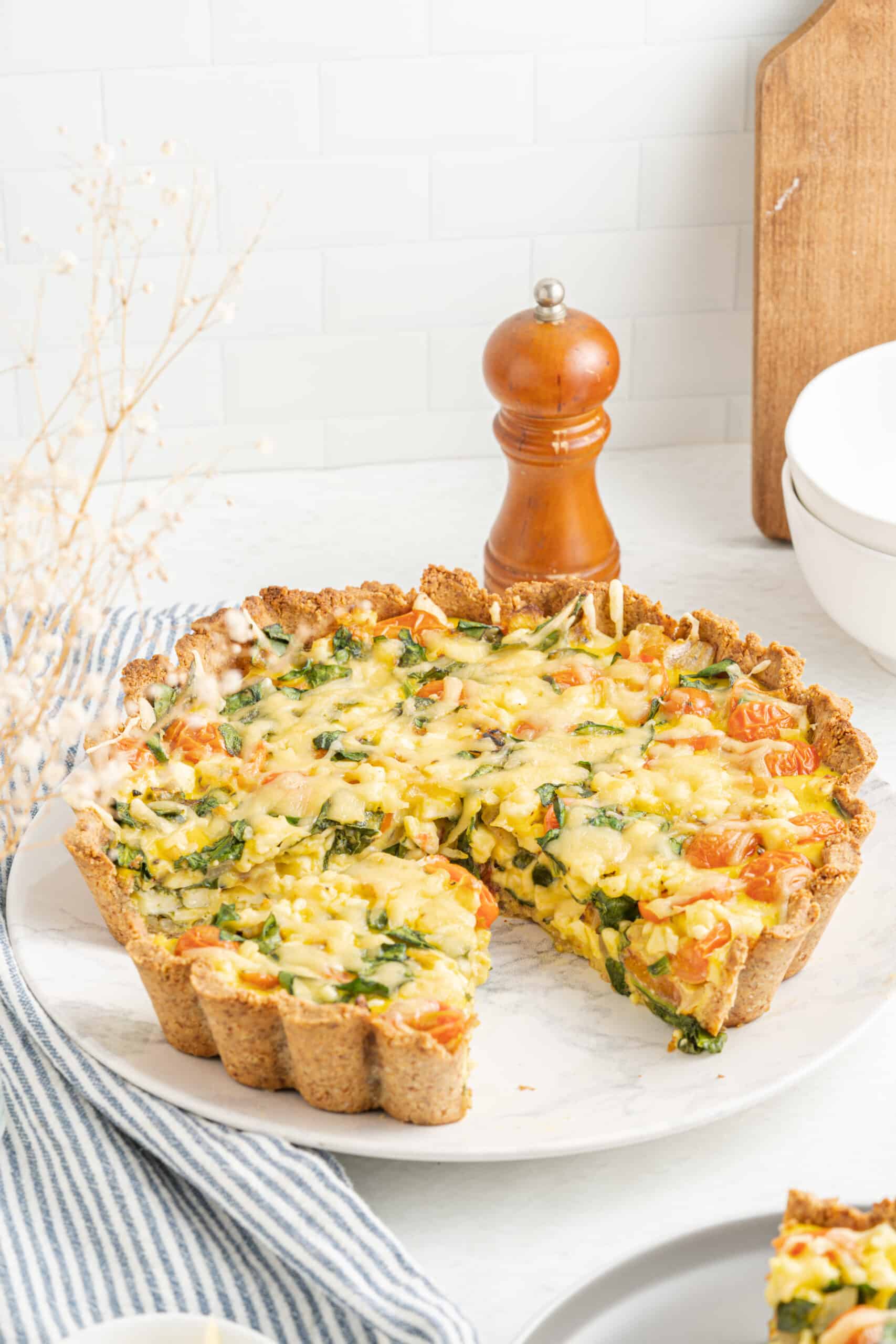 A Gorgeous Gluten Free Quiche
The right gluten free quiche recipe will give you all the energy you need to face the day!
Your body will welcome the protein from the eggs, healthy and rich fats from the cheese, eggs, and almond flour, and nutrients from the fresh vegetables. And with a crisped cheddar topping, your taste buds will welcome each bite, too!
If you're in too much of a rush to bake breakfast in the morning, try prepping our gluten free pumpkin oatmeal bars for a meal on the go! These vegan waffles are fantastic freezer meals, too.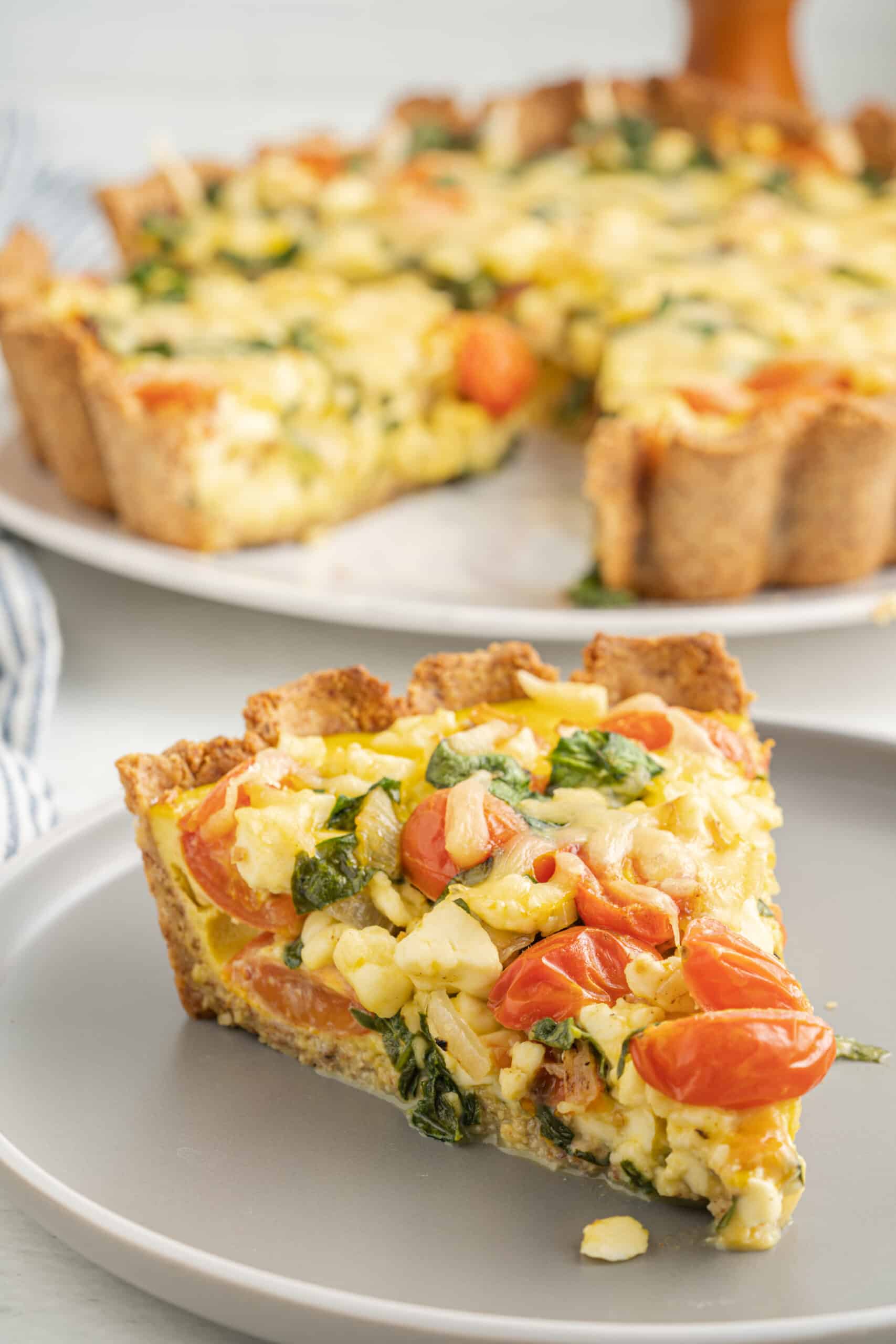 Why you will love Gluten Free Quiche
The nutty almond crust and cheesy egg filling are a match made in heaven!
Juicy tomatoes, savory spinach, and rich feta cheese fill each forkful with flavor.
Easy to store and freeze for meal prep throughout the week.
It's a gluten free breakfast that doesn't sacrifice any flavor or texture!
How to Make Perfect Gluten Free Quiche
Prepare to bake: Preheat the oven to 350F and prepare a tart pan – some gluten-free sprays include those made with grapeseed oil, vegetable oil, and avocado oil.
Make the dough: Combine the melted butter, egg, and salt with a whisk. Once well incorporated, fold in the almond flour/meal. Transfer the dough to a sheet of parchment paper. Using a rolling pin, roll out the dough until it's ⅓" thick.
Bake the crust: Lift the dough and place it in the prepared tart pan, covering the base and sides. Bake for 12-15 minutes until just browned.
Sauté the onion and garlic: Meanwhile, heat 2 tbsp of olive oil in a pan and sauté the onion until translucent. Follow with the minced garlic and stir until aromatic. Remove from heat and let cool briefly.
Mix the filling: Beat the eggs for the filling in a large bowl. Once nice and frothy, add the onions and garlic, salt and pepper, feta cheese, tomatoes, and spinach. Whisk everything together.
Bake the quiche: Pour the egg mixture into the browned crust. Shake the pan lightly to help the filling spread evenly. Sprinkle the shredded cheese on top and slide into the oven. Bake for 40-45 minutes until the egg is cooked through and the cheddar browns and crisps.
Serve: Let the quiche cool for at least 10 minutes before slicing and serving to let the filling set. Serve warm.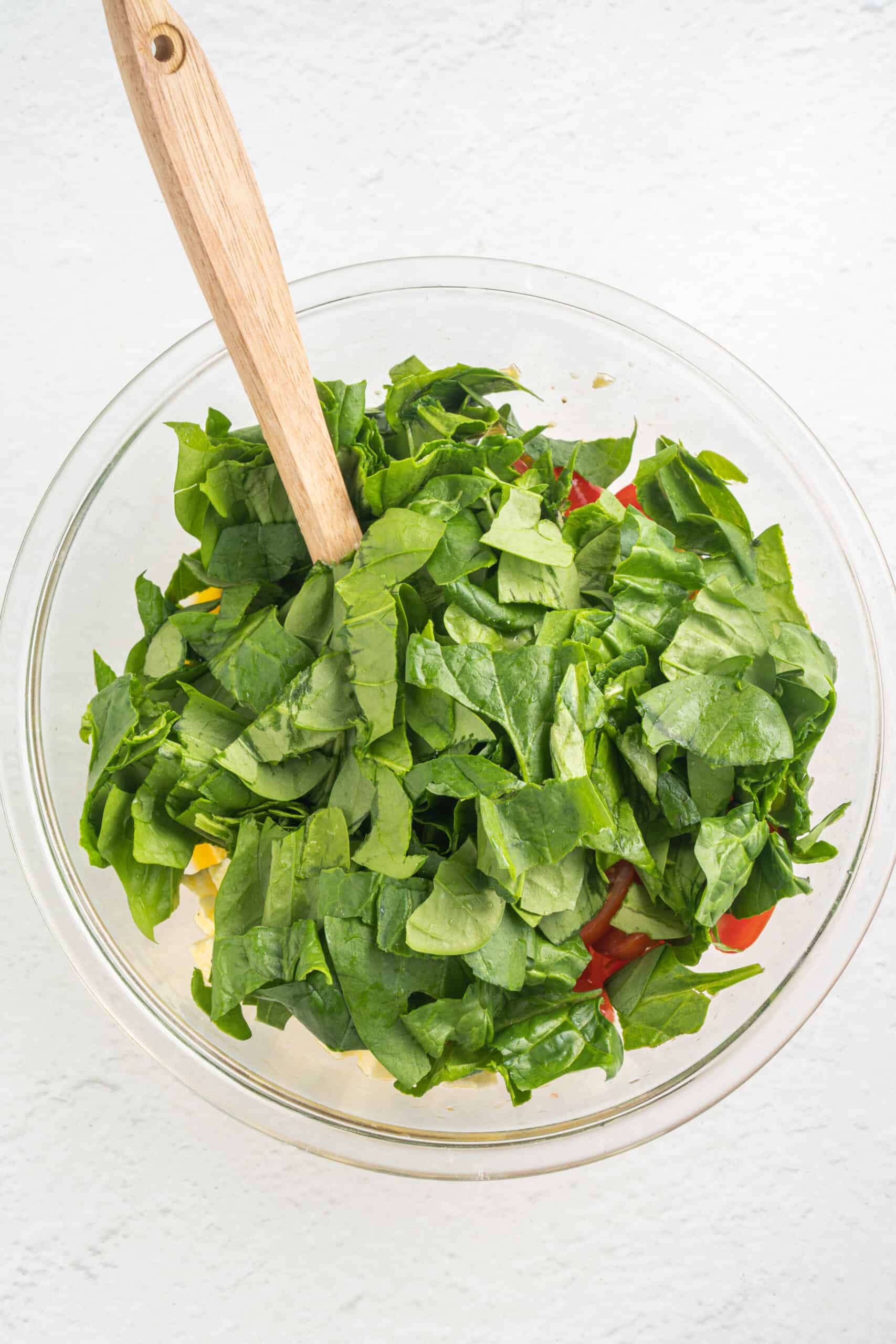 Pro Tips
Pro Tip 1: Browning the crust before baking the filling and sweating the onions are both key to avoiding a soggy crust! Don't skip these steps.
Pro Tip 2: If you'd like to introduce another protein while keeping your quiche gluten free, we'd suggest crumbled breakfast sausage or bacon. These two are usually gluten-free – that being said, always check nutritional information on packaging to be absolutely sure.
Pro Tip 3: Leftover quiche makes for a quick and easy breakfast, lunch, or dinner! Be sure to let cooked quiche cool completely before storing in an airtight container. Refrigerate for up to 4 days. We like to slice and store individual portions for easy reheating.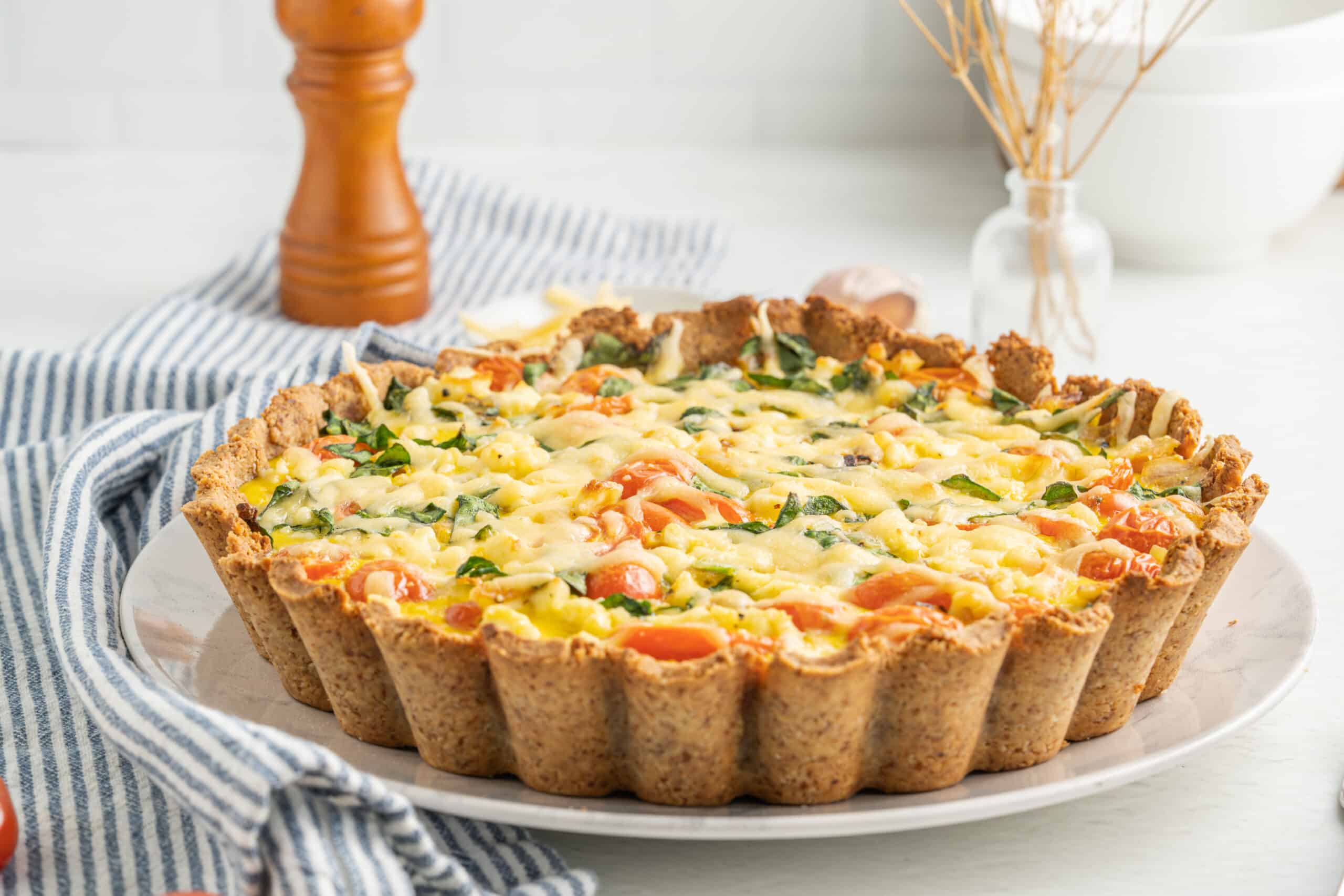 Key Ingredients and Substitutions
Almond Flour or Almond Meal: Flour is made from peeled almonds and has a finer texture, whereas meal is made from whole almonds and is rougher.
Cherry Tomatoes, Spinach, and Onion: Vegetables are naturally gluten free, so you can incorporate any of your preferred seasonal produce: mushrooms, bell peppers, and broccoli are also popular choices.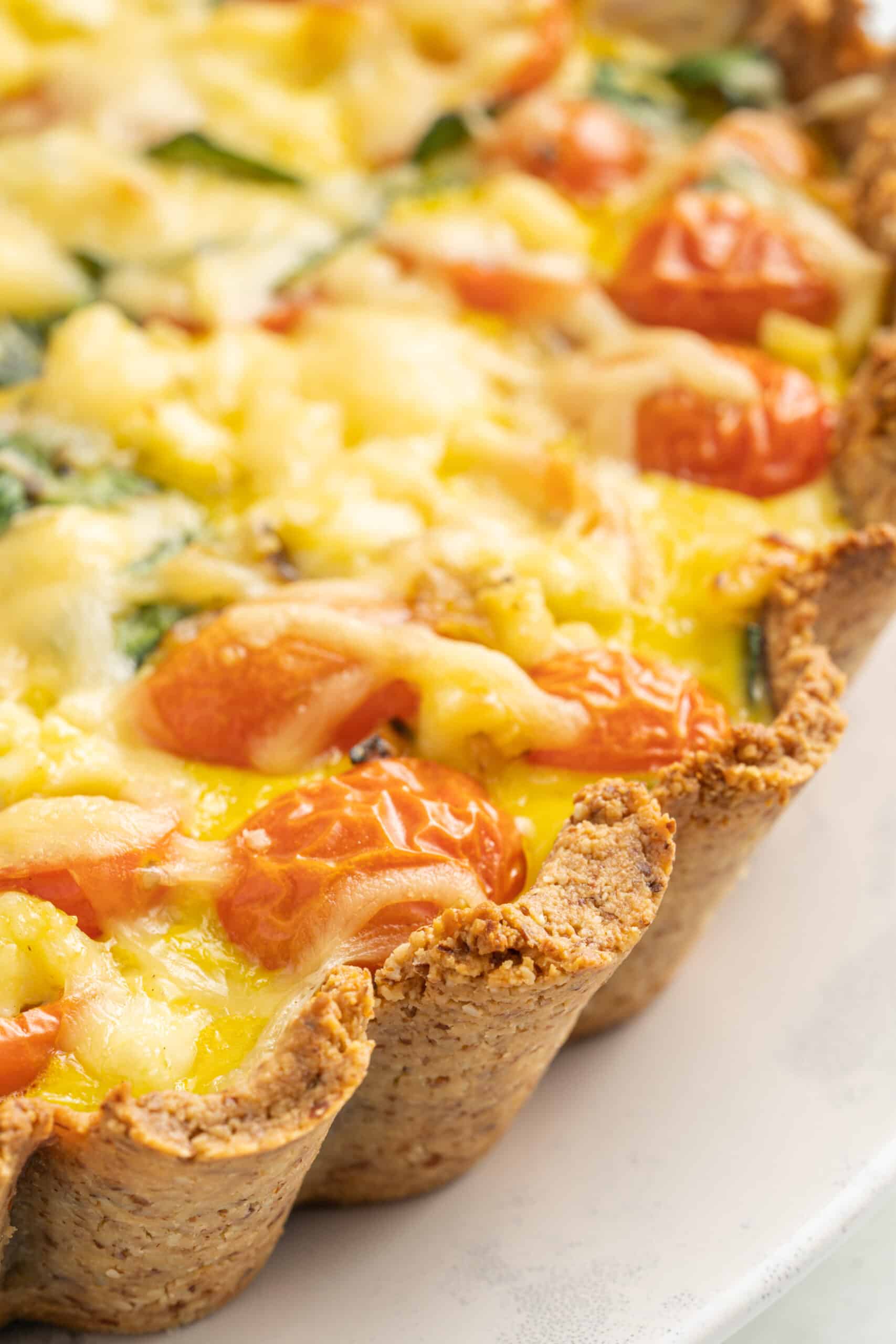 Frequently asked Questions about Gluten Free Quiche
What can I use instead of pie crust for quiche? And can I make this gluten free quiche recipe without a crust?
Those who don't enjoy the texture of pie crust can use a puff pastry, cracker, or rice crust. Rice is great because it's naturally gluten-free, but you'll have to make sure any alternative you choose is gluten-free by checking its nutritional information.
It's no problem at all to make quiches without crust – the egg filling that cooks against the pan will brown and harden on its own to help give your slices some structure.
Does crustless quiche contain gluten?
As long as your ingredients are gluten-free, a crustless quiche should be gluten-free by default.
What is the difference between a quiche and a quiche lorraine?
A quiche Lorraine has very specific ingredients: in addition to the eggs, you need heavy cream, bacon, and cheese. You can make a gluten free quiche Lorraine with the gluten free quiche crust recipe included here!If your quiche has any other ingredients, or these ingredients plus others, it's not a Lorraine.
Gluten Free Quiche
This Gluten Free Quiche is a fluffy baked breakfast bolstered and brightened with fresh tomatoes and spinach, stuffed with cheddar and feta cheeses, and baked in an almond flour crust.
Servings 8 Slices
Calories 449kcal
Ingredients
Crust
3 tbsp melted butter
1 medium egg
2 cup almond flour or almond meal
1/2 tsp salt
Filling
2 cup cherry tomatoes chopped into halves
2 cup fresh spinach packed
4 medium eggs
2 tbsp olive oil
1 small yellow onion chopped
2 clove garlic cloves minced
1/2 tsp salt
1/2 tsp ground pepper
1/3 cup shredded cheddar cheese
16 oz feta cheese diced
Instructions
Preheat the oven to 350F. Then, prepare a 9'' tart pan.

Prepare the crust: mix melted butter with the egg and salt. Then, fold in almond butter and combine.

Place the dough over a large piece of parchment paper so it's easier to lift. Use a rolling pin to extend it until it's ⅓ inch thick. Transfer the dough over the prepared tart pan and cover the base and sides. Bake the base for 12-15 minutes or until slightly golden.

To make the filling, you'll need to sauté the onion with two tbsp of olive oil. Stir until the onion is translucent. Then, add minced garlic and stir until fragrant. Remove from heat.

Beat the eggs in a large bowl; add salt, pepper, feta cheese, cherry tomatoes, chopped spinach, and sauteed onion. Stir to combine.

Transfer the filling to the quiche base and extend evenly. Top with shredded cheddar cheese.

Bake it for 40-45 minutes or until the egg is fully cooked and the cheese is gratinated.

Serve warm with fresh salad on the side.
Notes
This is a cheesy and fresh quiche with a bold nutty flavor due to the almond flour crust. With almond flour, eggs, and feta cheese, each portion is also rich in healthy fats.
Nutrition
Calories: 449kcal | Carbohydrates: 11g | Protein: 19g | Fat: 38g | Saturated Fat: 13g | Polyunsaturated Fat: 1g | Monounsaturated Fat: 8g | Trans Fat: 0.2g | Cholesterol: 169mg | Sodium: 1051mg | Potassium: 219mg | Fiber: 4g | Sugar: 2g | Vitamin A: 1452IU | Vitamin C: 11mg | Calcium: 404mg | Iron: 2mg
Follow On Pinterest
Follow @bewitchinkitchen On Pinterest for more delicious recipes!