Pumpkin Oatmeal Bars
These pumpkin oatmeal bars are crunchy, sweet, with just the right bit of spice and oh my gosh just SO delicious!
I actually advise you make a double batch of oat bars to have enough to last you the whole week, trust me when I say you'll end up eating half of the first batch straight from the pan!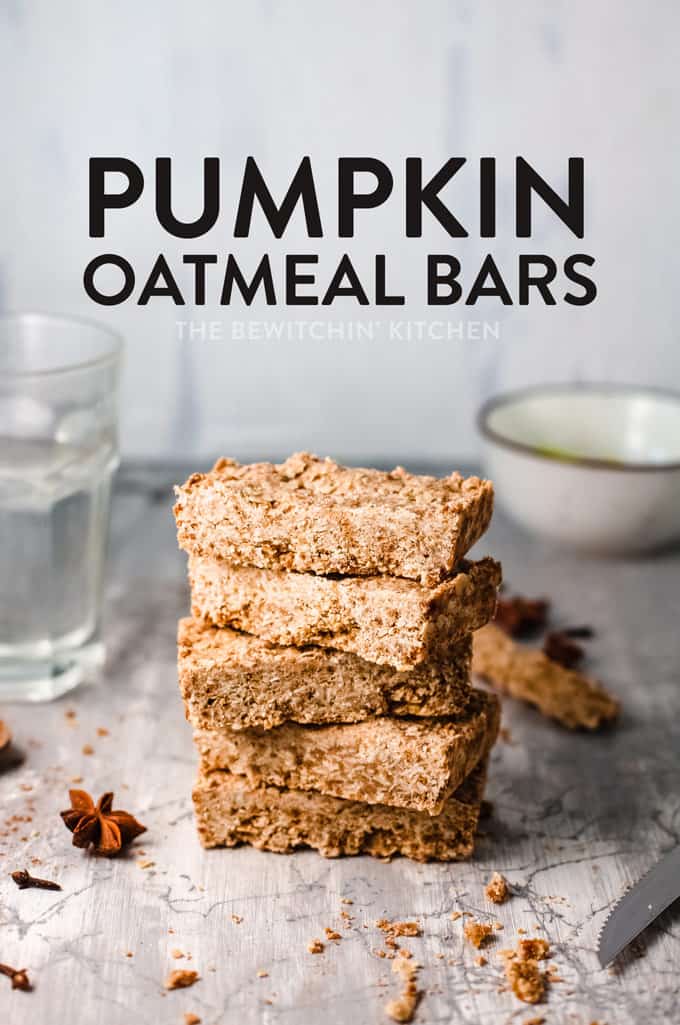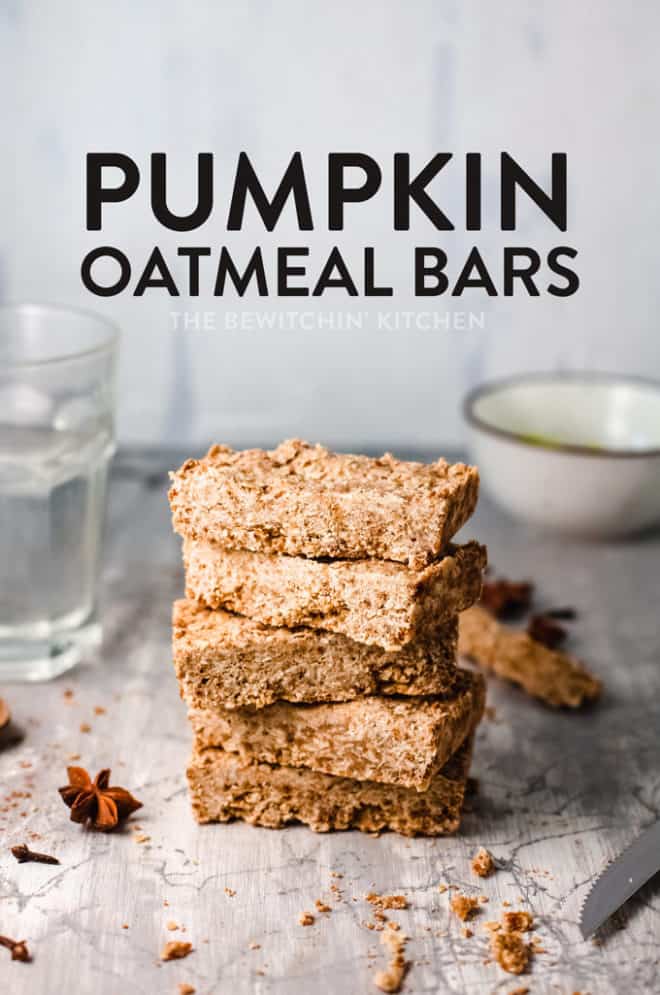 Pumpkin Oatmeal Bars
Disclosure: This post contains affiliate links for your convenience. As an Amazon Associate, I earn from qualifying purchases.
These can be made as breakfast bars or granola bars but either way – they will be a fall favorite.
In addition to a delicious oatmeal bar recipe, try crumbling this over yogurt as pumpkin granola.
These bars are so freaking good!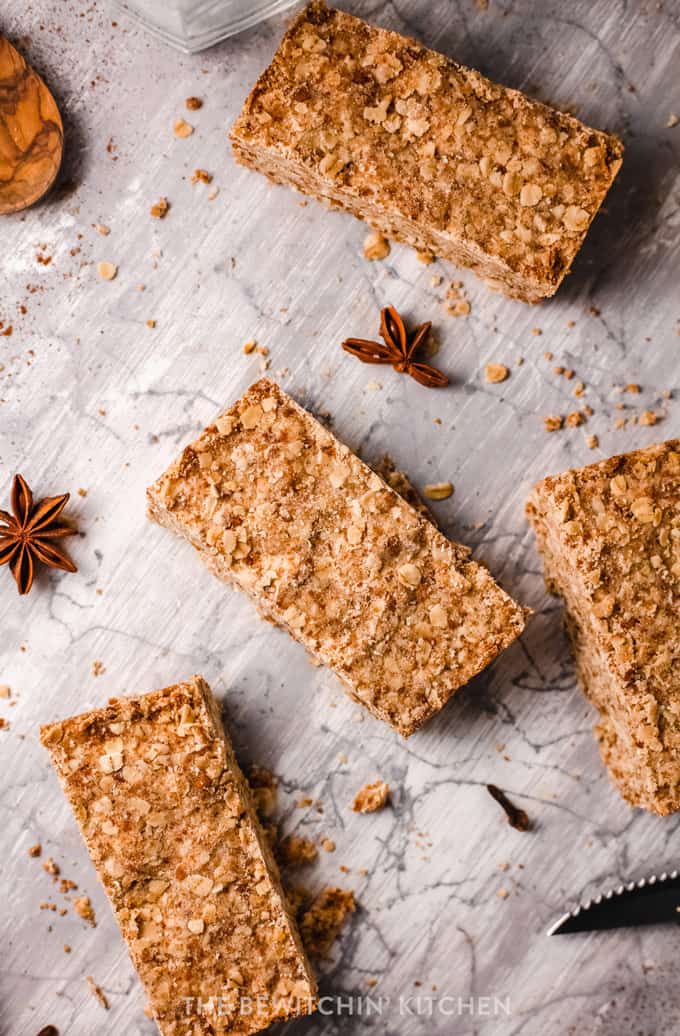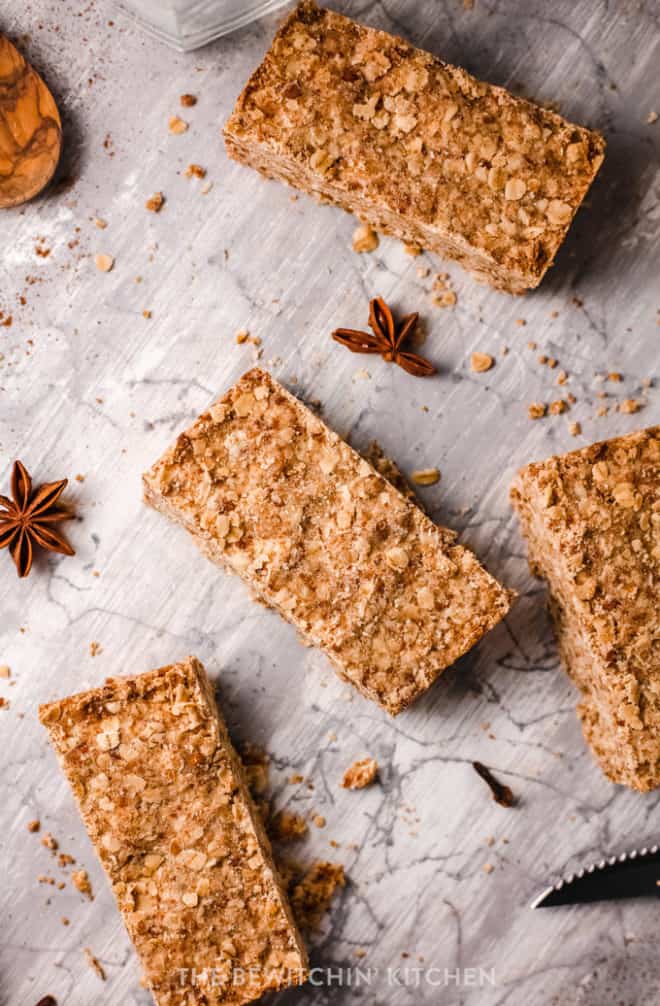 How to make pumpkin oat bars
The secret here is using a combination of oats + oat flour. you can buy oat flour or make oat flour at home in the blender (just like I share in the recipe) both options work great.
Why oat flour?
Oat flour binds better to the butter which results in these super crunchy breakfast bars that taste a million times better than the store-bought ones.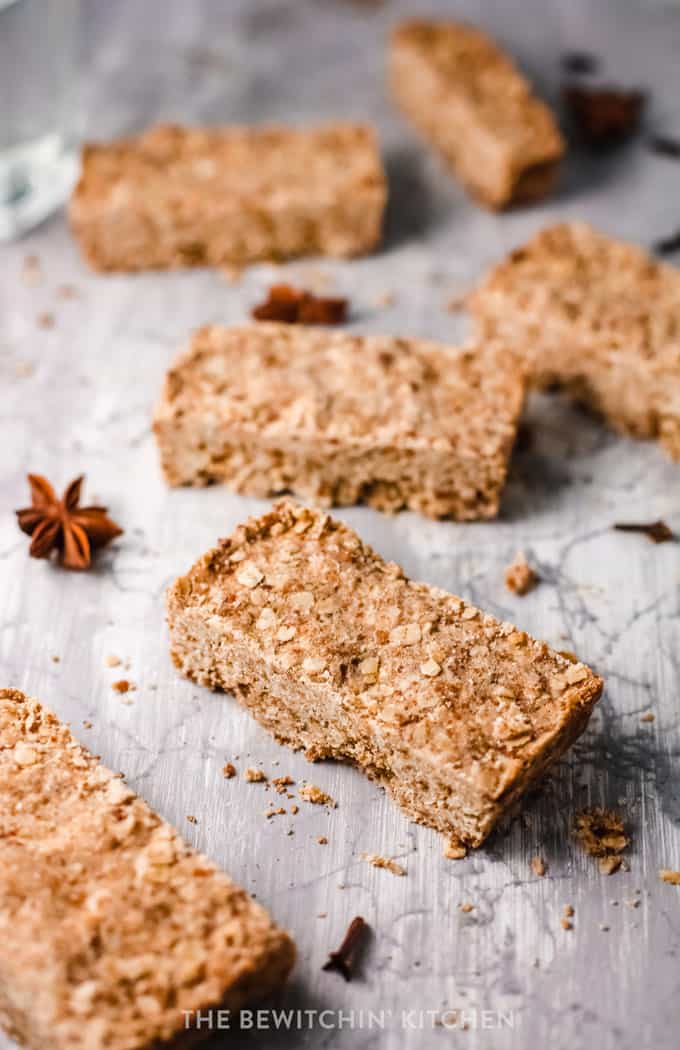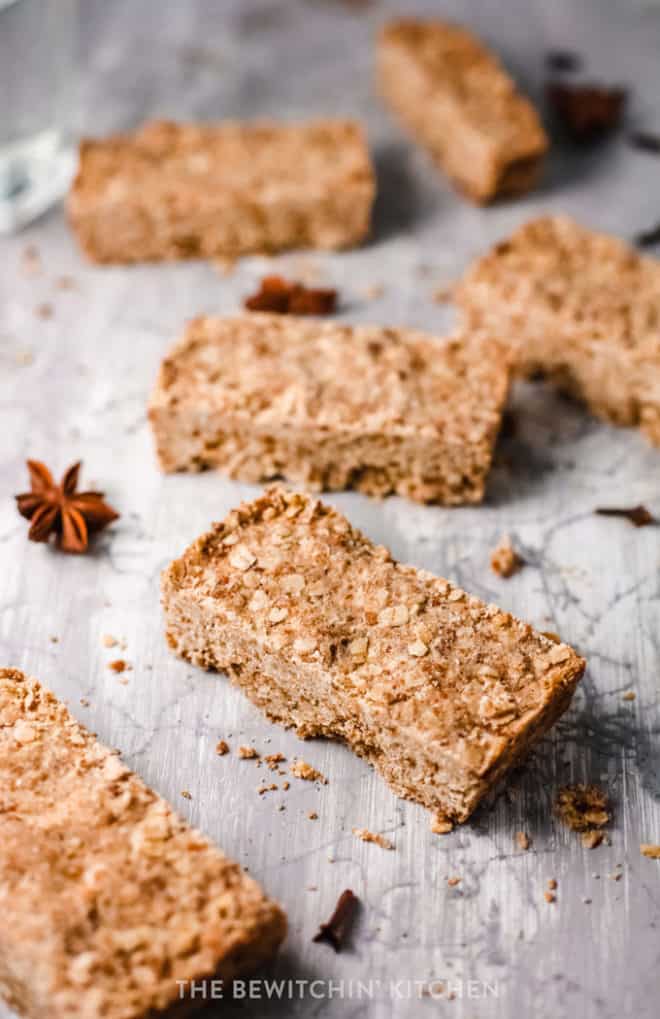 School snacks just got tastier!
They are also super simple to make.
Just mix everything together in a bowl, press tightly in a baking pan and place them in the oven for a bit while you do something else. That's it.
Variations of homemade oat bars
Like all my recipes you can totally customize this!
I recommend playing with the puree.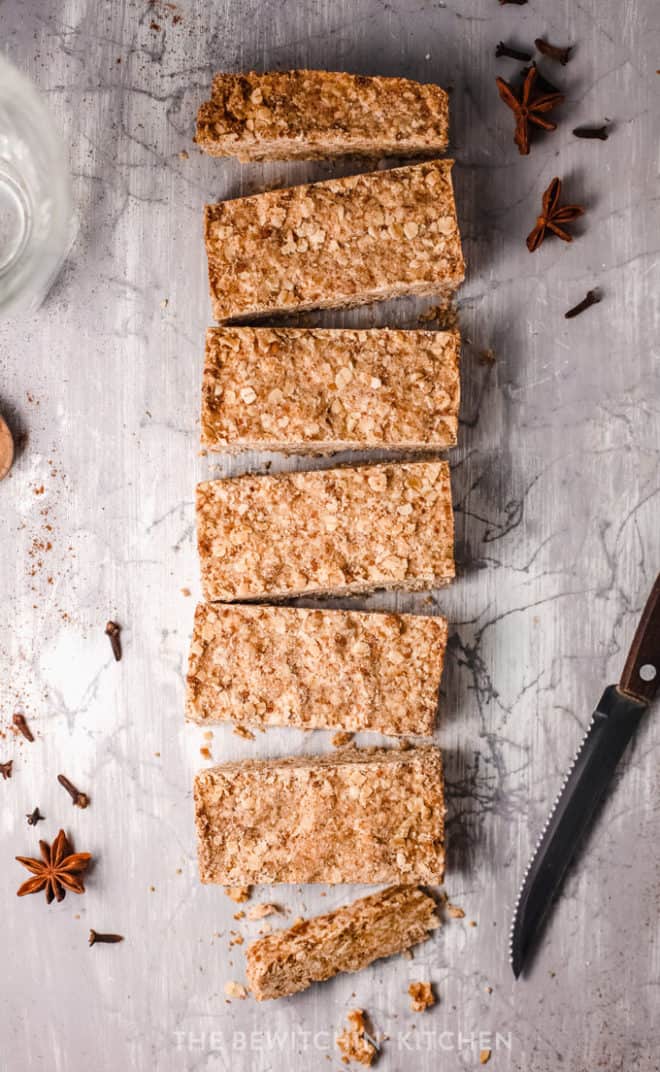 In this case, we are using pumpkin for the pumpkin oatmeal bars (duh) but here are a few other ideas:
Apple sauce for apple bars (you can also add chunks of apples).
Mashed Bananas for banana (add some chocolate chips for a monkeys lunch style)
Pureed blueberries
Strawberries
Do you see where I'm going with this? You can also try these toddler bars where I blend fruits and vegetables for your picky eater.
You can also bake them in muffin tins (just bake for less time), in a 8×8 pan, etc.
I used this loaf pan.
How to lower the sugar intake
I'll be the first to admit that the sugar is a little higher than what my recipes usually call for, but that's the point. This isn't something you see on the blog often and they're a delicious, seasonal dessert bar.
However, you can totally lower the sugar content. I suggest starting by lowering 1/4 cup at a time. So the first time you make it try it with just 3/4 cup of sugar.
The consistency may change a bit, so that's why I recommend using a little bit at a time.
You could also try this brown sugar stevia baking mix. It cuts the sugar down by half.
I'll be playing around with this recipe on my nutrition blog as well to "health it up" a bit more.
Container Counts
By popular demand, I am now offering the container counts for the Ultimate Portion Fix. I'll be slowly updating all my recipes so you can use my recipes for Beachbody programs like 21 Day Fix, 80 Day Obsession, Liift4, and more.
Here are the counts for this creamy scallops recipe:
Full recipe: 12 yellows.
1 Serving: 1 yellow treat swap.
How to make pumpkin oatmeal bars
You're not going to find an easier recipe! It's super straight forward and you can find the information on the recipe card below.
Pumpkin Fall Recipes on TBK
Pumpkin Oatmeal Bars
These pumpkin oatmeal bars are crunchy, sweet, with just the right bit of spice and oh my gosh just SO delicious!
Servings 12 servings
Calories 245kcal
Ingredients
4 Cups old-fashioned rolled oats
1 Cup brown sugar
½ Cup melted butter or coconut oil
½ Cup pumpkin puree
3 Tsp pumpkin pie spice
Instructions
Preheat the oven to 350 degrees. Line a baking pan with parchment paper. Set aside.

Place half of the rolled oats in the glass of a blender and pulse until you have a ground meal. Pour into a bowl.

Add the rest of the rolled oats, brown sugar and pumpkin spice and mix until well incorporated.

Mix in butter/coconut oil and pumpkin puree, it should resemble coarse sand and stick together when pressed.

Press the mix into prepared pan, making sure is tightly packed in.

Bake for 45 minutes or until golden on top. Remove from oven and wait for 10 minutes before taking it out of the pan and cutting into bars.
Notes
Container Counts
Full recipe: 12 yellows.
1 Serving: 1 yellow treat swap.
Nutrition
Serving: 1bar | Calories: 245kcal | Carbohydrates: 37g | Protein: 4g | Fat: 10g | Saturated Fat: 5g | Cholesterol: 20mg | Sodium: 75mg | Potassium: 143mg | Fiber: 3g | Sugar: 18g | Vitamin A: 1825IU | Vitamin C: 1mg | Calcium: 37mg | Iron: 2mg
Follow On Pinterest
Follow @bewitchinkitchen On Pinterest for more delicious recipes!