Keto Taco Casserole
A Keto Taco Casserole is built with layer after layer of saucy, meaty, cheesy flavors! Each bite is super savory and juicy – serve with tortillas or dive in spoon-first!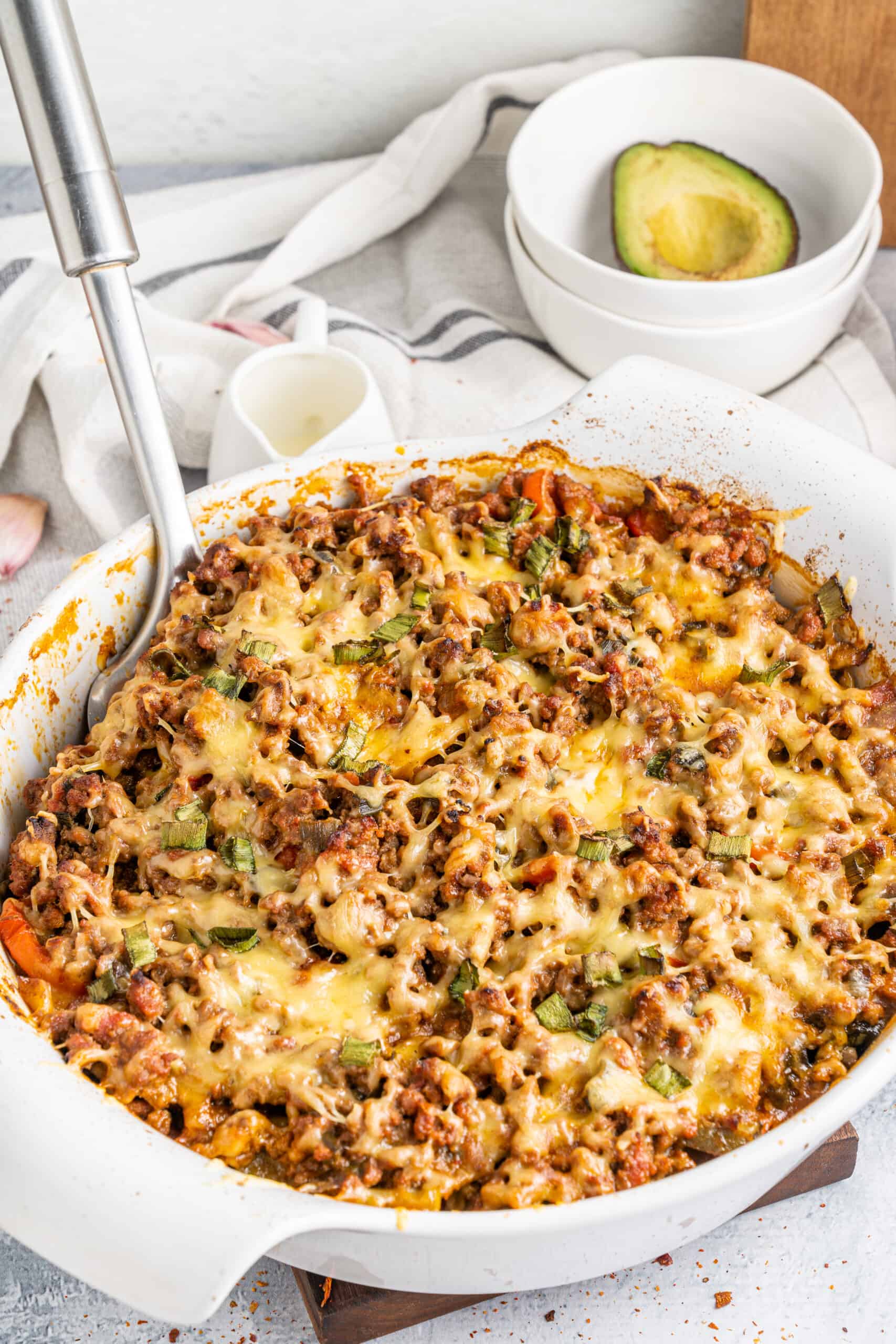 Delicious Keto Taco Casserole
Is there anything like a good casserole? It feeds plenty, keeps well, and is always delicious! And this Mexican casserole recipe is keto-friendly, too!
A good bit of prep goes into this recipe: chopping the peppers, sautéeing the veggies, browning the beef, building the casserole – but each step is worth it! This is a dish that you'll feel proud to serve, save, and enjoy with friends and family.
Keto living is delicious! Just look at our catelogue of low-carb recipes. If you're browsing this recipe, we bet you'll love our steak fajita kebabs and chili lime chicken wings, too!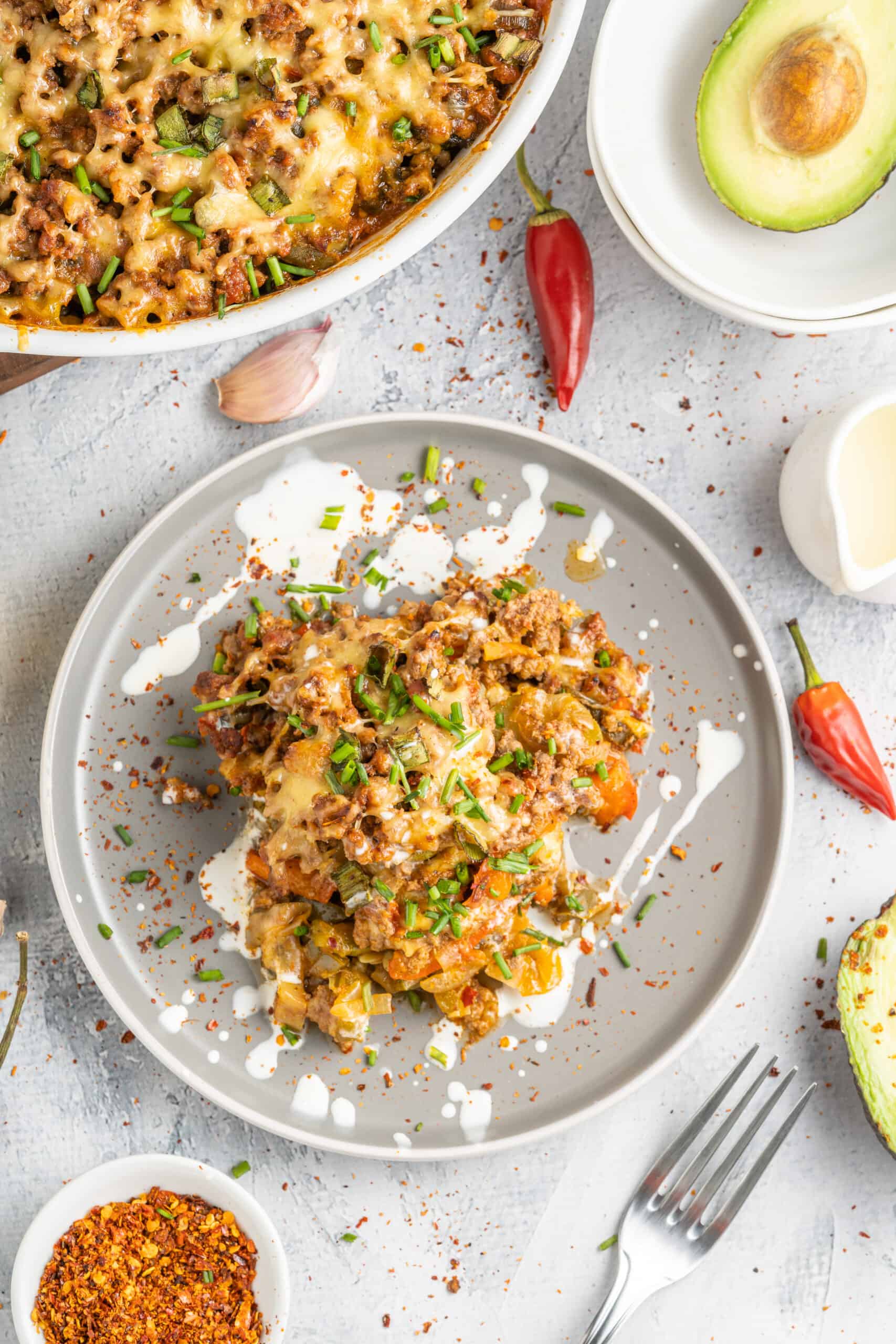 Why you will love this recipe
It's so bulky and satisfying, and entirely keto-friendly!
Loaded with nutritional, flavorful vegetables you can find year-round.
Seasoned with authentic, mouthwatering Mexican flavor.
Options to build your own homemade fajita seasoning you can use on anything!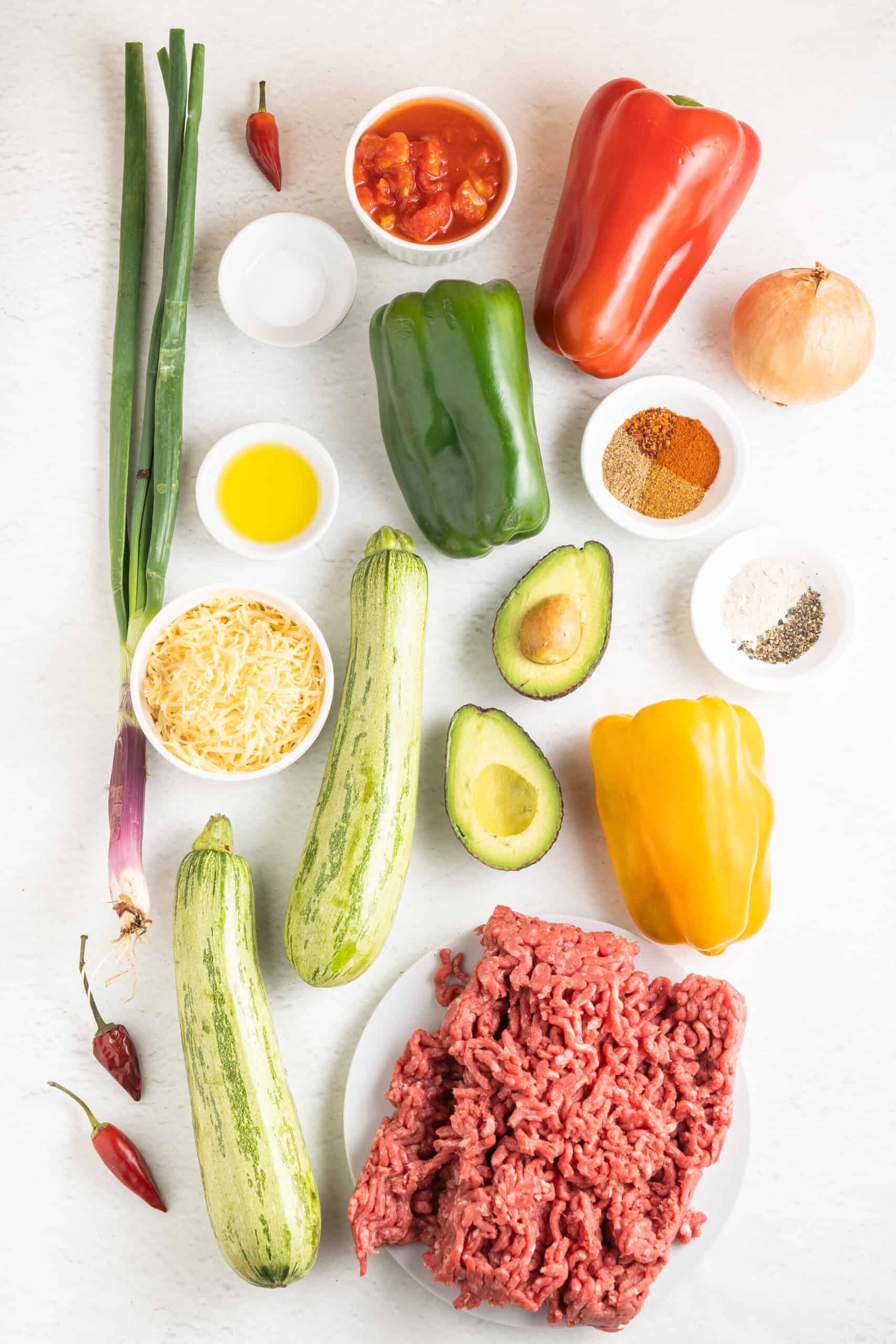 How to make perfect Keto Taco Casserole
Prepare the vegetables: Clean, pat-dry, and slice the bell peppers and onions. Chop the zucchini into half slices. Heat a tablespoon of olive oil over medium heat and add the bell peppers and onions once it begins to shimmer. Stir until they soften, then add the zucchini. Once fork-tender, season with the fajita seasoning and set aside.
Brown the beef: Add another tablespoon of oil to a large skill and brown the beef over medium heat. Once cooked through, add the green onion and give it another two minutes to soften. Pour the canned tomatoes into the skillet and stir constantly until the liquid evaporates. Season with salt and pepper.
Layer the casserole: Spread half of the prepared vegetables on the bottom of a baking dish. Top with a layer of ground beef, using about half. Sprinkle a layer of cheddar cheese on top of that. Finally, add a final layer with the rest of the vegetables and beef. Top with the remaining cheese.
Bake: Preheat the oven to 375F and bake until the cheese gratins – or becomes brown and crisp. This could take anywhere between 15 and 20 minutes. Top with avocado, parsley, or cilantro and serve warm.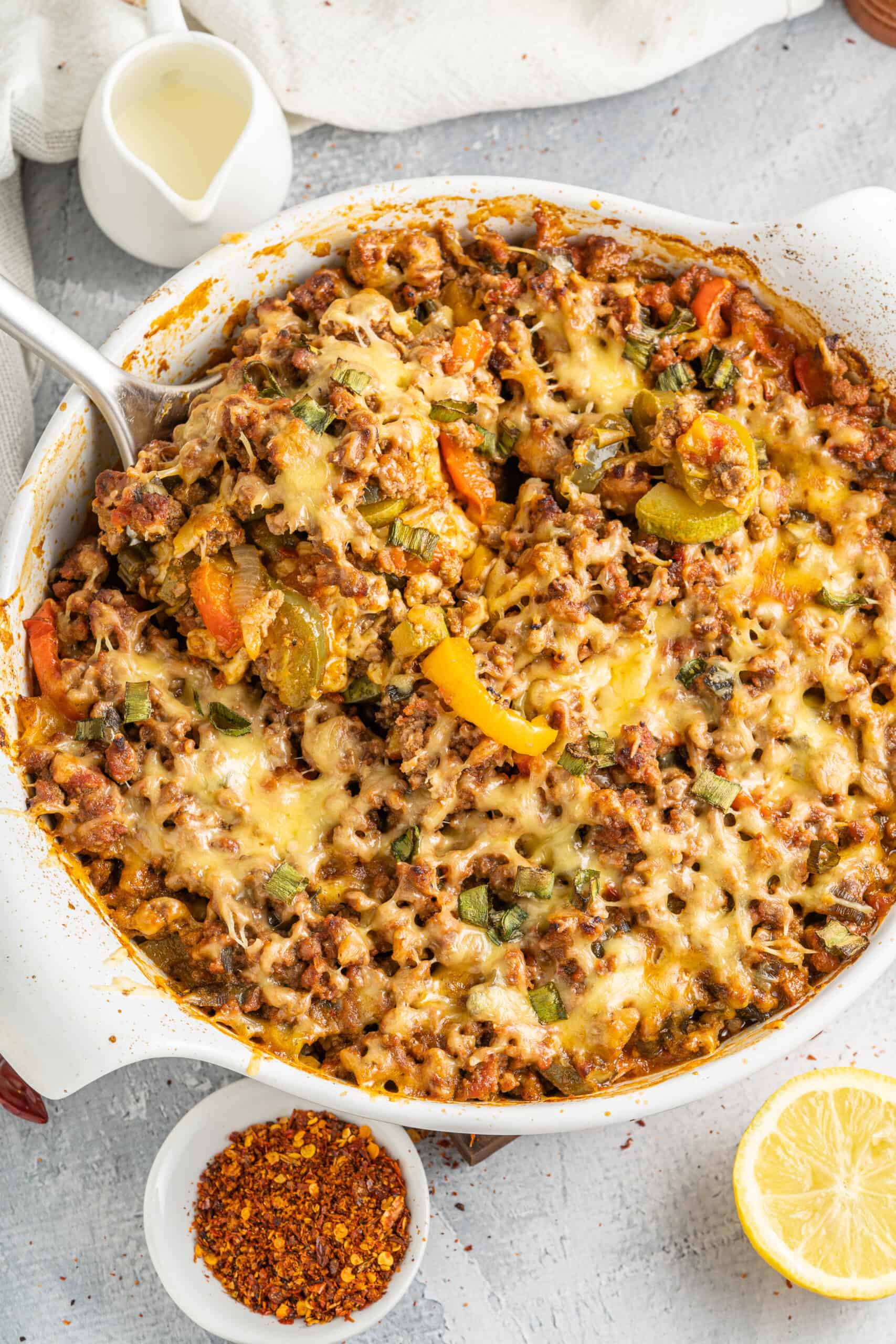 Pro Tips for Making Mexican Casserole
Make it Vegetarian: You can easily make this meal vegetarian without sacrificing the texture you'd want from a traditional Mexican casserole. Simply replace the ground beef with texturized soy. You get the bulk and the protein without the meat!
Add to Tortillas: Stretch this meal out even further by serving alongside corn or flour tortillas. 
Use any Protein: Any ground protein can be used to make keto taco casserole. We like ground pork just as much as ground beef, but ground chicken or turkey are both lean options you could choose.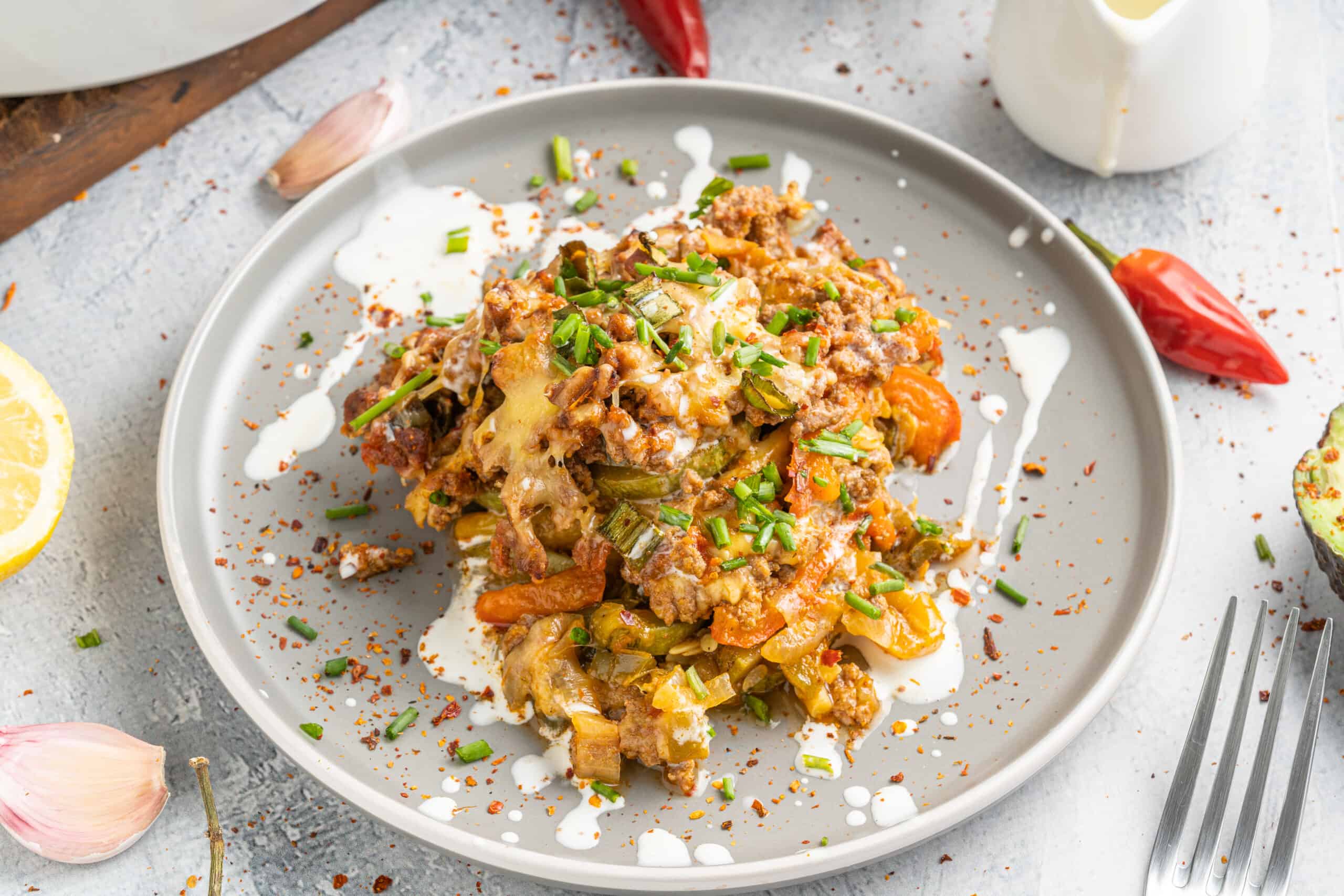 Key Ingredients and Substitutions for Keto Taco Casserole
Fajita Seasoning: You can make your own homemade seasoning with chili flakes, cayenne, garlic powder, cumin, paprika, black pepper, and salt. This is a great way to add just the right amount of garlic and heat! However, you can also use store bought fajita seasoning to save some time.
Cheddar Cheese: You have several different options for your cheesy layers. We like to use cheddar cheese, but a Mexican cheese blend is absolutely appropriate as well. Pepper Jack is nice and creamy, adding a new dimension to the casserole, and both Monterey and Colby Jack would work well.
Peppers: A mix of yellow, red, and green bell peppers gives a good variety of flavor, texture, and moisture. For added heat, you can throw in banana peppers (for a little heat) or jalapenos (for extra heat).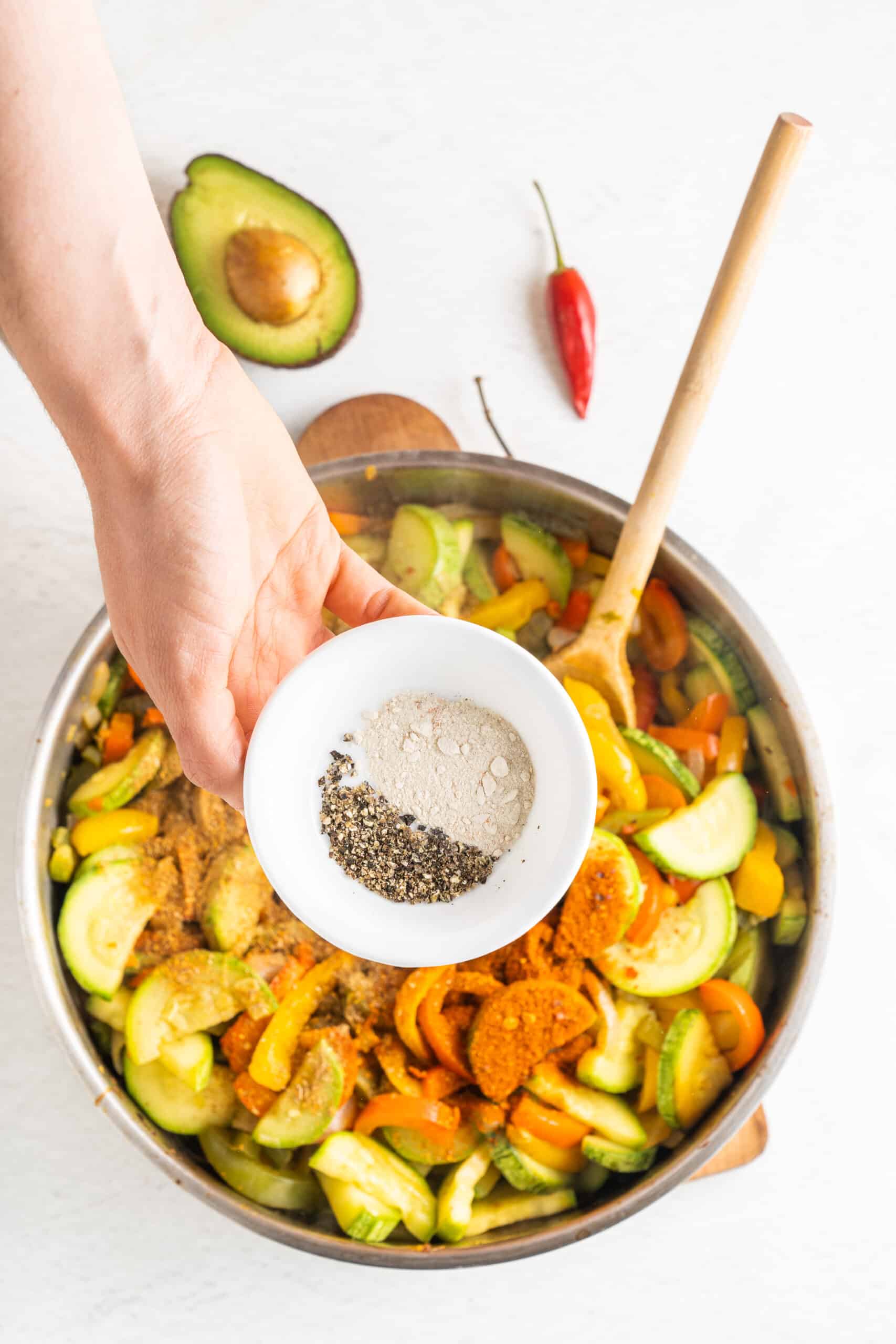 Frequently asked Questions about Mexican Casserole
Can you have sour cream on keto?
Yes – sour cream does not have a lot of carbs.
However, non- or low-fat sour cream substitutes are often NOT keto-friendly! Pay attention to the carb count of any substitute that you might use.
Are corn tortillas OK on keto? Can you eat flour tortillas on keto?
Corn tortillas are made of corn flour, which is not keto-friendly. The same goes for flour tortillas.
It's possible to make alternatives with low-carb flour. You can also consider eating keto taco casserole with cauliflower rice rather than tortillas – it's a great vehicle for the flavor, and adds a lovely earthy flavor to your meal!
What is the best way to store and reheat keto taco casserole?
Leftover casserole can be refrigerated for up to 5 days. Reheating is simple – just put the whole dish back in the oven at 350F (a slightly lower temperature than initial baking) for 8 to 10 minutes until warmed through.
Keto Taco Casserole
A Keto Taco Casserole is built with layer after layer of saucy, meaty, cheesy flavors! Each bite is super savory and juicy – serve with tortillas or dive in spoon-first! 
Servings 4 Servings
Calories 1060kcal
Ingredients
Ground Beef Zucchini Mexican Casserole
32 oz ground beef
1 medium yellow bell pepper
1 medium red bell pepper
1 medium green bell pepper
1 medium yellow onion
1 medium green onion
2 large zucchinis
2 tbsp olive oil divided
1 can tomato sauce
2 cup cheddar cheese
1 medium avocado
Fajita Seasoning
1/2 tsp chili flakes
1 tsp cayenne pepper
1 tsp garlic powder
1 tsp ground cumin
1 tsp paprika
1/2 tsp ground black pepper
1 tsp salt
Instructions
Chop bell pepper, yellow, and green onion into slices and zucchini in half slices. Set aside.

Add one tbsp of olive oil into a large skillet and heat it over medium heat. Then, add chopped bell pepper and yellow onion. Sauté until they begin to soften. Then, add zucchini. Stir over the stove until the zucchini is fork-tender. Add fajita seasoning and combine. Set aside.

Add one tbsp of oil into a large skillet or pan over medium heat and stir until cooked through. Then add green onion and stir for two more minutes to soften. Next, add canned tomato and stir until the liquid has evaporated. Season with salt and pepper to taste.

Transfer ½ of the cooked veggies to a baking dish and arrange them at the bottom. I've used a 10'' round baking dish. Then, create a ground beef layer, followed by 1 cup of cheddar cheese. Next, finish with the remaining veggies and ground beef. Top with the extra cup of cheese.

Bring it to a preheated oven at 375F until the cheese has gratin.

Serve warm with chopped avocado, garnished with fresh parsley or cilantro.
Notes
Are any Mexican food lovers here? We made this flavorful and delicious Ground Beef Mexican Casserole. As we added Zucchini, this is the perfect dish for those on a keto diet.
Taste-wise: juicy, meaty, cheesy, and delicious.
Tips
Replace ground beef with texturized soy to have a vegetarian meal.
This casserole could feed a crowd if served with tortillas as a traditional Mexican meal.
Replace ground beef with ground pork if you desire.
Store leftovers, covered, in the fridge for up to five days. Reheat them for 8-10 minutes in the oven at 350F.
Nutrition
Calories: 1060kcal | Carbohydrates: 29g | Protein: 59g | Fat: 81g | Saturated Fat: 31g | Polyunsaturated Fat: 4g | Monounsaturated Fat: 34g | Trans Fat: 3g | Cholesterol: 218mg | Sodium: 1936mg | Potassium: 2102mg | Fiber: 10g | Sugar: 14g | Vitamin A: 3374IU | Vitamin C: 166mg | Calcium: 523mg | Iron: 8mg
Follow On Pinterest
Follow @bewitchinkitchen On Pinterest for more delicious recipes!