Vegan Gluten Free Waffles
These gluten free waffles are also dairy free and vegan, making them the perfect allergy-friendly breakfast option! Easy to make and picky eater-approved, this gluten free waffles recipe transforms simple ingredients like flour, bananas, applesauce, and chia seeds into one nutritious meal.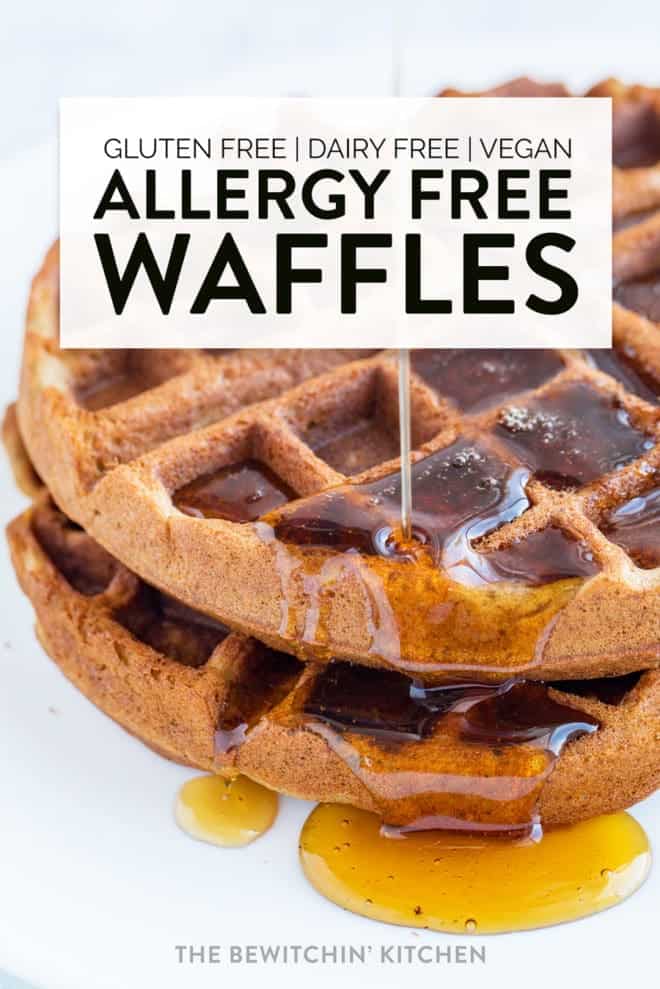 Gluten Free Waffles
Disclosure: This post contains affiliate links.
I'm a big fan of waffles. When given the choice between waffles or pancakes, waffles win every single time. It's that perfect combination of fluffy and crispy, plus I love how maple syrup can fill every square to create the perfect bite.
While it's no surprise that I'm not a vegan (I have a lot of chicken recipes on here!), that doesn't mean that I don't appreciate the lifestyle. I do what I can to eat at least one meatless meal a week, and I don't mind experimenting with my baking — especially when I'm short on eggs. Plus, chia seed eggs are so much fun to make!
Now, these vegan gluten free waffles are a bit different but still just as tasty. They come out soft, with a similar texture to banana bread. I'll repeat this again down below just so I don't get yelled at in the comments for those of you wanting crispy waffles!
Why You Will Love This Gluten Free Waffles Recipe
Easy to make – all you need is a bowl, a blender, and a waffle iron
Allergy friendly – these vegan waffles are gluten free, dairy free, and egg free
Full of healthy ingredients – use coconut sugar, bananas, applesauce, and chia seeds
Customizable – add your favorite toppings or sneak something sweet into the batter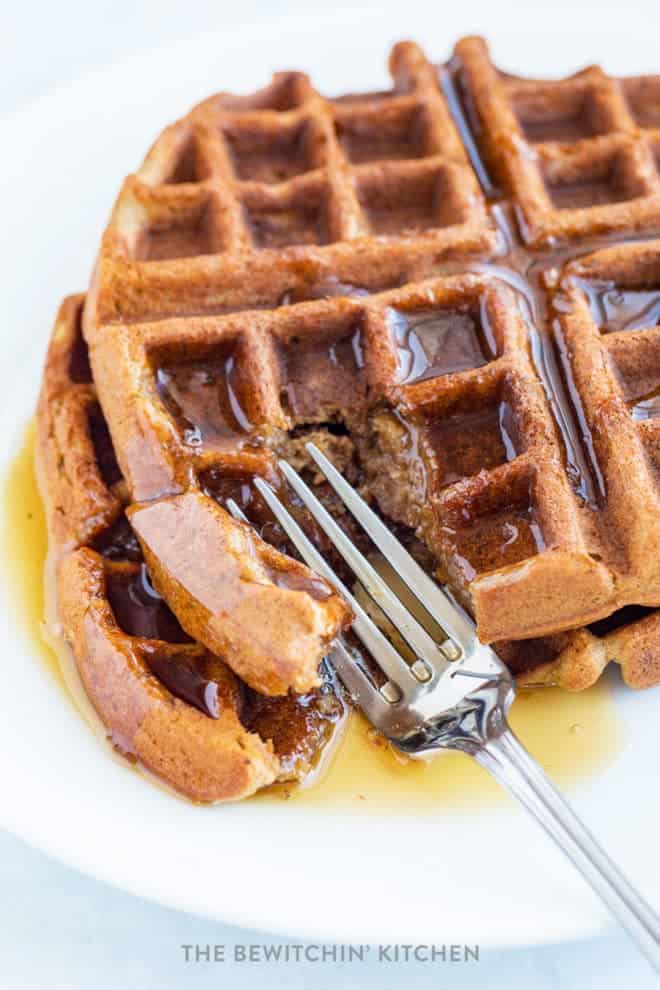 How To Make Fluffy Vegan Waffles
I know what you're thinking — how in the world do you get fluff without eggs? All you need are some chia seeds and water to create the perfect plant-based substitute.
Mix the batter
Start with the chia egg. Mix the chia seeds and water together in a small bowl, then let it sit until it gels — this could take up to 15 minutes.
Now, there's another extra step here that you don't often find in homemade waffle recipes. Instead of adding the wet ingredients directly to the dry ingredients, you'll need to blend them together first.
This extra step eliminates chunks of banana from the batter and helps to emulsify the mixture, which keeps the batter from separating while you wait to cook it. It will also break up the soaked chia seeds (chia egg) for a smoother texture.
Heat up the waffle iron
Get this started while you make the batter so it's nice and hot. Unless yours is well seasoned, it's always a good idea to brush a light layer of oil over the iron to prevent sticking.
I had the waffle iron set to the darkest setting for this gluten free waffles recipe, but you can go lighter if you prefer. Just keep in mind that the cooking time may be different with a lighter setting.
Then, scoop the batter onto the center of the iron with a measuring cup or ice cream scoop. It's an easy way to ensure that each gluten free waffle is the same size and thickness.
TBK's Pro Tip: This batter has a thick consistency, so if you use a vertical waffle iron (like me), it works better if you open it and scoop it on like a traditional iron.
Add your favorite topping
Maple syrup is a classic for a reason, but there are so many topping options available — even for vegan gluten free waffles!
Whipped Cream – make your own with plant-based heavy cream or buy a spray can of coconut whipped cream!
Fresh Berries – choose from strawberries, blueberries, raspberries, or blackberries (or your favorite combo!)
Nut Butter – spread on your favorite variety for some extra protein and healthy fat
Jams and Jellies – this Berry Chia Jam would be especially tasty
Chocolate Chips – no judgement here if you put some in the batter too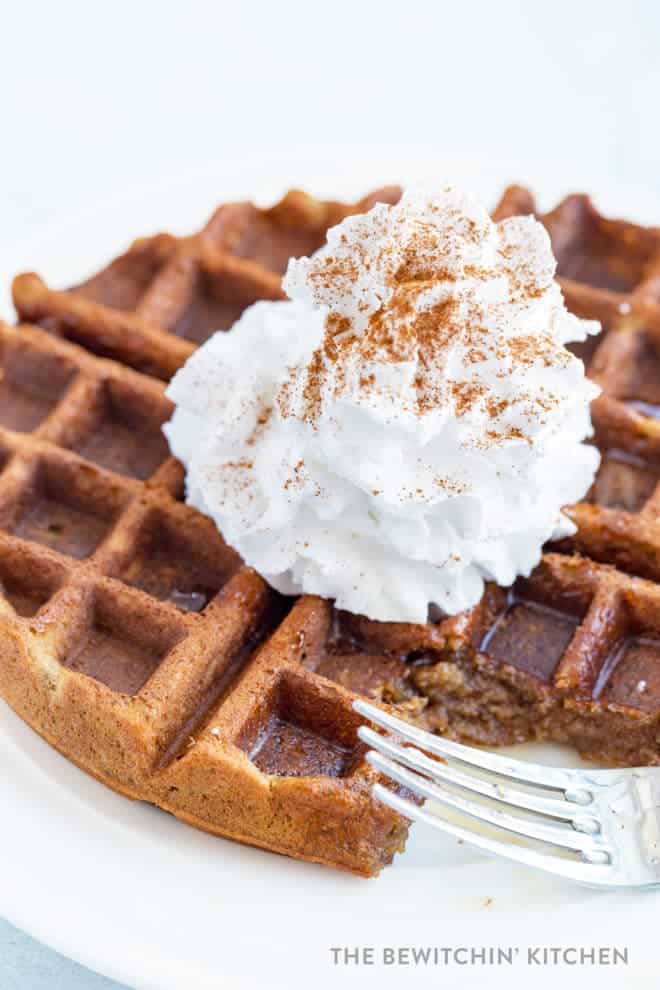 Frequently Asked Questions about Gluten Free Waffles
Can I make waffle batter ahead of time?
With traditional recipes, absolutely. But because this batter contains banana and chia seeds, I wouldn't mix it up more than a few hours in advance.
If you do prep it ahead of time, keep the batter tightly covered in the refrigerator until you're ready to cook.
How do you keep vegan gluten free waffles from sticking?
Always grease your waffle iron, but keep it light so your vegan waffles don't come out too greasy. Also, make sure your waffle iron is nice and hot before adding the batter.
Another trick I learned: wait until no more steam is coming out the sides before opening the iron — that's how you know your gluten free waffle is done!
Storage and Reheating
Leftover gluten free waffles can be refrigerated for 3 to 4 days. You can even make a double or triple batch for easy morning meal prep!
Reheat in the toaster or microwave until warmed through. And if you absolutely need that classic crispy exterior, try reheating in the air fryer instead.
Can you freeze homemade waffles?
You sure can! Place cooled waffles in a single layer on a baking sheet and flash freeze until firm. Then, transfer to a freezer-safe container or storage bag and freeze for up to 3 months. When you're ready to eat, toss a frozen gluten free waffle in the toaster or microwave — no need to thaw first!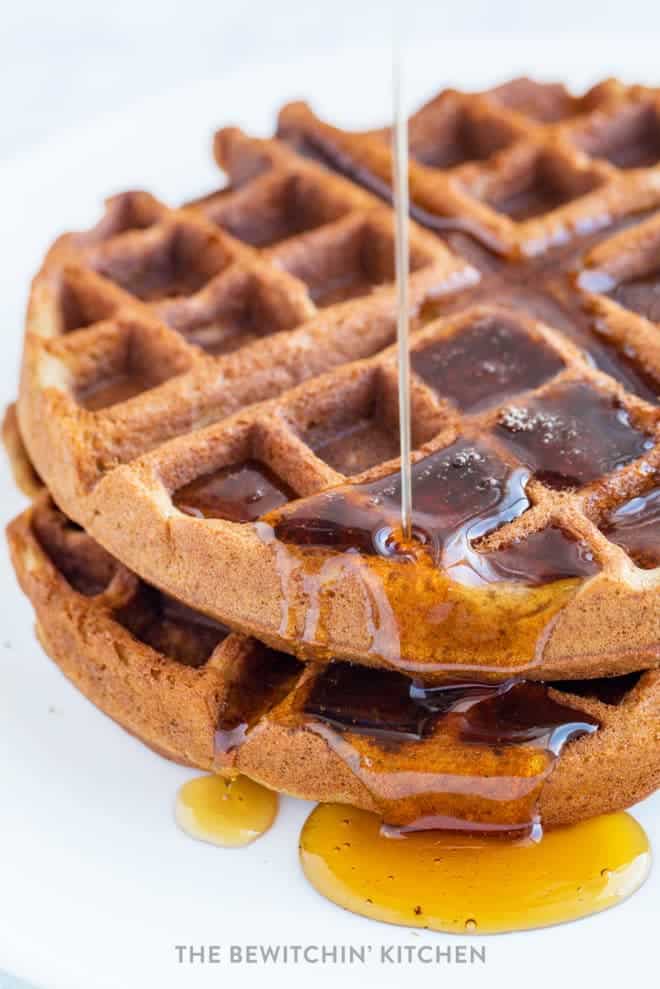 More Easy Waffle Recipes:
You can easily substitute this gluten free all purpose flour blend for the all-purpose flour in any of these recipes.
Heads Up: These gluten free waffles have a banana bread consistency instead of the crispy waffle texture that I love, but omg – they're yummy!
Supplies and ingredients I used:
Allergy Free Waffles
These gluten free waffles are also vegan (dairy and egg free) and so easy to make! They're great for breakfast or brunch, and even for kids.
Servings 4 large waffles
Calories 416kcal
Ingredients
1 1/2 cups gluten free all purpose flour blend
1/4 cup coconut sugar
1 tsp  baking soda
1/8 tso sea salt
2 bananas
1/2 cup cashew milk or almond milk, nut free milk, etc
1/3 cup applesauce
1/4 cup melted coconut oil
1 tbsp apple cider vinegar
1 chia egg 1 tbsp chia seed, 3 tbsps egg – let set until it gels
1 tsp  vanilla
Instructions
Preheat waffle iron to desired setting (I use the darkest)

Add the dry ingredients to a large bowl, whisk it together.

Add the rest of the ingredients into a blender, blend until smooth.

Pour the wet into the dry and mix until combined

Pour 1/2 cup into the waffle iron and cook for 4-5 minutes or until you reach your desired doneness.
Nutrition
Serving: 1g | Calories: 416kcal | Carbohydrates: 60.9g | Protein: 6.8g | Fat: 16.7g | Saturated Fat: 11.7g | Sodium: 421.5mg | Fiber: 5.8g | Sugar: 10g
Follow On Pinterest
Follow @bewitchinkitchen On Pinterest for more delicious recipes!