Gnarly Nutrition + Protein Caramel Vanilla Ice Cream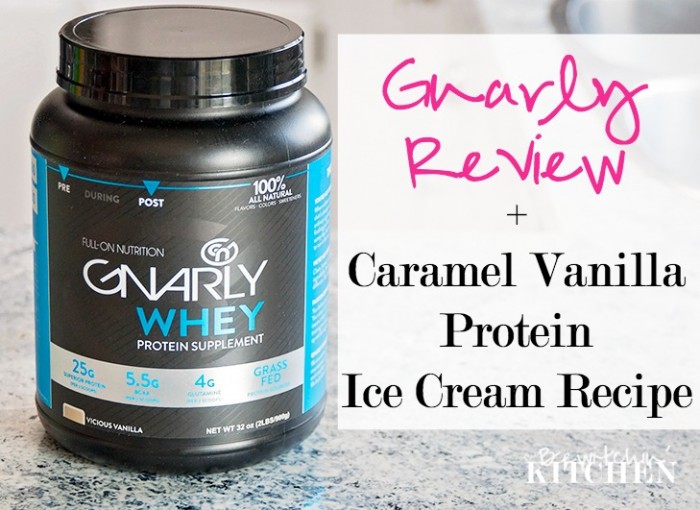 I've been using a few Gnarly Nutrition products for the past two weeks, and I have a full review below. In addition to that I have a yummy Caramel Vanilla Ice Cream recipe (which is protein packed and dairy free) plus a 20% coupon code.
I have tried many brands of protein powders before, but this was my first time with Gnarly Nutrition. I am by no means an expert in sports nutrition, but I feel as though I am educated enough to make purchasing choices for myself with confidence. I have been looking at Gnarly for a while (I originally found them on Instagram) and really liked how Gnarly ensures that only natural ingredients are in their products and that the whey protein is made from grass-fed New Zealand cows.
Just because Gnarly Nutrition® is blended with natural ingredients does not mean it has to taste like a mountain (no offense to those who love the taste of mountainside). Gnarly Nutrition® is sweetened naturally with Trulicious®, the perfect blend of stevia, monk fruit and erythritol.
Gnarly Pre-Workout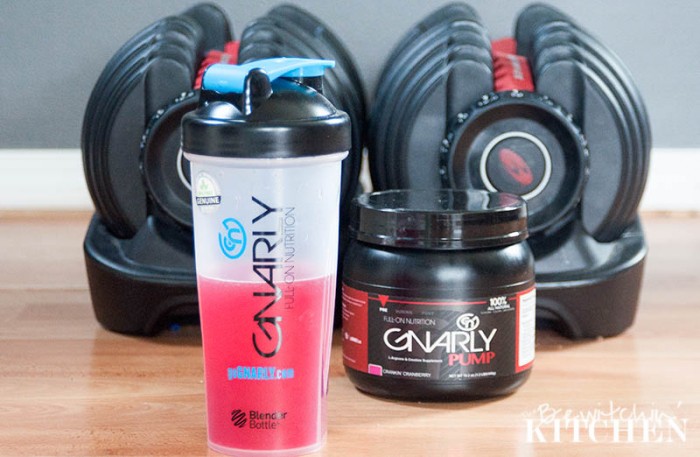 Before trying Gnarly Pump, I had only tried one pre-workout before and I wasn't a fan of the taste. So I had some low-expectations for Gnarly. I ordered the Crankin' Cranberry flavor and the flavor wasn't disappointing. It wasn't juice, but from my small experience of pre-workouts it wasn't the worst.
Gnarly Pump is a Nitric Oxide booster with Creatine to feed your muscles. Designed to allow you to sustain harder efforts for longer periods of time, Pump is also packed with Green Tea extract for a surge of natural energy. Pump is what you need when you know things are going to get tough.
My personal experience is that I never received a "surge" of energy, it wasn't as though I took a sip and I was hulk but I did notice that I didn't tire out on my usual spots during my workouts. What I appreciated about Gnarly Pump was the fact that it didn't make my heart race and I never received any jitters.
Gnarly Post-Workout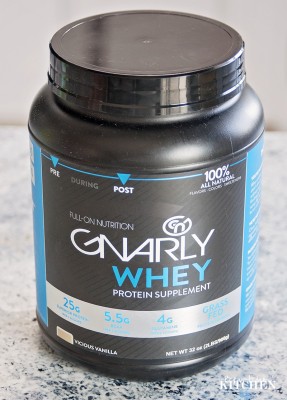 Usually after a workout I reward myself with a protein shake. I say reward, but my shakes always taste amazing. I tend to make a meal out of it and load it with whey protein, fruit, almond milk and whatever flavors I feel like in the moment.
With that being said, I wanted to show all of you that there are other wheys (see what I did there) to add protein to your diet. Yes shakes are delicious, but here are a few other ideas on where you can use Gnarly Whey Protein:
In greek yogurt for a super packed "proyo"
Add it to your morning oatmeal
Toss a scoop over your cereal in the morning
Protein Mugcakes
Or you can make delicious protein ice cream…
Protein Caramel Vanilla Ice Cream
Don't forget to check out a few of my favorite caramel recipes from The Bewitchin' Kitchen.
Protein Caramel Vanilla Ice Cream
Dairy Free and protein packed this Caramel Vanilla Ice Cream is a guilt free summer treat.
Servings 1 serving
Calories 108kcal
Instructions
In a high powered blender or food processor, add all the ingredients and blend until smooth. Sprink with cinnamon and enjoy.

If your house is as hot as mine was when I made it and it melts in the blender, toss it in the freezer for 40-60 minutes until it firms up to an ice cream form.
Nutrition
Serving: 1g | Calories: 108kcal | Carbohydrates: 27g | Protein: 1g | Cholesterol: 2mg | Sodium: 3mg | Potassium: 422mg | Fiber: 3g | Sugar: 14g | Vitamin A: 75IU | Vitamin C: 10.2mg | Iron: 0.3mg
Follow On Pinterest
Follow @bewitchinkitchen On Pinterest for more delicious recipes!
GNARLY NUTRITION EXCLUSIVE COUPON
Because you guys are awesome Gnarly is giving The Bewitchin' Kitchen readers an exclusive coupon. Just use the code bewitchin and receive a whopping 20% off your order. 
For more information on Gnarly Nutrition and their products, or to use the 20% off coupon visit the Gnarly website.
Do you use whey protein? What for?
I received free product from Gnarly to facilitate my review and compensation for my time through my partnership with the Quality Blue Community. All opinions are my own.