Greek Pizza with Tzatziki Drizzle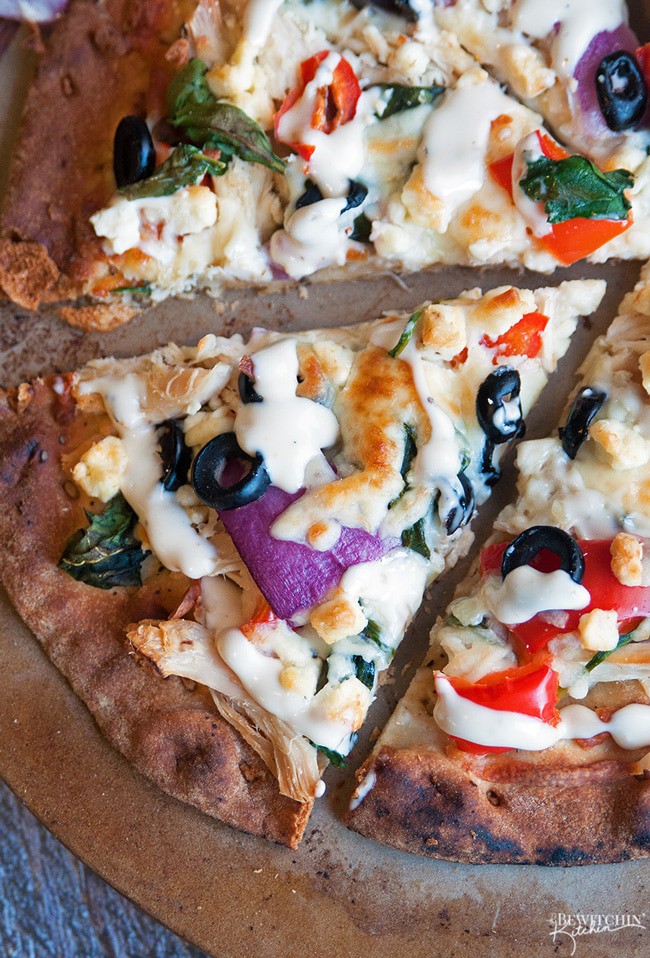 Two of my favorite foods are both greek food and pizza, so why not combine them both into a greek pizza? The end results were delicious, even my picky toddler gobbled this up!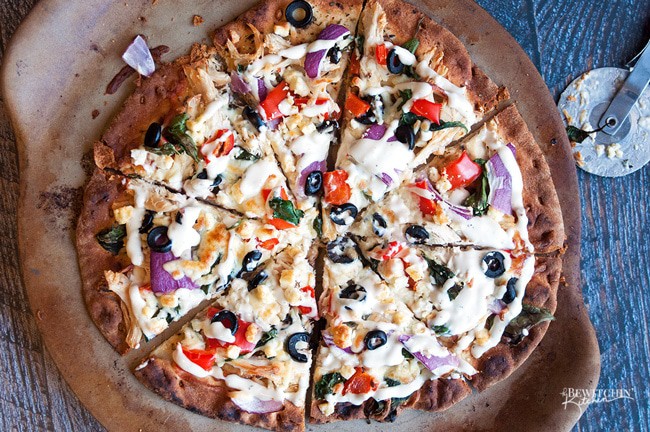 I'm pretty picky when it comes to my pizza. When it comes to sauce, it has to be pizza sauce. BBQ sauce and ranch are welcome on top, but the base always has to be classic tomato. I stepped out of my comfort zone with this greek pizza and I'm so glad I did. My husband said it was one of the best pizzas I've made (and this is coming from a man who knows his pizza).
Personally, I don't eat olives. I put them on the pizza for the photos but I have to admit, I ate them no problem. It all went together perfectly.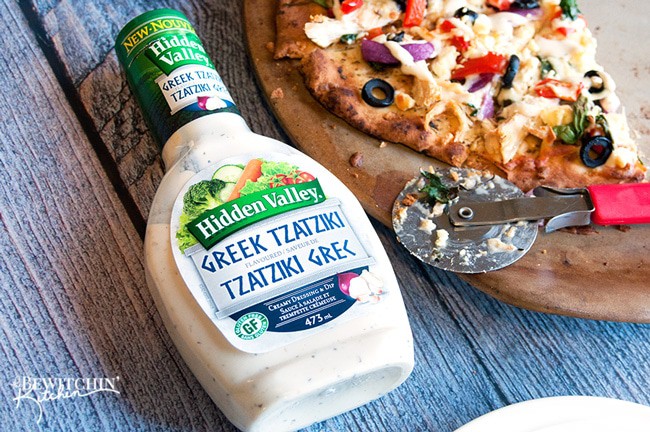 You know what they say, the secret is in the sauce. To give this greek pizza recipe a kick, I drizzled the new Hidden Valley® Greek Tzatziki Dressing and Dip Mix dressing over top. The dressing is creamy and has a zesty kick that really gave this pizza some punch. I also can't wait to use it as a dip for chicken kebabs.
Greek Pizza
This greek pizza recipe is pretty easy. I already had the greek vinaigrette made from the day before and I used a store bought crust for the pizza. To make it even easier, I bought a rotisserie chicken from the grocery store and used the meat off that. In addition to the pizza, I also have bones for soup and enough chicken for salads for the week. You can find more ideas with this post: 6 Meals, 1 Chicken.
Greek Pizza with Tzatziki Drizzle
Ingredients
1 Pizza Crust
1/8 cup greek vinaigrette
1 cup shredded chicken
1/2 cup cooked spinach
1/8 red onion
1/4 cup sliced black olives
1/2 small red bell pepper
1 cup pizza mozzarella
1/2 cup feta
Hidden Valley Greek Tzatziki to taste
Instructions
Pre heat the oven to 350F.

Spread 1/8 of the greek vinaigrette over the pizza crust and top with everything but the greek tzatziki.

Bake for 25 minutes or until cheese starts to bubble.

Take it out of the oven, let it cool for a few minutes and drizzle the Hidden Valley Greek Tzatziki overtop.
Follow On Pinterest
Follow @bewitchinkitchen On Pinterest for more delicious recipes!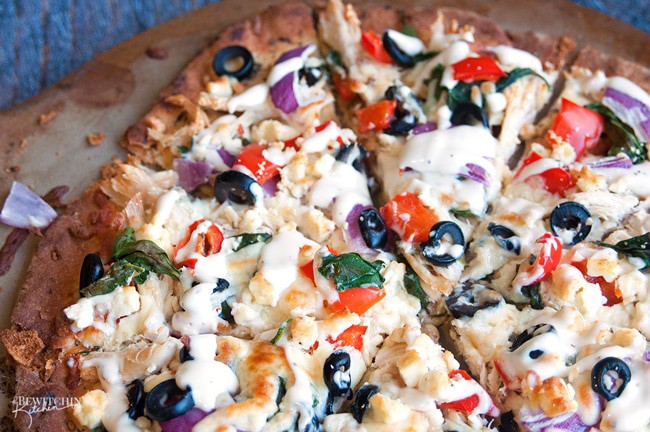 What will you use the new Hidden Valley® Greek Tzatziki Dressing and Dip Mix for?
This recipe has been sponsored by my friends over at Hidden Valley. As always, all thoughts and opinions are my own.