Ground Chicken Burger
Enjoy a succulent, satisfying Ground Chicken Burger without those harmful fats! Flavored with onions, herbs, and garlic, it's dripping with flavor and ready to be eaten with your favorite toppings.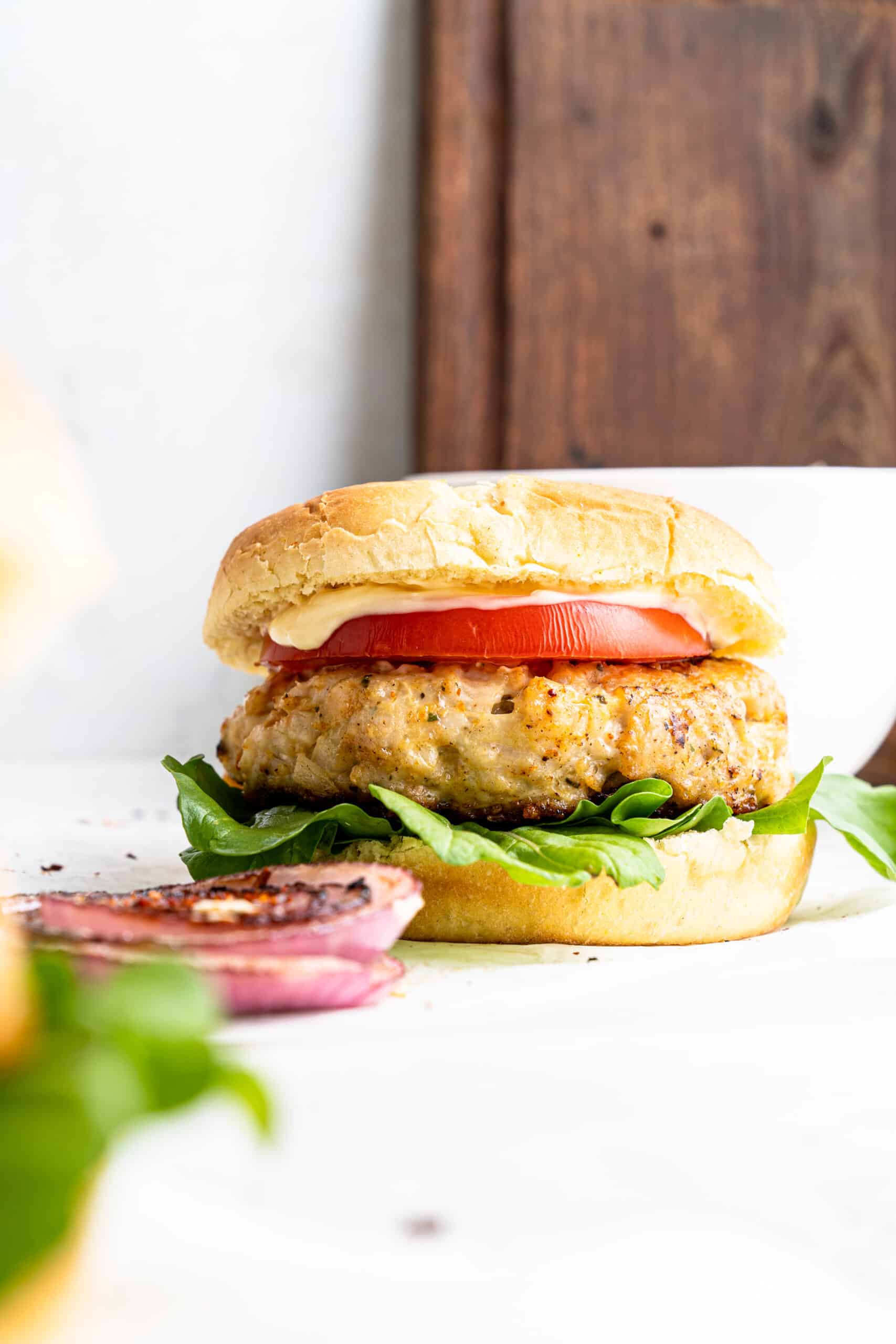 Juicy Ground Chicken Burger
There are plenty of reasons why you might want to eat a bit less red meat. It could be an allergy, or to try and consume less fat, or because you want to switch to something a little more environmentally friendly.
Whatever the reason, we think that ground chicken is a great protein to switch to! You can eat chicken in all the ways you'd eat beef, including in burgers. This ground chicken burger recipe is the perfect example!
It's juicy, easy to make, and tastes great! You can eat it with your favorite onions, ketchup, mustard, cheese – however you like to enjoy your burgers!
We never want you to think you can't enjoy your favorite foods if you're switching to a low-fat diet. You can still have mac and cheese, pulled pork, and so much more!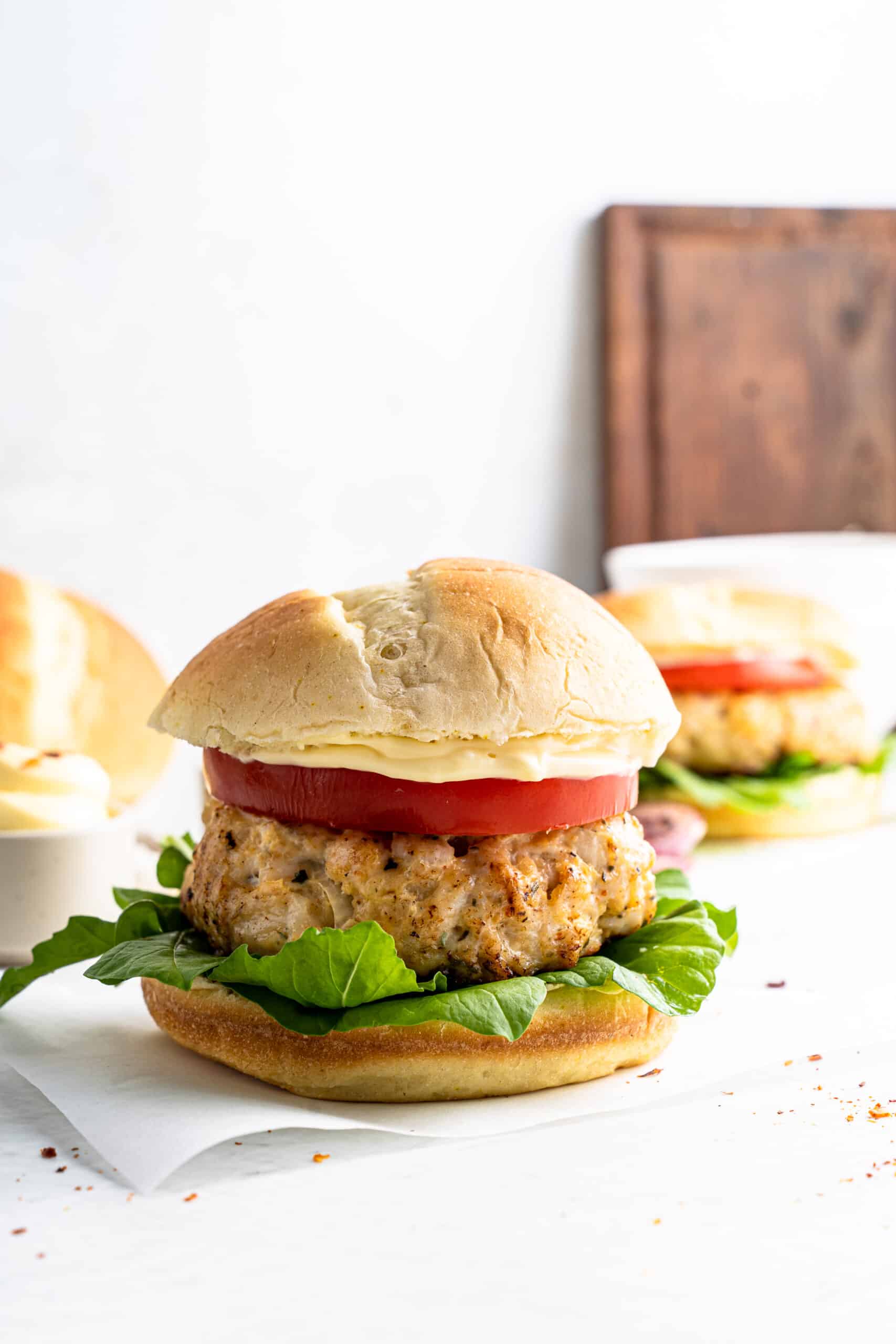 Why you will love this recipe
It's a delicious yet lean alternative to red meat burgers.
It's really quick to make – less than 30 minutes!
Rich, mouthwatering flavor from onions, herbs, and garlic are worked right into the meat itself!
It tastes great with all of your favorite burger toppings.
Freeze and enjoy a pre-made chicken burger for up to 2 months!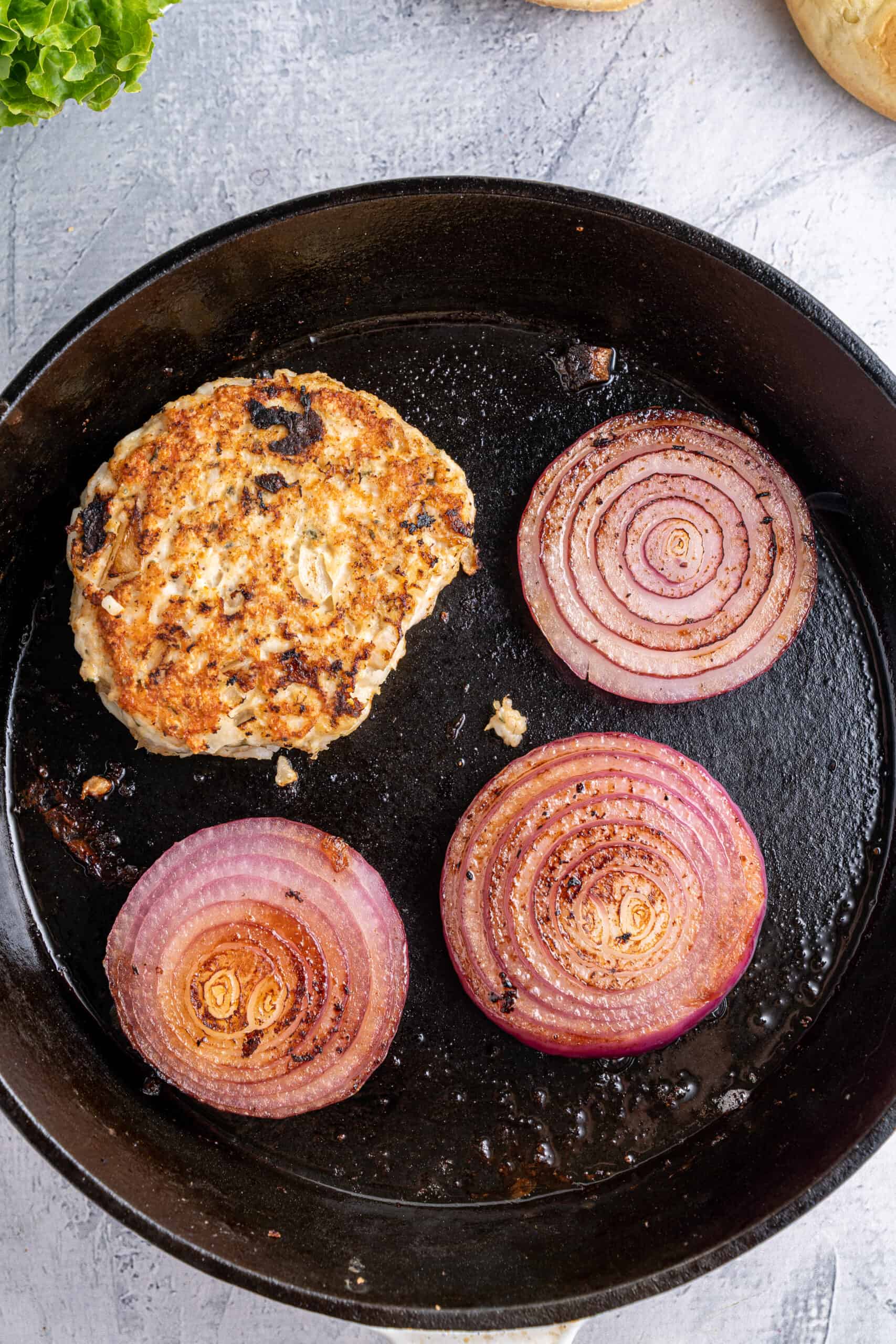 How to Make the Perfect Ground Chicken Burger
Mix the Meat: Throw everything into a large mixing bowl and combine. This is easiest to do with your hands. Don't overmix or you'll get a tough, dry chicken burger! Set aside for 10 minutes before proceeding.
Form the Patties: Divide the mixture into fourths. Shape into patties, patting down with your hands – indent the center with your thumb to help them cook evenly. This will get you 4 large patties, but you could also make 6 medium-sized patties.
Cook: Heat a tablespoon of oil in a skillet over medium heat. Lay the patties in the skillet (but don't overcrowd if you're using a smaller skillet) and cook until warmed through the center, reaching a safe internal temperature of 170F. Depending on the thickness of the patties, this will take anywhere between 8 and 10 minutes.
Serve: Place each cooked ground chicken burger on rolls, top as desired, and serve!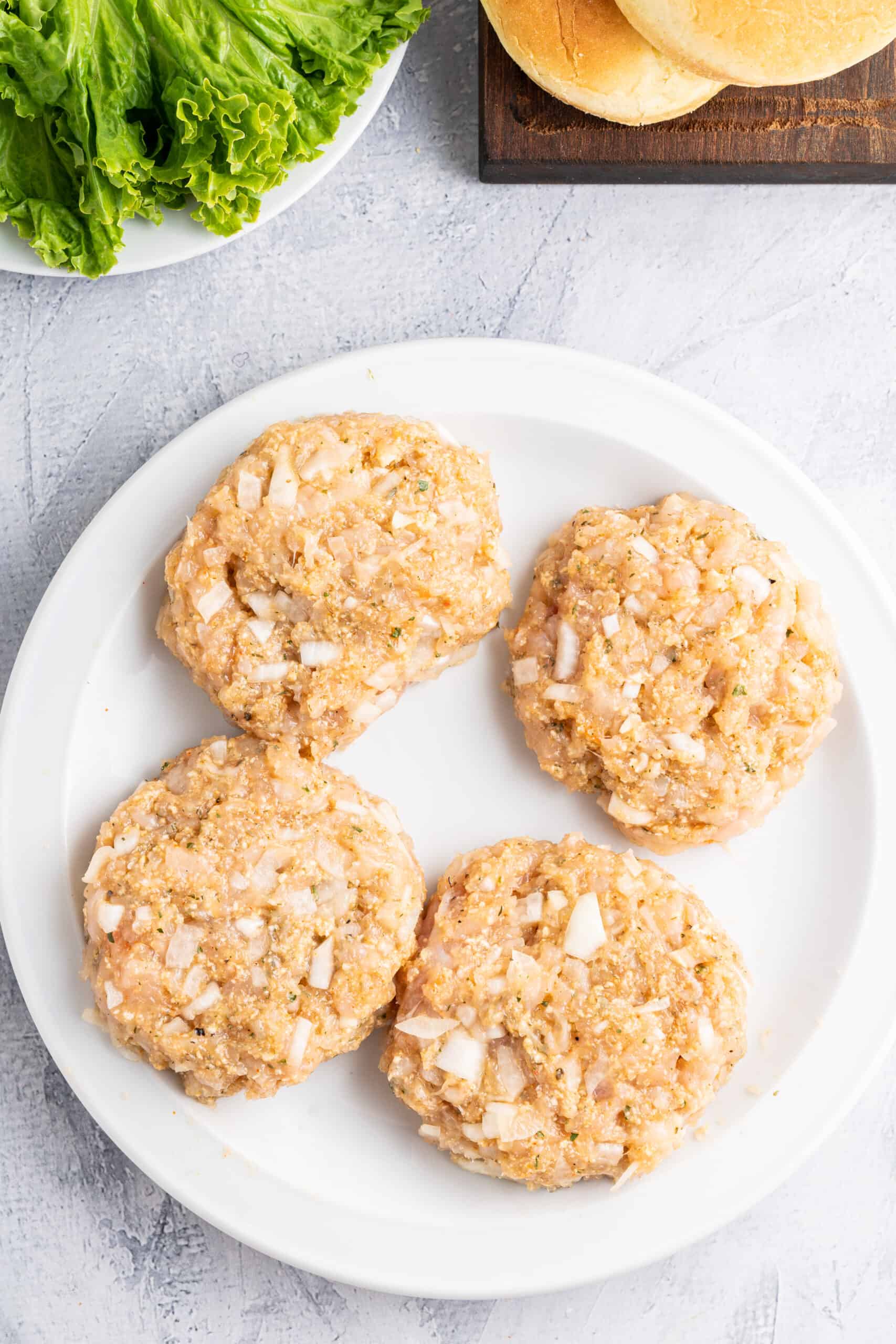 Pro Tips
Pro Tip 1: Cook some thick onion slices in the skillet after making the burgers. They'll caramelize in the grease and be soft, golden brown, and juicy. A great topping!
Pro Tip 2: The best toppings for your ground chicken burger are creamy, smooth, or soft, like cheese, avocado, your dressing of choice, and sauteed peppers. Herbs and fresh greens also taste terrific!
Pro Tip 3: Ground chicken burgers freeze well. We like to do so after cooking them. Layer the cooked patties between layers of parchment paper and freeze for up to 2 months. They can then be heated on the stovetop, in the oven, or in the microwave.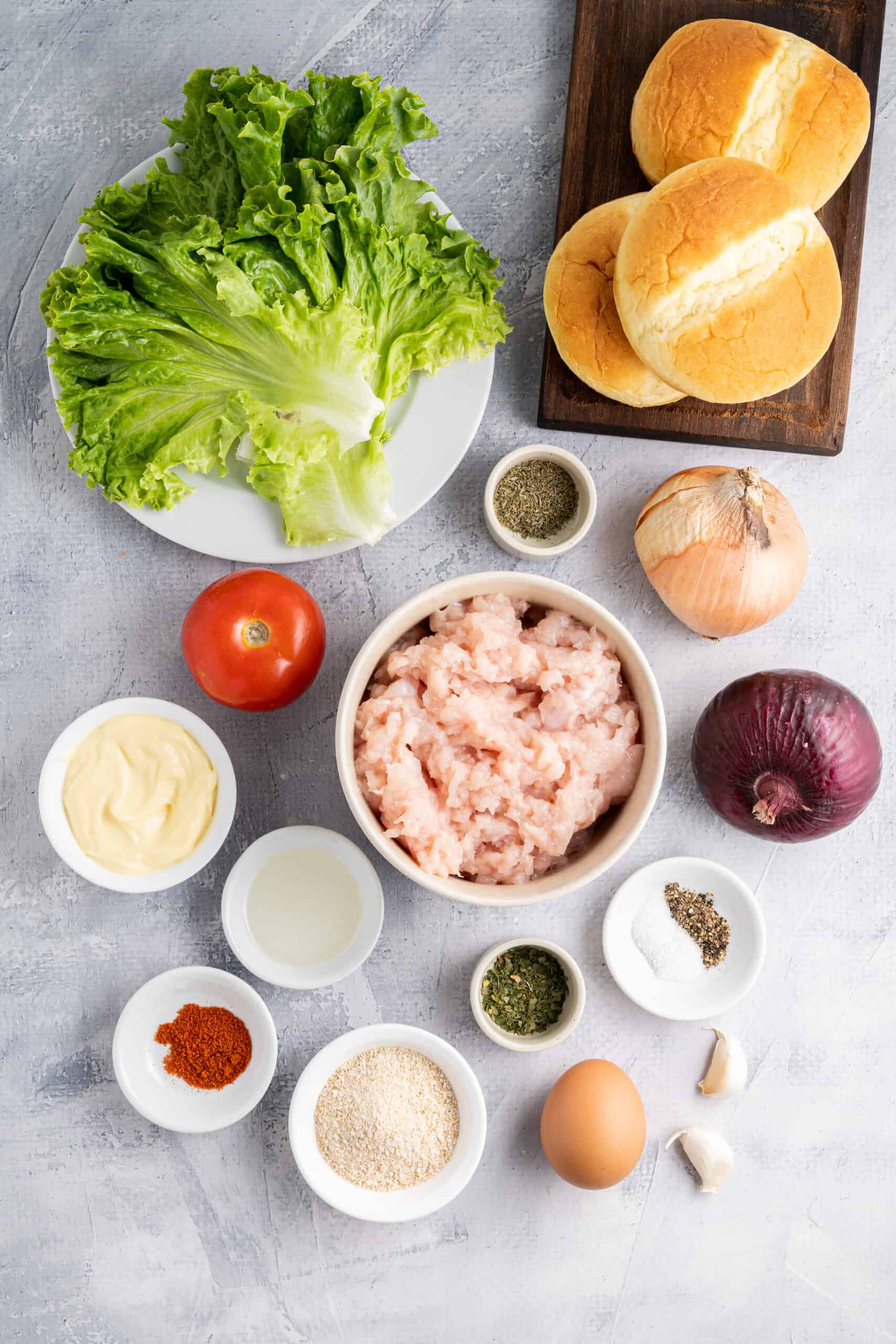 Key Ingredients and Substitutions for Ground Chicken Burgers
Ground Chicken: This is one of the leanest proteins you can make a burger with! It only has around 6% fat. This recipe can also be made with ground turkey, which is also extremely lean.
Dried Thyme & Parsley: These are our favorite herbs for chicken! We don't recommend using fresh herbs. You'll need to use significantly more, and that will overstuff the meat mixture, making it too moist and loose.
Egg: A very important binder in burgers of all shapes and sizes. As long as you have the breadcrumbs, you don't technically need eggs. However, ground chicken dries out much easier than beef, and the egg adds some much-needed moisture, so we do not recommend leaving it out.
Breadcrumbs: You have a lot of options here! Italian breadcrumbs would pair with the herbs used. Panko and plain breadcrumbs will work just as well.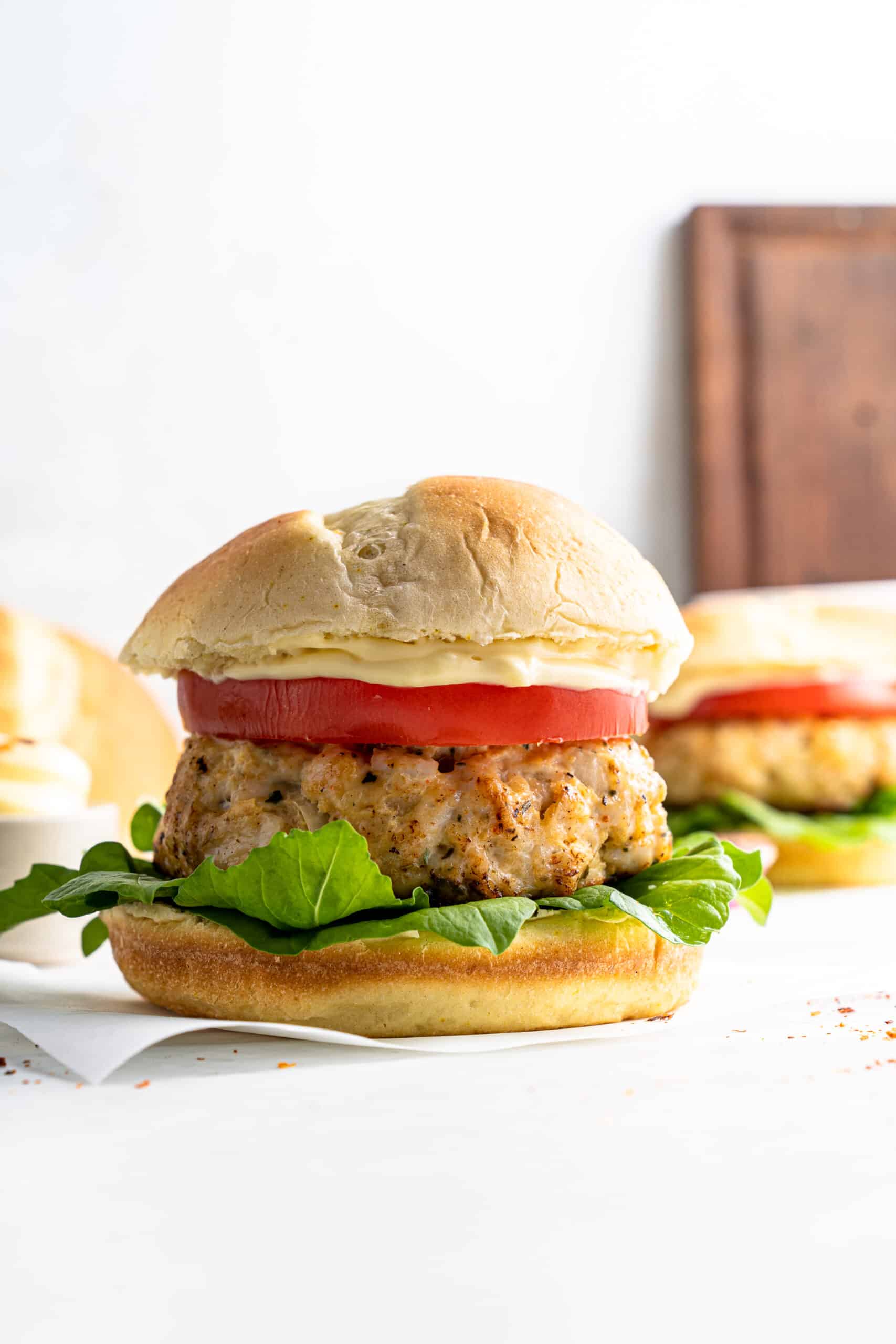 Frequently asked Questions about Chicken Burger
How do you keep ground chicken burgers from falling apart? Does ground chicken need a binder?
Yes, the binder is very important – particularly with ground chicken! It has less fat to hold everything together, and dries out far more quickly without the right binder.
How to make ground chicken juicy?
The addition of egg helps to add moisture to chicken burgers. Other than that, juicy meat has all to do with the fat content. Something like yogurt or coconut milk will do the trick, but will add fat to the recipe.
However, we think that this recipe is juicy and flavorful already! Give it a taste before you worry about adding more moisture.
Can you make chicken burgers ahead of time?
Yes, this ground chicken burger recipe can be cooked and refrigerated for up to 4 days.
The best way to reheat a ground chicken burger is in the oven to prevent it from drying out. Place patties on a baking sheet lined with aluminum foil and sprinkle with water or oil. Tent with a bit more aluminum foil and heat until warmed through.
This can also be done on the stovetop in a skillet. Add a few tablespoons of oil and tent with foil the same way you would in the oven, then cook on medium until warm.
Ground Chicken Burger
Enjoy a succulent, satisfying Ground Chicken Burger without those harmful fats! Flavored with onions, herbs, and garlic, it's dripping with flavor and ready to be eaten with your favorite toppings. 
Servings 4 Patties
Calories 478kcal
Ingredients
4 roll burger rolls
1 small Batavia or Boston Lettuce
1 large tomato sliced
1/3 cup mayonnaise
1 medium red onion
Chicken Patties
19 oz ground chicken
1/2 medium yellow onion
4 tbsp breadcrumbs
1 medium egg
1 tsp salt
1/4 tsp ground black pepper
1/2 tsp dry parsley
1/2 tsp dry thyme
1/2 tsp paprika
1 tbsp oil for cooking
Instructions
Mix all the ingredients for the chicken patties, except oil, in a large bowl. Let it sit over the counter for 10 minutes.

Divide the burger mixture into four equal portions, then shape them into patties, pressing the mixture well. You could also make six patties with this amount. They'll be medium-sized.

Heat an iron-cast skillet or grill over medium heat and add a tbsp of oil. Then, place chicken patties and cook from both sides until patties are cooked through. Cooking time will vary depending on the thickness of your burger, but it'll be around 8-10 minutes in total. If you're using a meat thermometer, the internal temperature should reach 170F.

Prepare your chicken burger with your chosen burger rolls, warm homemade chicken patties, and toppings.
Notes
These chicken burgers are juicy and thick. Onion, garlic, and dried herbs provide flavor and freshness.
Tips
Chop onion into thick slices and cook it in the skillet. The result will be a soft and brownish onion to add to your burger.
Other topping ideas:
Nutrition
Calories: 478kcal | Carbohydrates: 38g | Protein: 32g | Fat: 22g | Saturated Fat: 5g | Polyunsaturated Fat: 7g | Monounsaturated Fat: 9g | Trans Fat: 0.1g | Cholesterol: 160mg | Sodium: 1125mg | Potassium: 1086mg | Fiber: 4g | Sugar: 9g | Vitamin A: 988IU | Vitamin C: 12mg | Calcium: 127mg | Iron: 4mg
Follow On Pinterest
Follow @bewitchinkitchen On Pinterest for more delicious recipes!