Bacon Wrapped Shrimp in the Air Fryer
Bacon Wrapped Shrimp in the Air Fryer features succulent shrimp and smoky bacon crisped to perfection with a garlicky twist.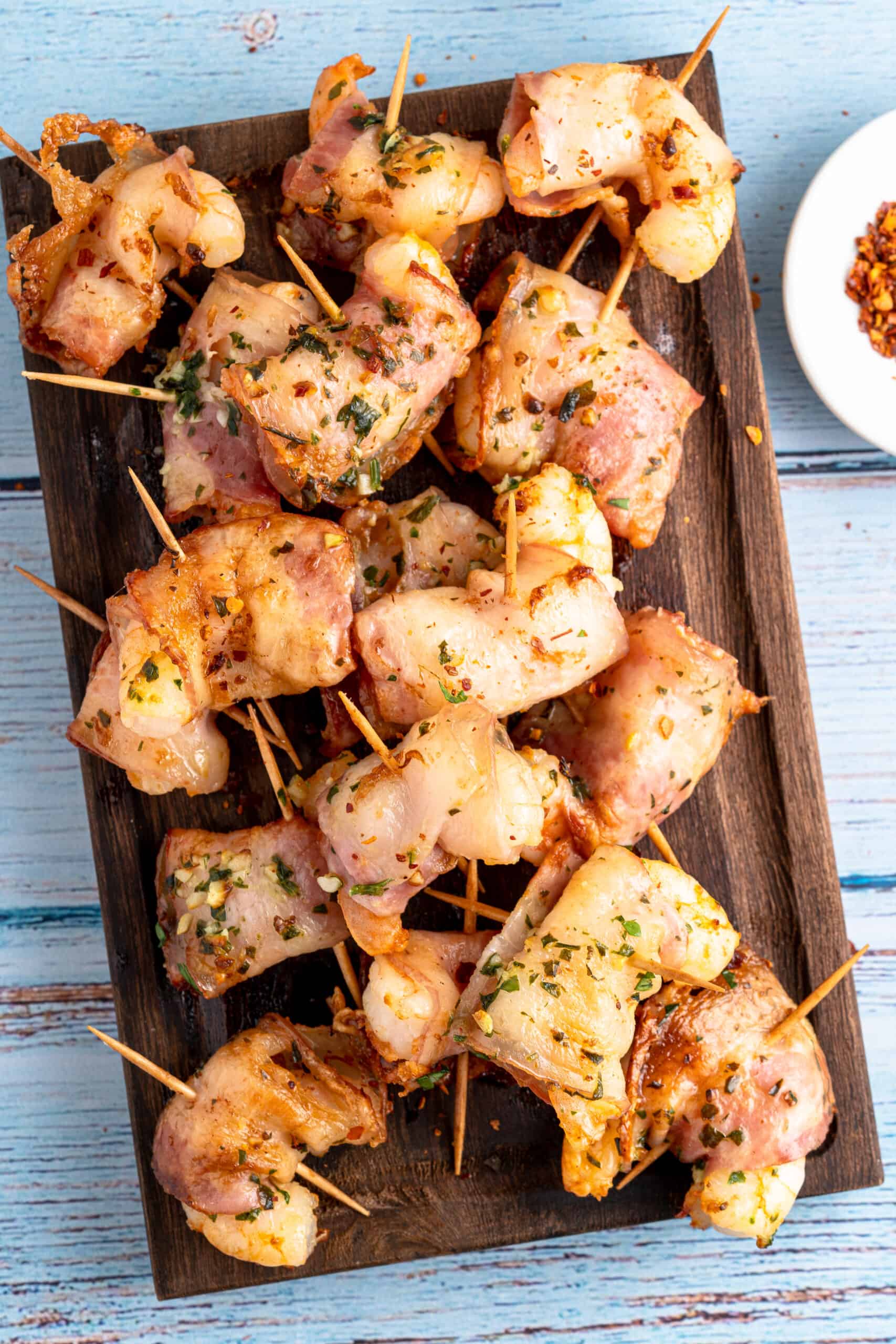 Bacon Wrapped Shrimp in the Air Fryer
Calling all shrimp lovers! This recipe for bacon wrapped shrimp air fryer style is out of this world delicious!
Get ready for tender jumbo shrimp, wrapped in a salty-sweet cloak of bacon, and drenched in a mouthwatering garlic herb butter. The result is a super savory, buttery treat that is bursting with zesty garlic flavor.
This air fryer recipe will show you how to cook shrimp in an air fryer to perfection so that friends and family of all ages will be delighted. This crowd pleasing dish is so rich and decadent, they will never guess just how easy they are to make!
For more recipes with bacon from The Bewitchin' Kitchen, check out my recipes for Bacon Wrapped Chicken Tenders, Balsamic Bacon Brussels Sprouts, and this Spinach Bacon Quiche.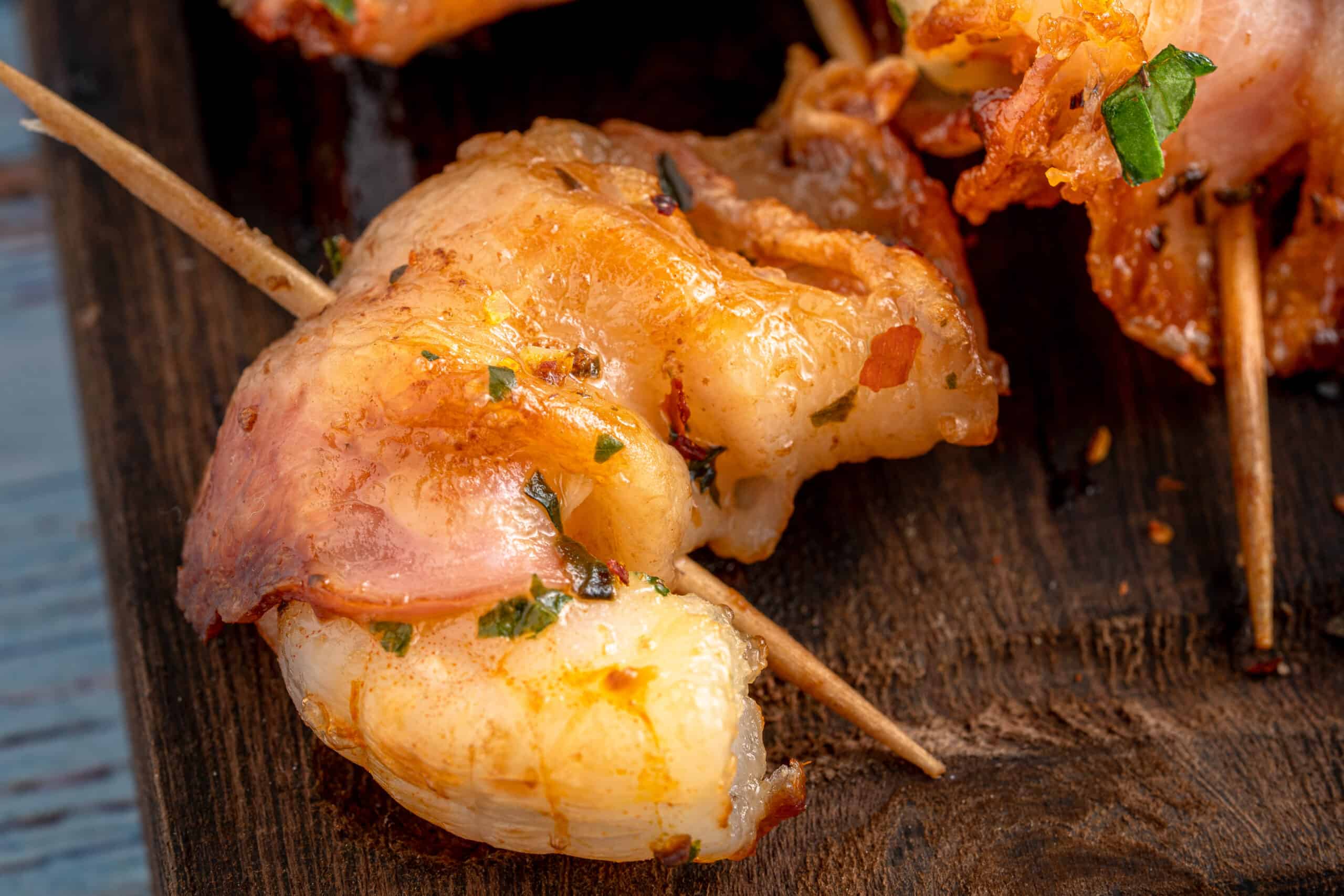 Why you will love this recipe
This easy recipe requires only a handful of ingredients and a few minutes of preparation.
Cooking is quick and cleanup is a breeze.
Makes a fabulous appetizer for your next party, potluck, or barbeque.
Air fryer bacon wrapped shrimp makes a satisfying, high protein snack or meal.
You can customize this recipe with different spices or sauces to suit your tastes.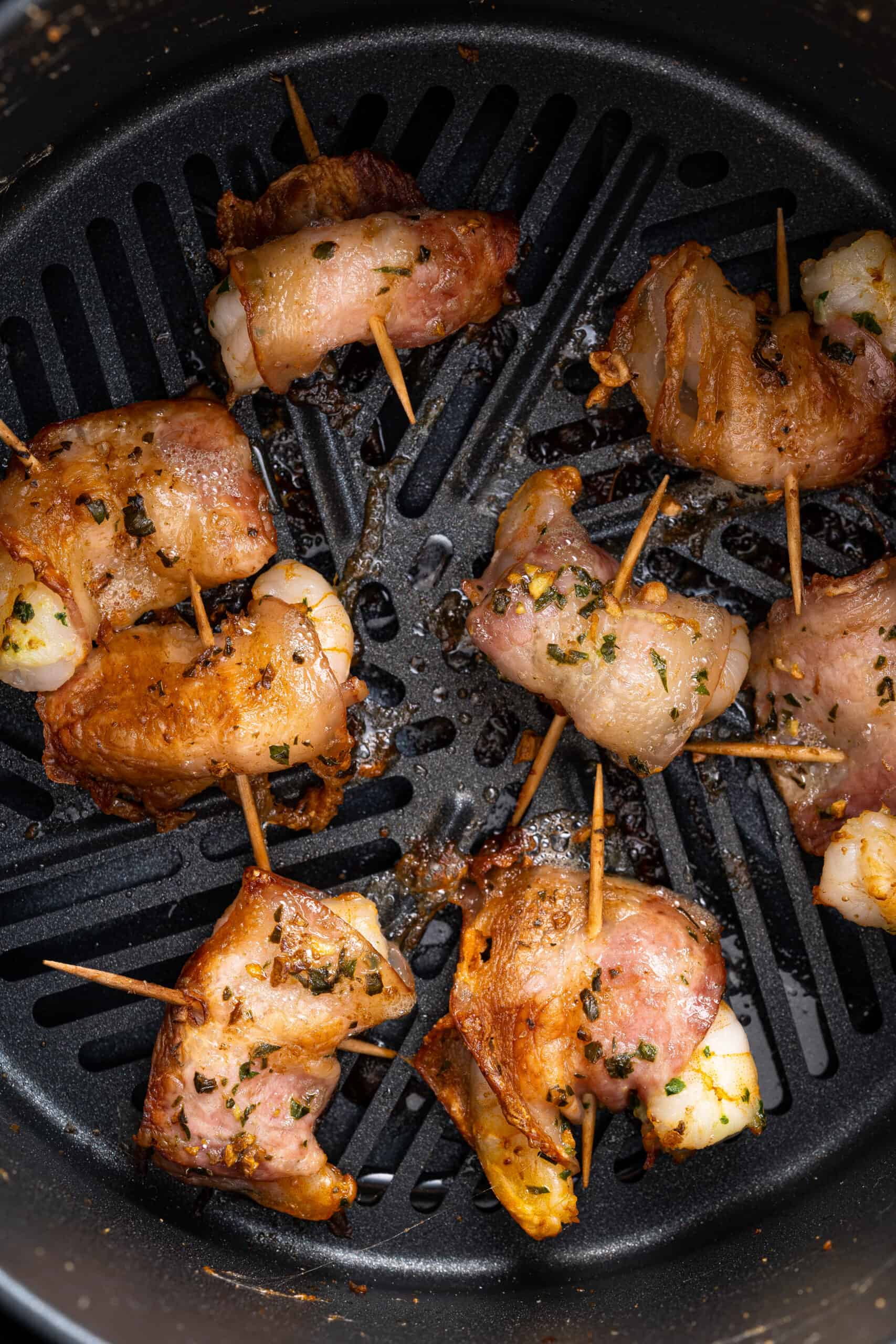 How to Make Perfect Bacon Wrapped Shrimp
Preheat the Air Fryer. Preheat your air fryer to 350 degrees F.
Make the garlic herb butter. Combine the garlic, chopped parsley, and salt with the melted butter.
Wrap the Shrimp. Use half a slice of bacon to wrap each shrimp. Then, use a toothpick to firmly secure each one.
Season the Shrimp. Use the fresh garlic butter to coat each of the wrapped shrimp.
Transfer to the Air Fryer. Arrange half the shrimp in the basket and place them in the preheated air fryer. Check after about 6 minutes and, if needed, cook for an additional 2 minutes. No flipping required!
Serve and Enjoy. Transfer the shrimp to a plate, serve with your favorite sauces, and enjoy!
Pro Tips For Air Fryer Shrimp
Don't overlap the bacon. For the best results, use ½ strip of bacon per large shrimp and about ⅓ a strip of bacon if working with medium shrimp. Starting at the tail, begin winding the bacon up and around the body of the shrimp. Except for near the tail, take care not to overlap the bacon as you wind.
Wrap tightly. Wrap the bacon tightly around each shrimp and use toothpicks or skewers to help secure. To help even more, place the bacon wrapped shrimp in the air fryer with the seam side down.
Don't overcrowd the basket. Make sure your shrimp aren't overcrowded in the air fryer basket. The more hot air that can flow around the bacon wrapped shrimp, the more evenly everything will cook.
Preheat your air fryer. To prevent uneven results, always cook bacon wrapped shrimp in a fully preheated air fryer.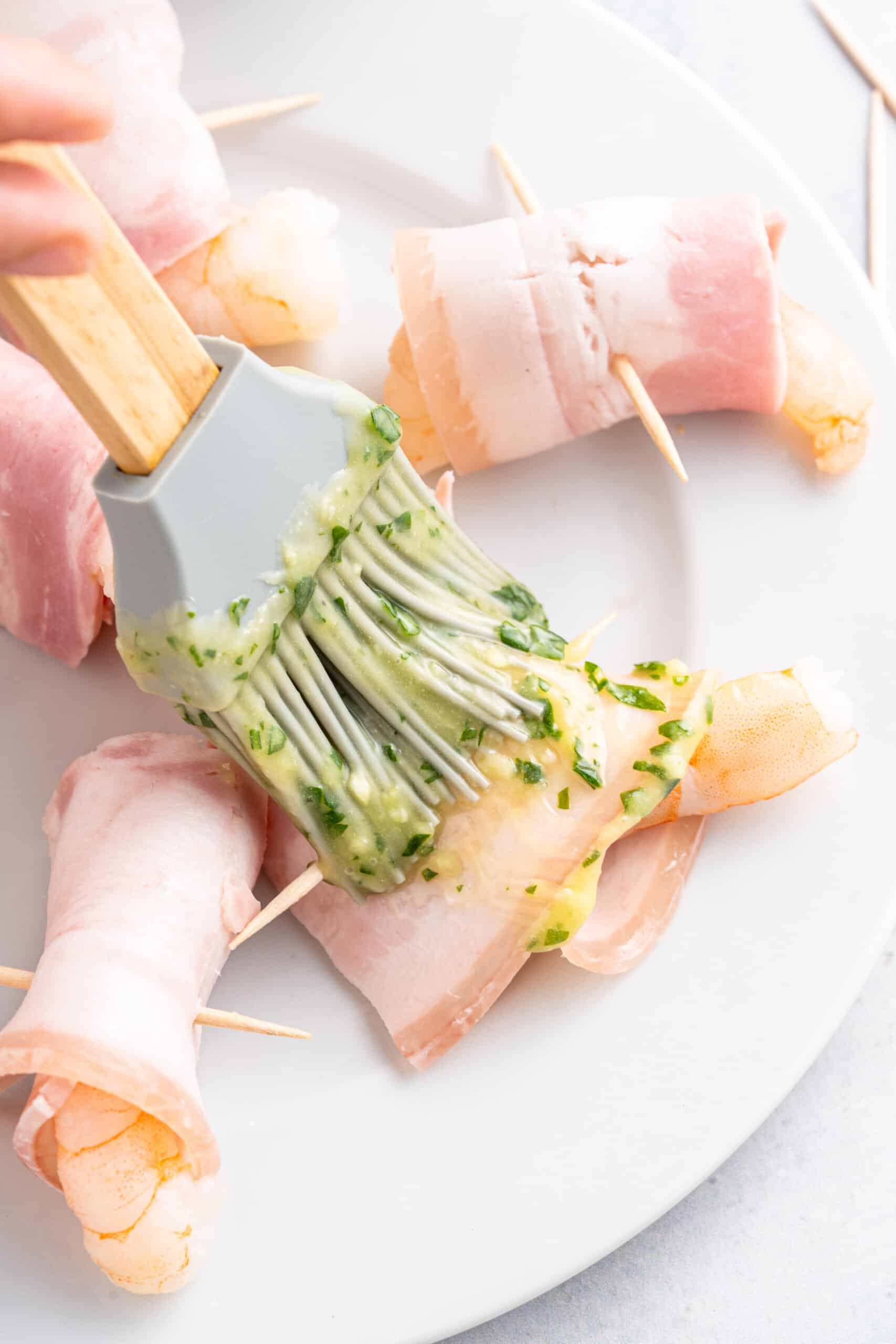 Key Ingredients and Substitutions for Air Fryer Recipe
Shrimp: Jumbo or large shrimp are the best but you can use medium shrimp if needed. Tails on or tails off is up to you, as long as your shrimp have been peeled and deveined. Frozen shrimp will also work wonderfully but might need a bit more cooking time.
Bacon: Be sure to use thin cut bacon for even cooking and perfect crispiness. For easier wrapping, keep the bacon in the refrigerator until you are ready to use it.
Garlic-Herb Butter: Make your own seasoned butter with garlic, parsley, or any of your favorite fresh herbs. Or, switch up the flavor profile altogether. For example, you might spice it up with a bit of cayenne, try a maple glaze for some sweetness, or brush your bacon wrapped shrimp with the barbeque sauce.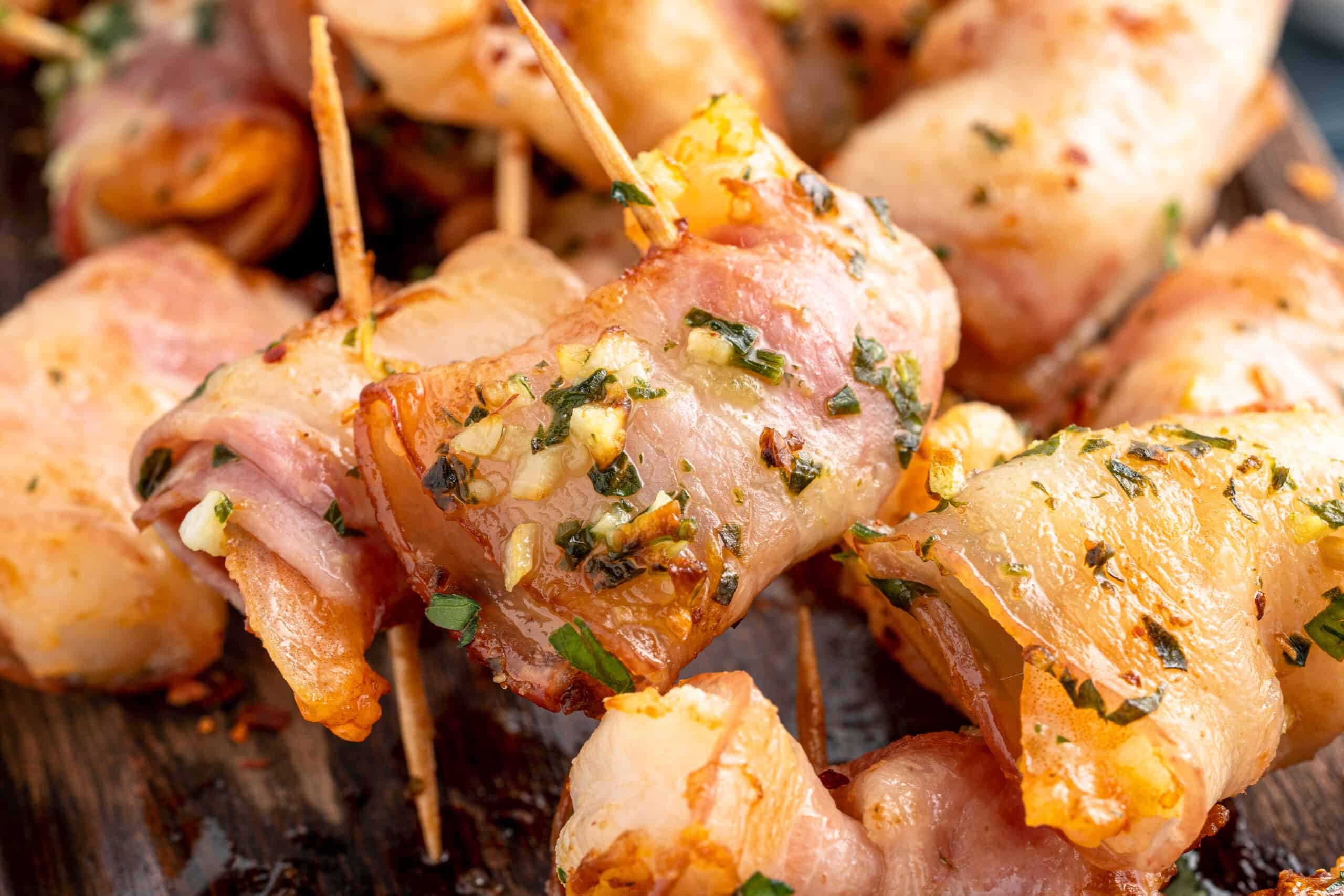 Frequently asked Questions about Air Fryer Bacon Wrapped Shrimp
What Do I Serve With Bacon Wrapped Shrimp?
This bacon wrapped shrimp air fryer recipe makes a great snack, appetizer, or meal.
As an appetizer, I recommend serving them alongside other appetizers like Chicken Wings and Grilled Jalapeños with a selection of sauces like cocktail, barbeque, spicy mayo, and blue cheese.
As a meal, bacon wrapped shrimp pairs well with rice, pasta, salads, and veggies — basically, everything! I suggest trying it with Air Fryer Asparagus, Marinated Green Beans, or any of your favorite side dishes. You can't go wrong with this one!
How to Store Leftover Air Fryer Bacon Wrapped Shrimp
Store any leftovers in an airtight container in the refrigerator for up to four days.
If needed, you can also freeze your bacon wrapped shrimp air fryer leftovers for up to 3 months.
Once ready to enjoy again, reheat these tasty little treats in the oven or air fryer for the crispiest results.
Bacon Wrapped Shrimp
Bacon wrapped shrimp air fryer style features succulent shrimp and smoky bacon crisped to perfection with a garlicky twist. 
Servings 4 Servings
Calories 214kcal
Ingredients
20 shrimp Shrimps
4 oz bacon Slices
2 tbsp butter melted
2 clove garlic cloves minced
1 tbsp chopped parsley
1/2 tsp salt
Instructions
Mix melted butter with minced garlic, chopped parsley, and salt.

Wrap each shrimp with half a slice of bacon and insert a toothpick, so it gets firm.

Coat each wrapped shrimp with the garlic butter and place ½ of the batch in a preheated Air fryer. The Air Fryer should be pre-heated to 350F. Cook them for 6 minutes, and check, if needed, cook them for two more minutes. There's no need to turn them over.

Serve with your favorite dipping sauce.
Notes
Any shrimp lover around here?
This is a super-savory garlic butter-flavored snack. All ingredients combine just perfectly! Bacon provides crispiness to these juicy shrimp. You can add a dressing for more pleasure.
Tips
Dipping sauce recommendations: tartar sauce, ranch dressing, cilantro mayonnaise.
Nutrition
Calories: 214kcal | Carbohydrates: 1g | Protein: 14g | Fat: 17g | Saturated Fat: 7g | Polyunsaturated Fat: 2g | Monounsaturated Fat: 6g | Trans Fat: 0.3g | Cholesterol: 114mg | Sodium: 584mg | Potassium: 201mg | Fiber: 0.1g | Sugar: 0.03g | Vitamin A: 270IU | Vitamin C: 2mg | Calcium: 39mg | Iron: 0.5mg
Follow On Pinterest
Follow @bewitchinkitchen On Pinterest for more delicious recipes!