Slow Cooker Style Pulled Pork Quesadilla
This slow cooker Pulled Pork Quesadilla is a Tex-Mex treasure featuring shredded pork, tangy BBQ sauce, and spicy melted cheese. Tender, succulent meat is smothered in sweet smoky BBQ sauce for hours before being nestled in a soft flour tortilla with plenty of zesty cheese. This pulled pork quesadilla recipe is hearty and satisfying, easy to put together, and perfect for feeding a large group.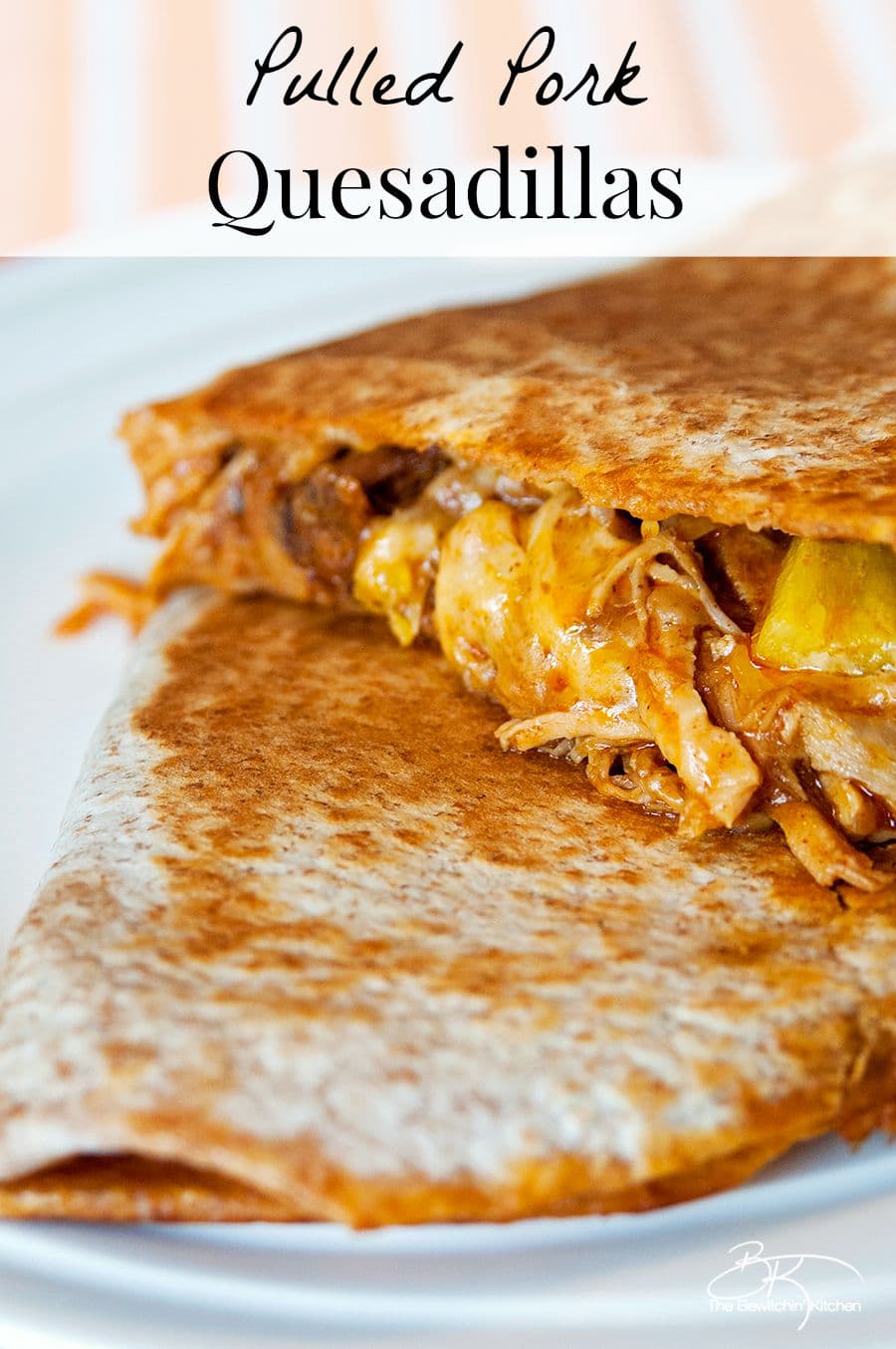 PULLED PORK QUESADILLA
Get ready for the best pulled pork quesadilla you have ever tasted! This sensationally scrumptious recipe is a breeze to make and smells so wonderful — your whole neighborhood will be drooling!
Savory, succulent pork is slow cooked until it is fall-off-your-fork tender. Barbecue sauce infuses the meat with a sweet smokiness while red pepper flakes add a hint of spice. The whole roast gets shredded in a reduction of its own juices, adding a ton of flavor and richness.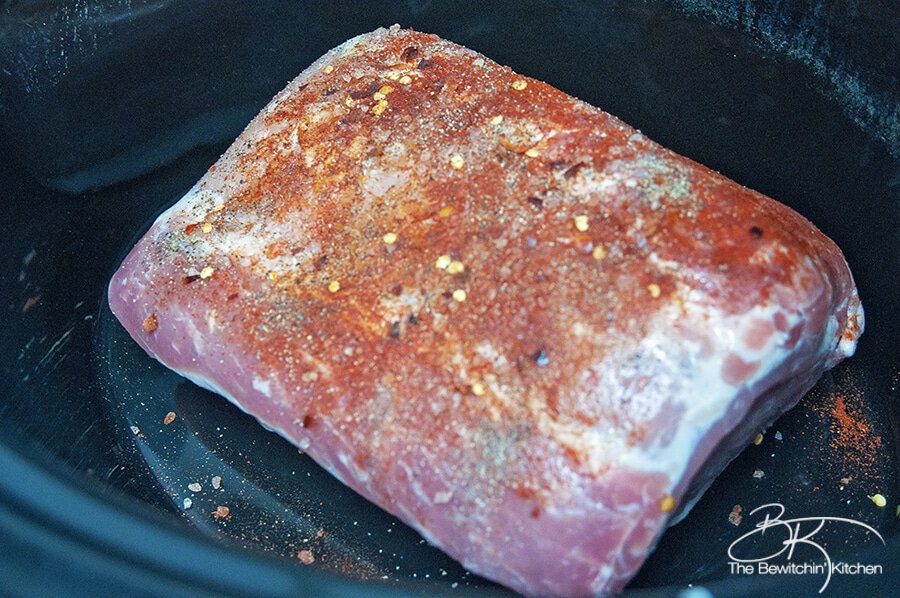 Each pulled pork quesadilla comes together in just minutes. Add a bit of the mouthwatering meat to a tortilla along with some spicy cheese and zesty peppers. Fold, grill for a few minutes on each side, and enjoy!
WHY YOU WILL LOVE THIS PULLED PORK QUESADILLA RECIPE
Amazing aromas – Fills your whole house with comforting, cozy aromas.
Easy preparation – Your slow cooker does most of the work for you.
Simple ingredients – Everything is easy to find and budget friendly.
Hearty and satisfying – Makes enough for the whole family — and friends too!
Easy to customize – Let everyone build their very own.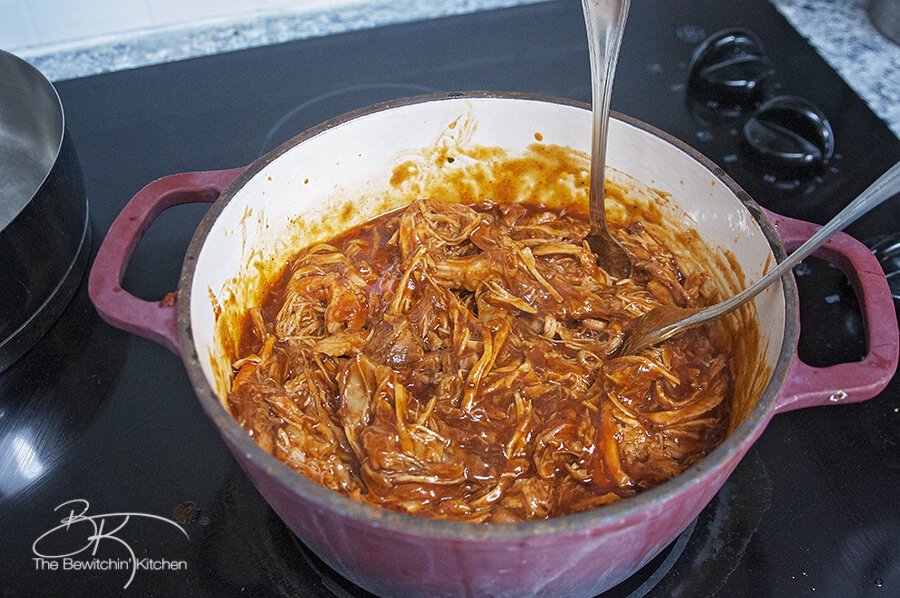 How to make pulled pork quesadillas
Prepare the pork
Rub the salt, pepper, and red pepper flakes all over the pork roast to season. Place the pork in the slow cooker, set to low, and cook for 8-10 hours. Add the BBQ sauce at the 4 hour mark, replace the cover, and continue to cook.
Craft the sauce
Once cooked, transfer the meat to a separate container. Strain the cooking liquid from the crock into a pot, removing any excess pieces of fat. Bring the liquid to a boil and add in the cornstarch slurry if you'd like a thicker sauce.
Shred and slather
Return the pork to the liquid and shred. Mix thoroughly to evenly coat and slather all the meat with sauce. Give it a taste and add more BBQ sauce if desired.
Assemble and grill quesadillas
Add some pork, sliced peppers, and shredded cheese to each tortilla. Gently fold in half and grill each side for 3-5 minutes. Serve and enjoy!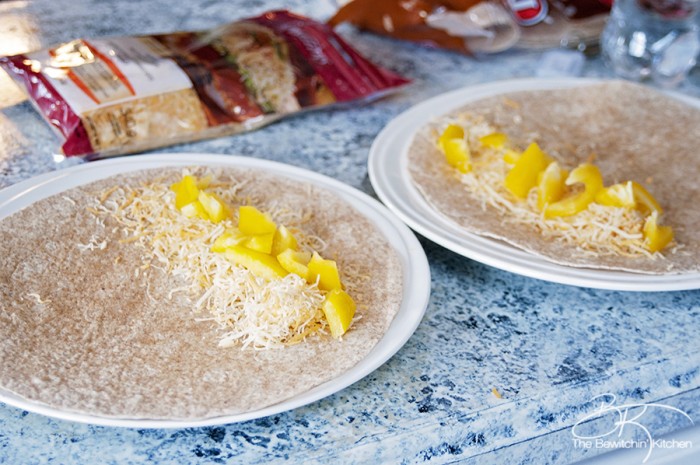 Easy Recipe Variations
Quesadillas are easy to make and easy to customize. Enjoy this pulled pork quesadilla recipe as is or try a few of these easy tweaks.
Make a carnitas quesadilla
If you have a few extra minutes, making a carnitas quesadilla is an easy way to add an extra layer of flavor and texture.
To make the carnitas, simply portion out your desired amount of pulled pork onto a baking sheet along with a bit of liquid. Broil in the oven for 2-3 minutes until the meat starts to brown and crisp. Remove, toss the pieces, and broil for another couple of minutes.
Use this deliciously crispy meat to build your carnitas quesadilla and enjoy!
Ingredient Swaps
BBQ Sauce – It's your choice with the BBQ sauce. Use any of your favorites or give my Paleo BBQ sauce a try.
Cheese – Feel free to use your favorite shredded cheese in place of the Tex-Mex blend. Cheddar and Colby Jack melt well, while Pepper Jack gives a spicier kick.
Veggies – Add onions, jalapenos, or other veggies. Just be sure not to overstuff your tortilla!
Tortillas – Use a corn tortilla to make your pulled pork quesadilla gluten free.
Pork Quesadilla Frequently Asked Questions
Do I use corn or flour tortillas for pulled pork quesadillas?
Flour tortillas are the ideal option for pulled pork quesadillas. They are soft, pliable, and easy to find in large sizes.
However, corn tortillas are totally fine to use if you need a gluten free option or simply prefer the flavor. Keep in mind, though, that they will give your pork quesadilla a slightly different texture and will also be more prone to splitting.
Why is my quesadilla falling apart?
The most likely culprit in this situation is too much sauce. Simply strain the meat a bit before adding it to your pork quesadilla and have a serving of sauce on the side if desired.
Overpacking your quesadilla will also lead to issues, so make sure you are keeping it within capacity.
Lastly, be sure not to use an excessive amount of oil when grilling your pulled pork quesadillas. Otherwise, your tortillas will become soggy and likely fall apart. Just a light coating of oil is all you need!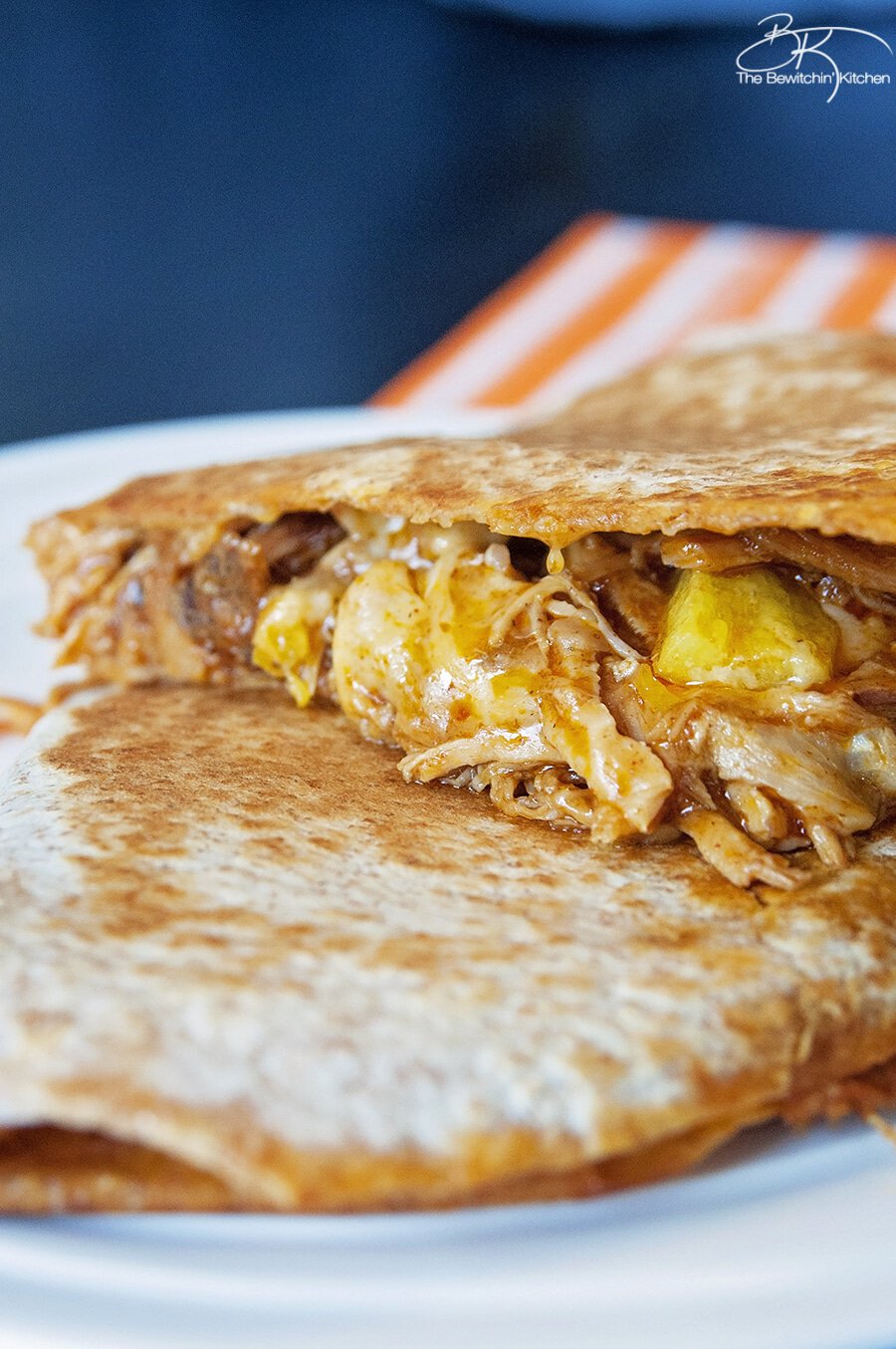 More easy Tex Mex recipes
Chicken Enchiladas with Green Sauce
Slow Cooker Style Pulled Pork Quesadilla
This slow cooker pulled pork quesadilla is a Tex-Mex treasure featuring shredded pork, tangy BBQ sauce, and spicy melted cheese.
Servings 8
Calories 637kcal
Ingredients
3 lbs Boneless Pork Rib Roast
1/2 tsp each sea salt pepper and red pepper flakes
2 cups BBQ sauce or enough to coat I used this recipe
Cornstarch slurry mix water and cornstarch in a cup
8 Large Tortillas
2 cups shredded tex mex cheese
1 large bell pepper
Instructions
Toss the pork in the slow cooker and rub the salt, pepper and red pepper flakes in the meat.

Cook on low for 8-10 hours.

After 4 hours, add the bbq sauce recover and continue to cook.

When it's fully cooked, transfer the pork and take the remaining liquid and strain it until a pot (so it gets rid of all the fat). Boil the sauce and if it's too thin, add the cornstarch slurry to thicken.

Add the pork and shred. Mix all the pork up in the sauce. Taste and add more BBQ sauce if needed.

Add the pork, peppers and cheese to a tortilla, fold in half and grill on each side for 3-5 minutes. Serve with coleslaw, rice, or whatever else you feel like.
Nutrition
Calories: 637kcal | Carbohydrates: 45g | Protein: 40g | Fat: 32g | Saturated Fat: 13g | Polyunsaturated Fat: 3g | Monounsaturated Fat: 12g | Cholesterol: 117mg | Sodium: 1191mg | Potassium: 835mg | Fiber: 2g | Sugar: 26g | Vitamin A: 409IU | Vitamin C: 13mg | Calcium: 261mg | Iron: 3mg
Follow On Pinterest
Follow @bewitchinkitchen On Pinterest for more delicious recipes!