Healthy Meal Idea: The Glory Bowl
When it comes to salads, I go through phases. Depending on my mood, I either love them or hate them. Right now, I'm not a fan of the traditional lettuce, chicken and Italian dressing combo that I usually go for, I'm sick of it and needed a new healthy meal idea. Enter the Glory Bowl.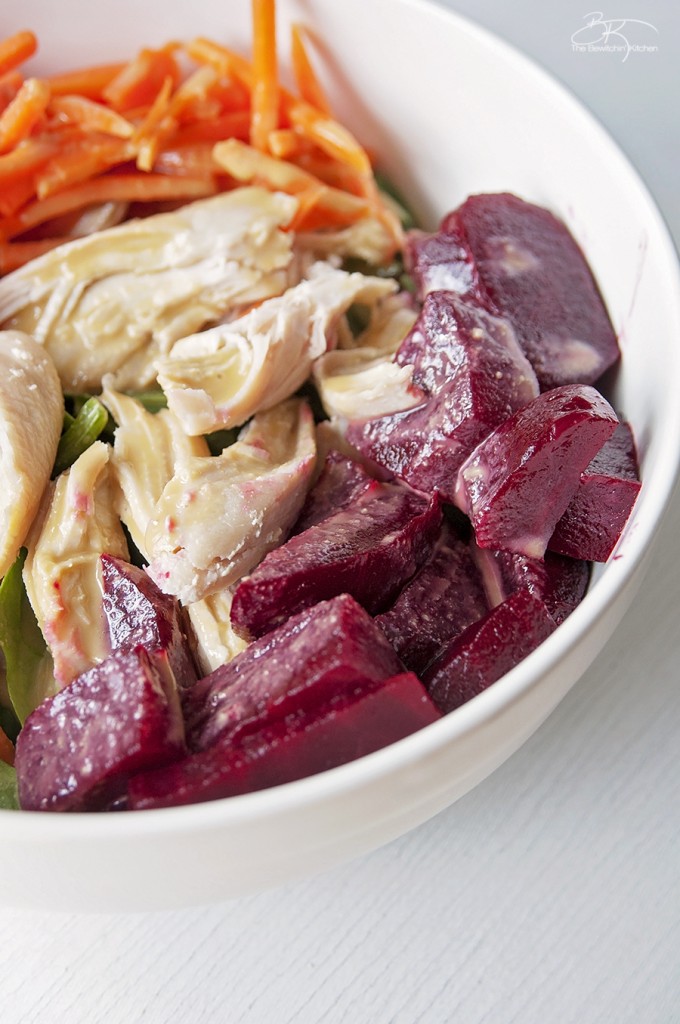 The first time I had a Glory Bowl was at The Tea Gallery (a little lunch place in my hometown of Houston, BC) and I fell in love. The Glory Bowl has beets, carrots, spinach and a delicious dressing that brought it all together.
When I got home, I jumped on Google and found the recipe I was looking for on Canadian Living and as it turns out the original recipe is from a Nelson, BC chef, Shelley Adams (you can find out more about Shelley and her cookbooks over at Whitewater Cooks). As it turns out this wholesome recipe is well known across British Columbia and when I punched it into MyFitness Pal I got a little surprise: one serving was just under 800 calories. There was quite a bit of fat in the recipe, but it's all good fat and I'm not at all worried about it.
I swapped out rice for quinoa, tofu for chicken, vegetable oil for olive oil and lowered the quantity. If you would like the original recipe please visit the links above for either Canadian Living or Whitewater Cooks. If you would like to try my version, see this healthy meal idea below.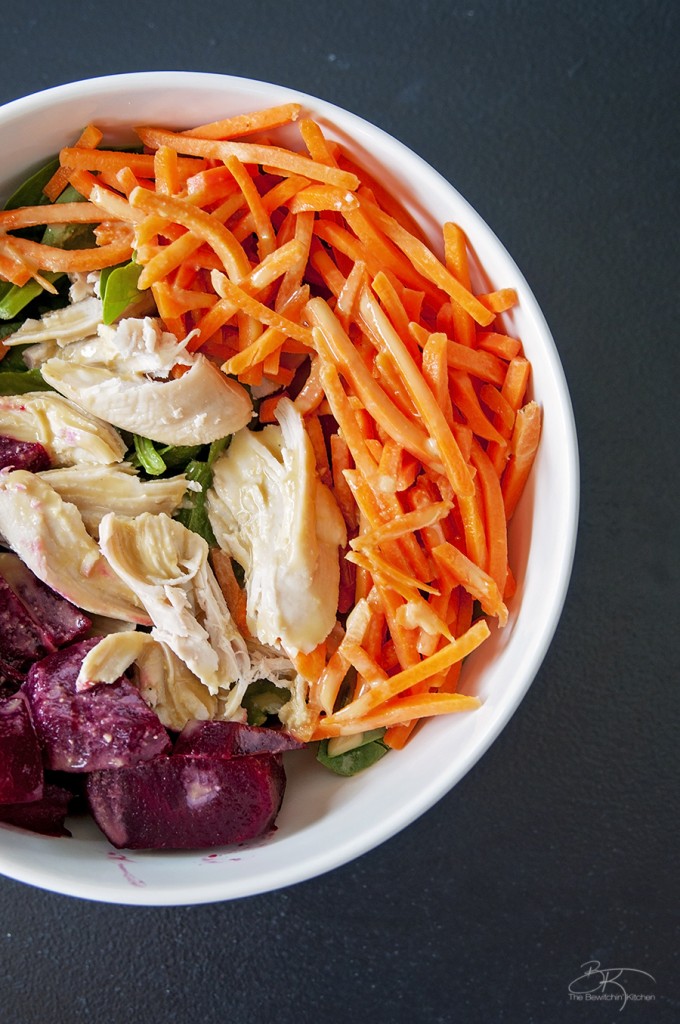 Glory Bowl Tip:
Make life easier on yourself and pre-cook everything ahead of time. That way you can assemble this salad quickly throughout the week. When I came home from the grocery store with my ingredients this is what I did right away:
Cooked 1 cup of quinoa
Roasted beets
Roasted a bunch of chicken breasts (or buy a pre-cooked chicken breast and use the carcass after to make Healing Turkey Vegetable Soup)
Made the dressing
Let everything cool, chop up what you need to chop up,  store in containers and pop in the fridge.
Glory Bowl
The Glory Bowl is one of my favorite salad recipes. It's a healthy meal idea that's great for nutritious lunch or dinner recipe.
Servings 6
Calories 642kcal
Ingredients
1 cup uncooked quinoa rinsed
4 chicken breasts cooked and sliced
4 large beets roasted and sliced (to roast: wrap in foil and roast at 425 for 30-40 mins or until knife goes through)
2 cups matchstick carrots I buy the pre-done variety
2 cups spinach leaves
Instructions
Cook quinoa following package directions, set aside.
Dressing:
Add all of the ingredients into a blender and blend until mixed. Add into a mason jar or plastic container, store in the fridge for up to a week.
To Assemble:
At the bottom of your bowl add 1/3 cup of quinoa, top with a handful or two of spinach. Add a handful of sliced or shredded chicken to the center. Surround the chicken with beets and carrots.

Pour 2-3 tbsps of the dressing over top and enjoy.
Nutrition
Serving: 1g | Calories: 642kcal | Carbohydrates: 38.5g | Protein: 24.7g | Fat: 43.9g | Saturated Fat: 6.3g | Cholesterol: 41.4mg | Sodium: 1265.8mg | Fiber: 7.5g | Sugar: 8.3g
Follow On Pinterest
Follow @bewitchinkitchen On Pinterest for more delicious recipes!
Yes, a "handful" is not the best measurement guide, but when I put together my salads it's what I do for the most part. I use about half a large beet in each bowl and about 1/4 cup of the matchstick carrots.
Share your healthy meal idea in the comments!
Like this? Here's a great pinnable image: