The Art of Espresso – The Saeco GranBaristo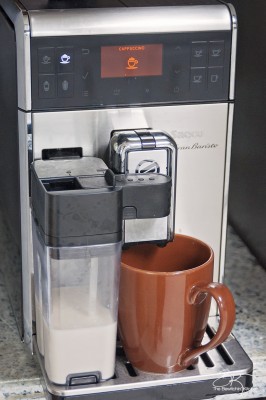 I'm not an expert when it comes to coffee, I'm just your everyday mom who appreciates a cup when it's time to start that day.
Update: It's a year later (May 2016) and I wanted to update this post. In the past year, I have gone through two machines (the first one broke after three months). While the customer service was amazing, it was a bit frustrating. 
I won't argue the fact that it makes a great cup of coffee, and I love the lattes and specialty coffees that you can make as well. However, it's annoying that when it turns on and off it "purges" water. It seems like a waste, and it's loud. I have also found that it needs a lot of maintenance and for the price, I feel that there should be less work involved.
A few days ago, while I was taking it apart for the weekly maintenance, I found mold and green sludge over the lubricated parts. You could say this is my fault for missing cleaning places but I wanted to let you all be as informed as possible. This machine is now in the garbage.
I never realized how simple tweaks could enhance the everyday coffee experience before I had the Saeco GranBaristo.
Last month I showed you how the Saeco GranBaristo classes up my coffee space, and enhances my kitchen. This month I'll be talking about how it makes the perfect cup of coffee, regardless of your coffee preferences. 
I'm loving the freshness each cup brings because grinding the coffee is apart of the experience. The built in grinders are 100% ceramic. Ceramic grinders give a consistent grind without overheating the coffee bean for the perfect espresso.
GranBaristo Coffee Options:
Each of these coffees can be customized with the strength of the brew. If you hit the button twice, it will double the amount. Perfect for two cups at a time (which can easily be done by putting the cups side by side)!
American Coffee
Coffee (this version is a little stronger)
Espresso
Cafe Creme
GranBaristo Specialty Coffee Options:
Cappuccino
Espresso Macchiato
Latte Macchiato
Frothed Milk (hot chocolate will never be the same)
GranBaristo Additional Options:
Hot Water
Ristretto
Espresso Mild
Espresso Intense
Energy Coffee
Flat White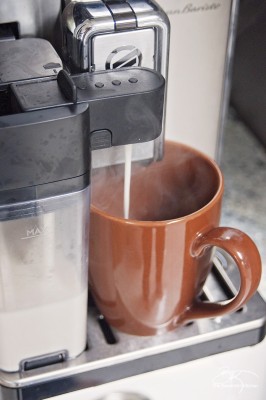 My favorite drink to make is the Espresso Macchiato. What happens first is the milk gets heated in the dual chamber milk carafe and dispensed into your cup (as seen in the photo above). Don't forget to open the spout! It's so fast, a lot faster than waiting for milk to be heated at a coffee shop, the technology is amazing.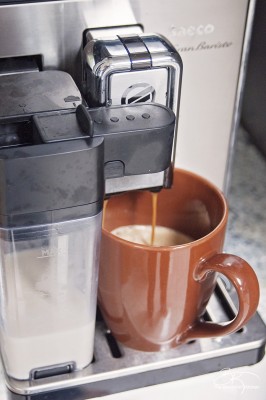 Next the espresso is poured. It comes out of the dual spout. If your cup is lower, you can slide the prongs down on the side so it doesn't splash. If you are using a tall up (like you need for a fancy latte macchiato) you are able to remove that spot to make room for the tall cup. When you do this, it will not pour out of the dual pourers, there will just be a single spout.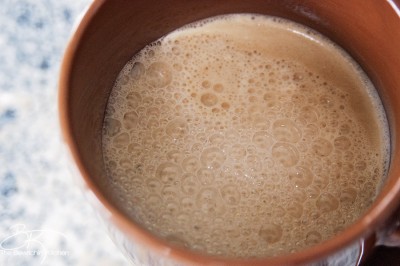 In my drinks, I used cashew and/or almond milk. Since the protein content isn't all that high, the froth isn't as intense as it could be. Cow's milk is suggested for the ultimate froth. I attempted to make some fun coffee designs, but I couldn't figure out how to do it and I think it was hard because I wasn't using cow's milk.
For the ultimate latte experience, add a sprinkle of cinnamon. It intensifies the sweetness of the coffee, and makes it feel like a fun treat!
That's how I use my GranBaristo, what coffee option would you try?
To learn more about the Saeco GranBaristo please visit: http://www.saeco.ca/. (If you're looking for the one I showcased,  it's the Saeco GranBaristo Focus HF8964/47.)