Healthy Pumpkin Spice Muffins
It's fall which means that it is also pumpkin spice season! I enjoy these easy to make, Healthy Pumpkin Spice muffins year round, but they are extra special when the fall pumpkin spice craze is in the air. Muffins usually contain a high sugar content. I replaced much of the white sugar in this recipe with Greek yogurt, mashed banana and pumpkin pure.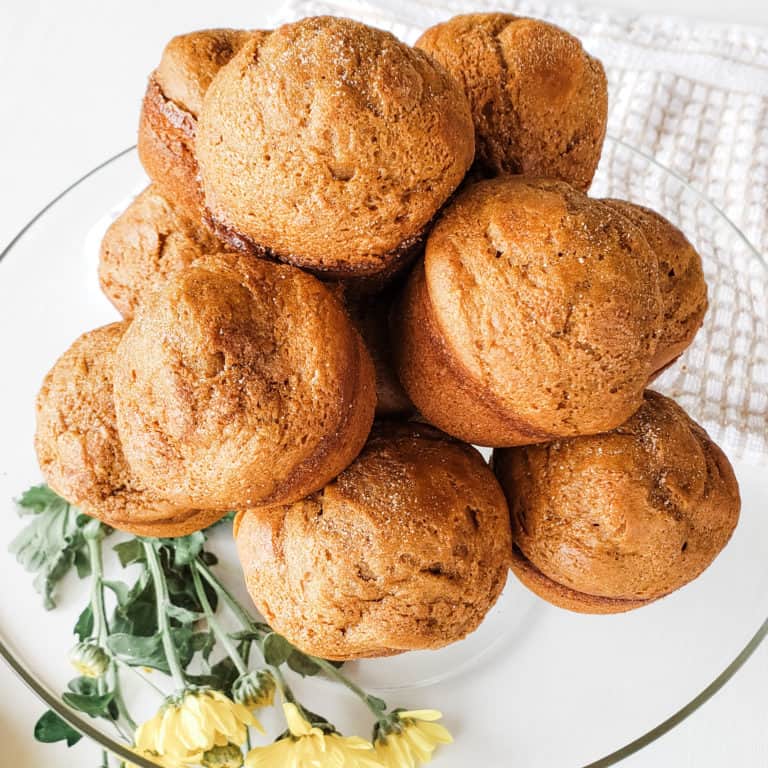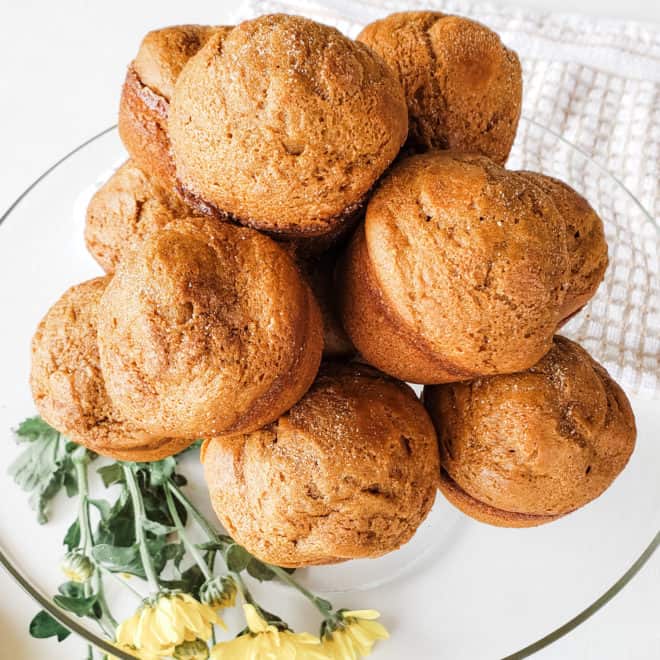 These Pumpkin Spice Muffins are so Easy!
When it comes to muffins, I always aim for healthy and easy.
If you have a Kitchen-Aide or a mixer like it, start by mashing the bananas. (Although with this recipe, if you would prefer to not use bananas, you can add in an extra 1/2 cup of pumpkin pure and that will work too. )
Next dump in all of the ingredients except for flour. The "dump it" process will save you time.
When all of your ingredients are mixed (don't over-mix!), slowly add the flour.
After you add flour, use 1/4 cup and a small spatula to get the batter out of the bowl and into the tin. Trust me! It's faster. For a muffin tin of twelve, each slot will use about this measurement.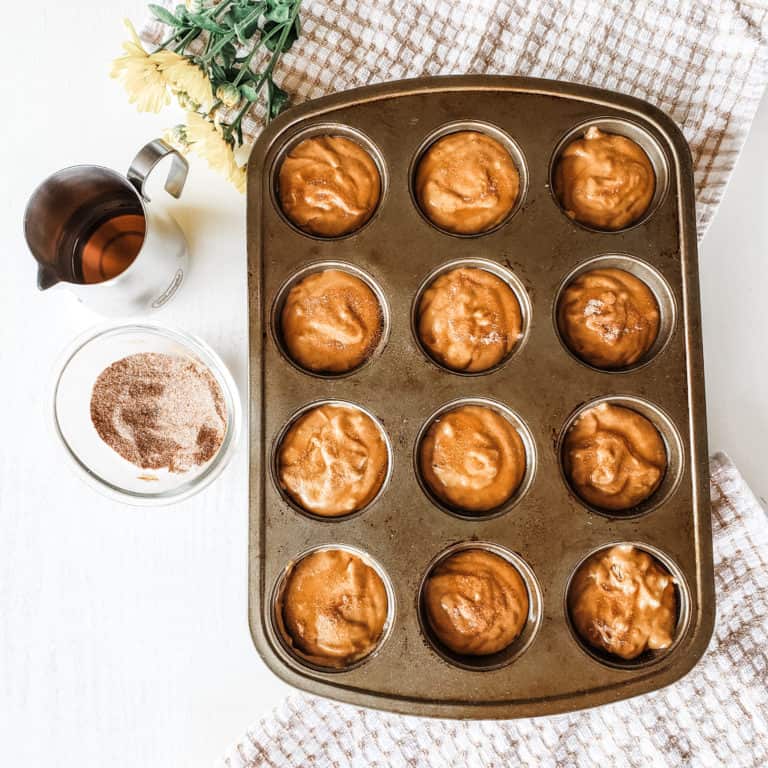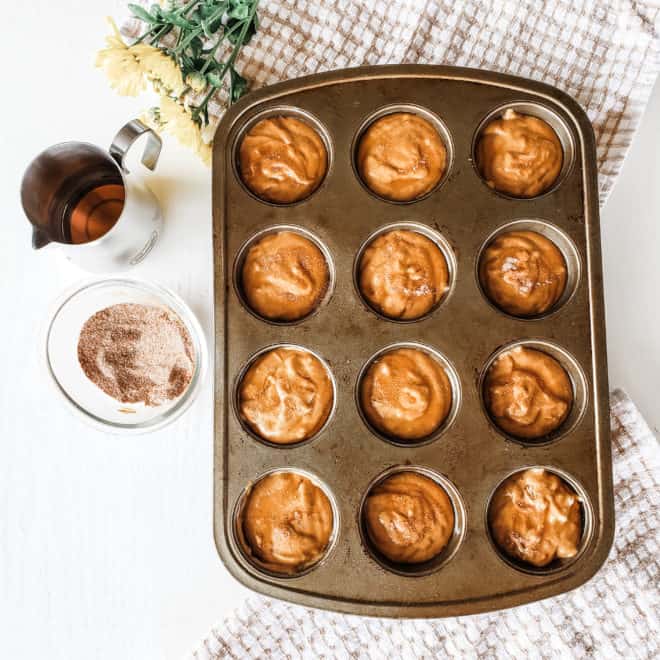 Why I use Vanilla Greek Yogurt in these Muffins:
Whenever I'm baking muffins, I like to aim for fast and inexpensive. I've learned that if you pick up items that already have vanilla in them, that adds enough flavor to the recipe, and you can skip the step and the expense of adding real vanilla.
However, if you happen to be one of those who loves vanilla, you can use plain Greek yogurt and add 1-2 teaspoons of vanilla.
The other ingredient I use that adds a kick of vanilla is almond milk. Most almond milks already have some sort of vanilla in them. You don't have to use almond milk, you can use regular milk or even a coconut milk would work too. However, I like that two of my ingredients, (the vanilla Greek yogurt and almond milk) already have the vanilla.
Skip that expensive ingredient!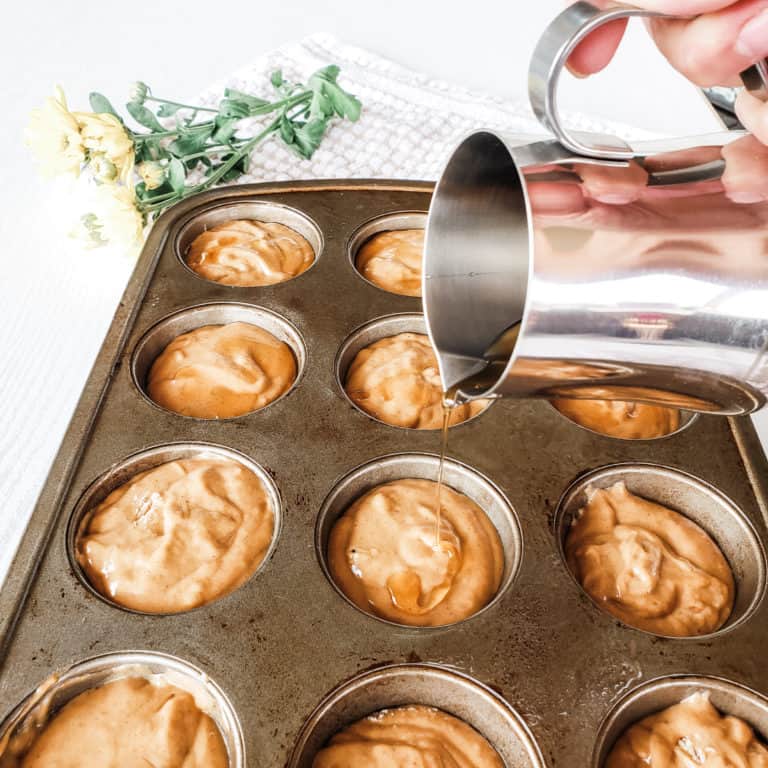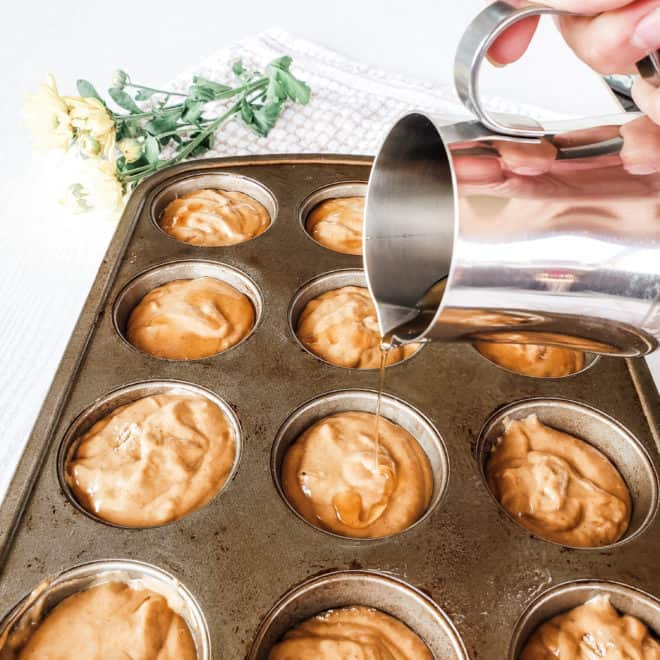 Pumpkin Spice Topping Recipe
To top off your muffins, add a drizzle of maple syrup on top. Then mix together two tablespoons of sugar, one teaspoon of cinnamon and 1/8 teaspoon of pumpkin pie spice. Sprinkle the tops with this mixture. Note: You will need to re-sprinkle the muffins when they come out of the oven as well.
Bake on 375 degrees for 10-15 minutes. You will know that your muffins are done if you can tap on the top and they bounce back.
For more muffin recipes from the Bewitchin' Kitchen see: Coconut Chocolate Muffins, Whole Wheat Rhubarb muffins, Blueberry Matcha Muffins Recipe, and Apple Bran Muffins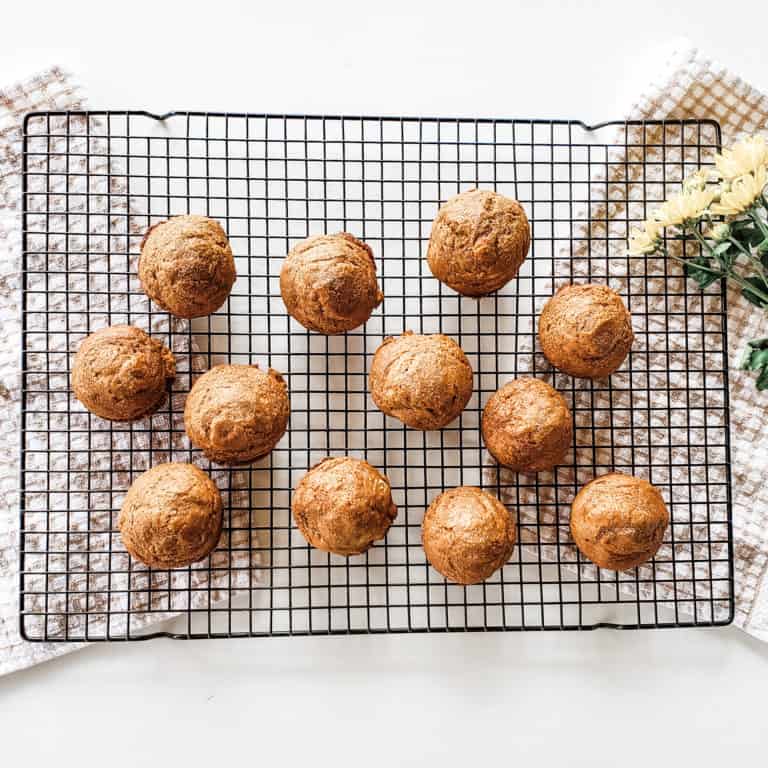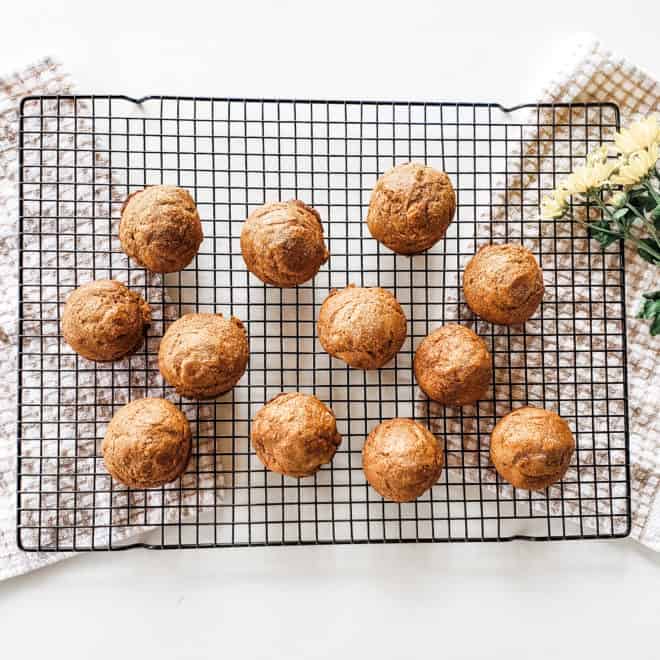 Healthy Pumpkin Spice Muffins
Healthy Pumpkin Spice muffins are a fantastic fall or anytime addition to your morning. This recipe goes great with pumpkin spice lattes, and it's a quick and easy treat to make.
Servings 12
Calories 122kcal
Ingredients
1/2 cup mashed ripe banana (2 small bananas or 1 large)
2/3 cup pumpkin pure
1 teaspoon cinnamon
1 teaspoon pumpkin pie spice
1/2 cup vanilla Greek yogurt
1/2 teaspoon salt
1 & 1/2 teaspoon baking soda
3 tablespoons vegetable oil
1/2 cup coconut sugar (substitute brown sugar)
1/3 cup almond milk (regular milk will work too)
1 & 1/3 cup flour
Instructions
Preheat oven to 375 degrees.

Mash the banana.

Dump all of the ingredients in the bowl-except for flour. Mix.

Add flour little by little as you mix. Don't over-mix!

Either use muffin liners or spray your muffin tin with an oil (like coconut oil).

Drizzle maple syrup on top of your muffins.

Mix together 1tablespoon sugar, 1 teaspoon cinnamon, and 1/8 teaspoon pumpkin pie spice

Sprinkle sugar mixture on top.

Bake at 375 degrees for 10-15 minutes

Re-sprinkle with the sugar mixture. Let cool.
Nutrition
Serving: 1muffin | Calories: 122kcal | Carbohydrates: 20g | Protein: 2g | Fat: 4g | Saturated Fat: 3g | Polyunsaturated Fat: 1g | Monounsaturated Fat: 1g | Cholesterol: 1mg | Sodium: 260mg | Potassium: 76mg | Fiber: 1g | Sugar: 7g | Vitamin A: 2123IU | Vitamin C: 1mg | Calcium: 17mg | Iron: 1mg
Follow On Pinterest
Follow @bewitchinkitchen On Pinterest for more delicious recipes!