Pumpkin Banana Muffins
Nothing says fall like freshly baked Pumpkin Banana Muffins! Vanilla Greek yogurt and mashed banana add plenty of moisture, while pumpkin puree and a dusting of spiced cinnamon sugar deliver big on the pumpkin spice flavor. Enjoy a pumpkin muffin (or two) as a healthy snack!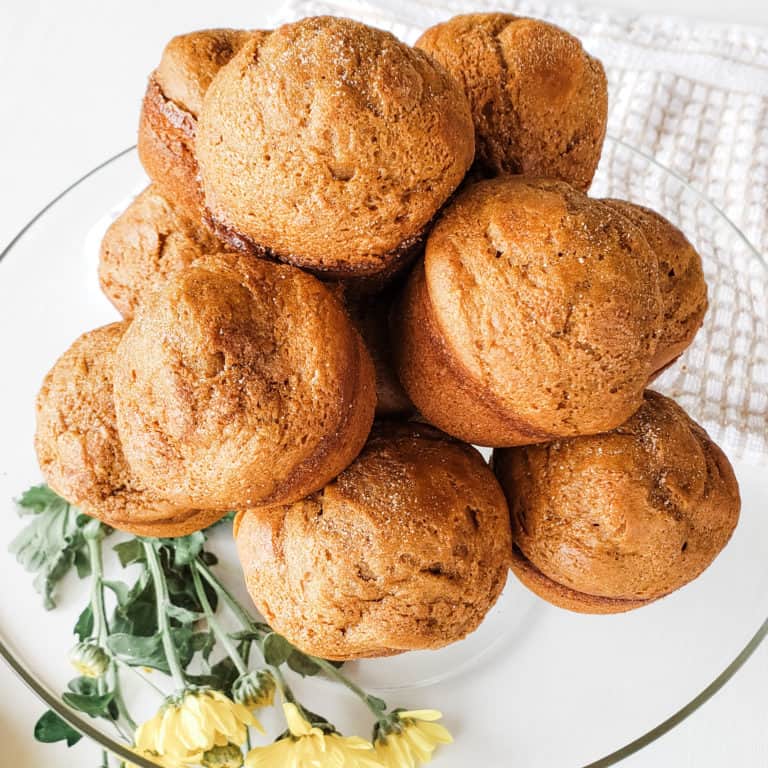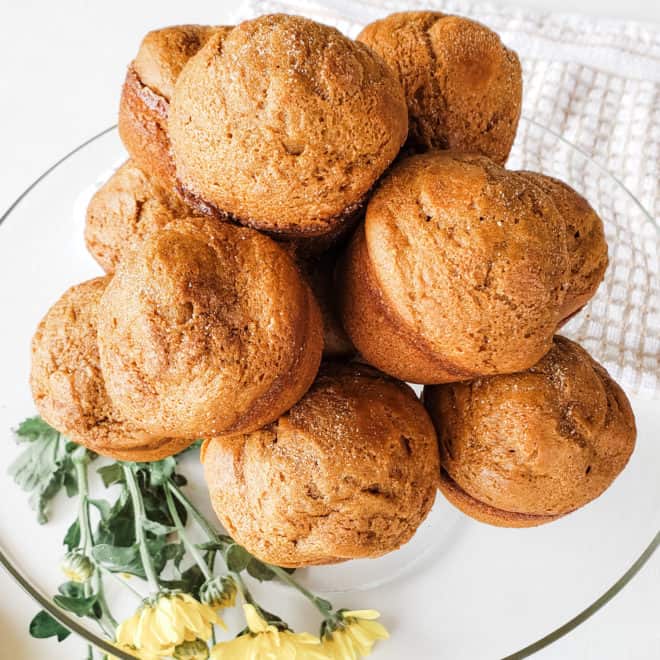 These Pumpkin Banana Muffins are so Easy!
It's fall, which means that it is also pumpkin spice season! I enjoy these healthy pumpkin banana muffins year round, but they are extra special when the fall pumpkin spice craze is in the air.
When it comes to muffins, I always aim for healthy and easy. And it doesn't get much simpler than this pumpkin muffin recipe!
Just mix up the batter in one large bowl (or the bowl of your Kitchen Aid, if you have one), then divide it into your muffin tin and bake. Easy peasy!
Muffins usually contain a high sugar content. Instead, I replaced the white sugar in this recipe with coconut sugar and a touch of maple syrup. Then, I loaded up the batter with Greek yogurt, mashed banana, and pumpkin puree.
Why you will love pumpkin banana muffins
Simple ingredients – you may already have everything in your kitchen
Easy cleanup – everyone loves a one bowl recipe
Plenty for snacking – this recipe makes a dozen, but can easily be doubled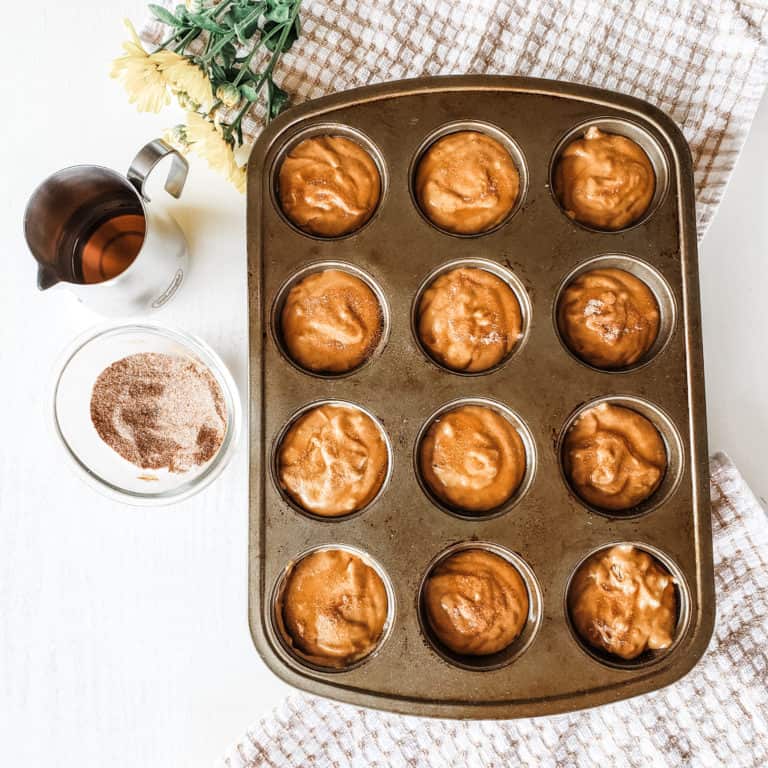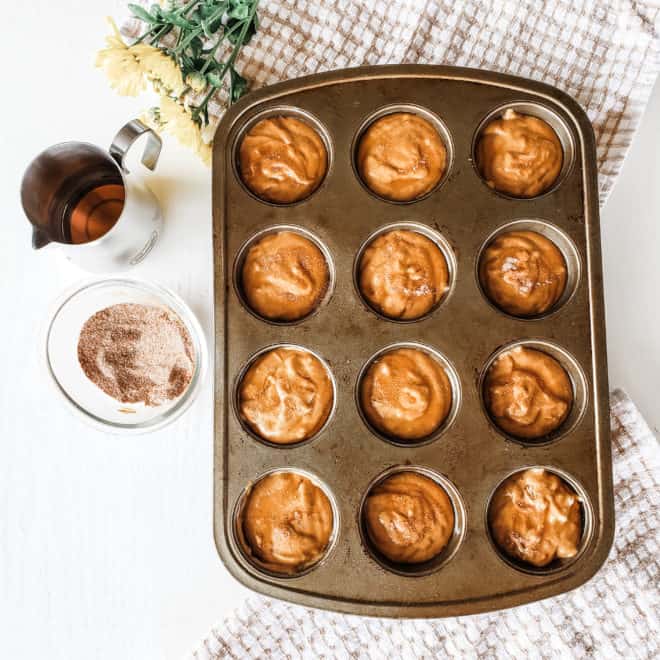 How to Make Flavorful and Moist Pumpkin Muffins
Simple recipes can still deliver loads of flavor without much effort! With a few tricks and a little care, you'll have a batch of tender spice cake pumpkin muffins ready and waiting for you to devour.
Plus, the aroma that will fill your whole house is better than any candle out there!
Use Vanilla Greek Yogurt
Whenever I'm baking muffins, I like to aim for fast and inexpensive. I've learned that if you pick up items that already have vanilla in them, that adds enough flavor to the recipe, and you can skip the step and the expense of adding real vanilla.
However, you can also use plain Greek yogurt and add 1-2 teaspoons of vanilla to your moist pumpkin muffins instead.
The other ingredient I use that adds a kick of vanilla is almond milk. Most almond milks already have some sort of vanilla in them. You don't have to use almond milk — you can use regular milk, or even coconut milk would work too.
However, I like that two of my ingredients (the vanilla Greek yogurt and almond milk) already have the vanilla. Skip that expensive ingredient!
Don't Overfill Your Muffin Tin
Use a 1/4 cup measuring cup and a small spatula to get the batter out of the bowl and into the tin. Trust me! It's faster. For a muffin tin of twelve, each slot will hold about this measurement.
Have cookie scoops? Those will work too! You'll need one that holds 4 tablespoons (often labeled as #16 size), or simply double up with a 2 tablespoon scoop instead.
Add Pumpkin Spice Topping
Before your pumpkin banana muffins go in the oven, top them off with a drizzle of maple syrup. Then, mix together 2 tablespoons of sugar, 1 teaspoon of cinnamon, and 1/8 teaspoon of pumpkin pie spice. Sprinkle the tops with this mixture.
Note: You will need to re-sprinkle the yogurt pumpkin muffins when they come out of the oven as well. Be sure to do this while they are still warm to help the topping stick to the surface.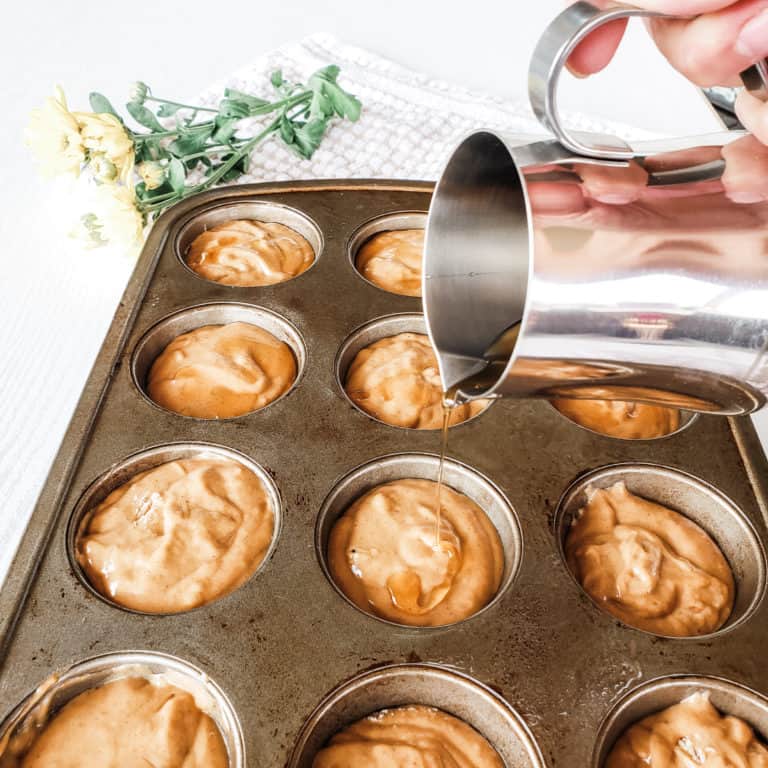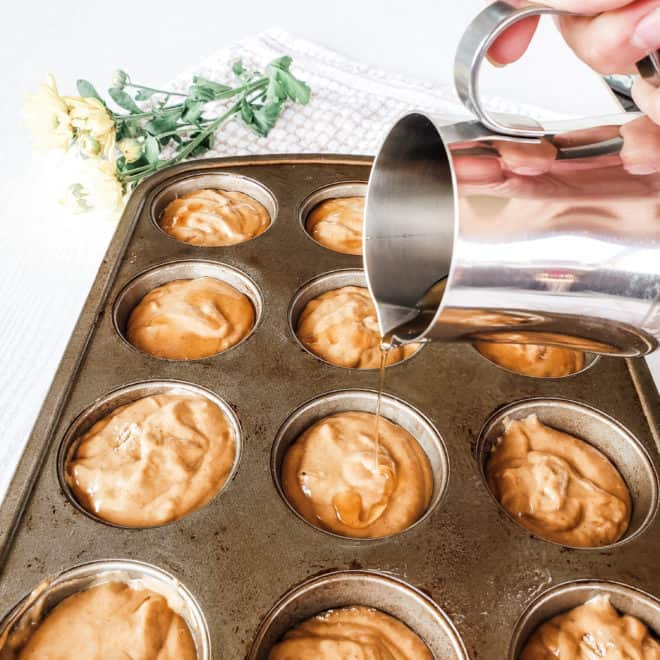 Frequently Asked Questions about Spice Cake Pumpkin Muffins
How do you tell if muffins are done?
No toothpick test here! Simply tap on the top of each pumpkin muffin — if they bounce back, they're cooked through.
Baked goods will continue to cook as they cool in the pan. Be sure to dump your pumpkin spice muffins onto a wire rack or clean kitchen towel after a few minutes, or they will become tough and dry.
Can I make this pumpkin muffin recipe without banana?
If you would prefer to not use bananas (or if you don't have any on hand), you can add an extra 1/2 cup of pumpkin pure to the batter and that will work too.
Why are my pumpkin muffins so dense?
There are two main culprits for too dense muffins: overmixing or too much leavening.
Gluten (a protein found in wheat flour) gives baked goods their chewy texture. However, this protein continues to develop the longer batter or dough is mixed. Too much, and your spice cake pumpkin muffins with yogurt will have a dense, almost gummy texture.
Also, measure your baking soda carefully and be sure that it is fresh. Out-of-date baking soda may prevent your pumpkin spice muffins from rising properly. Too much soda, and the opposite happens — the batter will rise rapidly, then collapse.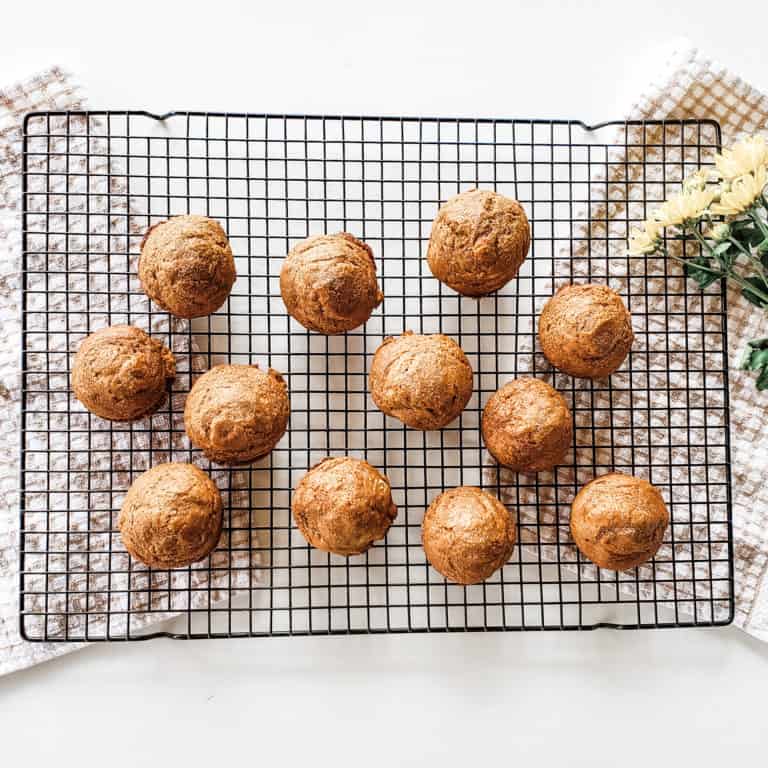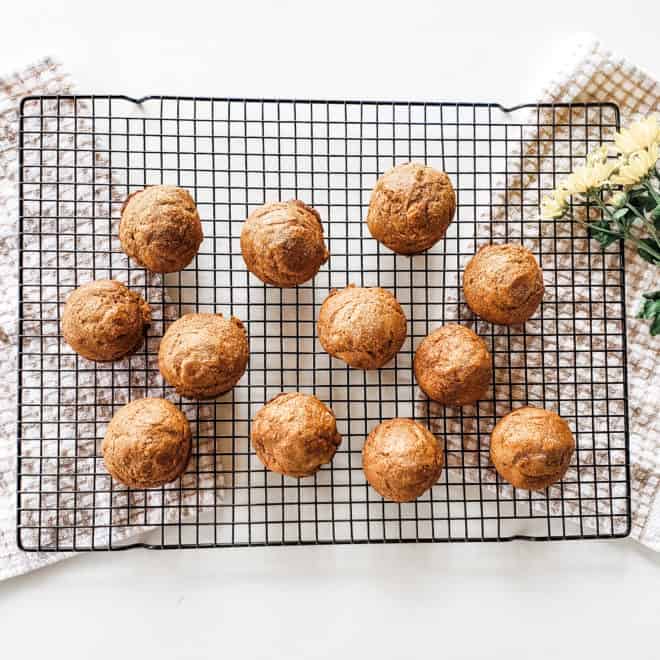 More Easy Muffin Recipes
Blueberry Matcha Muffins Recipe
Pumpkin Banana Muffins
Pumpkin Banana Muffins coated in spiced cinnamon sugar are a fantastic fall addition to your morning. Enjoy one with a pumpkin spice latte!
Servings 12
Calories 92kcal
Ingredients
1/2 cup mashed ripe banana (2 small bananas or 1 large)
2/3 cup pumpkin puree
1 teaspoon cinnamon
1 teaspoon pumpkin pie spice
1/2 cup vanilla Greek yogurt
1/2 teaspoon salt
1 & 1/2 teaspoon baking soda
3 tablespoons vegetable oil
1/2 cup coconut sugar (substitute brown sugar)
1/3 cup almond milk (regular milk will work too)
1 & 1/3 cup flour
Instructions
Preheat oven to 375 degrees.

Mash the banana.

Dump all of the ingredients in the bowl-except for flour. Mix.

Add flour little by little as you mix. Don't over-mix!

Either use muffin liners or spray your muffin tin with an oil (like coconut oil).

Drizzle maple syrup on top of your muffins.

Mix together 1tablespoon sugar, 1 teaspoon cinnamon, and 1/8 teaspoon pumpkin pie spice

Sprinkle sugar mixture on top.

Bake at 375 degrees for 10-15 minutes

Re-sprinkle with the sugar mixture. Let cool.
Nutrition
Serving: 1muffin | Calories: 92kcal | Carbohydrates: 20g | Protein: 2g | Fat: 0.3g | Saturated Fat: 0.1g | Polyunsaturated Fat: 0.1g | Monounsaturated Fat: 0.1g | Cholesterol: 0.3mg | Sodium: 260mg | Potassium: 76mg | Fiber: 1g | Sugar: 7g | Vitamin A: 2123IU | Vitamin C: 1mg | Calcium: 17mg | Iron: 1mg
Follow On Pinterest
Follow @bewitchinkitchen On Pinterest for more delicious recipes!