Blueberry Matcha Muffins Recipe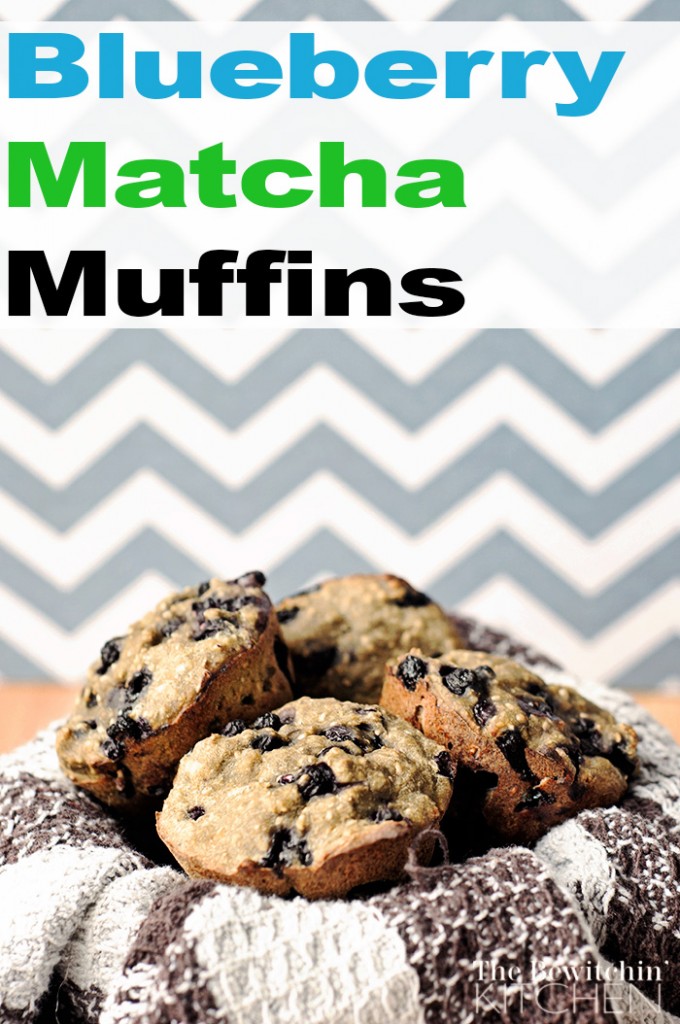 I love a good muffin, but usually the ones I'm drawn to may as well be a cake. So when I put together these Blueberry Matcha Muffins, I wanted to be more health conscious since we've been having a little more sugar than usual (heat + no AC = lots of ice cream).
What Is Matcha?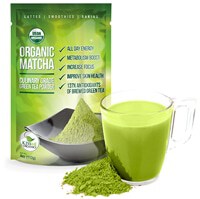 Organic Matcha from Kiss Me Organics is green tea grounded to a fine powder. Instead of steeping the tea leaves (like you do with green tea), you are consuming the whole tea leaf. Tea plants absorb toxic elements from their surroundings. That's some scary stuff and thankfully Kiss Me Organic's Matcha is USDA certified organic. Some of the benefits are:
All day energy with increased focus
Improved skin health
Metabolism boost
137x the antioxidants of brewed green tea.
They are all great benefits but I'm really excited about the antioxidants. Not only does Kiss Me Organic's Organic Matcha keep me looking young, but it will also help my body process better (helping me fight the chemicals and pesticides found on some of my produce, along with my histamine levels).
What Do You Do With Matcha:
Really the possibilities are endless. When you purchase Kiss Me Organic's Matcha, you also receive a free matcha recipe guide. Here are just some of the ways you can use the Organic Matcha powder:
Green tea lattes (iced are my favorites)
Spritzers, smoothies and other drinks
French toast
Cookies
Pancakes
Frostings and glazes
Buns, scones and other baked goods
Cakes, cupcakes, matcha muffins, brownies
Sauces and purees
Put some in your mashed potatoes for a boost of antioxidants
Pizza, chicken rubs, steak rubs.
Do you see where I am going with this? There are no limits with matcha.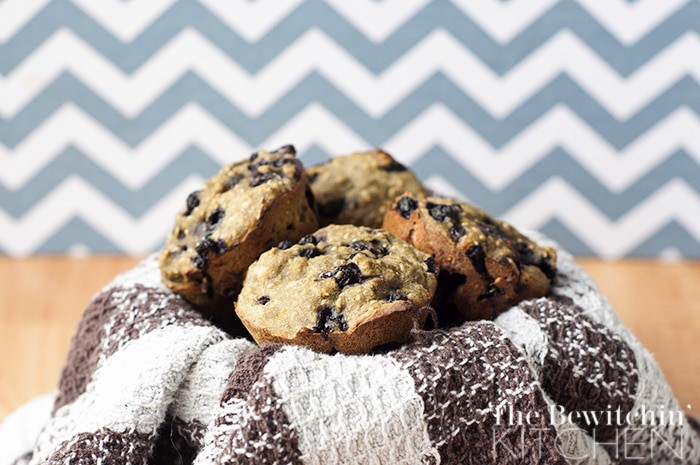 Keep in mind that it's concentrated and tastes strong, so a person only needs about a teaspoon for individual servings. I put 2 tablespoons in the recipe for Blueberry Matcha Muffins (recipe below), and it does have a strong green tea taste.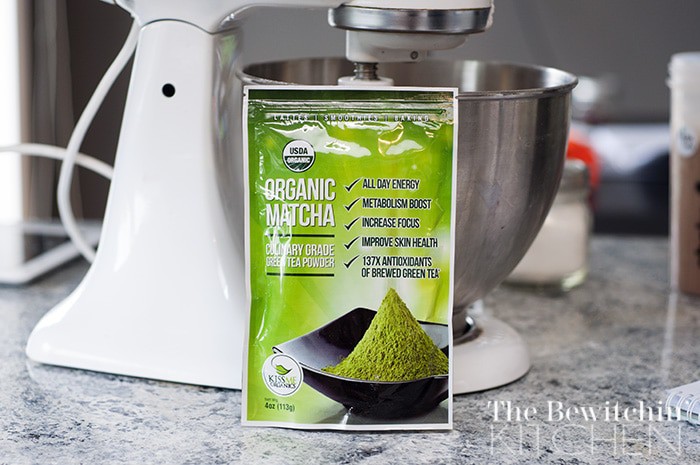 This morning I noticed that my most popular post was the recipe for healthy blueberry muffins, I thought that this would be perfect for adding matcha to so I got out my mixer and got to work. I did all this without checking for ingredients.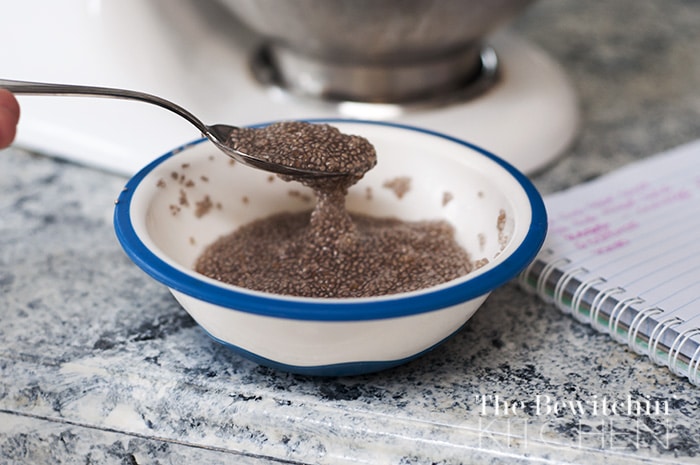 As it turned out, I was out of eggs. This NEVER happens, I usually have a good three dozen in my fridge at a time (we eat a lot of eggs). I decided to make a "chia egg". If you substitute one egg with 1 tbsp chia and 3 tbsp water and let it sit until it gels up (roughly 15 minutes) – you have a healthy egg substitute.
I then saw I didn't have any whole wheat flour or bran flakes so I used oat flour (here's how to make oat flour) and all purpose flour.
Please keep in mind that these Blueberry Matcha Muffins are not like a typical muffin. There is no refined sugar, so it's not overly sweet. It's also heavy and fairly dense, and a bit chewy, I believe the chia seeds may have caused this. I`m probably not making these sound that appetizing, but if my picky toddler likes them (he calls them cookies) then they`re gold. The low sweetness and energy benefits make these muffins a great option for breakfast and for a toddler's snack!
Blueberry Matcha Muffins
I love a good muffin, these muffins are good for any occasion. They are healthy and tasty!
Servings 4 people
Calories 538kcal
Ingredients
1/2 cup unsweetened apple sauce
1/4 cup maple syrup
2 eggs or 2 tbsp chia and 6 tbsp water for a chia egg
2 bananas mashed
1 tsp vanilla
1/3 cup milk or coconut/almond
1 1/2 cup AP flour
1/2 cup oat flour
1/2 tsp sea salt
1 tsp baking powder
2 tbsp Kiss Me Organics Organic Matcha Powder
1 cup blueberries
Instructions
Preheat oven to 375.

In a large mixing bowl (the one that you're going be using for your stand mixer) combine the applesauce and maple syrup.

You will then add your eggs in, one at a time.

In a small bowl mashed your bananas and add the milk and vanilla.

While your mixer is going add the dry ingredients and the banana mixture a little bit at a time (alternating).

Fold in berries.

Prepare your muffin tins (I used spray) and pour batter.

Bake 30 - 35 minutes or until fork comes out clean (I used frozen blueberries which made my batter cold, this could be why it took so long - please check your muffins at 25 minutes first).
Nutrition
Calories: 538kcal | Carbohydrates: 93g | Protein: 17g | Fat: 10g | Saturated Fat: 3g | Polyunsaturated Fat: 2g | Monounsaturated Fat: 5g | Trans Fat: 1g | Cholesterol: 84mg | Sodium: 1052mg | Potassium: 558mg | Fiber: 6g | Sugar: 31g | Vitamin A: 593IU | Vitamin C: 9mg | Calcium: 225mg | Iron: 6mg
Follow On Pinterest
Follow @bewitchinkitchen On Pinterest for more delicious recipes!