Easy Homemade Pumpkin Spice Granola
This pumpkin spice granola is my favorite breakfast treat! It's packed with oats and pecans, sweetened with a little maple syrup and packs a fantastic amount of energy. Nutritionally, homemade granola is a great replacement for store-bought granola, and it just tastes so much better. You can store it in the refrigerator for weeks and take a little out every morning, use it in smoothies, or eat it for a quick snack! This granola pairs well with our pumpkin spice latte.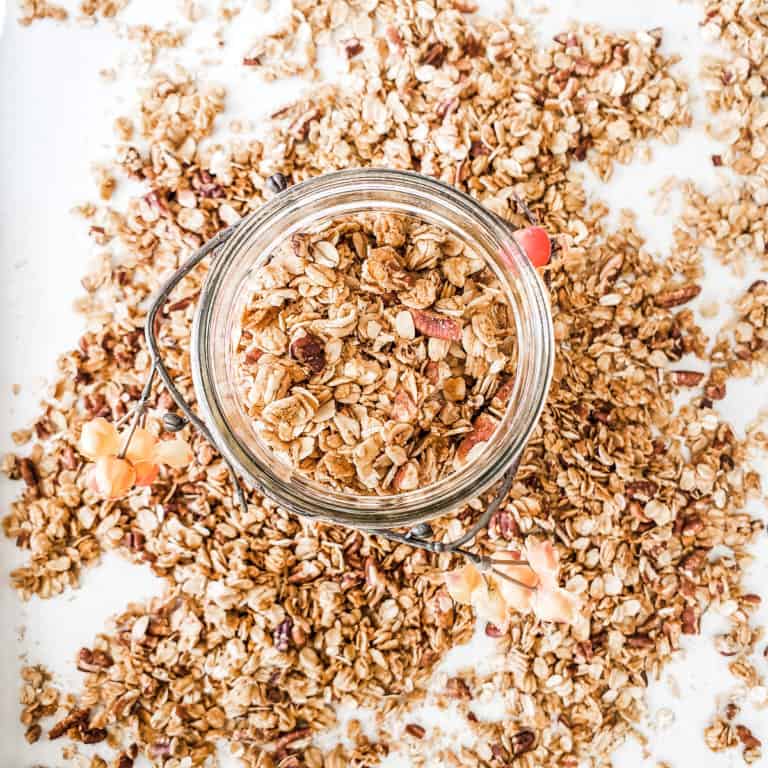 How to eat granola?
If you're new to homemade granola, you may be wondering how to use granola.
Personally, I eat this granola like cereal. With a splash of coconut milk, maybe add whatever blueberries or strawberries you have in the fridge, possibly some Greek yogurt, wow- it's a great granola breakfast!
This easy granola also works great with smoothies, I'll update this post soon with some links to a peach granola smoothie.
Did I mention yogurt? It's also an easy granola recipe for yogurt. If you're trying to pack in some pro-biotics with your protein, this is a super simple combination because granola will keep for 1-2 weeks.
Homemade granola is also a great topper for pancakes, waffles, oatmeal, kefir, and overnight oats.
Simple Granola Recipe
This recipe is so quick and easy! One batch makes about twenty-four quarter cup servings, so you can bake it once and eat a little at a time for the next few weeks.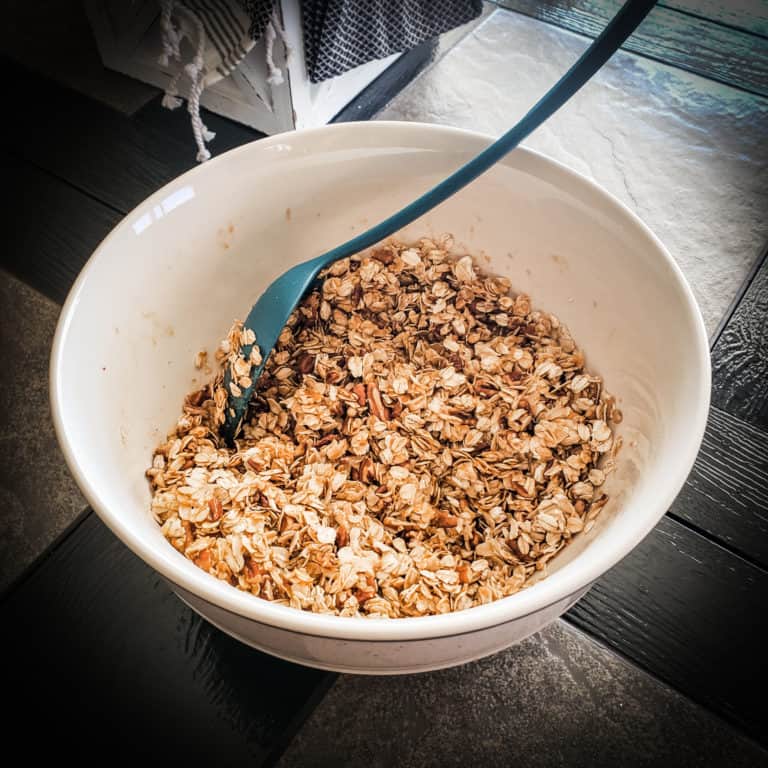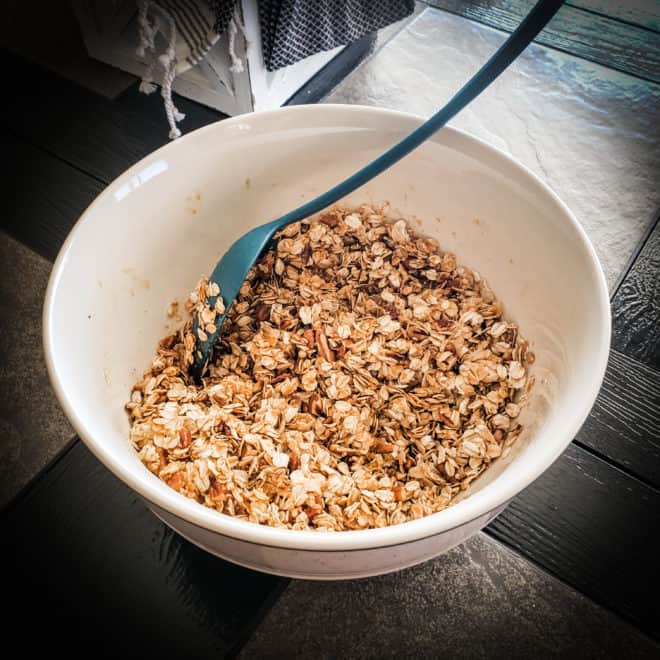 Start by preheating your oven to 300 degrees.
Mix together oats, chopped pecans, brown sugar or you can substitute coconut sugar, cinnamon, pumpkin pie spice, and salt.
In a small saucepan over low heat, combine pure pumpkin, coconut oil, and maple syrup.
The oil will try to separate from the pumpkin and syrup. This is ok. Just get it heated up enough and mixed together so that when you pour it over the dry mixture, it's mostly together.
Mix together with a big spoon until all of the oats are covered.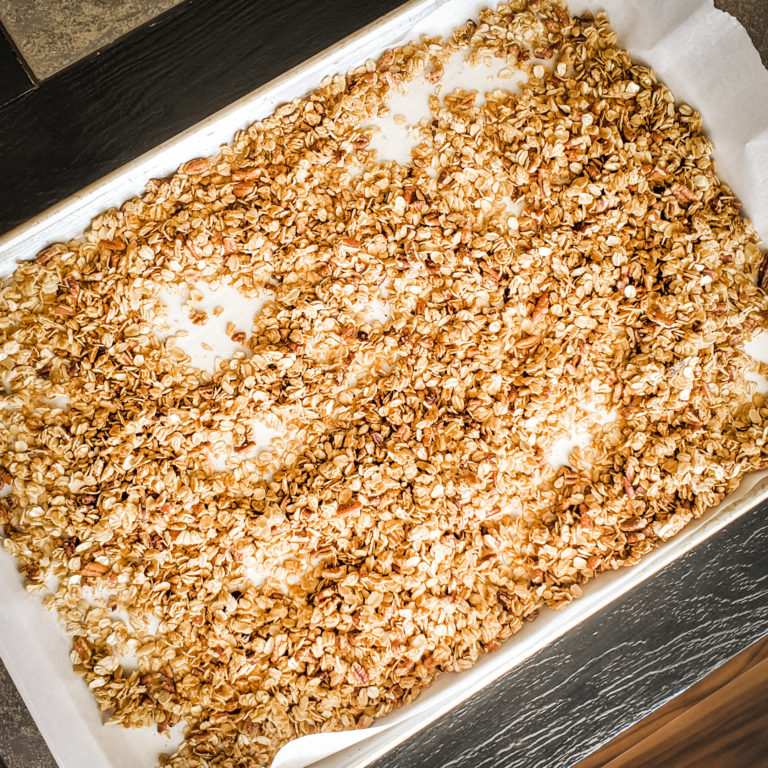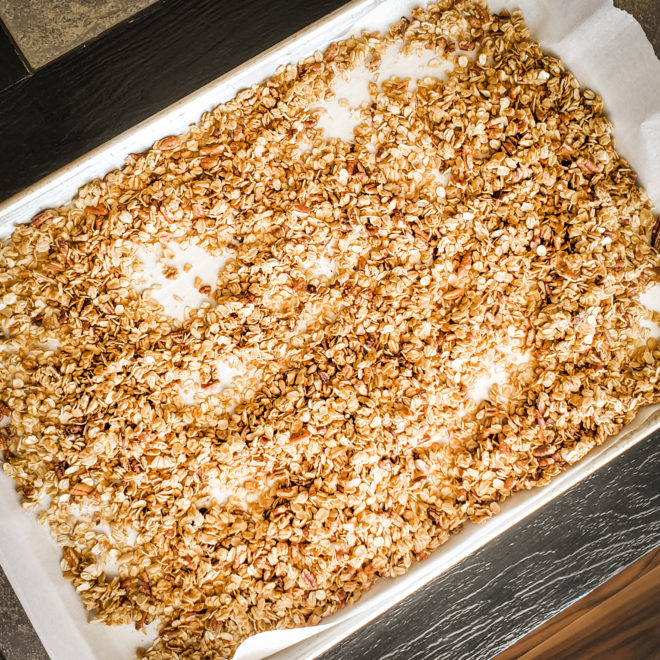 Spread Granola Evenly
Your next step is to get a large cookie sheet and cover it with wax paper.
This is not a great picture of an even spread, because this is an "after shot." But I would get the granola all spread out and mostly flat before I put it in the oven.
When it's in the oven you want to keep an eye on it so that it doesn't burn. I take a spatula and turn the granola over in spots and pat it back down so it's even again every ten minutes or so.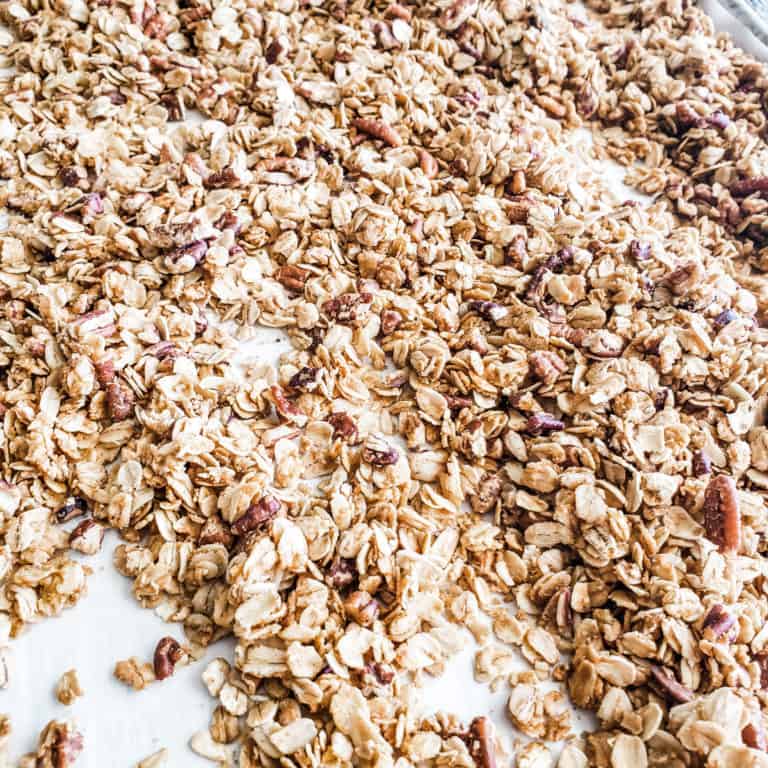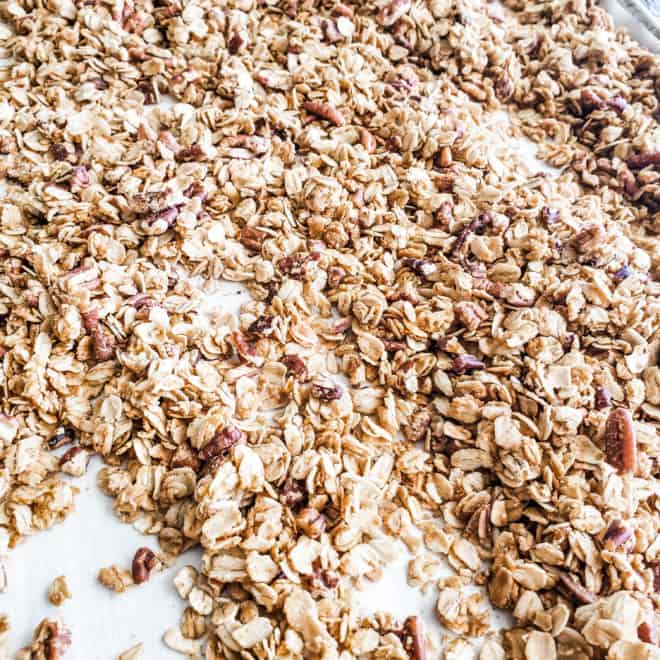 TBK's Pro Tip:

Keep an eye on your granola while it cooks. When it's done, the oats should turn a few shades darker, and your granola will look crisp with the sugar and spices clinging to the oats.
Granola Makes a Great Fall Gift!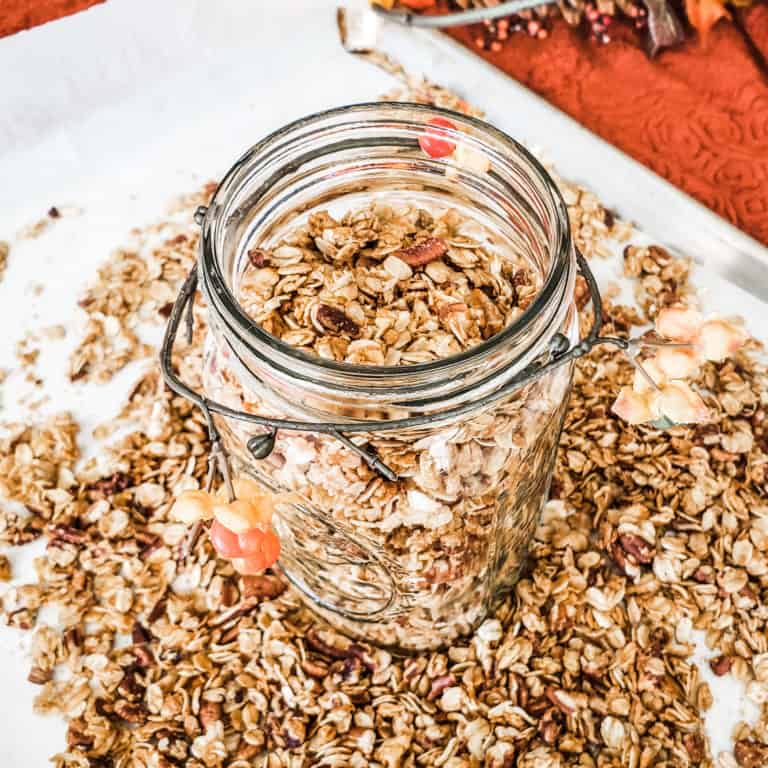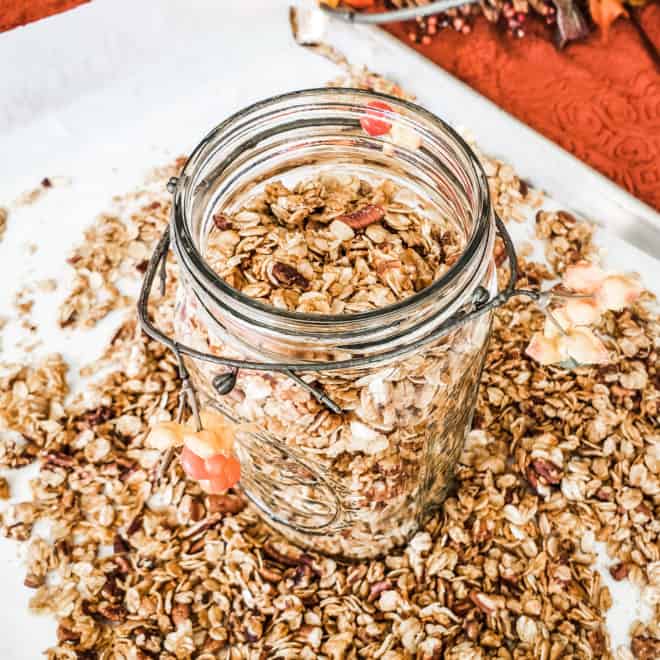 This recipe makes about a baker's dozen worth of servings. You can fill up a mason jar with this granola and still have plenty left over. If you wrap the top of the jar with some fall foliage or raffia ribbon, it looks super cute! Pumpkin spice granola is also great to take to a neighbor or friend!
For more great breakfast ideas, visit our breakfast menu!
Pumpkin Spice Granola
Servings 24
Calories 139kcal
Ingredients
4 cups oats
11/2 cups chopped pecans
1/2 cup brown sugar
1 teaspoon cinnamon
1/2 teaspoon pumpkin pie spice
1/2 teaspoon salt
2 tablespoons pure pumpkin
1/3 cup maple syrup
2 tablespoons coconut oil
Instructions
Preheat oven to 300 degrees.

In a large bowl mix together: oats, chopped pecans, brownsugar, cinnamon, pumpkin pie spice, and salt.

In a small saucepan, combine coconut oil, maple syrup and purepumpkin. Stir until warm and well combined, (the coconut oil will try toseparate from the maple syrup).  

Pour wet mixture into the bowl and stir until all of the ingredients are well mixed.

Cover a large cookie sheet pan with wax paper. Then spread the mixture evenly over the pan, creating as thin a layer as possible.

Bakefor 30-40 minutes.

Using caution, with a long spatula, flip the mixture over and re-spread every 5-10 minutes.
Nutrition
Serving: 0.25cup | Calories: 139kcal | Carbohydrates: 18g | Protein: 2g | Fat: 7g | Saturated Fat: 2g | Sodium: 51mg | Potassium: 96mg | Fiber: 2g | Sugar: 8g | Vitamin A: 198IU | Vitamin C: 1mg | Calcium: 21mg | Iron: 1mg
Follow On Pinterest
Follow @bewitchinkitchen On Pinterest for more delicious recipes!