High Protein Pancakes
No more sacrificing flavor for nutrition – our High Protein Pancakes are fluffy and full of nutty, vanilla flavors! They take just 25 minutes, but they're so good they'll disappear in seconds!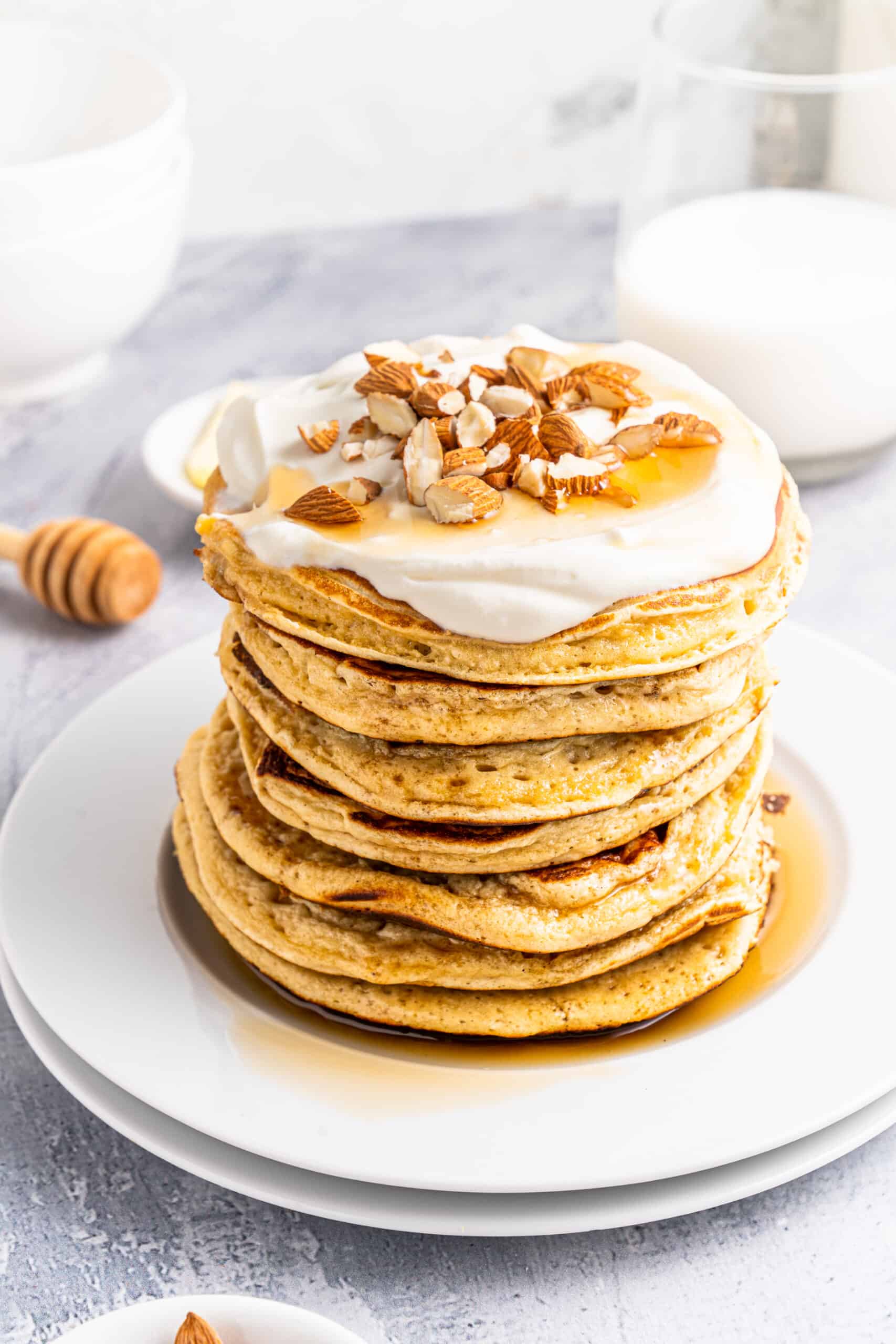 Hearty High Protein Pancakes
There's nothing like a quick, healthy breakfast to start your day. These protein powder pancakes are just the thing! With a bit of whey protein powder, some oat flour, and a splash of buttermilk, these fluffy bites can help you bulk, give you the energy to face the day, or just provide an energizing snack later on.
Whether you're vegetarian, have dietary restrictions, or are trying to build some muscle, it can be hard to get all of the right nutrients. From puddings to no-bake bars, we have tons of ways to sweetly sneak some more protein into your diet!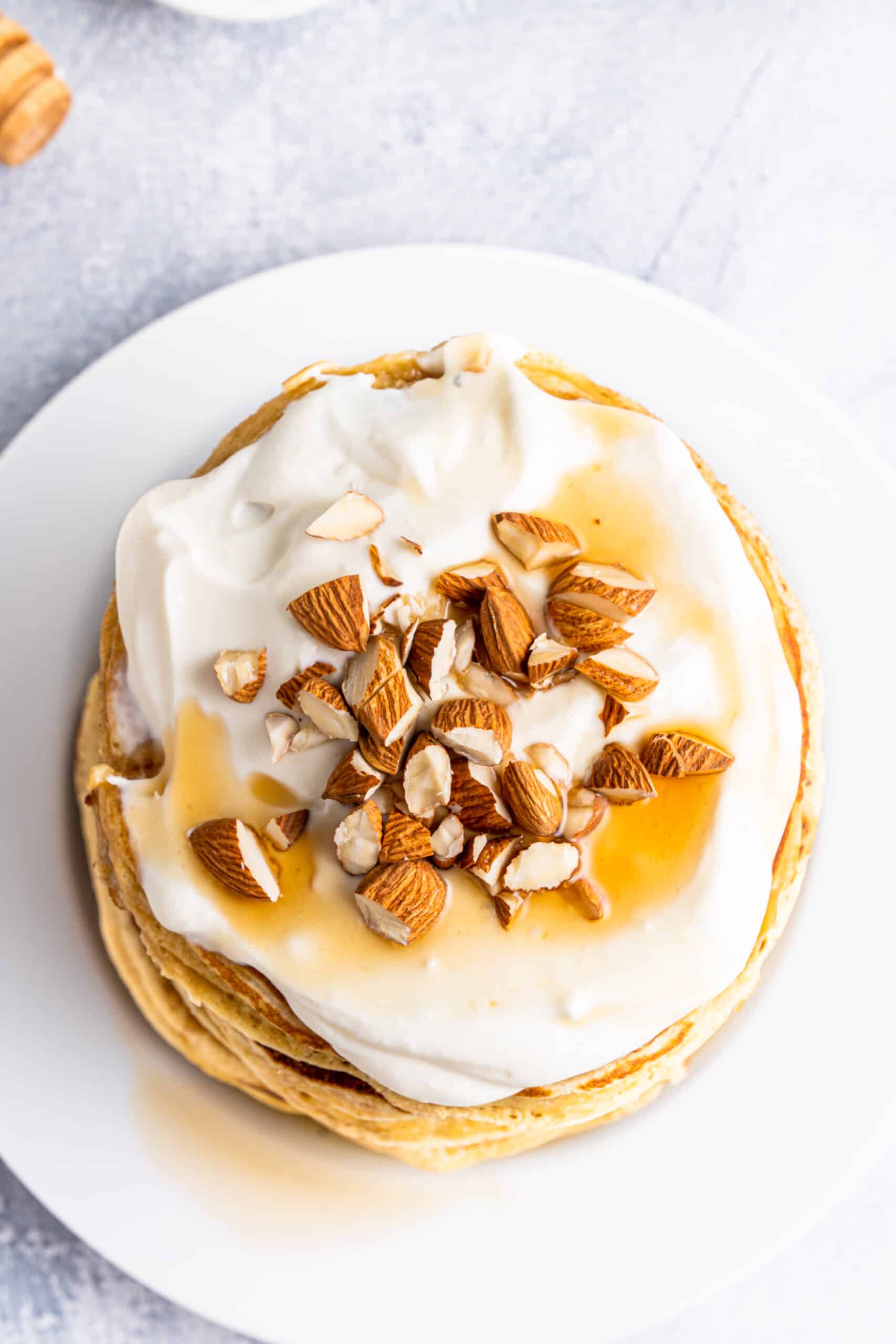 Why you will love this recipe
A couple simple substitutes make a great protein-filled meal!
Our high protein pancakes are just as fluffy, sweet, and soft as any others!
You'll get all the same buttery, syrupy goodness with extra nutrients and benefits.
These are fantastic to make in bulk, freeze, and enjoy throughout the week – or month!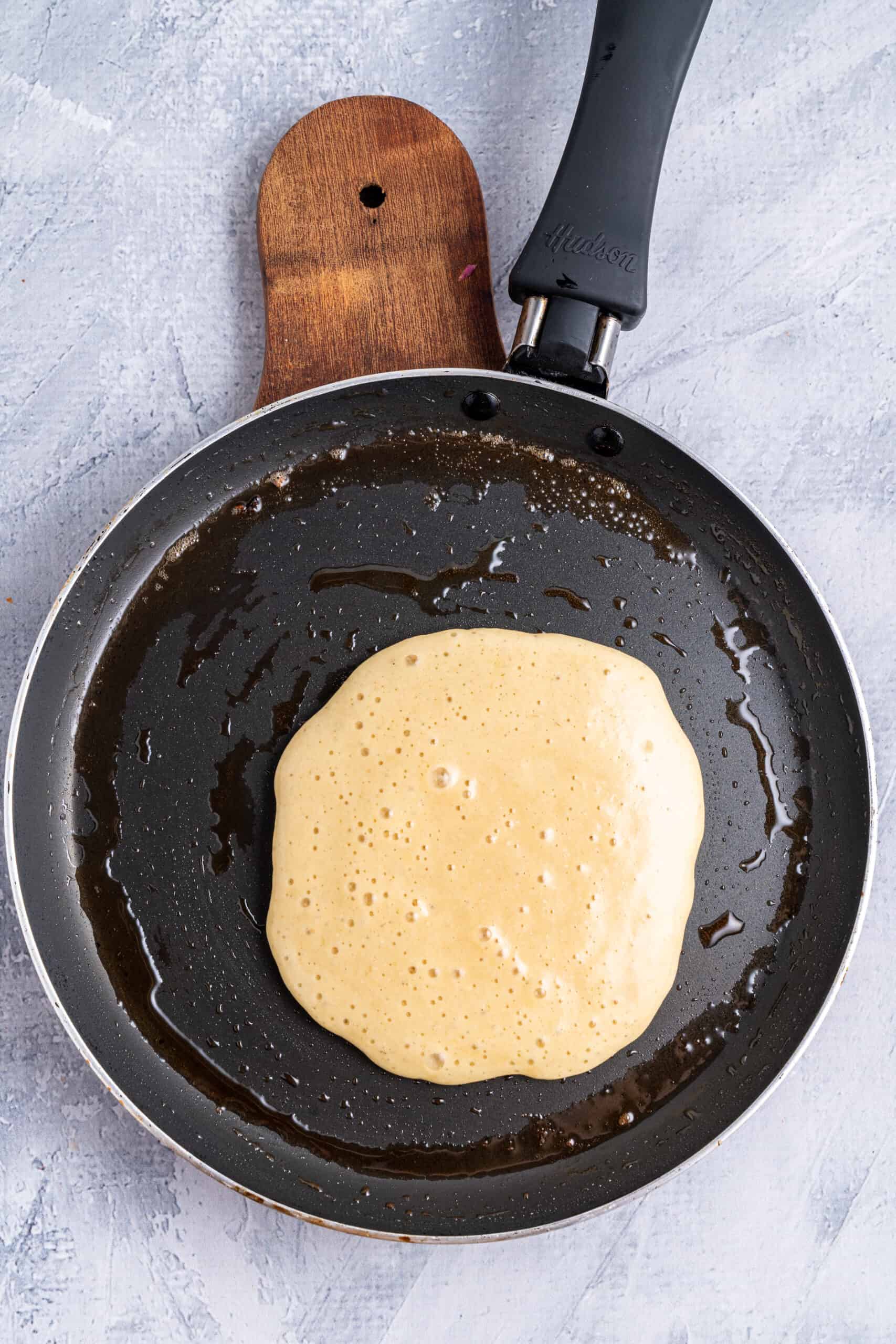 How to Make Perfect High Protein Pancakes
Whisk the Wets: Add the eggs to a bowl with the buttermilk and vanilla. Whisk together and set aside.
Mix the Dry: Add the whey protein powder, baking powder and soda, and oat flour to a larger bowl. Mix.
Combine the Wet and Dry: Slowly whisk the dry ingredients into the wet, stirring until totally combined. Don't whisk until all of the lumps are gone – just until mostly combined.
Cook the Pancakes: Melt ½ tsp of butter on medium heat. Reduce the heat to low and pour ¼ cup batter into the pan. Cook until bubbles form on the surface and flip. Cook for another minute before transferring to a plate. Repeat until all pancakes are cooked. Protein powder pancakes cook fast, so this recipe is all about timing!
Serve: Add your preferred toppings and serve warm!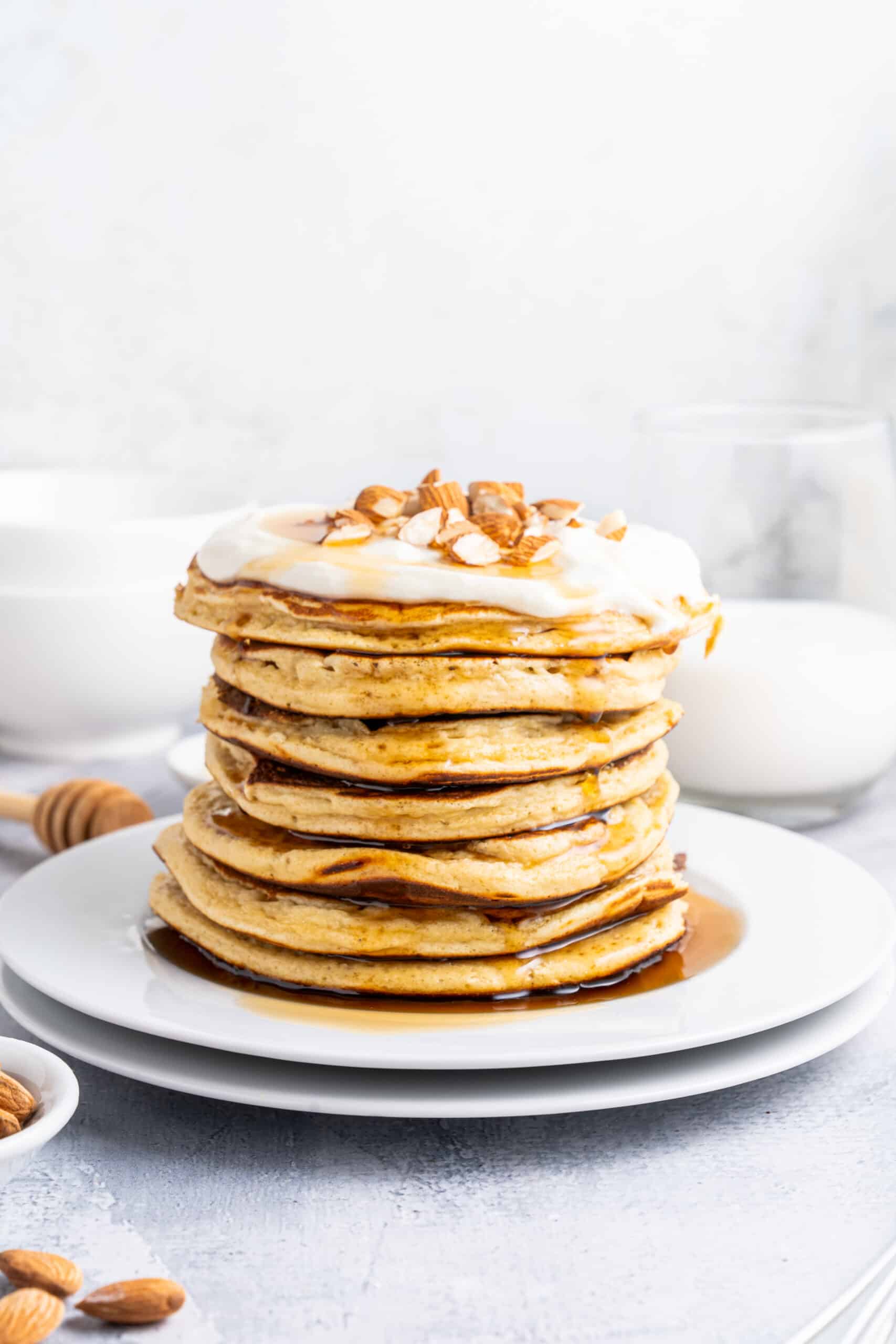 Pro Tips for Protein Powder Pancakes
Pro Tip 1: All the classics are great here – fresh fruit, maple syrup, and honey. Peanut butter or Greek yogurt slathered on top can really maximize the protein intake, too! Maybe sprinkle on granola for extra crunch.
Pro Tip 2: These get soggy and dry within a few hours, so definitely enjoy them hot out of the pan. If you'd really like to save some, place them in a baggie after they've cooled to keep them as fresh as possible. They also freeze well for up to two months. Freeze individually for best results, and microwave for 30 seconds when you're ready to chow down.
Pro Tip 3: Dark chocolate chips, blueberries, and bananas are our top recommended batter add-ins! Drop them on top once you spoon the batter into the pan. It's less messy than toppings, and extras always taste better a little melty and warm. And it's easier to eat on the go.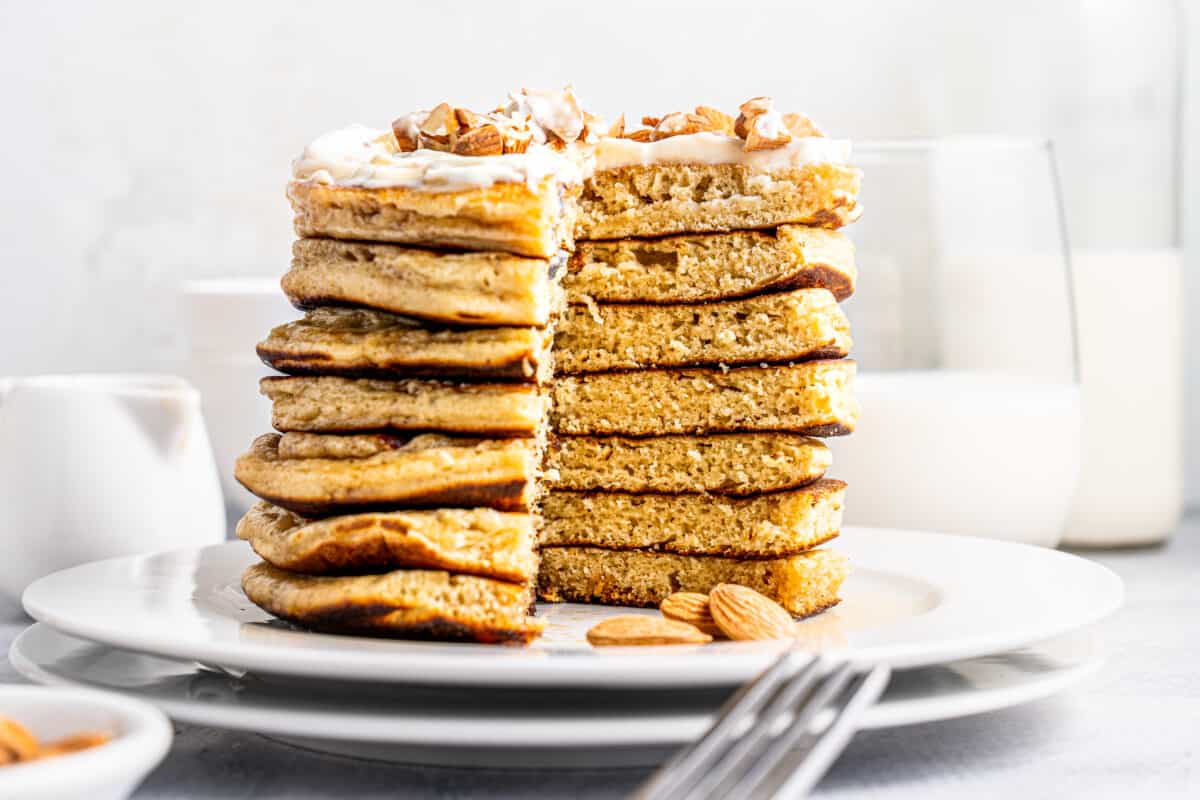 Key Ingredients and Substitutions for High Protein Pancakes
Vanilla Whey Protein Powder: Whey is one of the best powdered protein sources. It's easiest to mask its flavor, and it has all nine of the amino acids you want when building muscle. We definitely recommend using vanilla, as unflavored will still have a distinct taste on its own.
Buttermilk: The secret to fluffy, slightly tangy pancakes. To make your own at home, mix 1 tablespoon of lemon juice or vinegar with just under a cup of milk (to get 1 cup in total when combined).
Oat Flour: A wholesome, nutritious flour with a slightly nutty taste that tastes so good with the vanilla flavors in our protein pancakes! It's also gluten free. You can also use regular flour – just use a bit less, closer to ½ cup.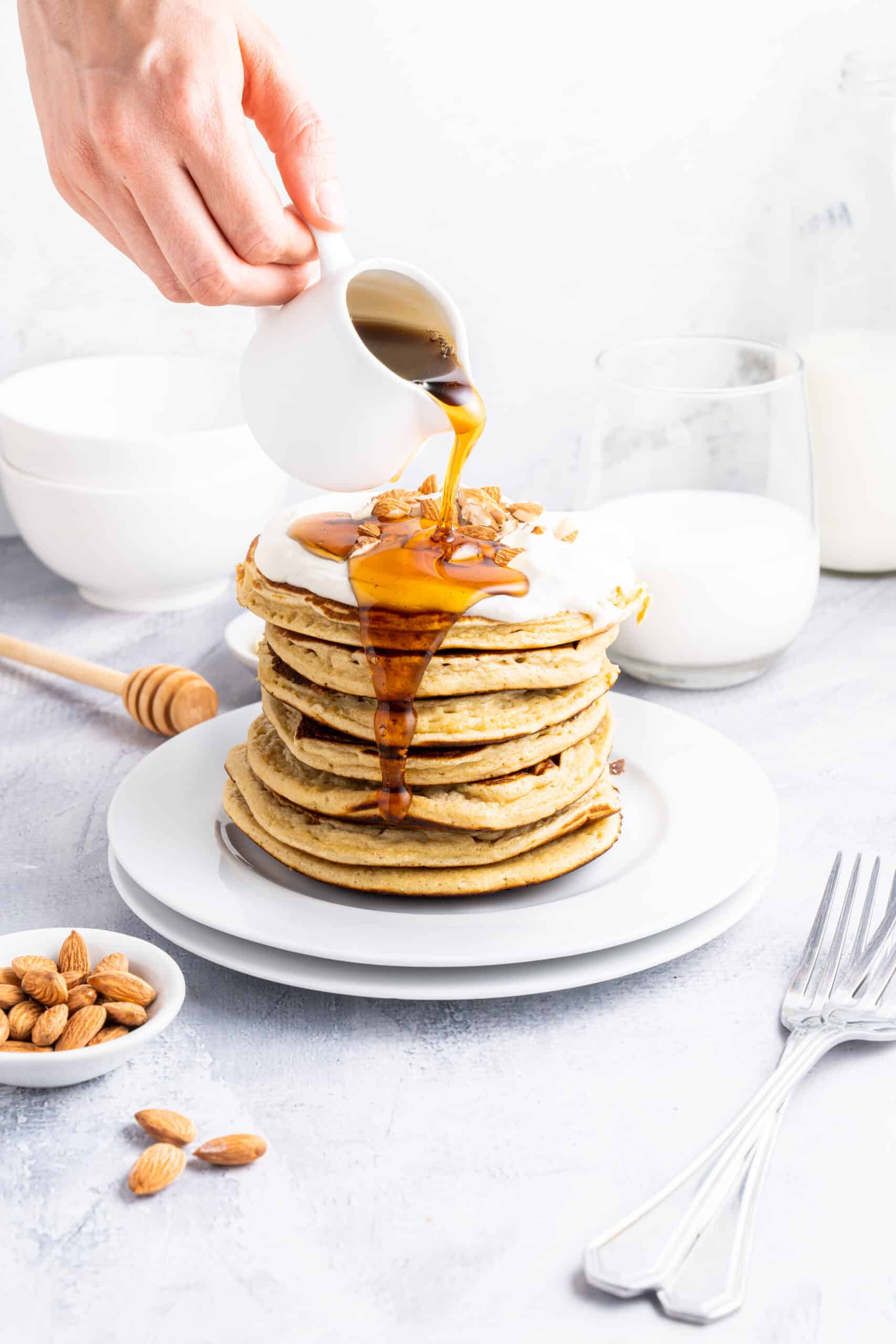 Frequently asked Questions about Protein Pancakes
Are high protein pancakes good for you?
Overall, yes! They're certainly better for you than regular pancakes. The extra protein aside, the oat flour in our protein powder pancakes is a pile of nutrients, including calcium, iron, and magnesium. It's full of good carbohydrates for extra energy, and it has lots of antioxidants!
But pancakes are only as healthy as you make them. Slather anything with butter and syrup, and it won't be all that good for you in the end.
Can I use protein powder instead of flour for pancakes?
You can, but it won't be like the pancakes you know and love. Without a true flour, that tell-tale fluffiness just won't be achieved. They'll taste great, but the texture won't be there.
This recipe is a good compromise, mixing both protein powder and flour to get a great taste and texture!
When should I eat protein powder pancakes?
Supplemental protein meals are best consumed before or after exercising – if your goal is muscle growth, that is.
If you're just trying to get some extra protein in your diet, you can really eat them anytime. We think they make a fantastic breakfast to start your day on the right, energetic foot!
High Protein Pancakes
No more sacrificing flavor for nutrition – our High Protein Pancakes are fluffy and full of nutty, vanilla flavors! They take just 25 minutes, but they're so good they'll disappear in seconds!
Servings 8 Pancakes
Calories 128kcal
Ingredients
2 scoop whey protein powder
2 tsp baking powder
1/2 tsp baking soda
1/2 cup buttermilk
2 medium eggs
1 tsp vanilla extract
3/4 cup oat flour
2 tbsp butter for cooking the pancakes
Optional
butter
maple syrup
Blueberries
Strawberries
Yogurt
Peanut Butter
Instructions
Whisk the eggs with buttermilk and vanilla extract.

In another bowl, mix the dry ingredients: whey protein, baking powder, baking soda, and oat flour. Then incorporate the dry ingredients mixture into the wet one. Stir until combined. A few lumps are ok, so don't overmix the batter to get fluffy pancakes.

Add ½ tbsp butter into a pancake pan, and heat it over medium heat. Then, reduce heat to a minimum, and pour ¼ cup of pancake batter. Cook the pancakes over low heat. Once you see the first bubbles on top, about a minute or so, flip them over and cook them for another minute. These pancakes burn fast, so keep an eye on them the whole time.

Serve them warm with your favorite toppings on top.
Notes
These pancakes are soft, fluffy, and satisfying. They are a great pre-work or after-workout snack.
Tips
These pancakes are best freshly made, as they get soggy and dry within a couple of hours. So I'd recommend making the amount you'll consume or storing them in a zip-loc bag once they achieve room temperature for good preservation of texture and taste.
These pancakes are freezer friendly. You can store them in individual portions for up to two months. Thaw them in the microwave for 30 seconds.
Nutrition
Calories: 128kcal | Carbohydrates: 9g | Protein: 10g | Fat: 6g | Saturated Fat: 3g | Polyunsaturated Fat: 1g | Monounsaturated Fat: 2g | Trans Fat: 0.1g | Cholesterol: 63mg | Sodium: 242mg | Potassium: 101mg | Fiber: 1g | Sugar: 1g | Vitamin A: 192IU | Calcium: 114mg | Iron: 1mg
Follow On Pinterest
Follow @bewitchinkitchen On Pinterest for more delicious recipes!