Vanilla Matcha Latte
This Vanilla Matcha Latte Recipe tastes like a creamy, sweet green tea. It's low calorie, dairy free, and has all the health benefits of antioxidant-packed matcha.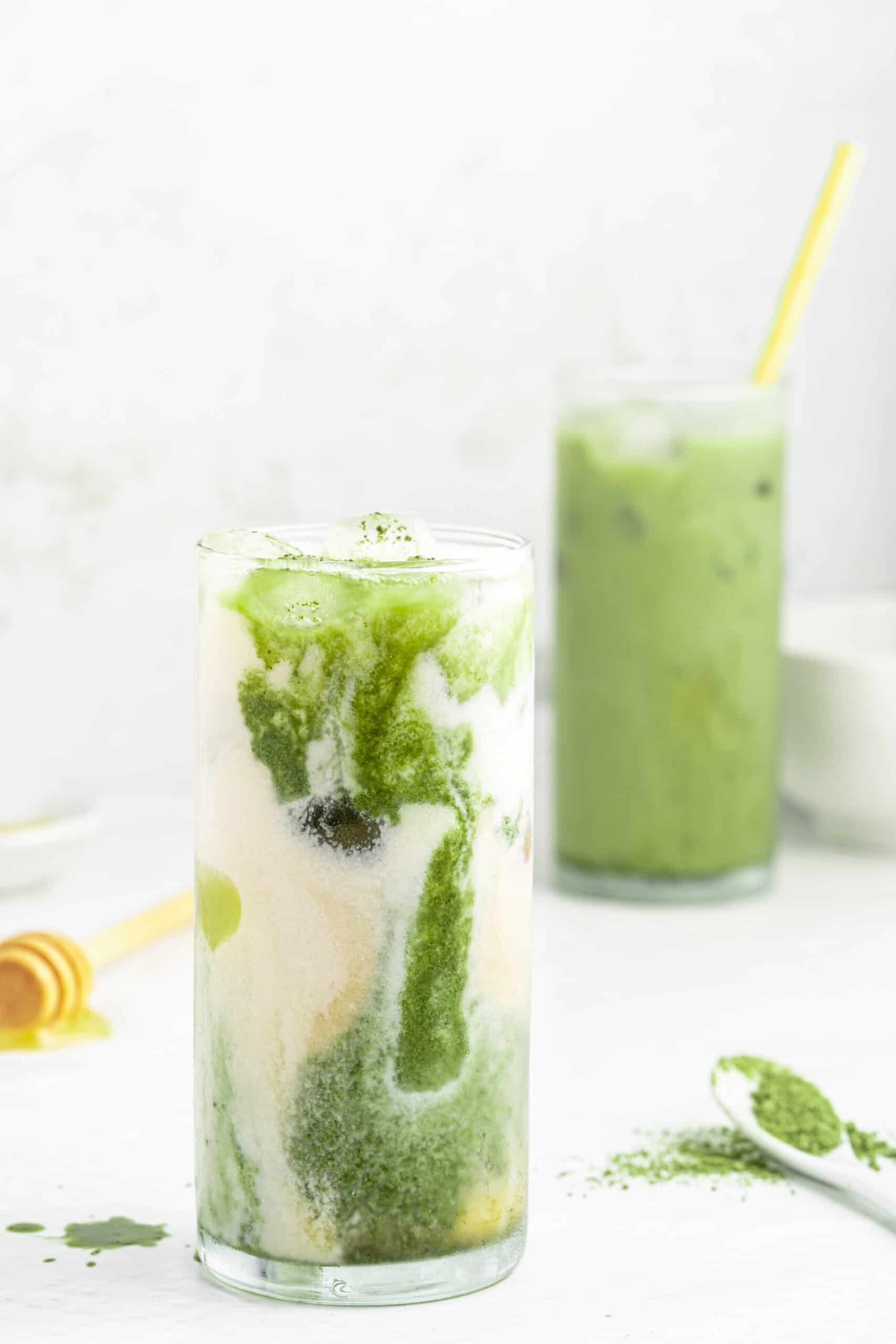 Vanilla Matcha Latte Recipe
Vanilla Matcha Lattes are easy to make, healthy, and a fantastic way to start any morning or use as an afternoon pick-me-up. Matcha lattes have created a buzz in the Starbucks world. With just one cup of matcha, you'll get around 25 mg of caffeine and a giant helping of antioxidants.
This may seem like a small amount of caffeine compared to coffee, but matcha contains phytonutrients which bind to cells and slow the absorption of caffeine, so your body stays more alert over a longer period of time.
For more great drinks, check out, Sweet Tea Berry Sangria, Iced Maple Pumpkin Spice Latte, Gingerbread Latte.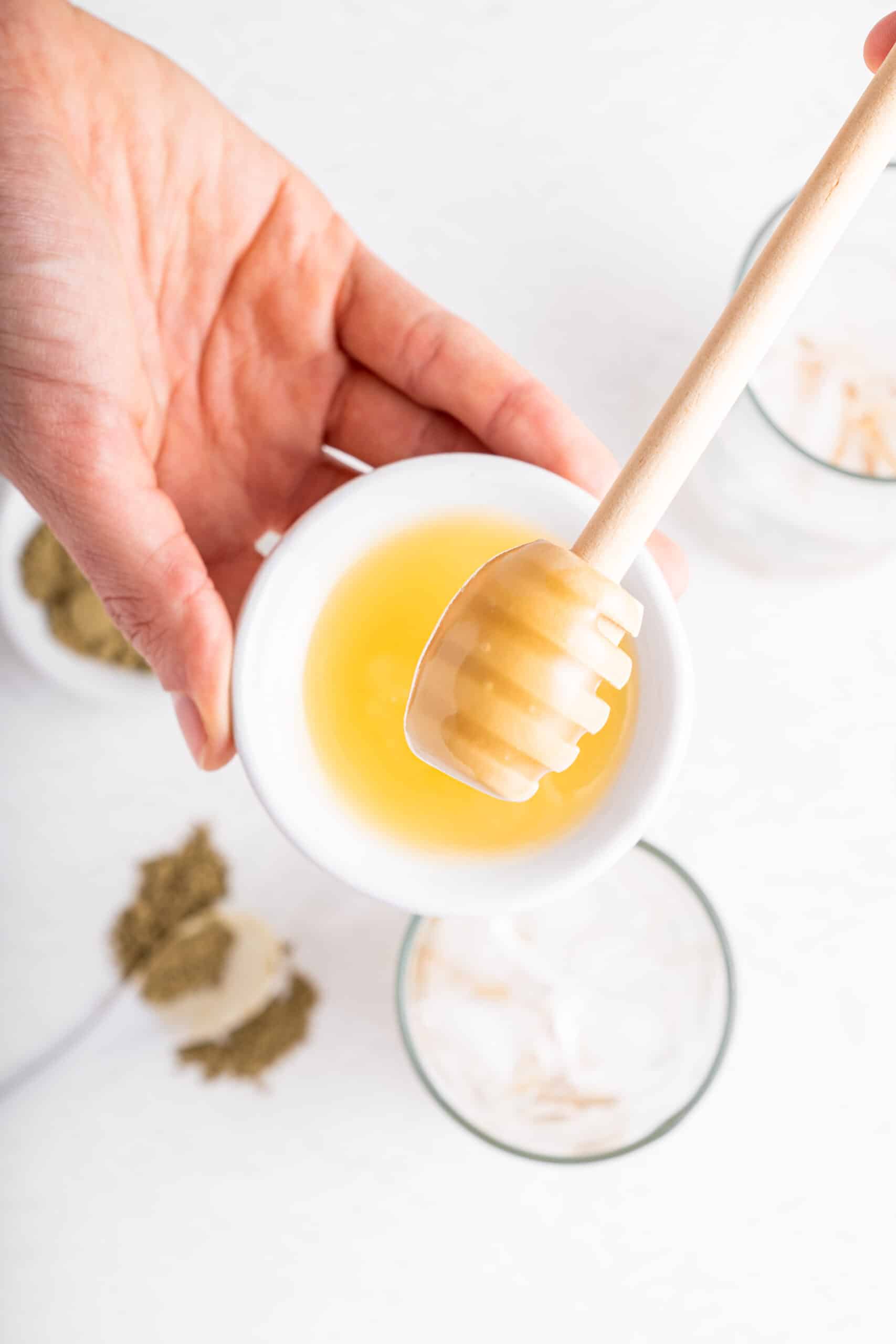 Why you will love this recipe
Matcha has great health benefits!
Easy to make and modify.
Four ingredients!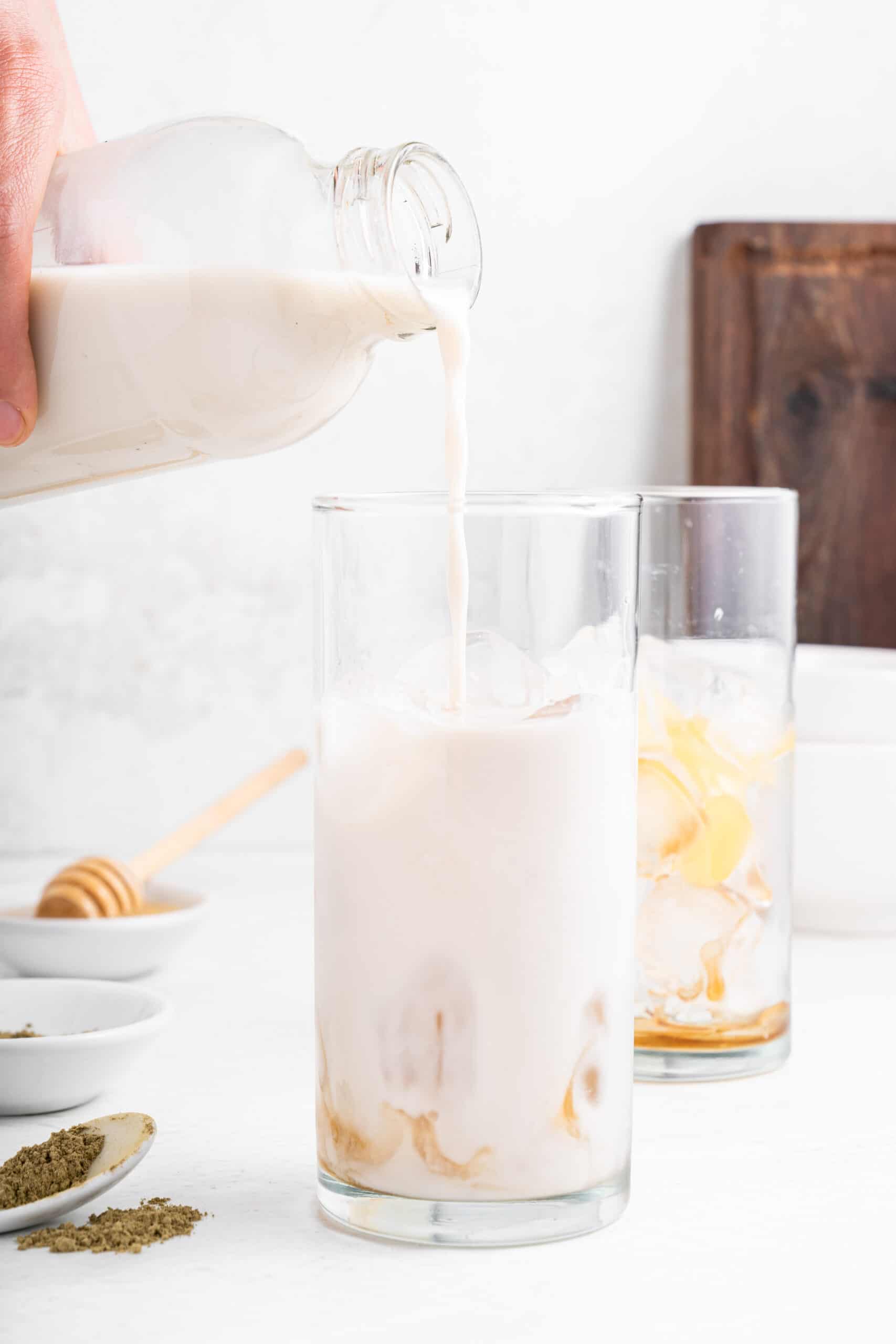 How to make perfect Vanilla Matcha Latte
Mix matcha powder with hot water. Even if your goal is to get an iced matcha latte, a common mistake people make is skipping the hot water process. Matcha is a green powdery substance. If you add it directly to cold water, you will likely get green powdery clumps in your drink. Gross! To get the best consistency for an iced Macha latte, don't skip the hot water step!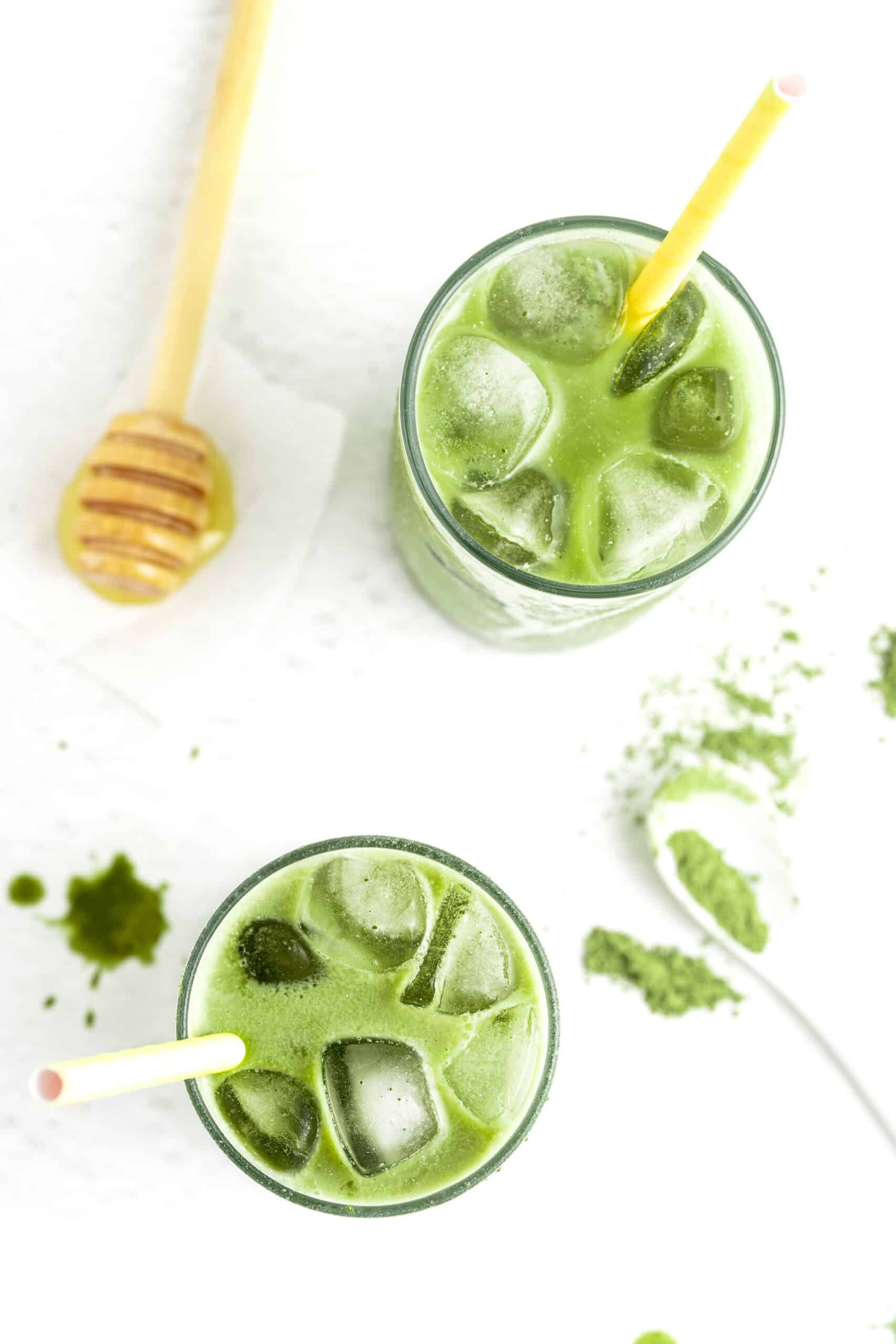 Key Ingredients and Substitutions for Vanilla Matcha Latte
Choose your favorite type of milk or milk substitute. The great part about matcha lattes is that you can really use whatever form of milk you like. Whether it's regular dairy milk, almond milk, oatmilk, coconut milk, or soy, all of these will work well with matcha.
Choose your favorite sweetener. In this recipe, I use honey. However, You can use stevia, agave, or whatever you prefer. Or you can eliminate the sweetener altogether.
Add Vanilla. In this recipe, I use vanilla extract. You could also use a vanilla syrup, or some dairy substitute milks, like almond milk, can come sweetened with vanilla already.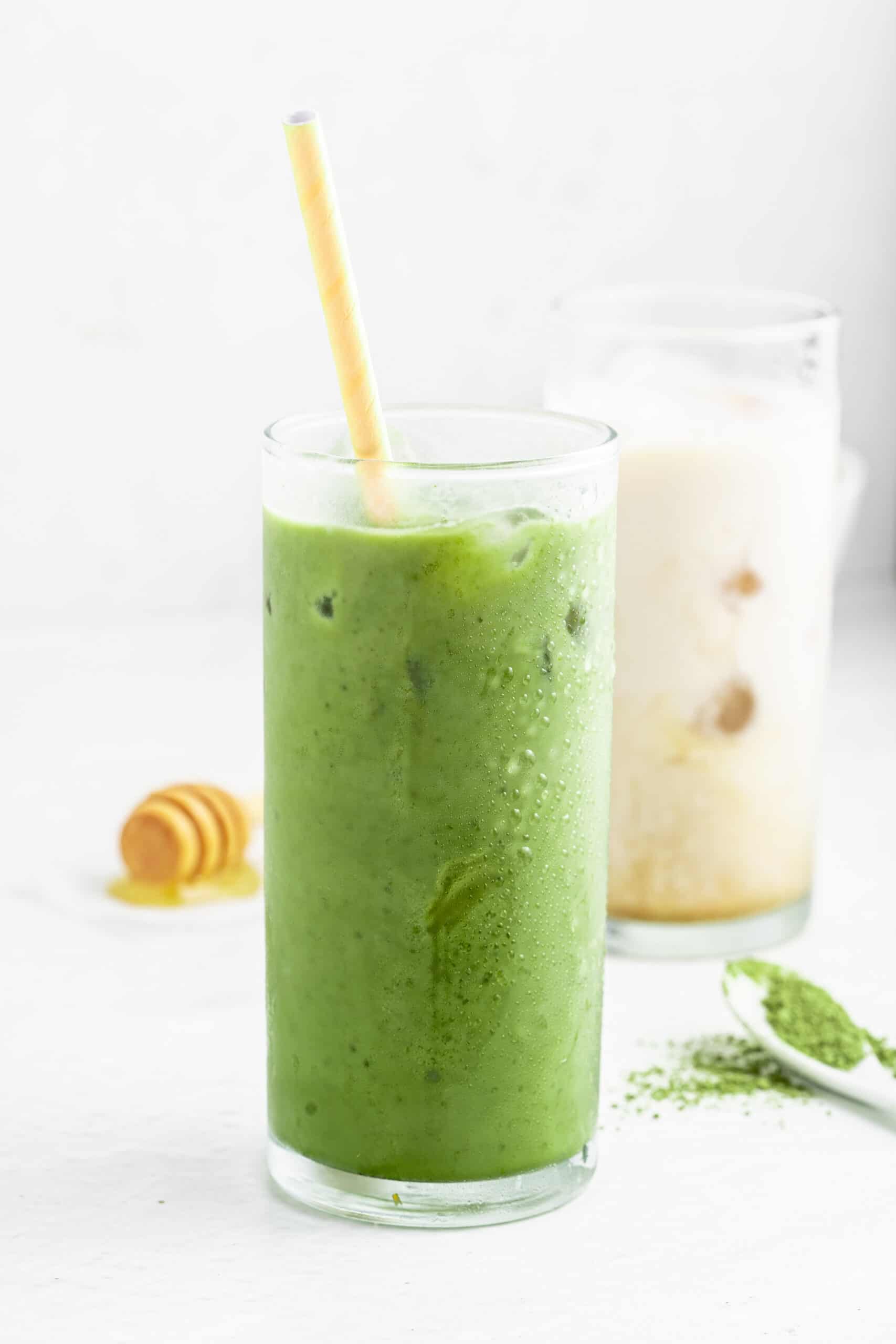 Frequently asked Questions about Matcha
Green Tea has been used in China for medicinal purposes for hundreds of years. The Japanese took the green tea plant and turned it into matcha which contains high amounts of antioxidants. These antioxidants help to repair cells, aid in lowering cholesterol, and help with weight loss.
Matcha powder comes from the plant, Camellia Sinensis, which is the same plant green tea is made from. However, to make matcha, farmers grow Camellia Sinensis in shaded areas instead of full sun like green tea. This growth strategy keeps the leaves darker and a little more dense, so that when they are ground into a fine powder, the powder is a brilliant green color. This also has been shown in some studies to help the plant retain more antioxidants and other nutrients.
What does matcha taste like?
Taste profiles for matcha often claim that matcha tastes earthy, grassy, or more on the green leafy side. However , I think that a matcha latte tastes very similar to Southern sweet tea. If you like Sweet tea, You will most likely like Matcha. This recipe uses almond milk and honey and vanilla to sweeten the tea. You can use whatever substitutes work for you!
Vanilla Matcha Latte
This Vanilla Matcha Latte Recipe tastes like a creamy, sweet green tea. It's low calorie, dairy free, and has all the health benefits of antioxidant-packed matcha. 
Servings 1 Glass
Calories 228kcal
Ingredients
2 tbsp hot water
1 tsp matcha powder
1 cup ice cubes
1 cup milk milk of choice, I used almond milk
1/2 tsp vanilla extract
1 tbsp honey
Instructions
Mix hot water with matcha powder.

Add ice cubes to a glass, and vanilla extract, honey, and almond milk. Continue with infused matcha powder.

Serve immediately.
Notes
This iced matcha is so refreshing. Taste wise it is slightly sweet, and you can avoid honey if desired. Or even replace it with a low-carb sweetener like liquid stevia.
Tips
To avoid a lumpy latte it is key that you mix the powder with hot water, so don't skip it.
Nutrition
Calories: 228kcal | Carbohydrates: 29g | Protein: 10g | Fat: 8g | Saturated Fat: 5g | Polyunsaturated Fat: 0.3g | Monounsaturated Fat: 2g | Cholesterol: 29mg | Sodium: 107mg | Potassium: 380mg | Fiber: 0.04g | Sugar: 29g | Vitamin A: 595IU | Vitamin C: 0.1mg | Calcium: 310mg | Iron: 1mg
Follow On Pinterest
Follow @bewitchinkitchen On Pinterest for more delicious recipes!