Holiday Gift Guide – Now Accepting Features for 2015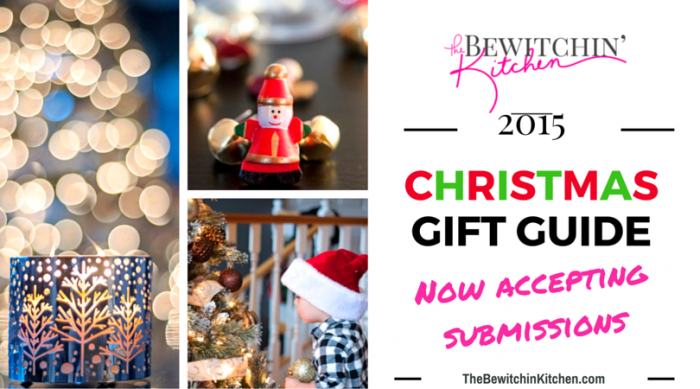 I'm very excited to announce that this year The Bewitchin' Kitchen will be accepting submissions for the 2015 Holiday Gift Guide. Find out how you can get your company featured below.
Who is the gift guide for?
This year the gift guide will be focused around the following:
For Him
For Her
For The Kids
For The Home
I am open to the idea of specifics (eg: for the fitness buff, for the foodie, for the DIY'er, etc) and nothing is yet set in stone.
When will the gift guide run?
From mid November to mid December. All products received will be posted on a first come, first serve basis. It's also a good idea to include Christmas shipping cut off  date in an email so I can mention in the feature.
What are the options?
Review – I will share my thoughts and opinions on this season's hottest gifts for all family members of all ages. There will be a blog post, along with shares via Facebook, Twitter, Pinterest and Google +. There is no charge for review items with a minimum $200 value.
Review & Giveaway – You will receive the same features as a review but will also be sponsoring a giveaway as well. All giveaways must have a minimum value of $50. The giveaway will be hosted on using the "app" Giveaway Tools, and the mandatory entry will be to visit the sponsor's site and to come back and leave me a comment (unless otherwise agreed upon). Bonus entries will include following the brand on social media.
Giveaway Only – There is an option for just sponsoring a giveaway, in this case I will write up a company feature and some information on the product being given away. There is a $150 fee for this.
Advertising – Sidebar ad spaces are available, please contact me for rates and include the size you want and how long. I will only be accepting a limited amount for the season. If you need an ad designed for you, that is an additional cost.
Other- If you're looking for a company feature or a review without sending product, please contact me for rates. I will also be doing holiday recipe development and craft ideas.
All review items must be full size (not samples) and shipping/duty charges will be covered. For more information on my advertising and giveaway policies, check out The Bewitchin' Kitchen's advertising page.
Can home-based businesses apply?
Absolutely, anyone is welcome to apply to be featured on the gift guide. Etsy shops, MLM businesses (Scentsy, Younique, Epicure, etc). Send me your pitch and we'll talk.
Contact Randa
If you would like to be featured in The 2015 Holiday Guide, or would like to find out more. Please contact Randa here. Media kit available upon request.