How to Make Almond Cashew Milk
I started making my own nut milk about a year ago. I had stopped eating regular milk and most dairy to see if that would help with some persistent skin problems I was having. After that, I just sort of became hooked and have been making it ever since. I know that nuts can be expensive, but I've been good at grabbing larger quantities when I find a sale of raw nuts and because I'm the only one who drinks it at home, I don't mind the extra expense. It's worth it to me because I know exactly what's in it and I feel some satisfaction with taking care of my self in this easy way. The process itself is dead simple. In a nut shell (pun intended!), it's just a matter of soaking raw nuts, processing them with water and straining the pulp out. Pretty easy.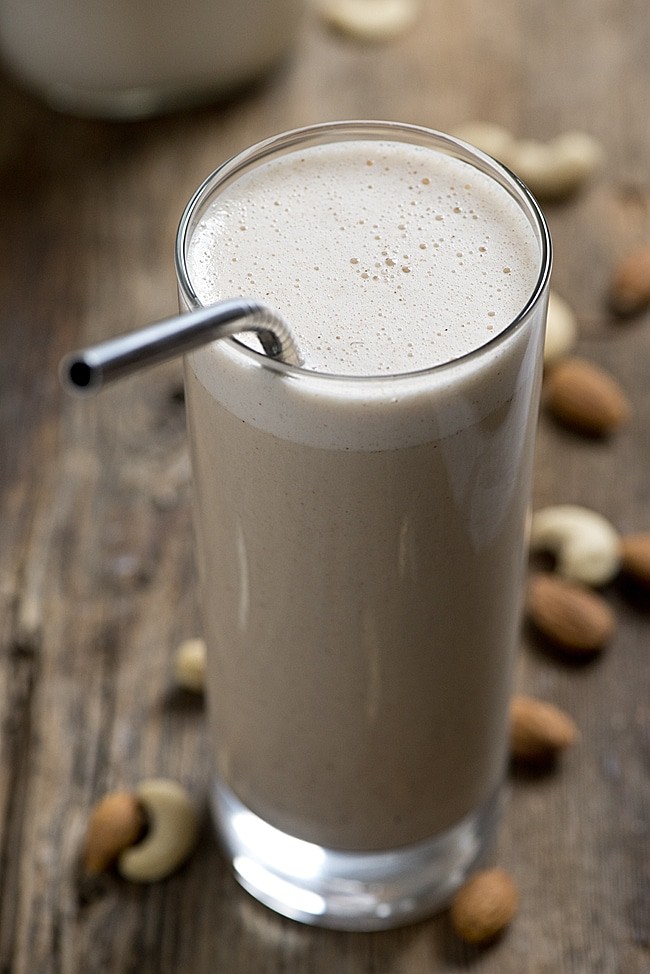 I did read an article from Bon Appétit about a year ago, on the common mistakes that people can make when making nut milk and I've followed a few of those tips wholeheartedly since then (you can read that article here). The best piece of advice that I took away from that article was that I could flavor my milk as the nuts were soaking. Genius! With each batch, I add a few dates to the nuts during the initial soak and then I blend it all together for a sweeter tasting milk. The article also confirmed for me the perfect water to nut ratio for making the best product.
If you've never made it before, you've come to the right place! I took photo's of the entire process when I made the last batch and am happy to share all of the steps with you. So fill up that coffee cup, get cozy and read on.
How to Make Almond Cashew Milk
First, decide on the type of nut milk you would like to make. I'm making Almond Cashew Milk here. Aim to have 1 part nuts to 4 parts water every time. You can mix and match nuts, just remember to stick to that ratio.
Start by soaking the nuts (use raw, unseasoned nuts only).


Helpful tip: I will often prep the nuts before I go to bed and process them in the morning or prep them before work and process them in the evening. It's up to you, but it's good to remember that the longer you let them soak the better (it saturates the nuts and leaves less pulp behind).

Add 2-3 fresh dates and a pinch of salt to the soaking water as well.
I have 3/4 cup of almonds and 1/2 cup of cashews in this bowl, so 1 1/4 cups of nuts total, and they have been soaking overnight. I've poured some of the water off of the top so you can see inside, but there should be about an inch of water covering these while soaking.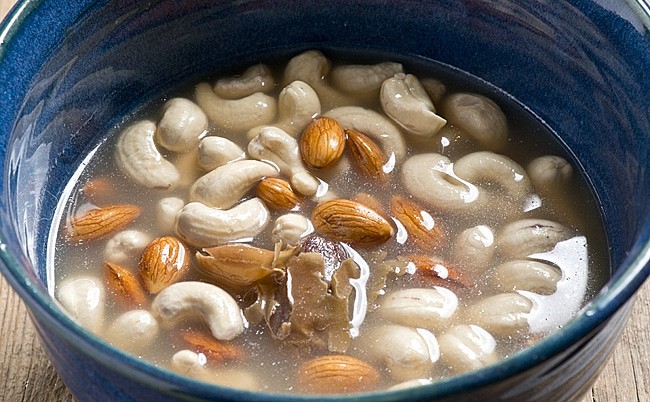 4. After the nuts have been soaking for at least 12 hours, rinse them well under running water. Keep the dates too!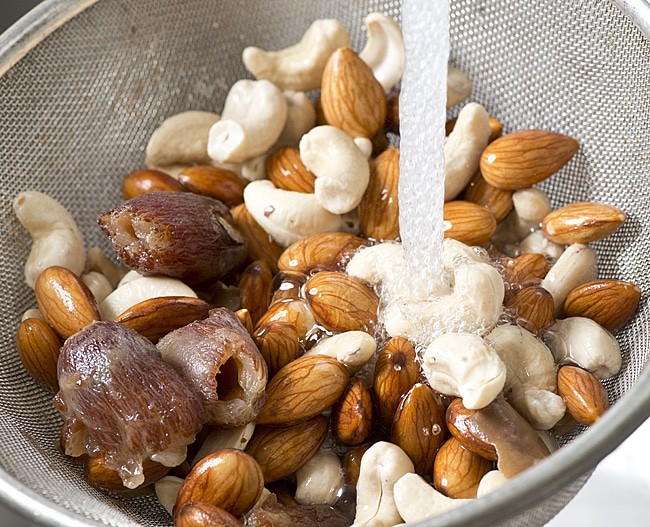 Pretty simple so far huh?
5. Now that they're all rinsed off, add them to your food processor or high-speed blender (I use this one). I also add the dates back in, another pinch of salt and 1/2 a vanilla bean (I save up my vanilla beans from baking and throw them into a jar of vanilla extract, they are perfect for using this way!). Remember to add your 4 parts water here. I use mineral water but regular old tap water works too. I use my food processer and have been very happy with the results. Here I'm adding 5 cups of water. It's a tight squeeze in my food processer, but it hasn't blown up on me yet!
6. Now process this for about 2 minutes.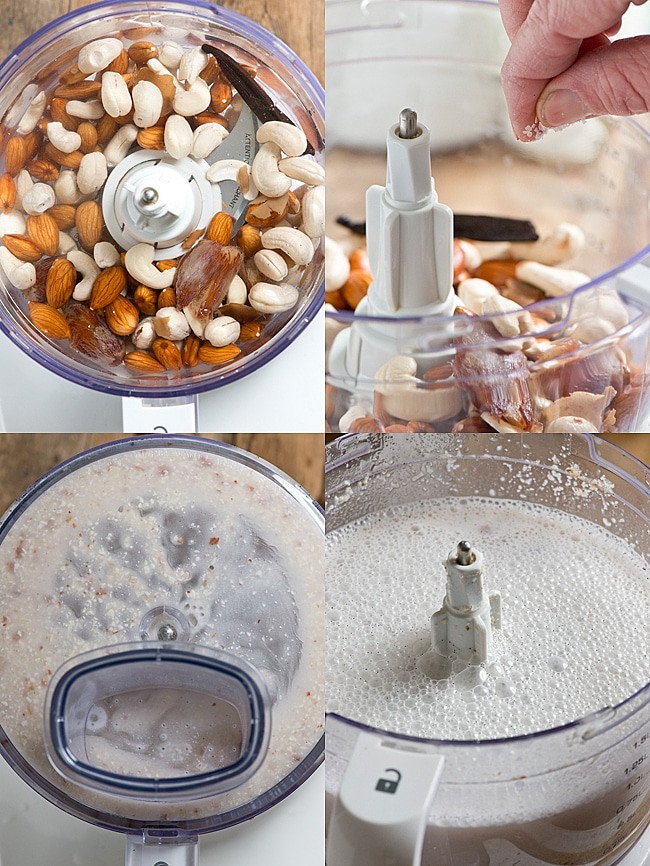 7. For the final step, you have to strain all of that pulpy goodness that's left. And believe me, it's good stuff left over, don't throw the pulp away! I use the nutty pulp left over to make muffins. You can buy a nut bag to strain the milk, but I use a fine mesh strainer, some cheesecloth, and lots of muscle power. Squeeze and strain all of that glorious milk out into a large bowl.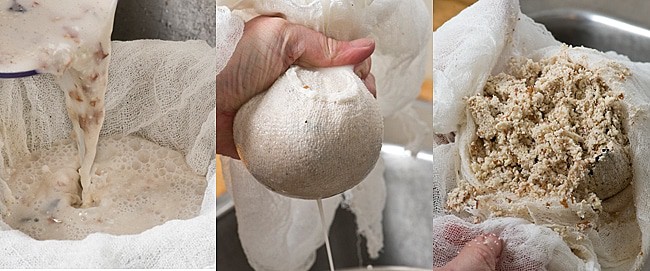 That's it! The Almond Cashew Milk is done and you can pour yourself a glass and be seriously proud of your efforts. After you've consumed the first batch of vanilla bean specked milk you'll probably agree with me that it's so worth it.
This new batch of Almond Cashew Milk will last up to 4 days in the refrigerator. If you don't drink a lot of nut milk, it's best to only make a smaller batch.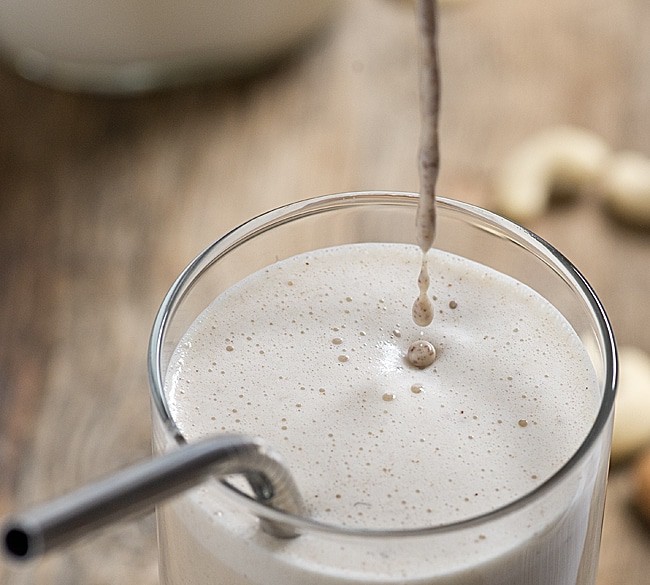 Store the Almond Cashew Milk in a sealed container and use as is or in smoothies, overnight oats, baked goods, etc. Cheers!
DIY Almond Cashew Milk
Making homemade nut milk is so simple! Follow this easy tutorial to make your own sweetened Almond Cashew Milk at home!
Servings 6 cups
Calories 172kcal
Ingredients
3/4 cup raw almonds
1/2 cup raw cashews
3 fresh dates
pinch of salt
1/2 vanilla bean or 2 tsp vanilla extract
5 cups water
Instructions
 Place the nuts, dates and a pinch of salt in a small bowl, and cover with an inch of water.  Cover with a tea towel and let them soak on the counter for at least 12 hours.

After soaking, strain the nuts/dates and rinse under cold water.

Add the nuts, dates, vanilla bean, another pinch of salt and 5 cups of water to a food processer or high speed blender.  Blend on highest speed for 2 minutes.

Use a fine mesh strainer and 2-3 layers of cheesecloth to strain the milk over a large bowl.  Squeeze the pulp to get all of the milk out.

Store milk in a sealed container in the refrigerator for up to 4 days.  Use the remaining pulp in smoothies or other baked goods.  It can also be dried out in an oven to make almond meal.
Nutrition
Serving: 1cup | Calories: 172kcal | Carbohydrates: 9g | Protein: 5g | Fat: 13g | Saturated Fat: 1g | Sodium: 11mg | Potassium: 219mg | Fiber: 2g | Sugar: 3g | Calcium: 57mg | Iron: 1.4mg
Follow On Pinterest
Follow @bewitchinkitchen On Pinterest for more delicious recipes!