Dalgona Coffee
Elevate your coffee game with our irresistible Dalgona Coffee recipe! In just minutes, you can indulge in the frothy and velvety whipped coffee goodness that's a coffee favorite all over the world!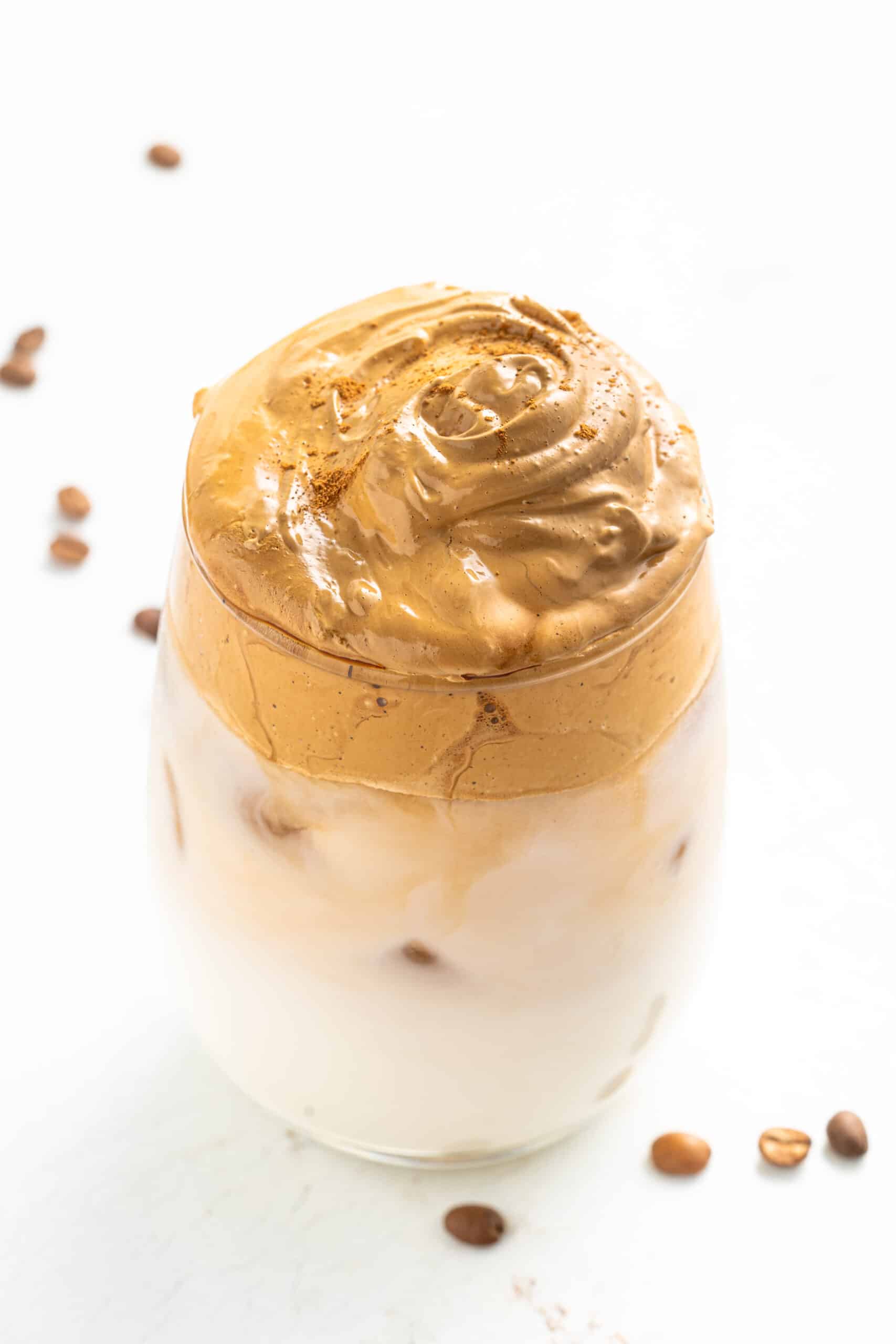 Dalgona Coffee Recipe: The Perfect Cup of Whipped Coffee
Upgrade your caffeine routine with our Korean-inspired Dalgona coffee recipe! With just three common household ingredients, you can create a show-stopping, fluffy, whipped coffee that is sure to impress.
Indulge in this treat's sweet and velvety goodness, whether you prefer it hot with milk, over ice, or even frozen for a quick, refreshing fix!
Whether you're a coffee aficionado looking for something new or want to wow your guests, this Dalgona recipe is a must-try.
Enjoy your whipped coffee as its own delicious treat, or pair it with an unforgettable breakfast dish! Check out our High Protein Pancakes, Pear Muffins, or Pumpkin French Toast Casserole.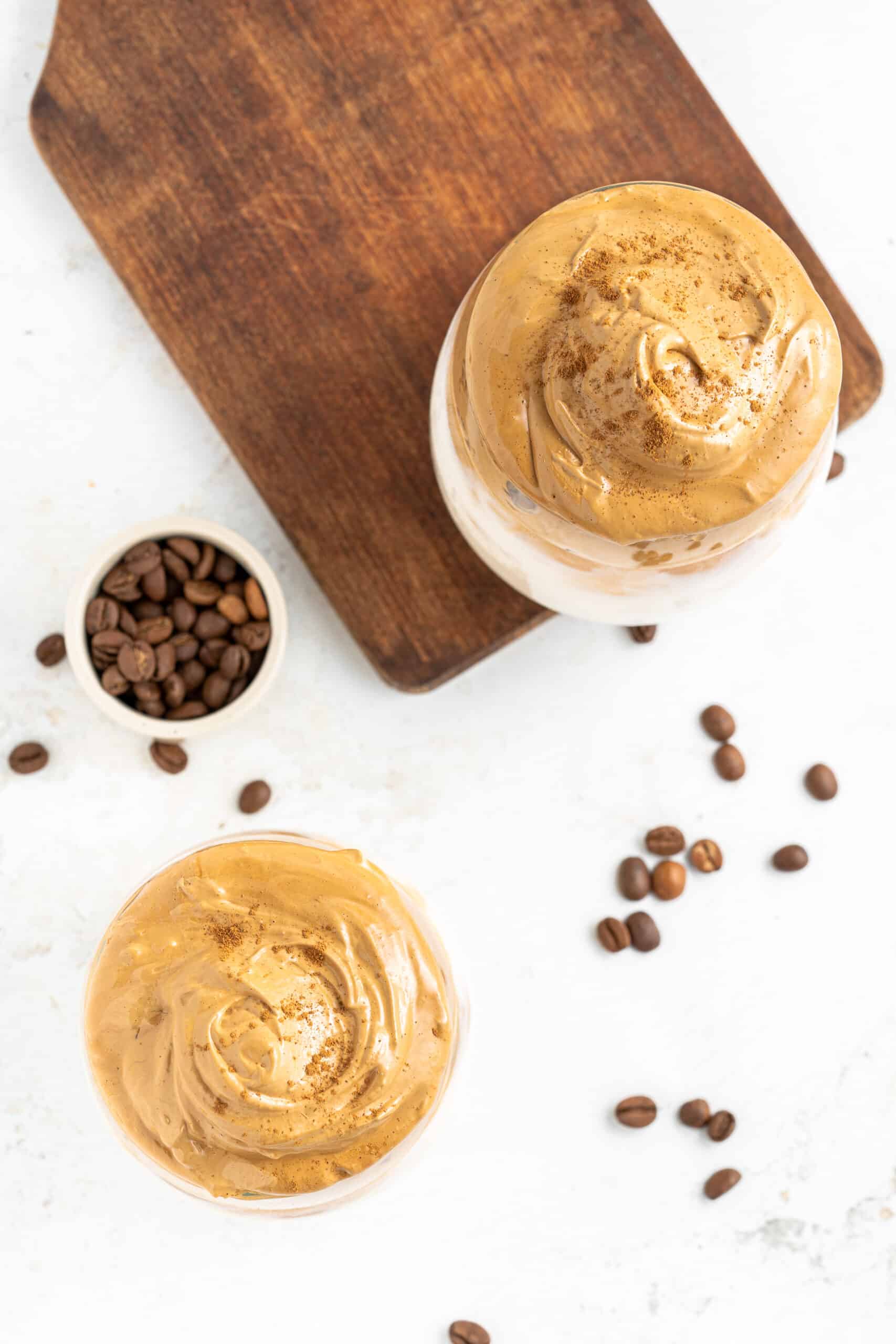 Why you will love this recipe
It's so quick and easy! With three basic ingredients and a few minutes of your time, you can whip up a delicious and indulgent coffee treat.
You can customize the Dalgona Coffee recipe to fit your dietary needs and preferences, whether you prefer decaf, vegan, keto, or sugar-free!
With its fluffy, creamy texture and beautiful presentation, this whipped coffee drink is perfect for impressing your friends or followers on social media.
This recipe can be enjoyed hot, cold, or frozen, making it a perfect choice for any season!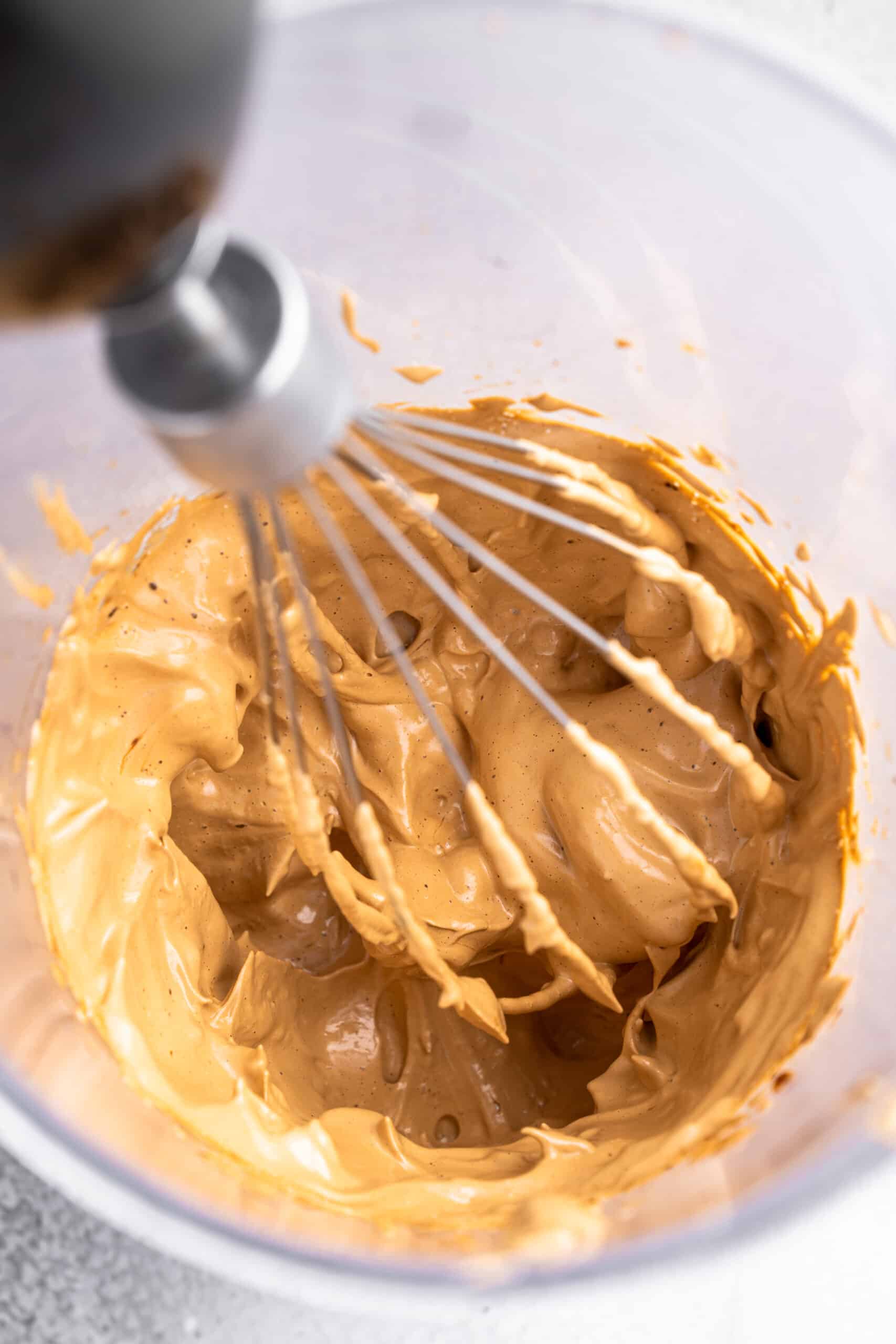 How to make the Dalgona Coffee Recipe perfectly!
Pro Tips:
For best results, use an electric mixer or a frother. If you don't have one on hand, that's totally okay! You can achieve the same creamy foam manually using a whisk or fork; just note it may take more time and dedication.
It's important to note that not all coffee powders are created equal. Whipped coffee only works if you use instant coffee powder, not espresso powder.
Make sure your water is boiling before mixing the ingredients. The heat will help the coffee granules dissolve properly, ensuring a smooth and consistent texture.
If you prefer hot coffee, you can still enjoy a warm, fluffy cup of Dalgona coffee! Just use warm milk instead of cold, and be aware that the foam may not hold for as long as it does in the cold version.
For an iced, velvety treat, fill your glass with ice and milk ½ inch from the top, and finish it with a scoop of your fluffy coffee creation!
If you like coffee with a richer taste, try using a darker roast instant coffee. Lighter roasts may not have enough depth to stand up to the sweetness of the sugar.
Use a wide and shallow bowl for whipping the coffee mixture. A narrow or deep bowl can make it difficult to create the foam, while a wide and shallow bowl allows for more surface area and easier whisking!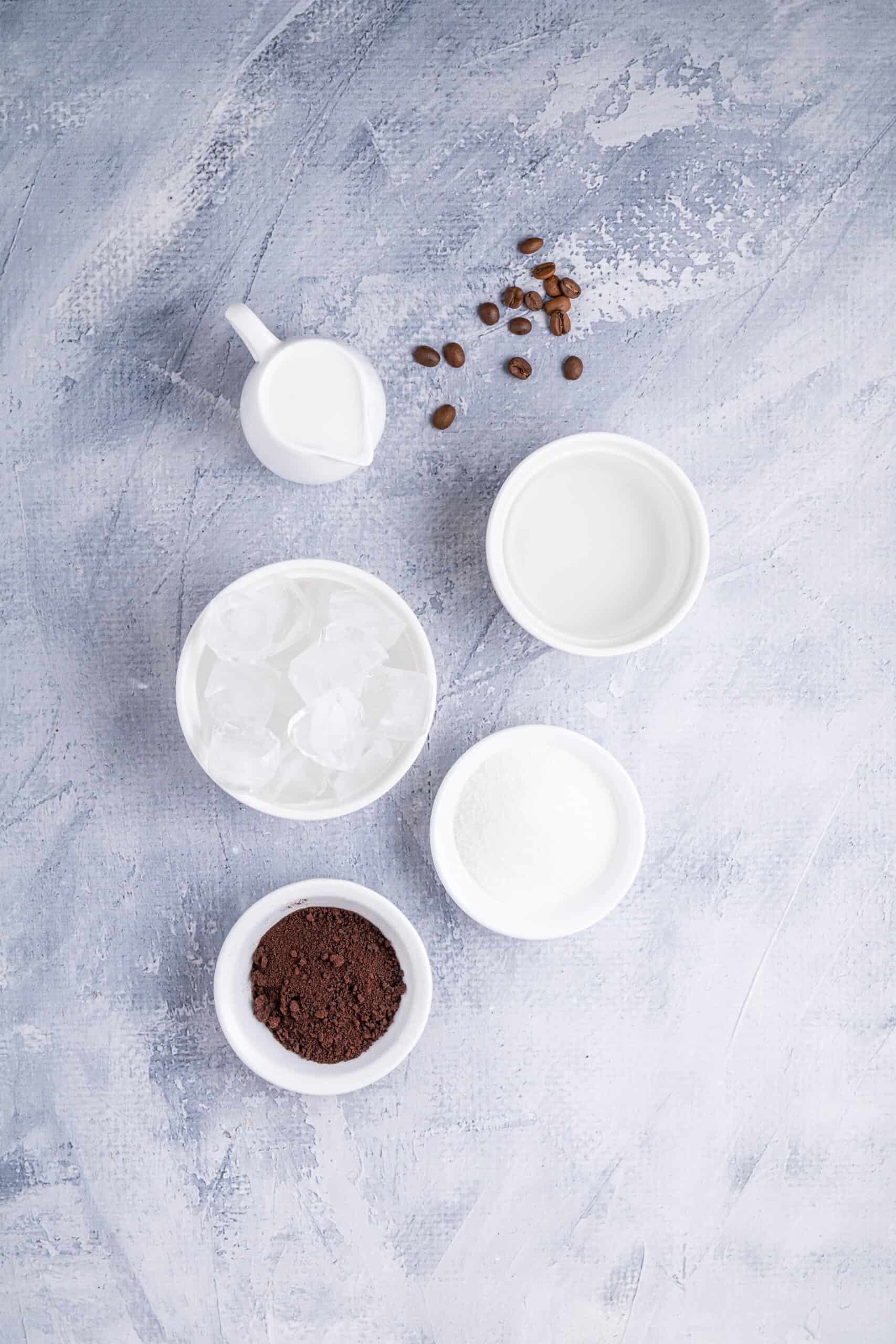 Key Ingredients and Substitutions in the Dalgona Coffee Recipe!
Instant Coffee: As long as you use instant coffee powder, the flavor and caffeine content is up to you!
Sugar: Use granulated white sugar or a sugar-free equivalent instead of brown sugar or other sweeteners. It helps to create the famously smooth and creamy texture of whipped coffee!
Milk: If you're using a milk alternative, make sure to use the unsweetened version! Otherwise, the added sugar can affect the flavor of the whipped coffee foam.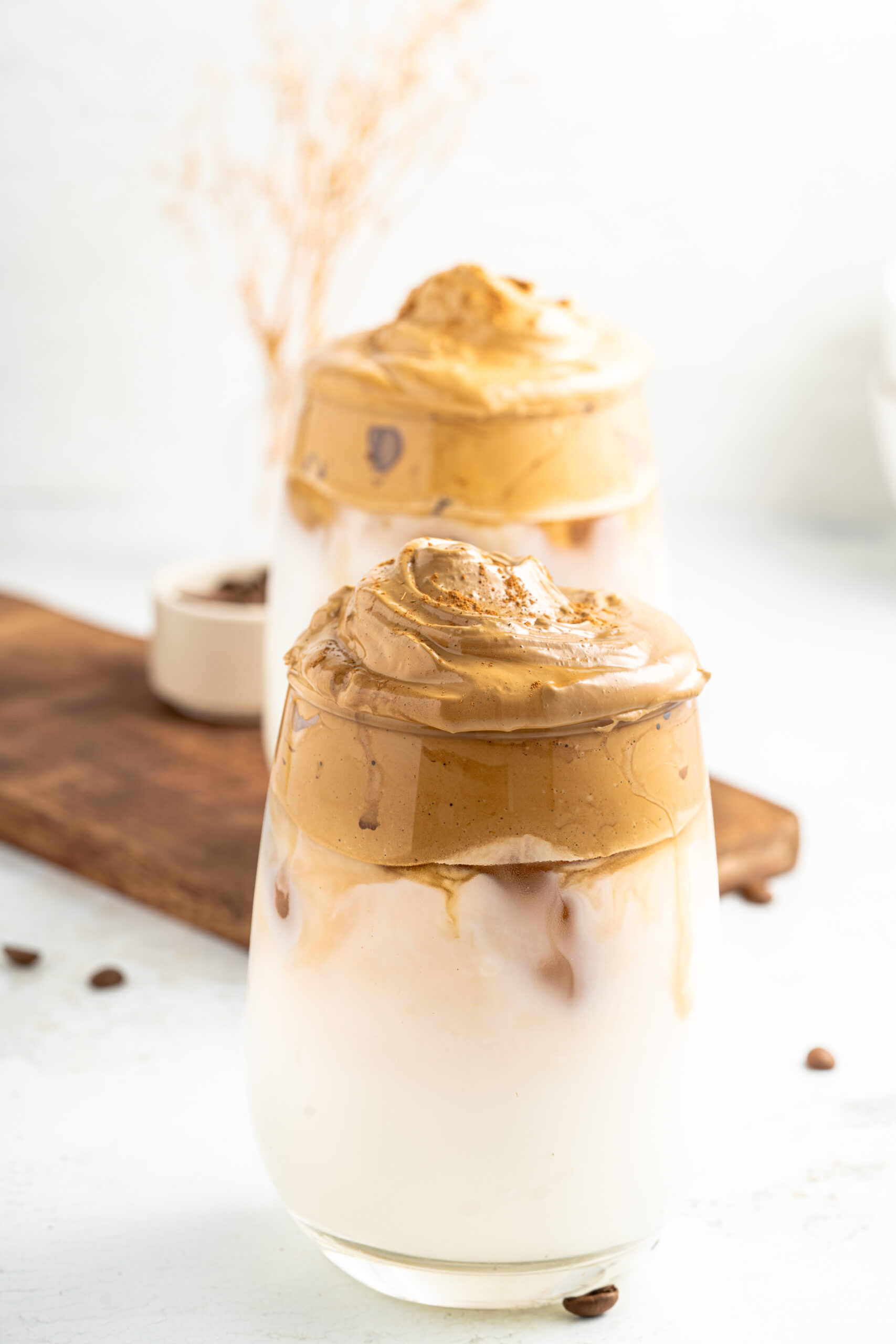 Frequently Asked Questions about the Dalgona Recipe.
Why isn't my whipped coffee very fluffy?
This happens when the coffee mixture hasn't been whipped for long enough! Use a high-speed setting for around 3-5 minutes for best results. Without an electric hand mixer, it can take up to 10-15 minutes to achieve the desired fluffy and frothy texture.
What is whipped coffee?
This popular coffee drink on TikTok is actually called Dalgona Coffee, a name made famous by South Korean actor Jung Il-woo. It has been enjoyed for years in many different cultures, such as Frappe Coffee in Greece, Beaten Coffee in India, and, of course, Dalgona Coffee in Korea! So, the next time you make whipped coffee, remember that you're actually making a drink with a rich cultural history!
What else can whipped coffee be used for?
Add it as a luscious topping for pancakes or waffles, fill it into pastries or cakes, or even whip up a batch of ice cream with a caffeinated twist! You can also experiment with adding different flavors to the coffee foam, such as cocoa powder or cinnamon, to create a unique and delicious twist on the classic recipe. You can even add a scoop of whipped coffee to your favorite liquor! The possibilities are truly endless, so don't be afraid to get creative and try new things!
Dalgona Coffee
Elevate your coffee game with our irresistible Dalgona Coffee recipe! In just minutes, you can indulge in the frothy and velvety whipped coffee goodness that's a coffee favorite all over the world!
Servings 2 Servings
Calories 160kcal
Ingredients
2 tbsp instant coffee
3 tbsp sugar
2 tbsp hot water
1 cup milk to fill your chosen glass
2 cups ice one per glass
Instructions
Place instant coffee, sugar, and hot water into a mixing jar or bowl. Then, use an electric mixer to make the characteristic coffee foam of this coffee. You'll need 1 to 2 minutes of high speed mixing to achieve the desired consistency.

Prepare your Dalgona Coffee by placing a cup of ice in each glass, then fill it up to ½ inch from the top with milk, and finally, top each glass with the sweet and soft coffee foam.
Notes
Tips
You can achieve the foam whisking manually, but you'll need more time and dedication.
This recipe doesn't work with espresso powder coffee.
Water should be boiling so the coffee dissolves properly.
You can also make this coffee in the hot version; simply use warm milk. The foam won't hold it too long, though.
Nutrition
Calories: 160kcal | Carbohydrates: 27g | Protein: 5g | Fat: 4g | Saturated Fat: 2g | Polyunsaturated Fat: 0.1g | Monounsaturated Fat: 1g | Cholesterol: 15mg | Sodium: 61mg | Potassium: 360mg | Sugar: 24g | Vitamin A: 198IU | Calcium: 165mg | Iron: 0.2mg
Follow On Pinterest
Follow @bewitchinkitchen On Pinterest for more delicious recipes!