Roasted Cauliflower and Cheddar Soup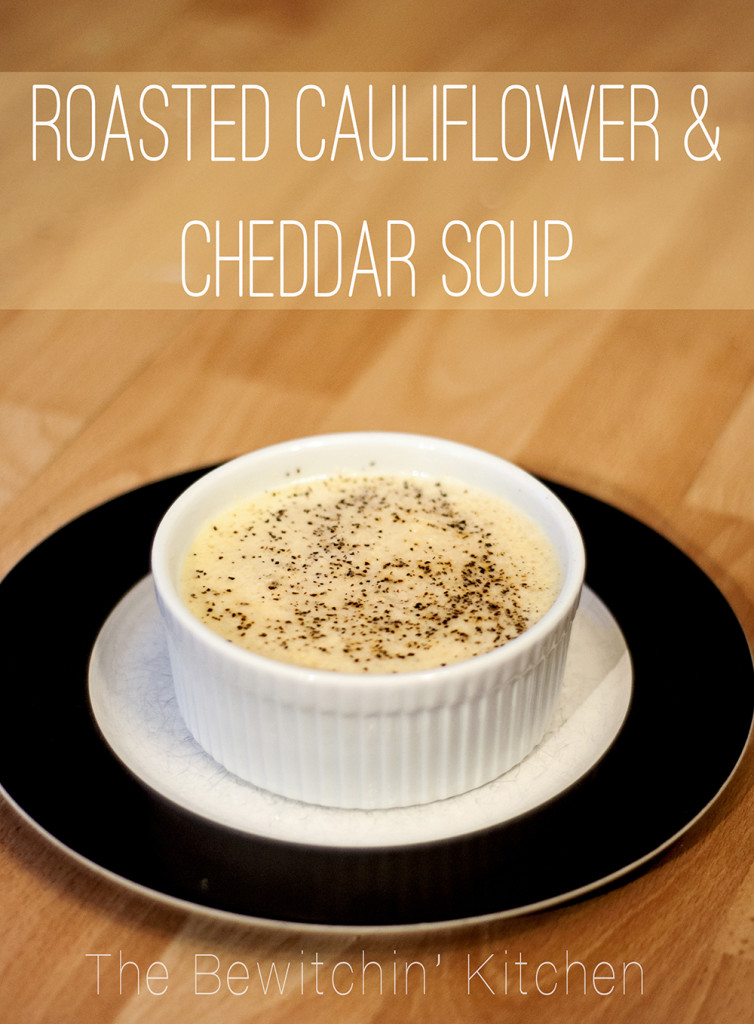 It's December and although we still don't have snow here on the North Coast of British Columbia, I still feel that nip in the air. Something that really comforts me this time of year is soup. Last night I made this Roasted Cauliflower and Cheddar Soup and it was delicious. So out came the leftovers and the camera.
I was inspired by a recipe that I use for Roasted Broccoli and Cheddar Soup. It's from Closet Cooking and I have made it so many times that I don't need to even look up the recipe. It tastes fantastic and I suggest you check on the Closet Cooking blog, but you'll be on her blog for a long time drooling over her recipes so do it after you pin my soup.
This recipe started out with cauliflower. I had a head of cauliflower staring at me in the fridge and I knew my husband was getting tired of Roasted Cauliflower with Parmesan and Balsamic (my go-to side dish). It was time to switch it up, but I wasn't too sure on what I should make. I wanted soup and when I opened my fridge I saw half an onion, chicken broth and a jar of minced garlic, that's when I remembered my favorite broccoli soup and thought a pureed cauliflower soup was in order.
I was a little hesitant about making this as I wasn't too sure if the cheese would taste good with the cauliflower. Then I realized that was silly because cheese usually makes everything taste better and if I'm able to make a few "baked" cauliflower and cheese recipes that Cauliflower and Cheese Soup would be fine.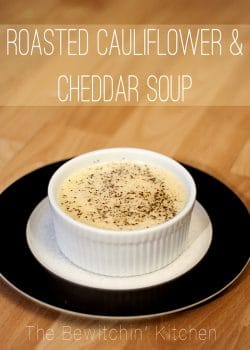 Roasted Cauliflower Cheddar Soup
Ingredients:
Large head of cauliflower
Half an onion
3 tbsp minced garlic
2 tbsp olive oil
3 cups chicken broth
2 – 2 1/2 cups double cheddar cheese (I used Kraft's shredded variety)
Pepper and Kosher salt to taste
Directions:
First you need to roast the cauliflower. It's easy. Lightly toss your cauliflower in 1 tbsp olive oil, salt, pepper and garlic. Line on a baking sheet and roast at 425 degrees until the florets begin to brown. 25 minutes is usually enough.
Over medium heat up your remaining olive oil and saute your onion until soft in a stock pot.
Add cauliflower and stir around for a minute.
Add chicken broth. Bring to a boil and then reduce the heat down to a simmer and cover. I left it there to simmer for 30-35 minutes.
Transfer your soup to a food processor or blender (Closet Cooking's broccoli soup uses an immersion blender, so if you have one that would be easier) and puree.
Bring your soup back to the pot and add the cheddar.
Stir to melt and serve, I serve with pepper.
All images and text ©
.
What's your favorite homemade soup recipe?
I have to admit, this is in my top 5 which happen to be:
1. Zuppa Toscana
2. Lasagna Soup
3. Roasted Broccoli and Cheddar from Closet Cooking
4. This one
5. Clean Eating Chicken Chili(does chili count?)
FREE Recipe Binder
Are you constantly wondering what's for dinner?
When I don't meal plan I feel behind, and we usually end up ordering take out. This recipe binder will keep you organized and make life a little bit easier.