In Loving Memory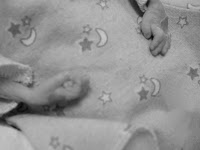 Today is a tough day.A year ago today I gave birth to my son, Christian Mattias. For those of you who don't know, Christian was stillborn. I have been dreading this day, because I was so clueless on what we should do. In preparation for this day I have been constantly reading message boards, blogs and articles on what it is I should do to celebrate his memory. Eric and I both decided that I am going to bake an angel food cake. I have to say at first I felt weird about making a cake, because I thought of it as a birthday cake and there is obviously no birthday. Instead we are just going to call it Christian's cake, and an angel food cake seemed fitting. We are also doing a balloon release. We also lit a candle this morning and we are having it burn all day. We didn't decide on the candle idea until yesterday, so I don't have any special candle. Just a pumpkin pie scented candle. Every year from now we will have a special memorial candle made in his name.
These three things are going to be a new tradition that Eric and are going to do on Christian's day, every year.
FREE Recipe Binder
Are you constantly wondering what's for dinner?
When I don't meal plan I feel behind, and we usually end up ordering take out. This recipe binder will keep you organized and make life a little bit easier.