Jamaican Jerk Chicken with Pineapple Salsa and Spicy Aioli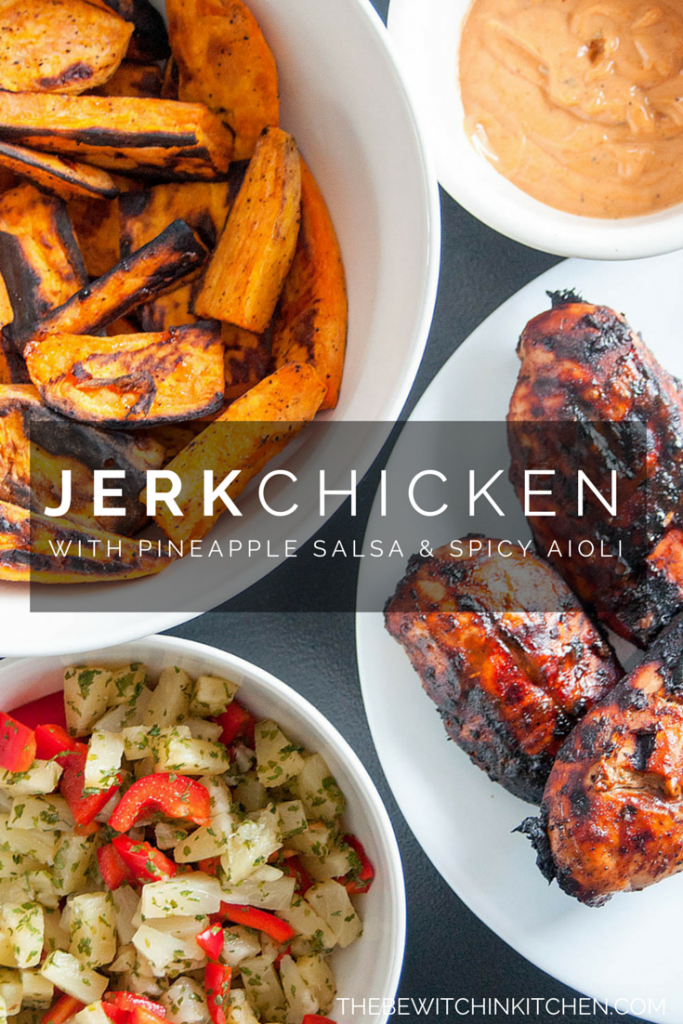 Hello BBQ season, I have been looking forward to you since Christmas. I've been a little bit of a spice kick lately, so I thought this would be the perfect time to share with you this recipe for Jamaican Jerk Chicken with Pineapple Salsa. This recipe is also complete with yam wedges and a spicy aioli.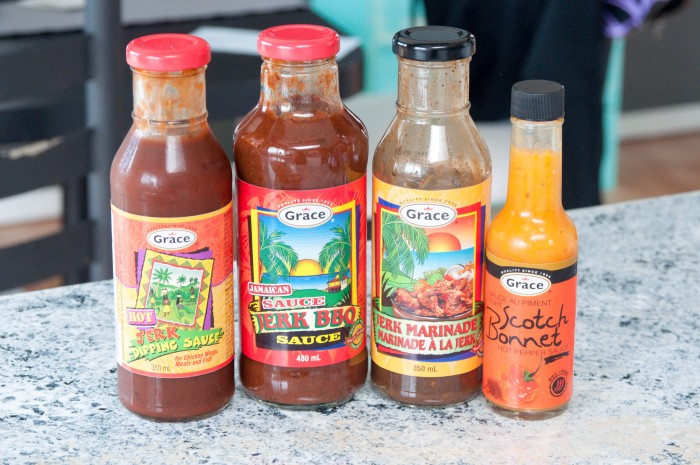 During the summer my family and I do a lot of grilling, mostly because we don't have AC and the thought of firing up the oven when it's +30 in my house is not appealing. Usually by the middle of July I get stuck in a chicken breast rut and things get boring. I found a way to keep my grilling interesting by incorporating Grace's "Jerk" product line in my recipes. The possibilities are endless.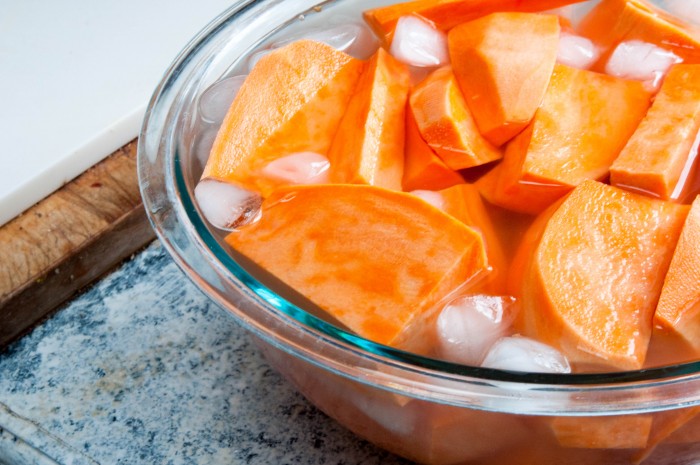 Here's a fun little tip about making yam fries/wedges: soak them in an ice bath for at least an hour (I also changed the water half way). It takes out some of the starch so they're not as soggy.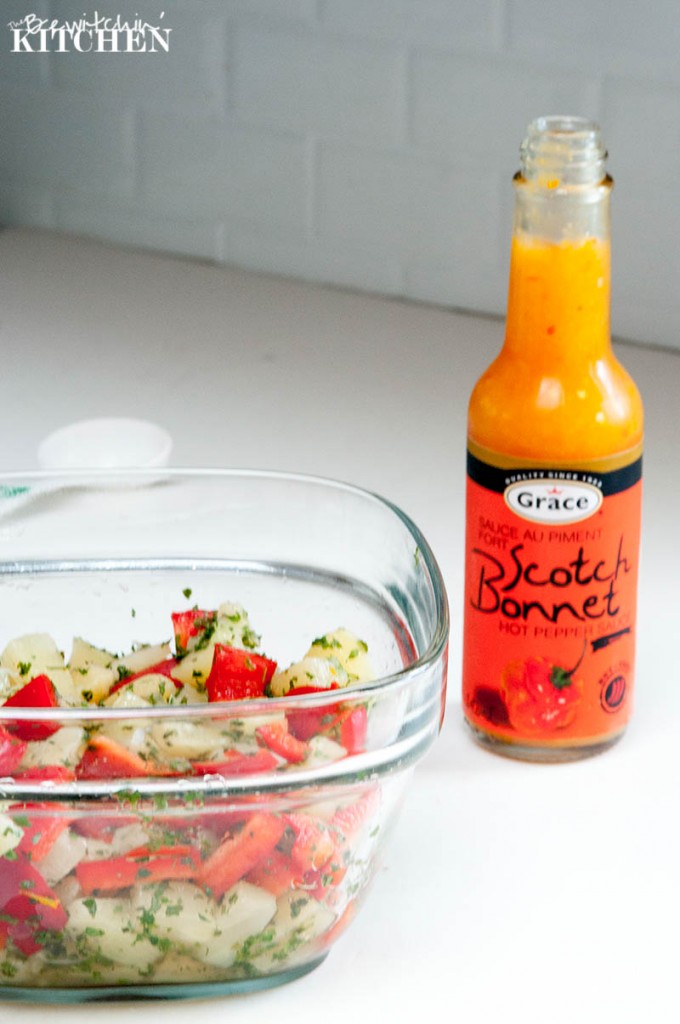 The Pineapple Salsa takes no time at all to make. It's literally dump, chill and serve. I only added 1/2 tsp of the Grace Scotch Bonnet Hot Pepper Sauce as I didn't want it too spicy since the aioli provided enough heat.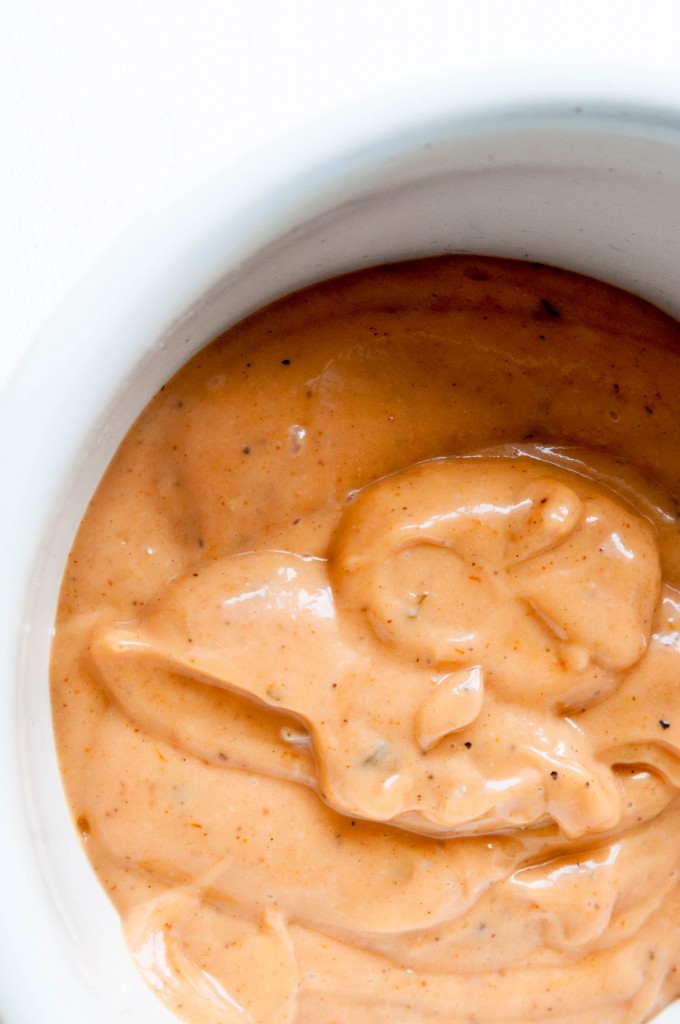 I think my favorite part of the recipe is this Spicy Aioli. Not only is this a great dipping sauce, but it's awesome on grilled chicken sandwiches as well.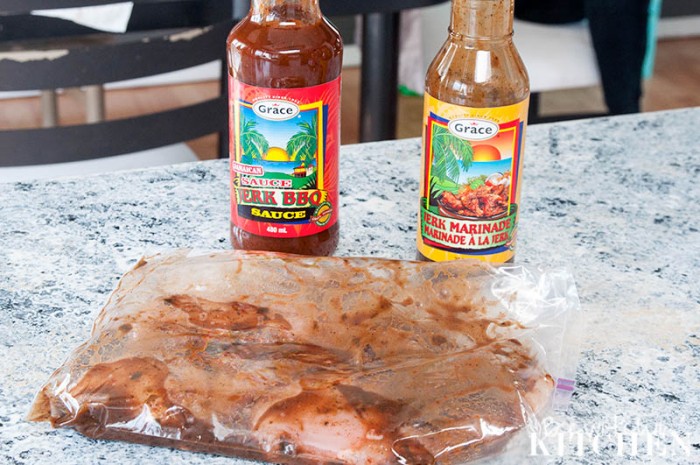 This Jamaican Jerk Chicken recipe may seem a little length but I assure it took no time to whip up. The longest part of the prep work was slicing up the yams for the wedges. Most things are dump, chill, and serve.
Jamaican Jerk Chicken with Pineapple Salsa and Spicy Aioli
Jamaican Jerk Chicken with Pineapple Salsa and Spicy Aioli
Ingredients
2 large yams
3-4 Chicken Breasts
For the Pineapple Salsa:
1 can pineapple tidbits in juice reserve the juice
1 red bell pepper diced
1 tbsp parsley
Sea Salt
For the Jerk Aioli Dipping Sauce
1/4 cup mayonnaise
3 tbsps Grace Jerk Dipping Sauce
1 tsp pineapple juice from can
Instructions
Prep Work:
In a resealable bag, add the chicken and Grace Jerk Marinade. Let marinade in the fridge for at least two hours. This is a good time to make up your Jerk Aioli and Pineapple Salsa as both of these recipes taste better as the flavors sit.
Pineapple Salsa
Drain the pineapple juice and set aside (you can use it in smoothies after, and you will need 1 tsp for the Jerk Aioli). In a bowl combine the pineapple tidbits, diced red pepper, parsley and Grace Scotch Bonnet Hot Pepper Sauce. Toss in the fridge until ready to serve.
Jerk Aioli
Mix together the mayonnaise, Grace Jerk Dipping Sauce and pineapple juice. Refrigerate until it's ready to serve.
Yam Wedges
Cut the yams into wedges and soak in an ice cold water bath for at least an hour, this gets rid of the starch and keeps the yams from going soggy when cooked. You can either grill them until their tender or bake at 425 for 30 minutes.
Jerk Chicken
On a pre-heated and oiled BBQ, toss the marinated chicken breasts and grill for 12-15 minutes or until now longer pink. 2 minutes before taking off the grill, brush with Grace Mild Jerk BBQ Sauce.
Follow On Pinterest
Follow @bewitchinkitchen On Pinterest for more delicious recipes!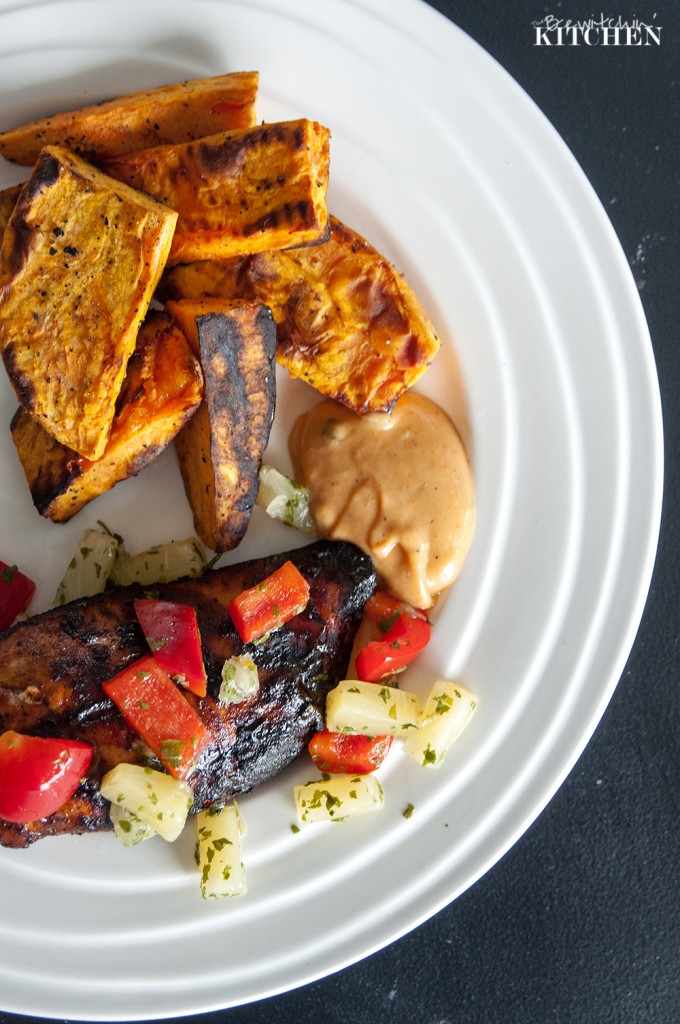 What's your favorite BBQ recipe?
This post is sponsored by Grace Foods and I have been compensated monetarily and with product. All opinions are my own.