Keto Pumpkin Soup
Whether you're low carb, keto, or just wanting to eat simpler, you have to try this Keto Pumpkin Soup! Made with 3 simple ingredients, plus herbs and spices, this healthy pumpkin soup recipe makes for an easy, delicious, and quick dinner idea.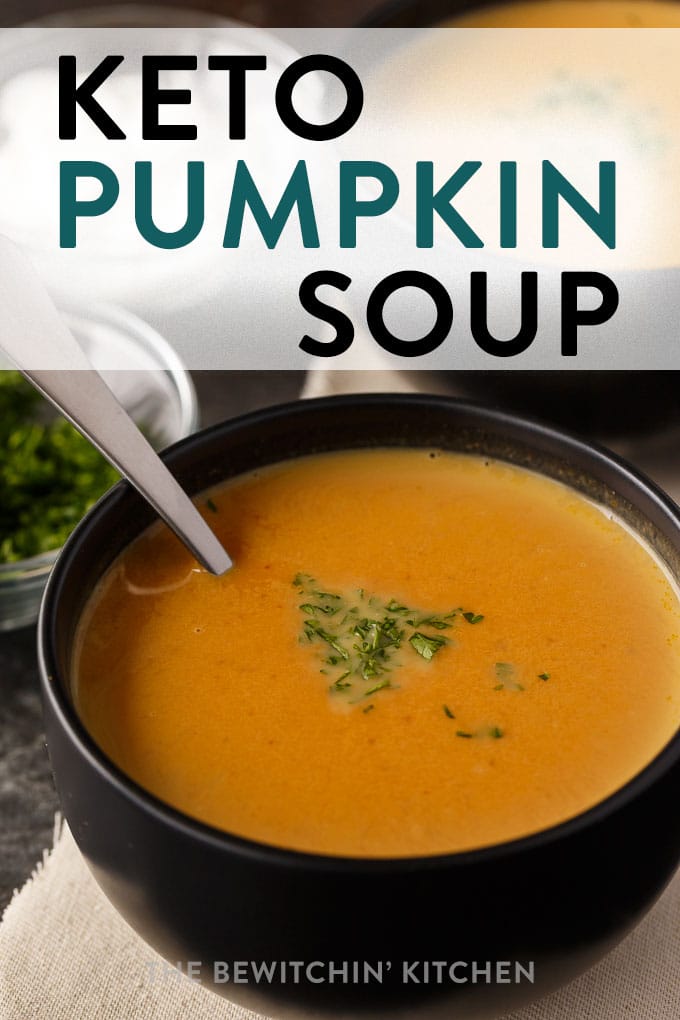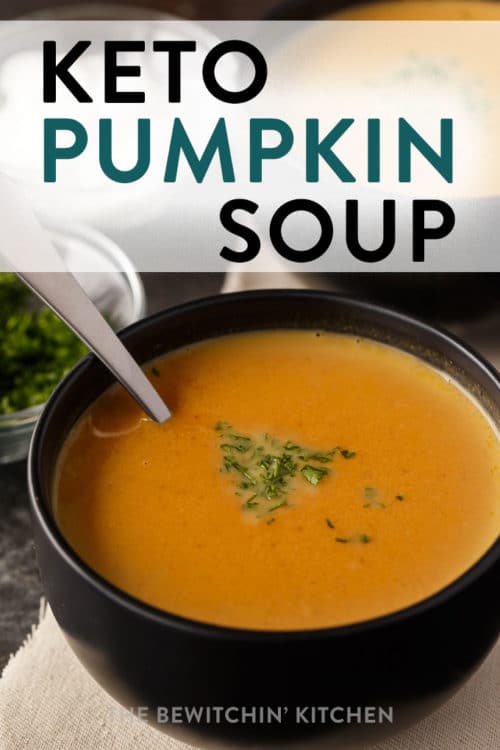 Keto Pumpkin Soup
Disclosure: This post contains affiliate links for your convenience. As an Amazon Associate, I earn from qualifying purchases.
As soon as the leaves start to fall, it seems like pumpkin spice pastries and desserts are everywhere. (I will admit — those Pumpkin Spice Lattes get me every time!)
That's why I absolutely adore making this soup with pumpkin puree. It's a great way to enjoy this winter squash in savory form. Chicken broth, garlic powder, and dried thyme add plenty of flavor, and some heavy cream at the end creates an irresistible velvety texture.
Top each bowl of keto pumpkin soup with a dollop of sour cream and a sprinkle of fresh parsley, or enjoy it plain. If you want to add some texture, toss on a handful of pepitas instead.
Related: How to Be Successful on a Ketogenic Diet
Why You Will Love This Healthy Pumpkin Soup Recipe
3 simple ingredients – plus dried herbs and spices
Versatile – enjoy as a side dish or a light meal
Ready in under 30 minutes – just mix and simmer
Keto friendly – easy to make dairy free or vegan too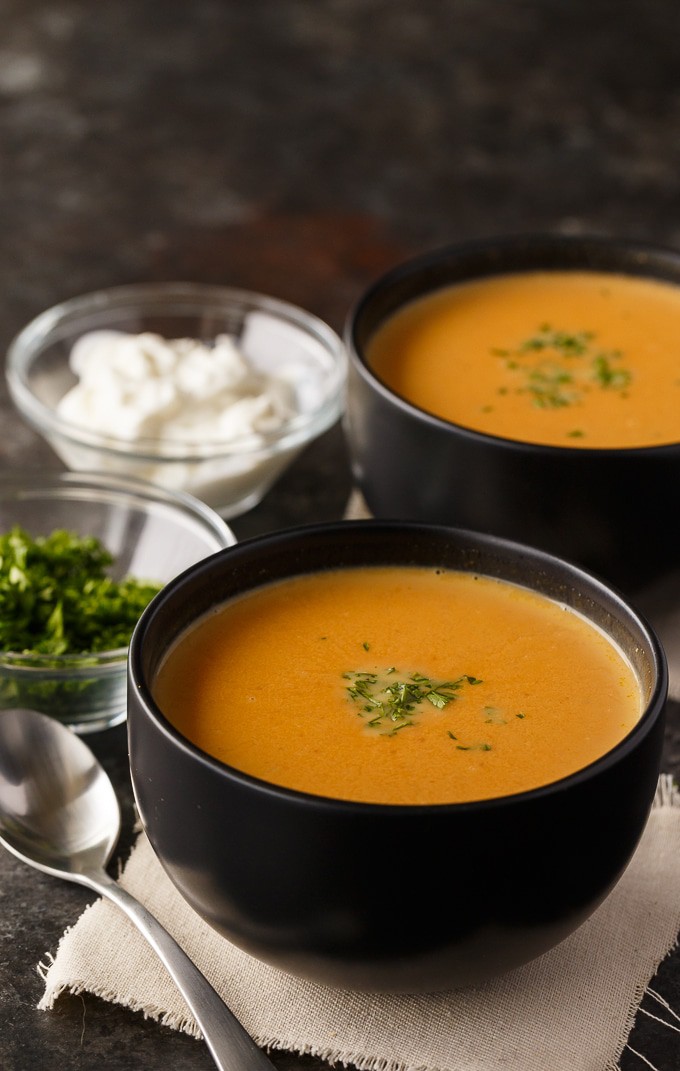 How to Make Pumpkin Soup with Canned Pumpkin
Making this low carb soup is so easy! You simply add the ingredients to a saucepan and bring the mixture to a boil. Before serving, add the cream and stir to heat through. That's it!
This healthy pumpkin soup recipe is versatile too — you can adjust the flavor to your liking or swap ingredients to suit your dietary needs.
Use pumpkin puree
Seems obvious, right? Unfortunately, grabbing the wrong can of pumpkin from the store is a common mistake!
Be sure to make your pumpkin soup with canned pumpkin puree, not pumpkin pie filling. Puree is made with just the squash, while the pie filling has added sugar and spices to make it sweet.
Try different spices
Fully embrace the flavors of fall by adding warming spices to this healthy pumpkin soup recipe. Cinnamon will meld wonderfully with the other ingredients, or you could add it with a pinch of nutmeg and ground cloves in place of the thyme.
Want more herb flavor? Rosemary and thyme go together beautifully and bring out the earthiness of the pumpkin.
Make it fully plant based
Need a keto pumpkin soup that's dairy free or vegan as well? Easy peasy!
Swap the broth for "no chicken" broth — you can find it in cartons at most stores, or Better Than Buillion makes a base. You could also try vegetable broth, but the overall flavor won't taste quite the same.
As far as the heavy cream, that's an easier substitute. Use an equal amount of canned full fat coconut milk. If you prefer your soup to have a thicker consistency, place the can in the fridge for an hour or two, then scoop the solid portion off the top and discard the liquid beneath.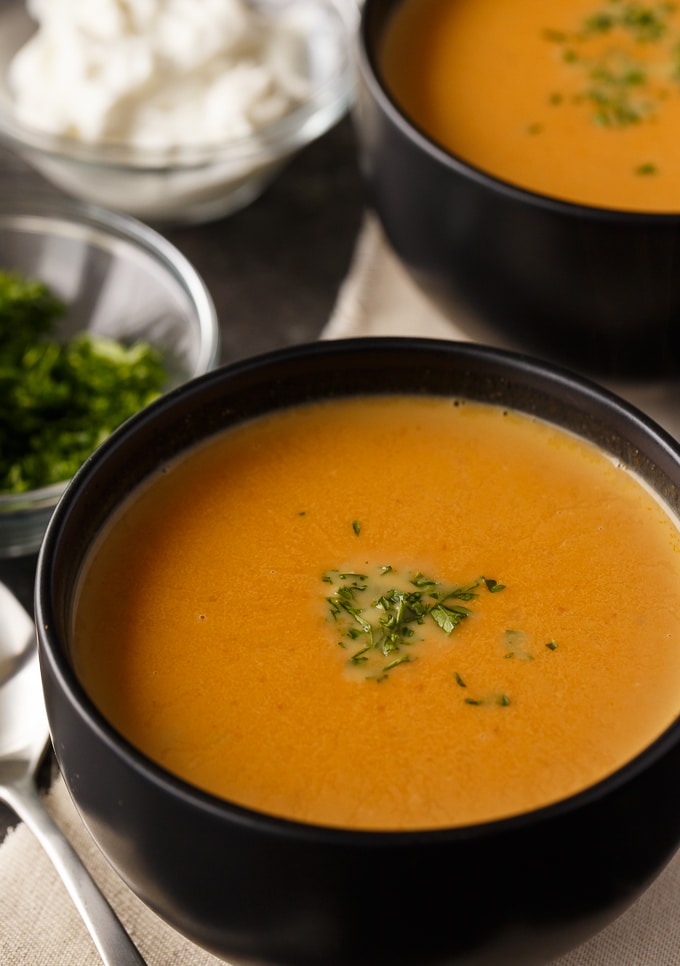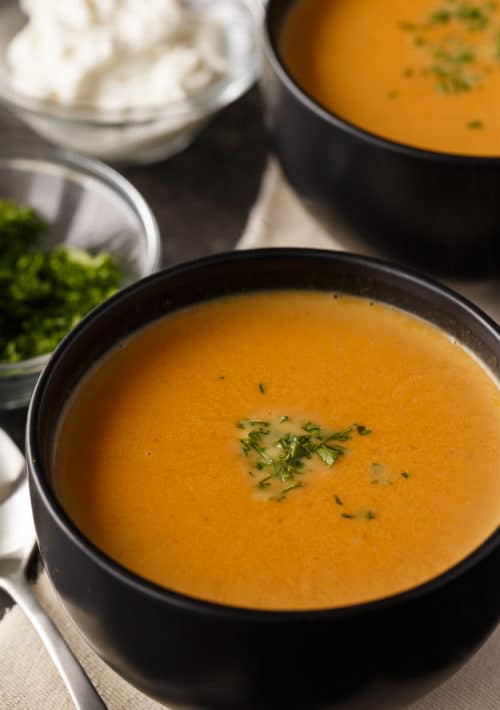 Frequently Asked Questions about Creamy Pumpkin Soup
Can you make soup with pumpkin puree?
Absolutely! Combine pumpkin puree with chicken broth, heavy cream, and your favorite herbs and spices for a creamy pumpkin soup that practically screams fall flavor.
Will this recipe work with fresh pumpkin?
I like to make this soup with pumpkin puree because it's quick and easy, and I typically have a can in the pantry during the cooler months. However, you can certainly substitute fresh puree if you've got extra time on your hands!
Here's how to make homemade pumpkin puree:
Grab a small baking pumpkin and slice it in half from the base towards the stem.
Remove the seeds and pulp, sprinkle on a little salt, then place the halves cut side down on a parchment-lined baking sheet.
Bake at 400 degrees F until the flesh can be easily pierced with a fork, about 45 minutes depending on the size.
Allow the pumpkin to cool, then scoop out the flesh and blend until smooth.
Storage and Reheating
Leftover pumpkin soup with canned pumpkin can be kept in the fridge for 2 to 3 days. Allow it to cool to room temperature, then transfer to an airtight container.
To reheat, return the soup to a saucepan on the stove. Heat on low, stirring frequently, until warmed through.
Can you freeze creamy pumpkin soup?
This is not a great recipe to make ahead and freeze for later. Thankfully, it's so easy to make that you don't really need to!
Soups that contain milk or heavy cream, like this keto pumpkin soup, tend to separate when thawed and reheated. So, keep leftovers in the fridge or invite some friends over to help you finish it off!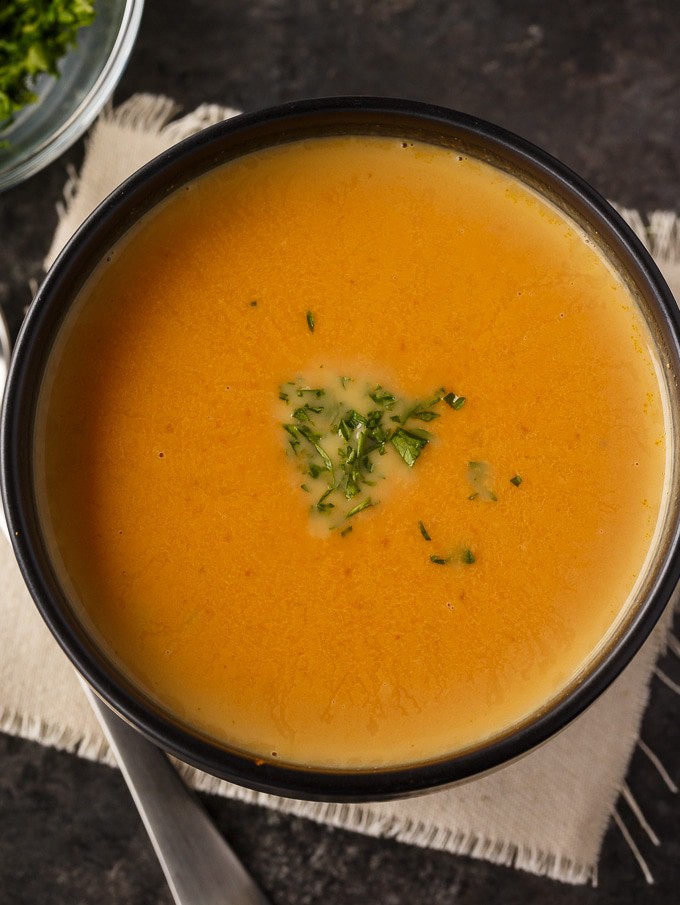 More Healthy Soup Recipes:
Instant Pot Chicken Tortilla Soup
Keto Pumpkin Soup
Keto Pumpkin Soup with canned pumpkin and broth is a quick and easy dinner idea. Flavor with thyme and spices, then finish with heavy cream.
Servings 4 people
Calories 152kcal
Ingredients
1 3/4 cup pumpkin puree not pumpkin pie filling
4 cups chicken broth
1/2 tsp salt
1/2 tsp pepper
1/2 tsp garlic powder
1/2 tsp thyme dried
1/2 cup heavy cream 35%
Instructions
Stir together the pumpkin puree, chicken broth, salt, pepper, garlic powder and dried thyme in a medium saucepan. Bring to a boil.

Reduce heat to medium low and simmer for 10 minutes.

Remove from heat and add cream. Garnish with sour cream and parsley, if desired.
Nutrition
Serving: 1serving | Calories: 152kcal | Carbohydrates: 10g | Protein: 2g | Fat: 11g | Saturated Fat: 7g | Cholesterol: 40mg | Sodium: 1167mg | Potassium: 431mg | Fiber: 3g | Sugar: 3g | Vitamin A: 17120IU | Vitamin C: 21mg | Calcium: 61mg | Iron: 2mg
Follow On Pinterest
Follow @bewitchinkitchen On Pinterest for more delicious recipes!