Grilled Jalapeños
These Grilled Jalapenos are stuffed with sausage, soft queso fresco, and wrapped in crispy bacon. They're a perfect summertime appetizer, but so tasty you could turn them into a meal!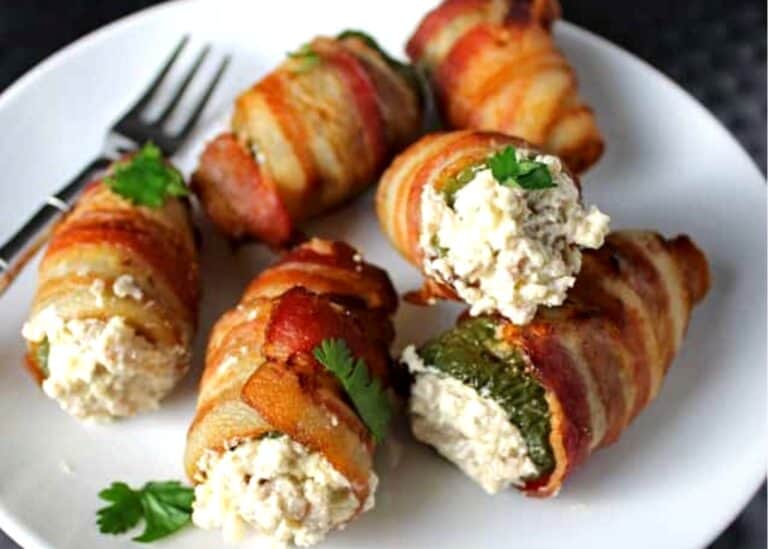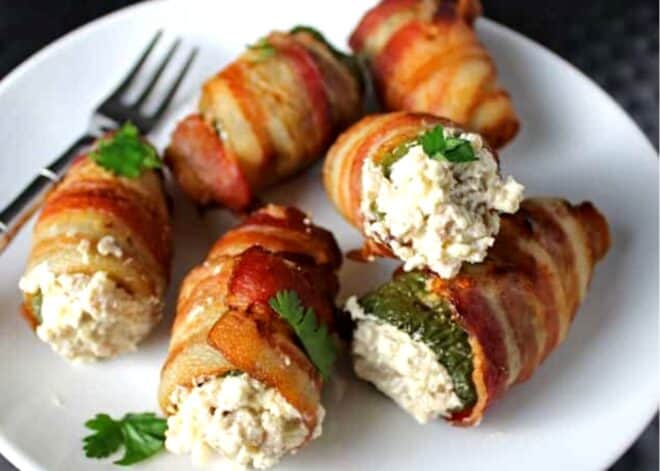 Grilled Jalapenos
Stuffed jalapenos are a summertime staple, but adding sausage and bacon to your peppers takes this classic dish to an intense new level. Don't worry, the time it takes to prepare this grilled jalapeno recipe won't cut into your relaxing summer vibe, and the creamy queso and crispy bacon create a luscious combination that won't weigh you down.
Looking for other ideas for the grill? Try our take on a classic with Corn on the Cob with Jalapeno Lime Sauce, some marinated Smoky Curry Chicken Kebobs, or add some Steak Fajita Kebabs to your menu!
Why you will love Grilled Stuffed Jalapenos
Grilling your bacon allows the grease to drip right off the jalapenos. No need to drain or soak up the bacon grease, and your grill grates will gain some seasoning and flavor in the process.
Only a few ingredients that are easy to find at your grocery store. You might even have all of these ingredients at home right now!
Quick prep and easy cleanup. You'll need a few kitchen tools and your grill. Plus, cutting back on the indoor cooking will keep your house from heating up on those hot summer days!
Grilling cooks your food faster. Since you can place your food closer to the heat source, it takes less time for that energy to reach your food.
Easily control the level of heat: you can find jalapeno peppers and sausage on the sweeter OR the spicier side.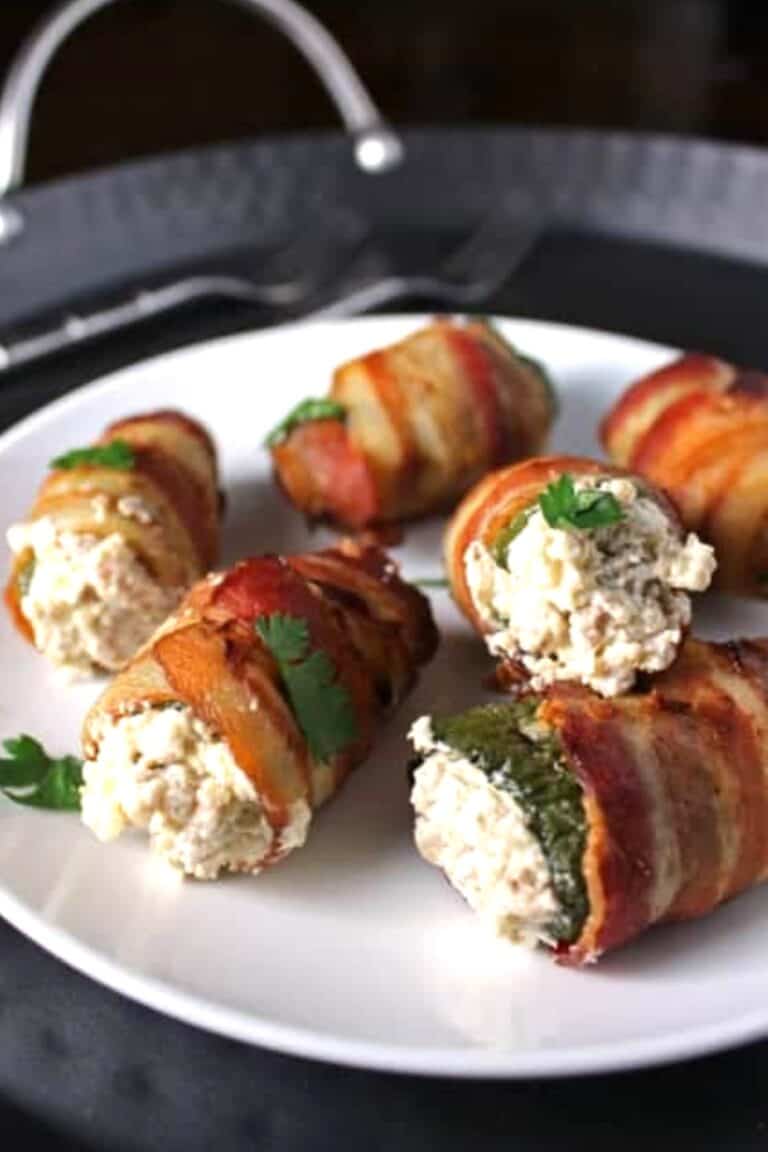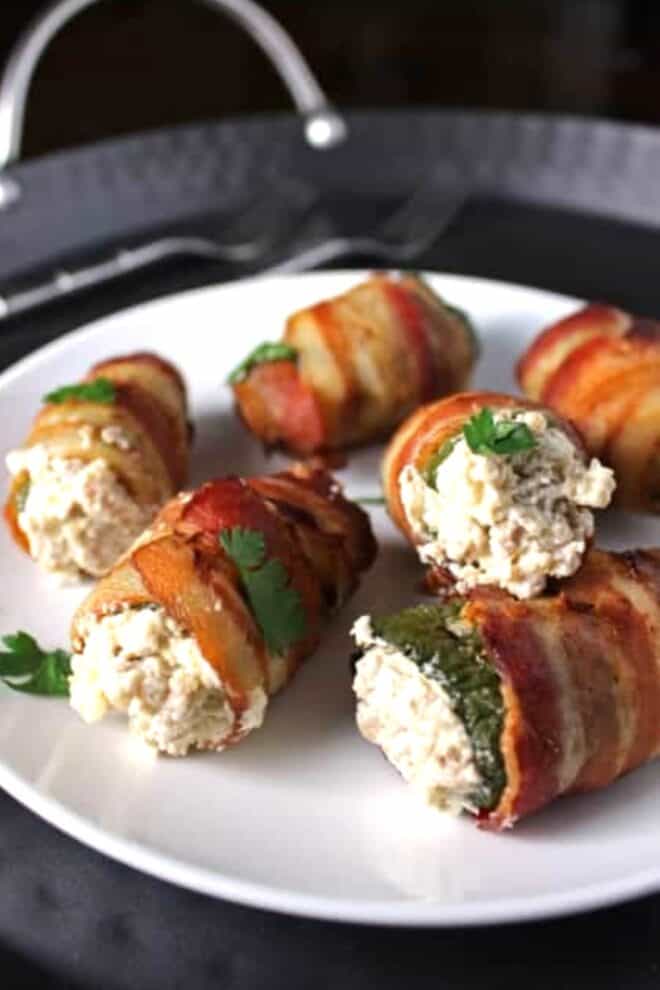 How to Make Perfect Grilled Jalapenos
Step One: Heat your grill. For medium-high heat, your grill temperature will be between 375-400 F.
Step Two: Prepare your peppers. Be sure to choose peppers that are large enough to house a couple teaspoons of filling. If you like spicier peppers, look for ones with fine lines: peppers get hotter as they age! After you slice off the tops, scrape out the seeds and the ribs with a small spoon.
Step Three: Wrap a slice of bacon around each pepper and try not to overlap your bacon more than once. Too many layers of bacon will create uneven cooking, keeping the innermost layers from crisping up. Toothpicks should be placed to keep the bacon from moving while also allowing for the bacon to shrink as it cooks.
Step Four: Before you place your peppers on the grill, brush the grates with canola or grapeseed oil. These oils have high smoke points to withstand higher temperatures. Place peppers directly on the grill or in a grill-safe stand or tray.
Step Five: As your jalapenos are cooking, brown the sausage in a pan and break up into small pieces with a wooden spoon. Smaller sausage pieces will mix more easily with the remaining ingredients. Once the sausage is browned, drain the grease and let the sausage cool slightly before transferring to a bowl with the cream cheese, queso fresco, and chives.
Step Six: Remove cooked jalapenos from the grill. When cool enough to touch, stuff the peppers with sausage mixture. Serve immediately or cover loosely with aluminum foil until you're ready to eat.
Pro Tips
Avoid thick sliced bacon for this grilled jalapeno recipe if you prefer crispier bacon. Thicker bacon takes longer to cook and you may not get a consistently crispy texture throughout.
Use spicy sausage for a little more heat with your grilled jalapenos!
Use ½ teaspoon of dried chives instead of using fresh ones. While fresh is always preferred, the dried chives will do the trick if that is the only option.
Add these grilled jalapenos to one of our 9 Easy Summer Salads or this Chicken Beet Salad for a perfectly light, summertime feast.
Frequently asked Questions about Grilled Stuffed Jalapenos
Does grilling jalapenos make them spicier?
Cooking jalapeno peppers does not increase the 'heat' of the pepper. In fact, the temperature level of the peppers is decreased when you cook them. This is due to destroying some of the capsaicin, a substance that is naturally found in hot peppers.
Will my jalapeno peppers burn on the grill?
When peppers are placed directly on a grill, the delicate skin does not take long to soften and sometimes char. However, the bacon wrapped around these peppers protects the skin and gives the flesh of the pepper more time to safely stay over the heat, without the threat of burning the skin.
Are grilled jalapenos good for you?
Jalapenos are a good source of vitamins A and C. Cooking jalapenos actually boosts the amount of vitamin C as well as potassium which is also naturally found in jalapeno peppers. Other nutrients found in jalapenos include vitamins K and B, folate and carotene- an antioxidant that can aid in cell repair.
Grilled Jalapeños
These Grilled Jalapenos are stuffed with sausage, soft queso fresco, and wrapped in crispy bacon. They're perfect summertime appetizer, but so tasty you could turn them into a meal!
Servings 4 people
Calories 442kcal
Ingredients
12 pieces Jalapeños Whole pieces
1/2 cup cream cheese softened
1/2 cup queso fresco grated
1/2 lb sausage grounded
1 tsp Chives minced
12 slices bacon
Instructions
Heat grill to medium-high heat.

Wearing gloves, slice the tops off of each jalapeno pepper. Use a small spoon or butter knife to pull out the seeds and membrane of the pepper. Discard the seeds and tops.

Wrap a slice of bacon around each pepper. Do not wind bacon too tightly because it will shrink when cooking. Stick a toothpick all the way through the pepper to hold the bacon in place. The toothpick also helps keep the peppers from rolling around on the grill too much.

Place peppers on the grill, either carefully on the grates, or in a popper grill stand, or on a grill safe tray to prevent the peppers from falling through the grates.

Allow the peppers to cook, turning occasionally until the bacon is completely cooked, about 10-15 minutes.

While peppers are cooking, brown sausage in a pan and drain off excess grease. Combine in a small bowl with softened cream cheese, grated queso fresco and chives.

When jalapenos and bacon are cooked, remove from the grill. As soon as peppers are cool enough to touch, stuff the warm peppers with sausage and cheese mixture.

Serve warm and enjoy!
Nutrition
Serving: 1g | Calories: 442kcal | Carbohydrates: 5g | Protein: 22g | Fat: 37g | Saturated Fat: 16g | Polyunsaturated Fat: 4g | Monounsaturated Fat: 14g | Trans Fat: 0.3g | Cholesterol: 104mg | Sodium: 969mg | Potassium: 422mg | Fiber: 1g | Sugar: 3g | Vitamin A: 1019IU | Vitamin C: 50mg | Calcium: 127mg | Iron: 1mg
Follow On Pinterest
Follow @bewitchinkitchen On Pinterest for more delicious recipes!