Instant Pot Chicken Tortilla Soup
Whether you're a new mom, a veteran momma, or someone who works long hours and just doesn't want to deal with putting in the effort and pretending to care about cooking a healthy dinner – this Instant Pot Chicken Tortilla Soup recipe is for you.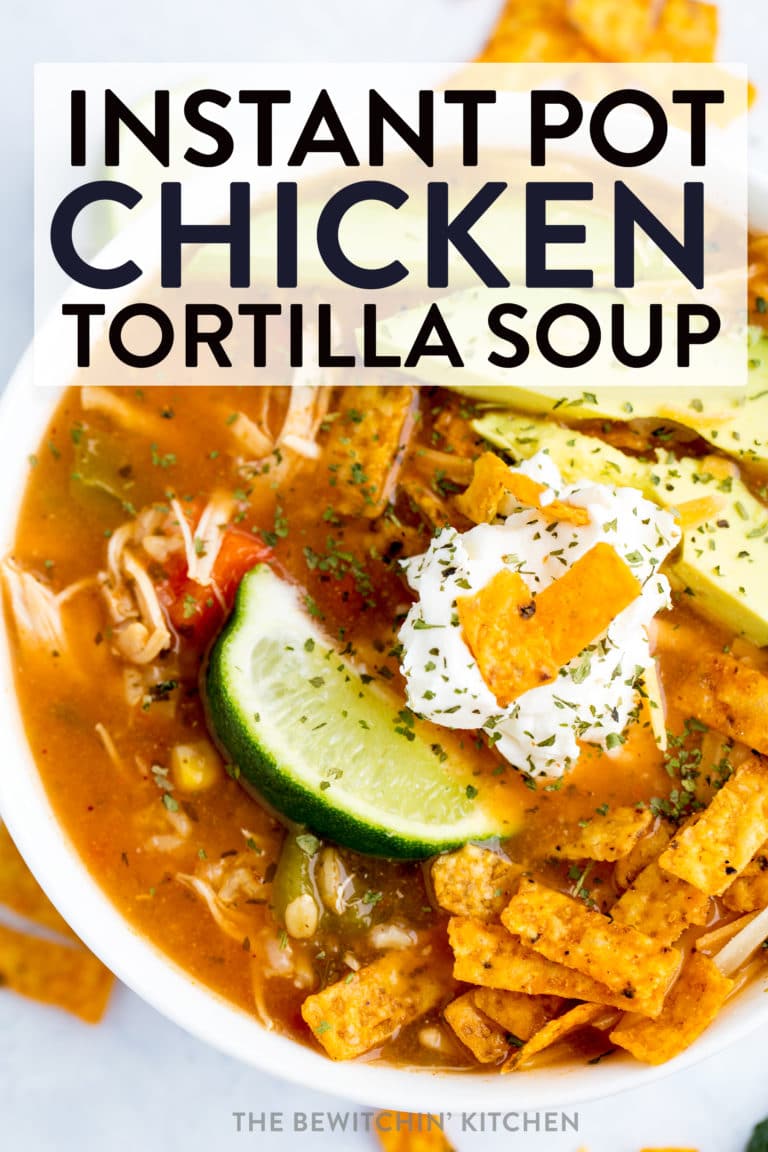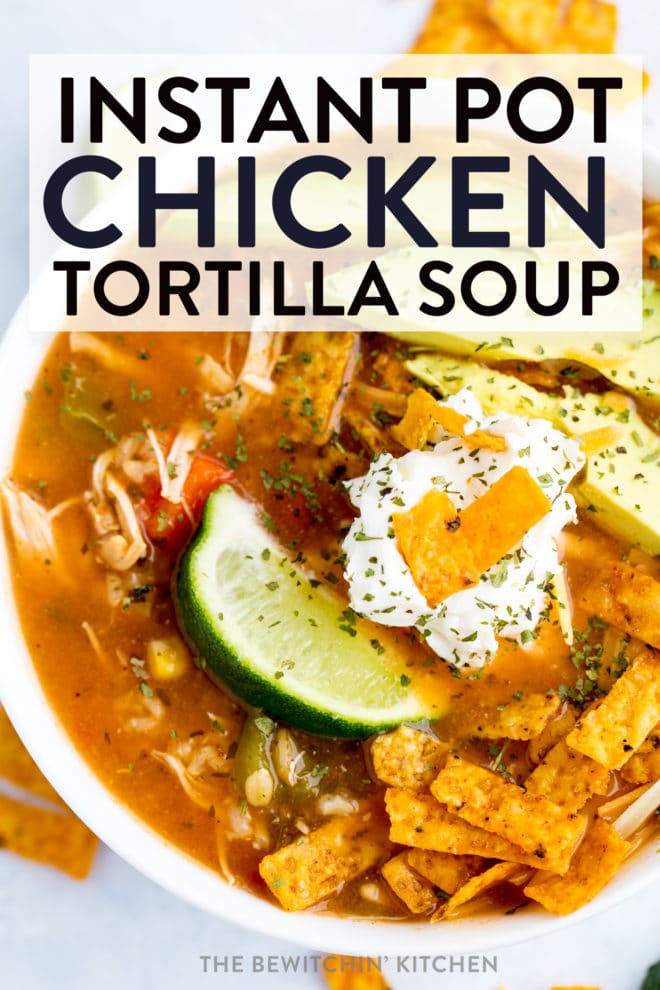 Instant Pot Chicken Tortilla Soup
Disclosure: This recipe contains affiliate links.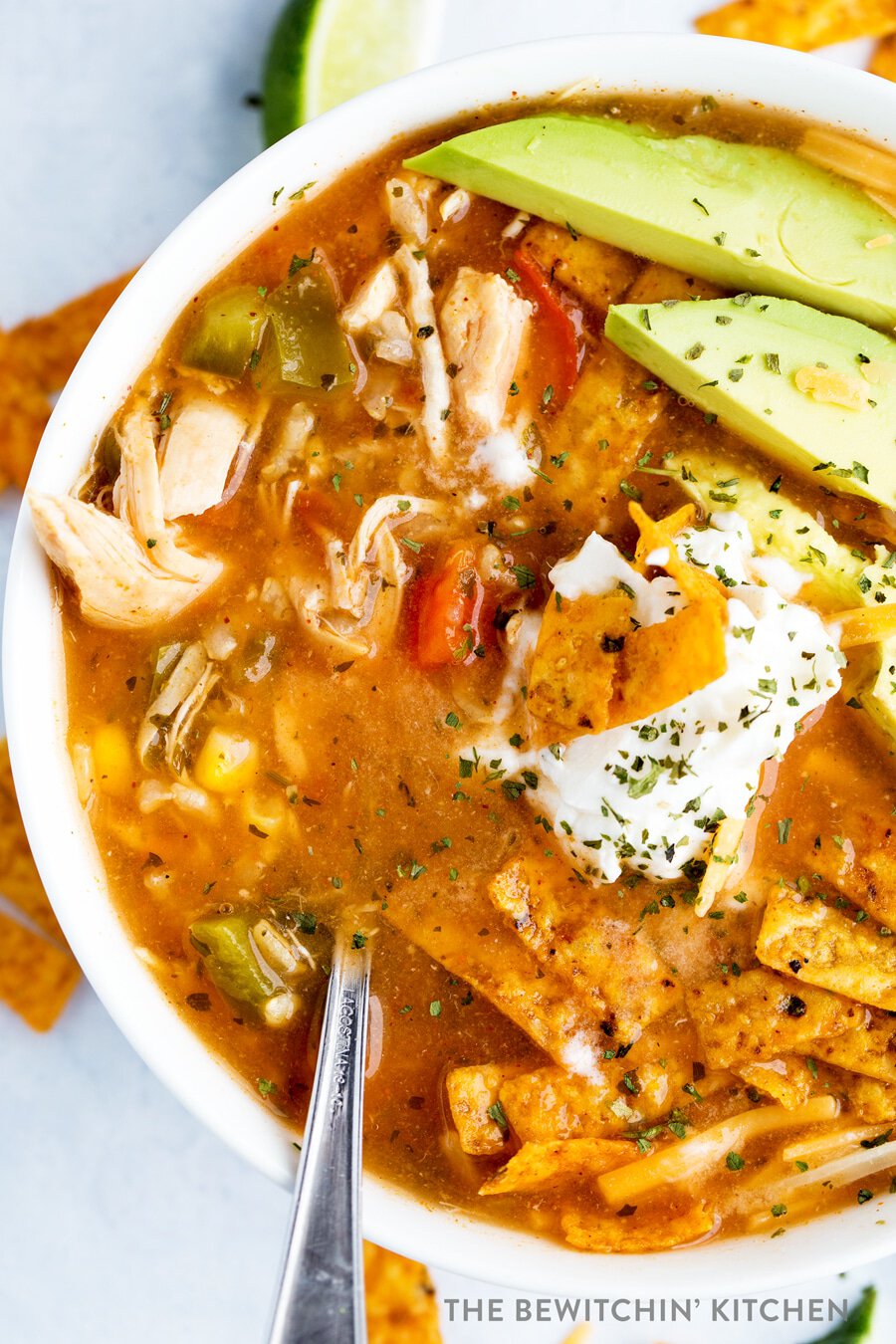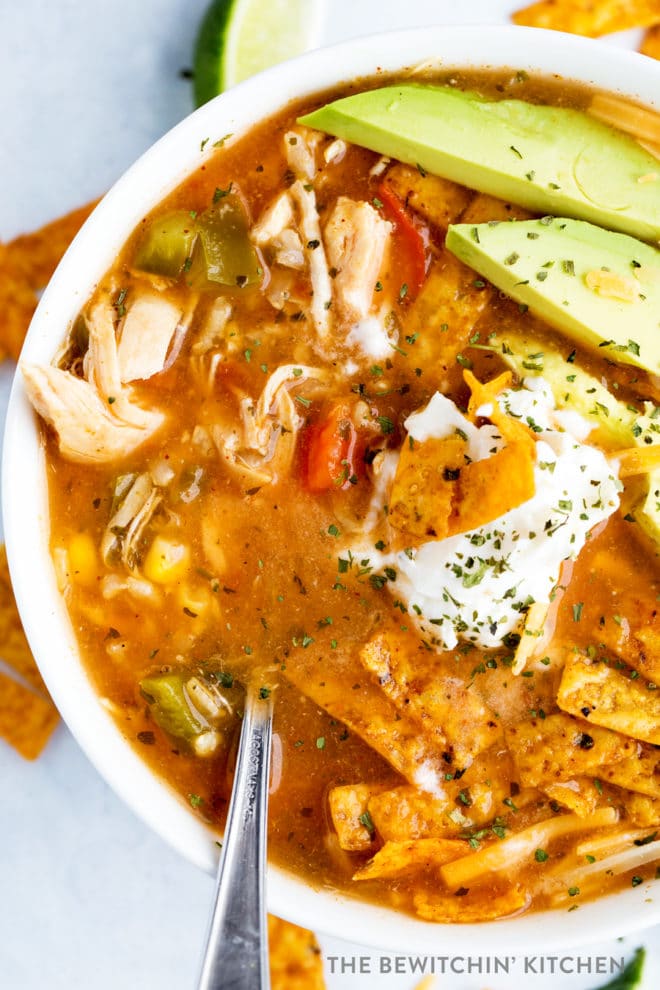 Randa's Tip: This recipe can be easily made in the slow cooker or over the stove, it will require the same steps – just a longer cooking time.
I'm really into fast weeknight meals lately. Long gone are the days where effort is being put into dinner, I'm exhausted.
Hey! It's allowed, I'm growing a tiny human.
I'm finding that after I pick up my son from school, I'm done and the thought of cooking makes me an angry bear. Don't even get me started on if it's a hockey night.
I'm so darn tired. This will pass, right? I don't remember being this exhausted while being pregnant with my son. Sigh, but then I guess I'll be tired with a newborn.
The joys of motherhood. Okay – enough. I'm not complaining, just…venting. You guys know how it is.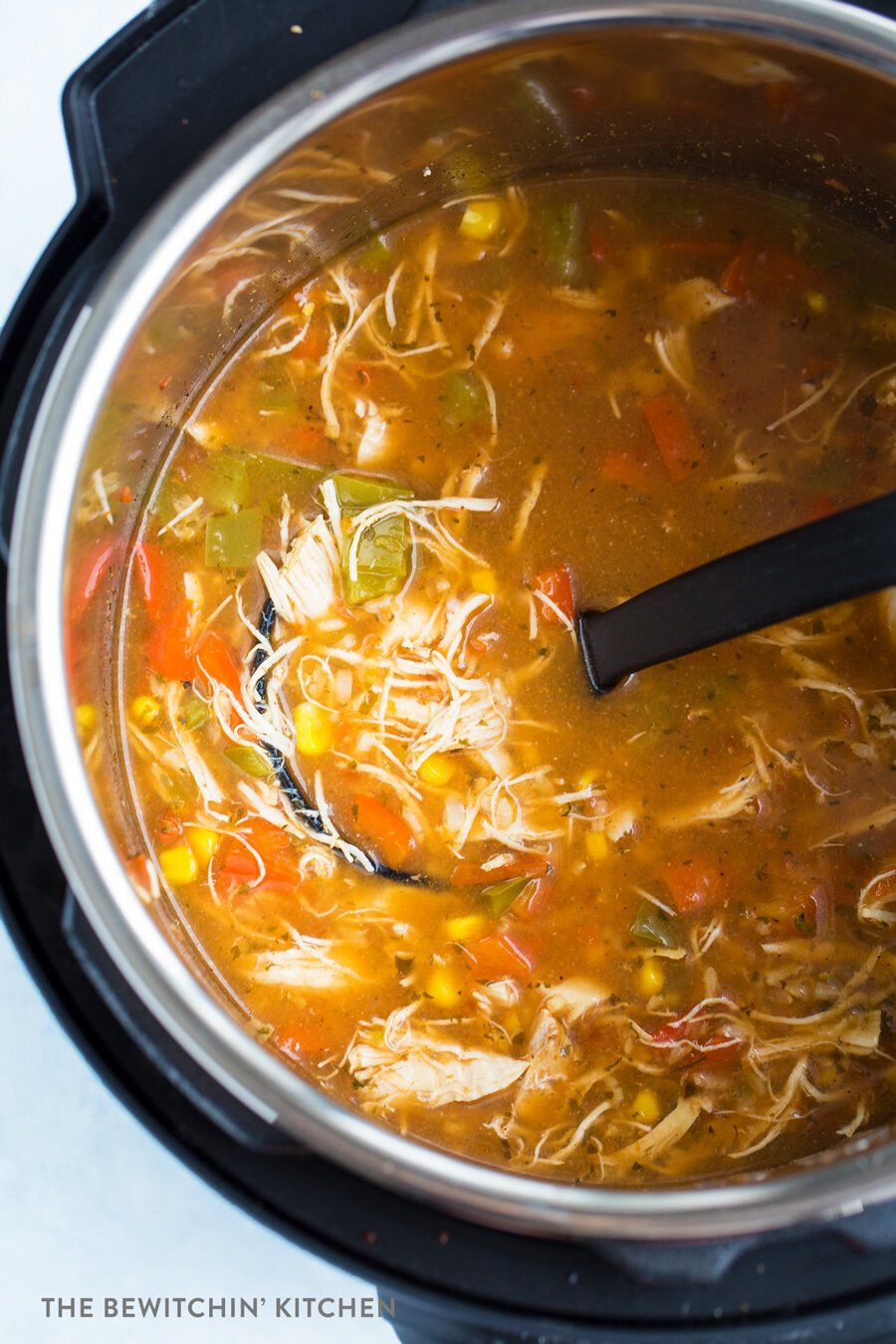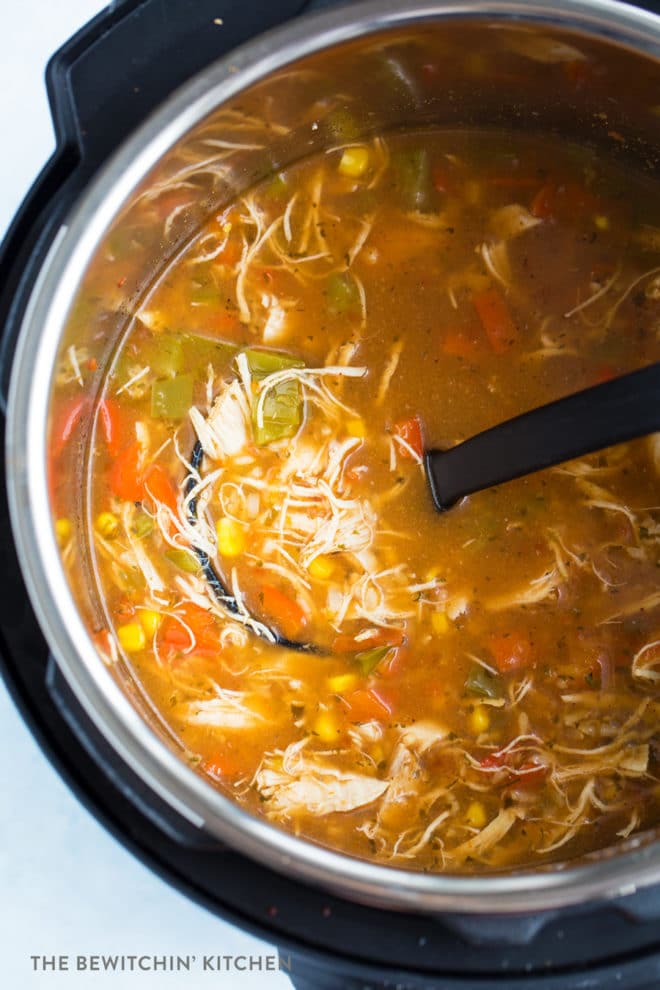 So while I was going through old blog posts, and came across an old rendition of a hearty chicken and rice tortilla soup from Campbells that was first published on TBK in April of 2010. I knew it was time for an update and an upgrade to make this recipe fit my current lifestyle (and to go with the times – the times of the Instant Pot). The current lifestyle being: I'm tired and don't want to put in work. So the Instant Pot Chicken Tortilla Soup was born.
Chicken and Rice Tortilla Soup

How do I make chicken tortilla soup Whole30 or Paleo? Easy peasy – just omit the tortillas and rice!
More Instant Pot Recipes: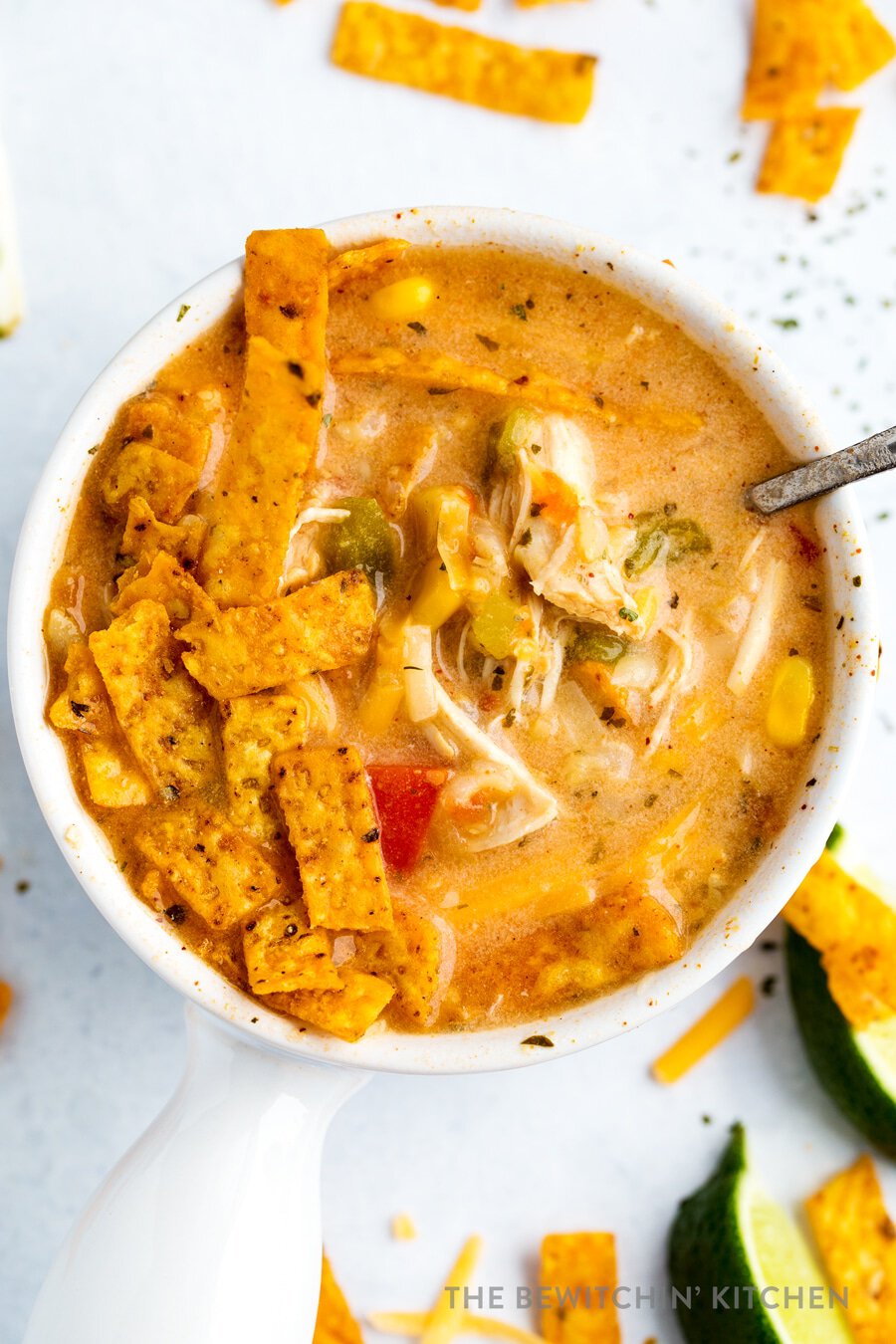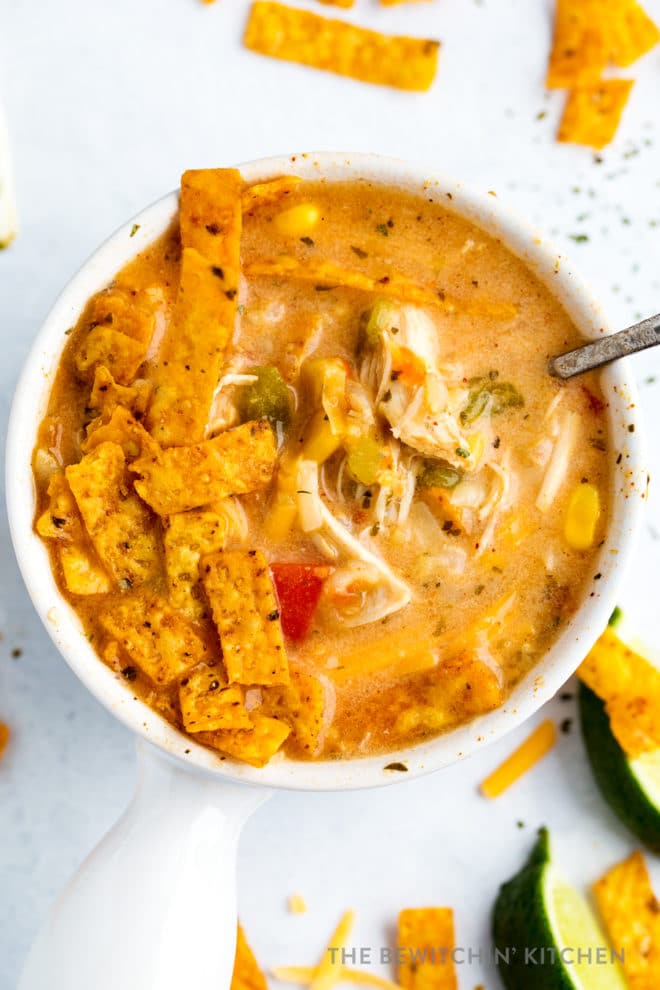 Products I recommend for this recipe:
See more healthy products I recommend on my Amazon Influencer page.
Instant Pot Chicken Tortilla Soup
This Instant Pot Chicken Tortilla Soup is a quick and easy weeknight meal that takes no effort but is healthy, low calorie, and delicious.
Servings 8
Calories 158kcal
Ingredients
3 chicken breasts boneless and skinless
1 green pepper diced
1 red pepper diced
1 cup corn
1 cup salsa
1/2 cup uncooked long grain rice
2 tbsps lime juice
2 tsps dried cilantro
1 tsp  cumin
1/2 tsp  chili powder
4 cups chicken broth
Tortilla strips for garnish
Sea salt to taste
Optional toppings: avocado greek yogurt, cheese, etc.
Instructions
Add all of the ingredients (except the toppings: tortilla strips, avocado, sour cream, etc) into the Instant Pot.

Put on the lid and seal the vent. Turn cooking option to manual for 25 minutes.

When the Instant Pot goes off, vent.

Take two forks and shred the chicken breasts. Test and add more salt if needed.

Serve into bowls and garnish with tortilla strips and optional avocado, sour cream, greek yogurt, etc.
Nutrition
Serving: 1g | Calories: 158kcal | Carbohydrates: 13g | Protein: 18.5g | Fat: 3.6g | Saturated Fat: 0.6g | Cholesterol: 54.2mg | Sodium: 689mg | Fiber: 1.7g | Sugar: 3.6g
Follow On Pinterest
Follow @bewitchinkitchen On Pinterest for more delicious recipes!