Hearty Chicken Tortilla Soup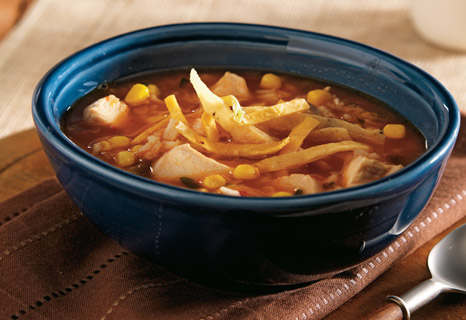 Photo From Campbell's Kitchen
Here is another great recipe that is perfect for a quick weeknight meal. This is a nice meal to have on a chilly autumn day and will become a classic recipe to pass down to your family for generations to come. Bonus part of this? It's so simple.
Chicken Tortilla Soup
Vegetable cooking spray
4 skinless, boneless chicken breasts, cut into 1-inch pieces (about 1 pound)
3 1/2 cups Swanson® Chicken Broth  (Regular, Natural GoodnessTM or Certified Organic)
1 teaspoon ground cumin
1/2 cup uncooked regular long-grain white rice
1 can (11 ounces) whole kernel corn with red and green peppers, drained
1 cup Pace® Chunky Salsa 
1 tablespoon chopped fresh cilantro leaves
2 tablespoons fresh lime juice
Crisp Tortilla Strips  

Spray a 6-quart saucepot with cooking spray. Heat over medium-high heat for 1 minute. Add the chicken to the saucepot. Cook until it's browned, stirring often.
Stir the broth, cumin and rice in the saucepot. Heat to a boil. Reduce the heat to low. Cover and cook for 20 minutes.
Stir the corn, salsa, cilantro and lime juice in the saucepot. Cook until the rice is tender. Top each serving of soup with Crisp Tortilla Strips.

Crisp Tortilla Strips: Heat the oven to 425°F. Cut 4 corn tortillas into thin strips and place them on a baking sheet. Spray with cooking spray. Bake for 10 minutes or until golden.

1 1/2 cup = 228 calories, 3g of fat, 799mg of sodium
FREE Recipe Binder
Are you constantly wondering what's for dinner?
When I don't meal plan I feel behind, and we usually end up ordering take out. This recipe binder will keep you organized and make life a little bit easier.