Curried Cauliflower Soup
I love healthy recipes that not only taste delicious but are simple to prepare. This curried cauliflower soup recipe ticks all the boxes: healthy, easy, and filling.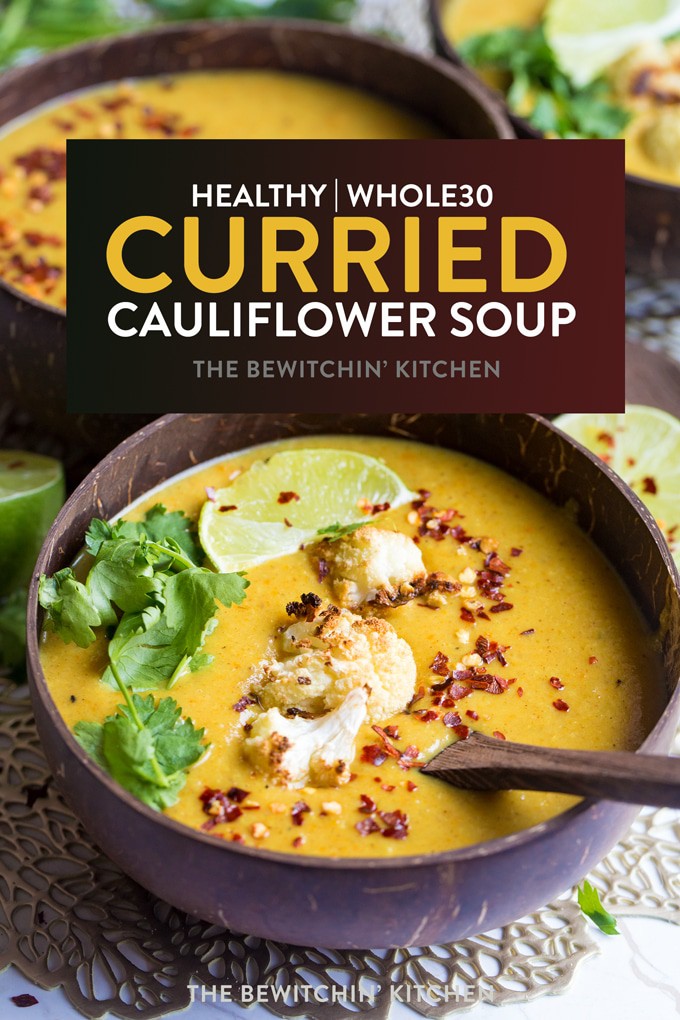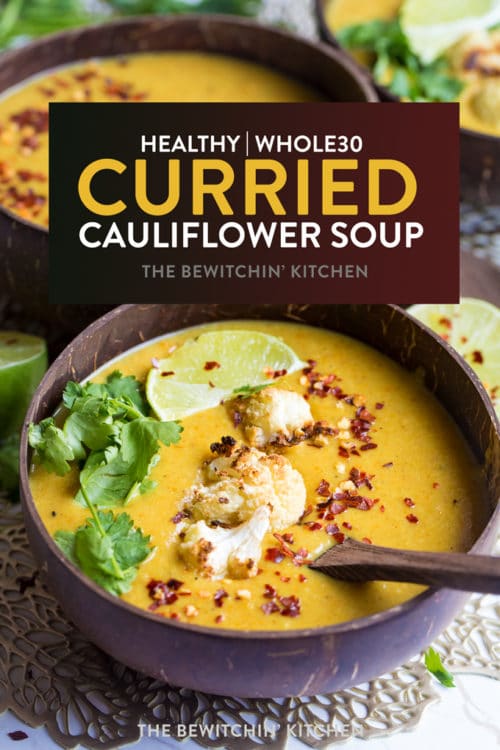 Curried Cauliflower Soup
Thank you to my friends at iHerb for sponsoring this roasted cauliflower soup recipe. Along with a sponsorship, I am also an affiliate. I received the ingredients from iHerb, give them a try and get a discount.
One of my most popular recipes on The Bewitchin' Kitchen is this Whole30 Coconut Curry Meatballs. With 400,000 shares, it's a fan favorite.
I wanted to take some of the ingredients from that recipe and transform it into soup because it's fall and let's face it, soup is awesome.
Instead of red thai curry paste, I used a curry powder because I was adding limes (limes are in curry pastes) and I wanted that golden color. I also wanted to use curry powder because I wanted it to be a cross between the meatballs I mentioned above and my mom's curry cauliflower casserole (but much healthier, as it has wholesome ingredients).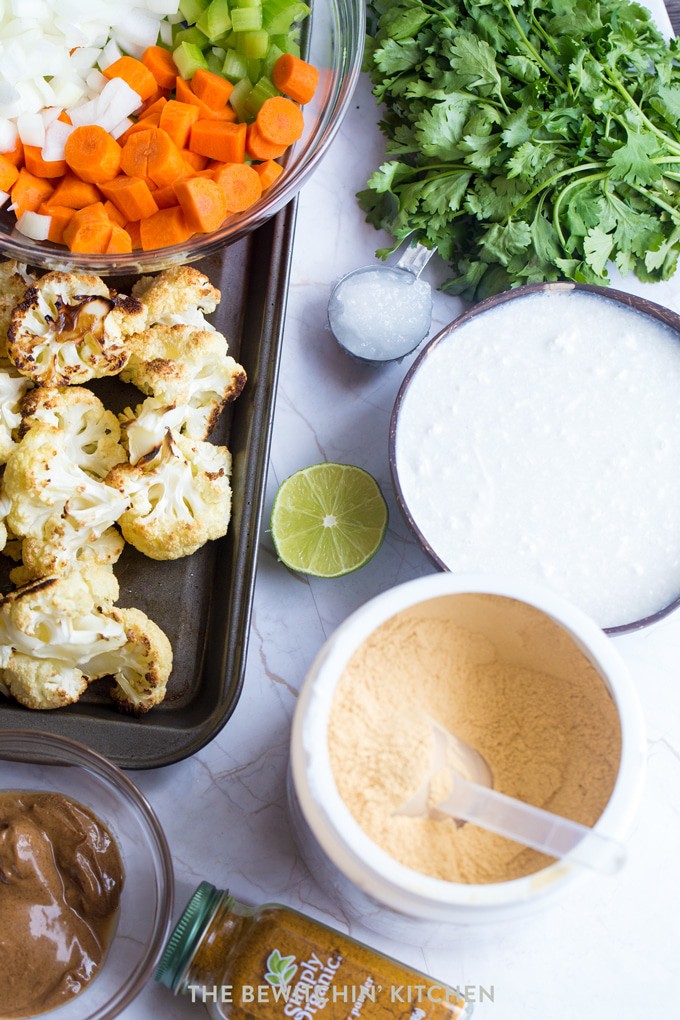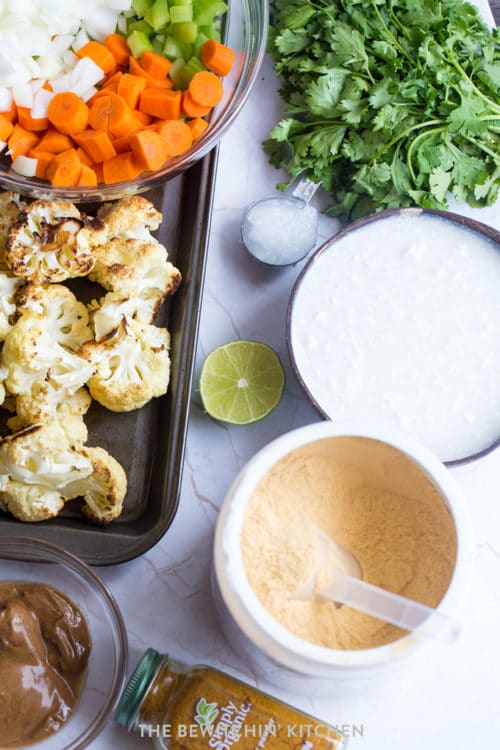 I love soups that have pureed cauliflower because the super vegetable makes everything so creamy, and being that my husband is limiting dairy in his diet right now this really helps with adding a variety of options to our meal plan.
TBK's Pro Tip: Roast the cauliflower before pureeing it, it brings out the sweetness.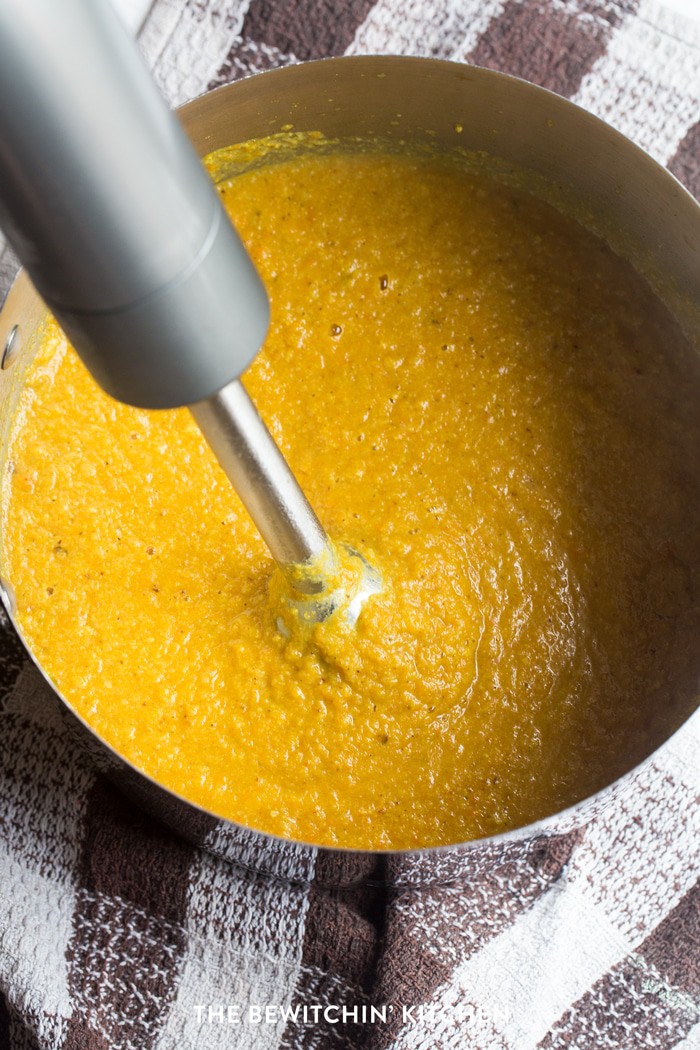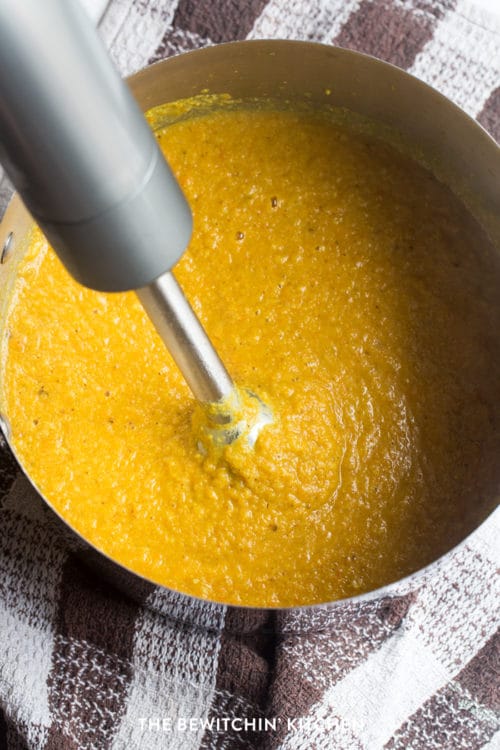 I was worried about my picky eater. He thinks salad dressings are "spicy" so I didn't know how he would react to curry. Let's face it, pureed cauliflower soups don't look the best either and he definitely eats with his eyes.
So when he took a hesitant bite, and his eyes went wide, I was scared.
Then those blessed words sang from his lips.
This is so good.
Oh happy day!
Cooking with Collagen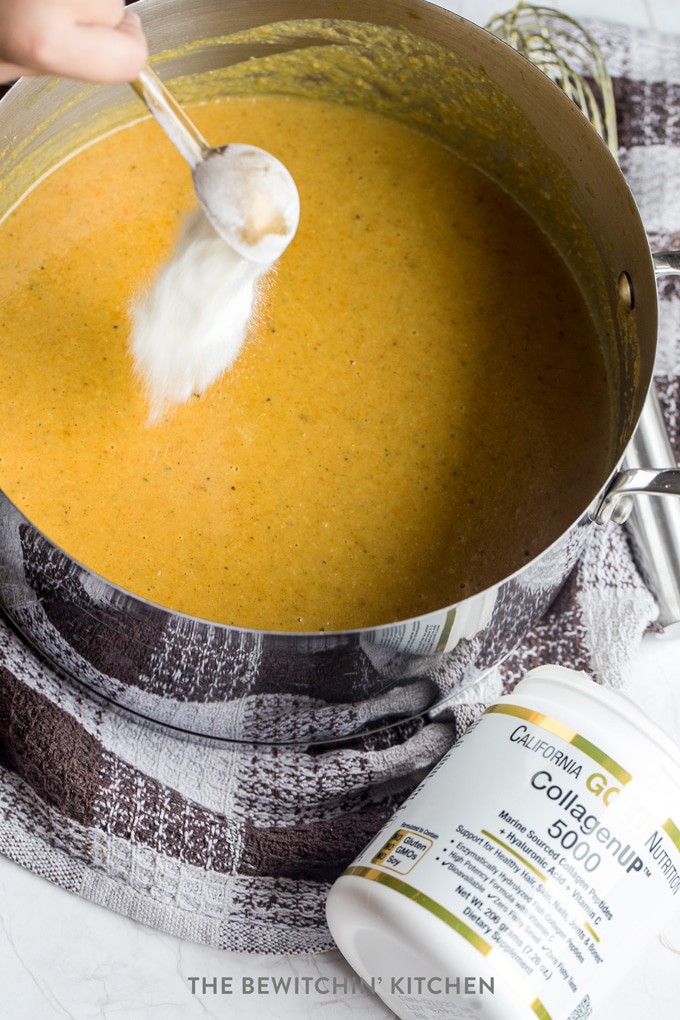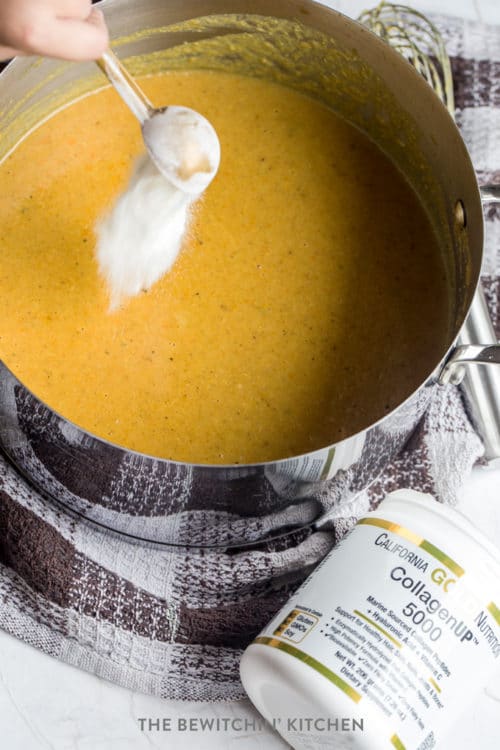 The downside to making a roasted cauliflower soup is the lack of protein. Right now I'm on a quest to build more muscle and my protein intake is high, so to make a cauliflower soup recipe fit my dietary needs I added two things:
Benefits of Collagen
Aside from a boost of protein, adding California Gold Nutrition CollagenUP to your soups, smoothies, coffee will give you the following:
Eases joint, knee, back pain.
A whole ton of benefits for your skin. From improving skin elasticity to an improvement in the appearance of wrinkles!
Helps with digestive health.
Builds healthier nails.
In addition to CGN's CollagenUP, you will also get a boost of collagen by using the California Gold Nutrition Bone Broth UP Protein (I use it as a base to my soups).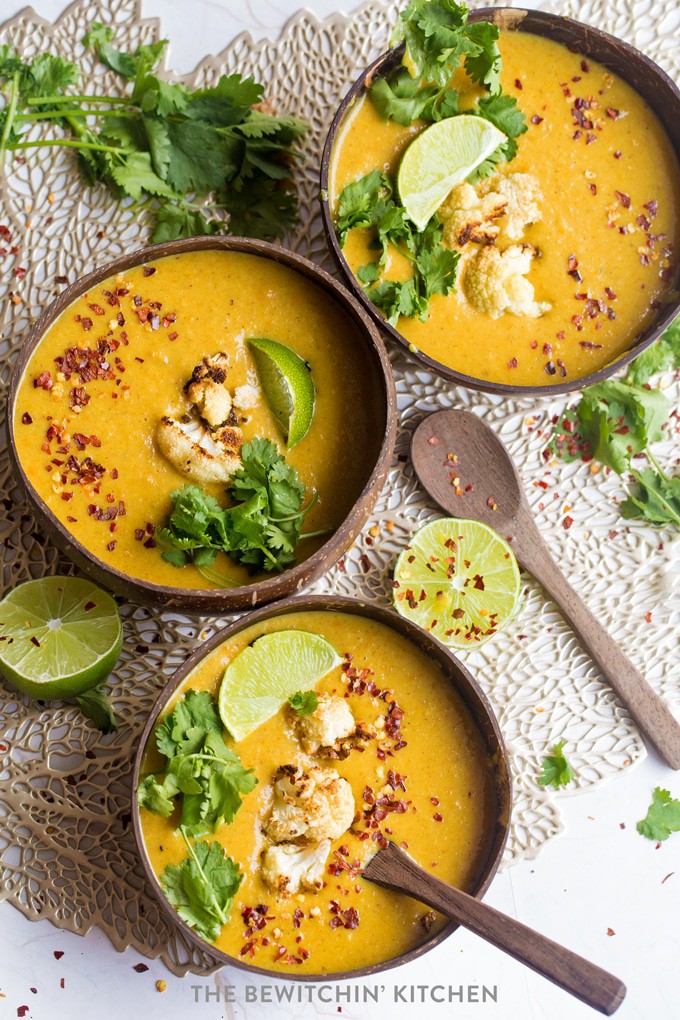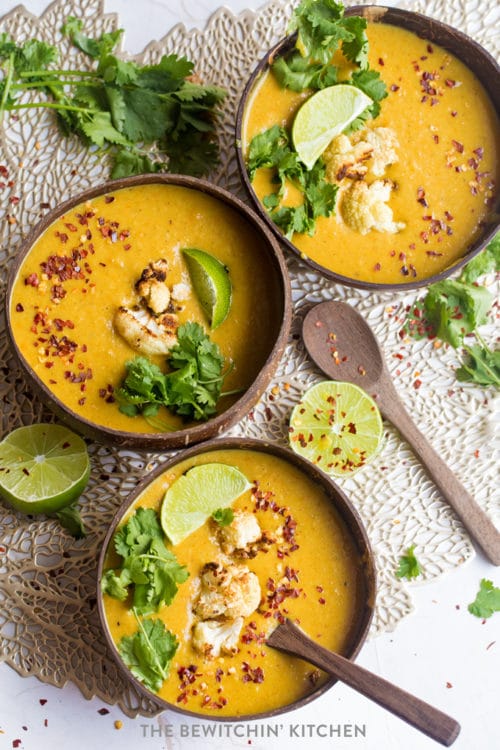 I put in an order from iHerb for a lot of the base ingredients for this recipe (aside from the produce). It was my first time ordering from them and I was really impressed with the selection and prices. They have over 5000 grocery products and ship to over 160 countries! I'm so excited about that because sometimes when I post a receive I'll receive emails from Australians where we don't have some of the same ingredients, then we have to put our heads together for something similar.
Now I know I can send you guys to a store where we can get the same foods!
I spent a few hours browsing iHerb and saw they had many of my favorite brands (including my favorite protein bars) for a lot less than buying it at my grocery store.
21 Day Fix Container Counts
I've been asked many times to include the container counts to my recipes. I'm slowly adding them. I hope this helps!
Full recipe: 8 green, 4 red, 5 blue, 18 tsps.
Per serving: 1 green, 1/2 red, 1/2 blue, 2 1/4 tsps.
Curry Cauliflower Soup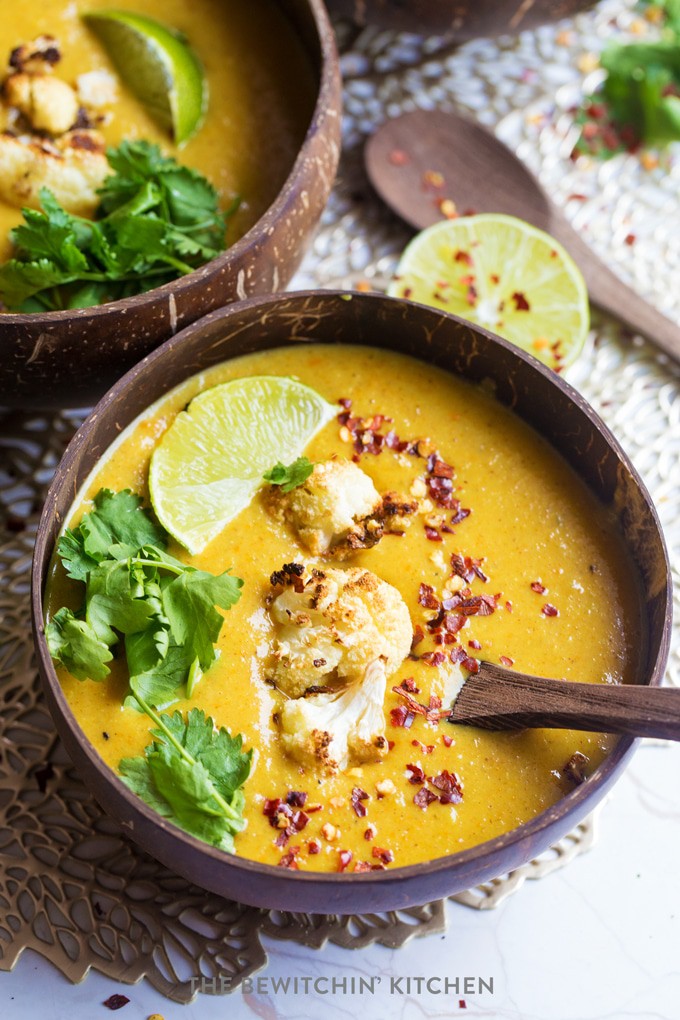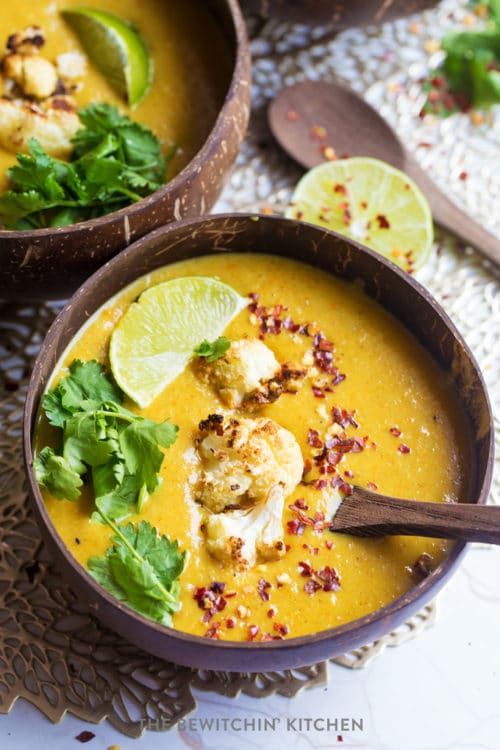 I'm still in shock that my son loved this roasted cauliflower soup recipe. This was such a win.
TBK's Pro Tip: CLICK HERE to receive $5 off a minimum $40 order. ALL iHerb customers receive discounts, but this $5 off your order is for new customers only.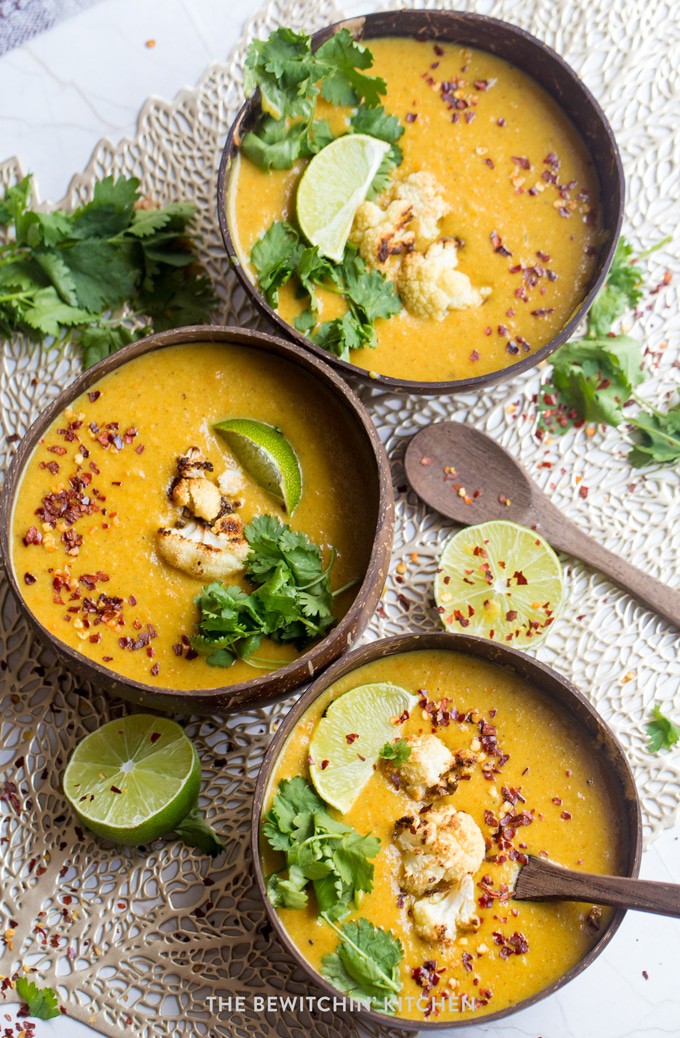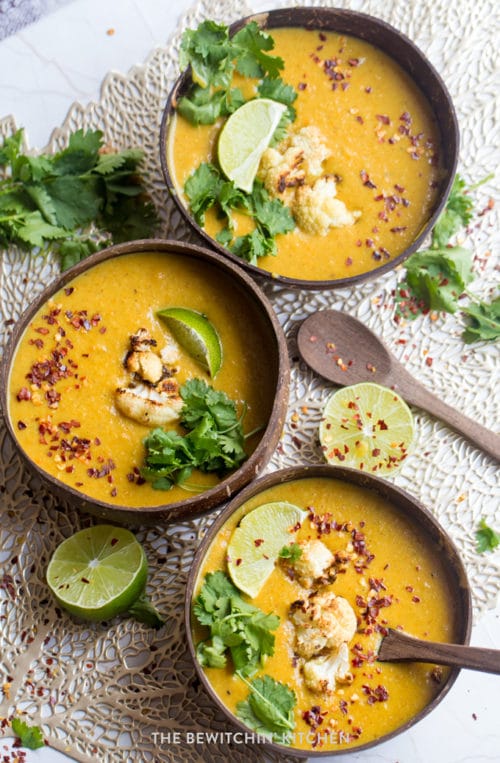 Coconut Milk Soup Recipes on The Bewitchin' Kitchen
Here is the shopping cart that has (almost) everything you need to make this recipe. Just click to check out! This doesn't have canned coconut milk or vegetables.
Curried Cauliflower Soup
This curried cauliflower soup is awesome! A healthy and easy, Whole30 recipe that uses collagen peptides to up the protein in this low carb soup.
Servings 8 servings
Calories 406kcal
Instructions
Roasting Cauliflower
You'll want to roast the cauliflower first by drizzling a little olive oil over the olive oil on a baking sheet and sprinkling with sea salt.

Roast for 25 minutes.
Making the soup
Melt the coconut oil over medium heat in a stockpot.

Add the carrots, onion, celery, salt, and pepper. Stir around for 3-4 minutes, or until onion is translucent.

Add the curry, cauliflower, water, and bone broth. Cover, bring to a boil, then take it down to a simmer for 20 minutes.

Remove off the burner and puree with an immersion blender. If you don't have one, transfer to a blender to puree and then add back to the pot.

Add the lime, lime zest, coconut milk and almond butter. Heat through.

Add the collagen, you may need to whisk to have it blend smoothly.

Garnish with any additional limes and cilantro.
Notes
Weight Watchers Freestyle: 9 SmartPoints as listed. 5 SmartPoints when using light canned coconut milk instead of full fat.
21 Day Fix Container Counts
I've been asked many times to include the container counts to my recipes. I'm slowly adding them. I hope this helps!
Full recipe: 8 green, 4 red, 5 blue, 18 tsps.
Per serving: 1 green, 1/2 red, 1/2 blue, 2 1/4 tsps.
Nutrition
Serving: 1g | Calories: 406kcal | Carbohydrates: 14.6g | Protein: 15.9g | Fat: 31.4g | Saturated Fat: 21.1g | Sodium: 632.2mg | Fiber: 4.3g | Sugar: 6.1g
Follow On Pinterest
Follow @bewitchinkitchen On Pinterest for more delicious recipes!