10 Things You MUST DO at Legoland California
If you have a young child (or a young child at heart) and are planning a trip in the SoCal area, you have to visit Legoland California. My son had a ball here and I'm so glad that we visited. Here are 10 things you have to do at Legoland in Carlsbad, California.

Legoland California: 10 Things You Must Do
This post contains affiliate links.
Aside from the obvious rides (The Dragon, Lost Kingdom Adventure, Coastersaurus) I wrote a few little details that I don't want you to miss during your visit at Legoland California! Am I an expert at Legoland California? No, I have only been once but here are the little things our family took advantage of that made our trip extra special.
1. If It's Your First Visit – Tell the Ticket Booth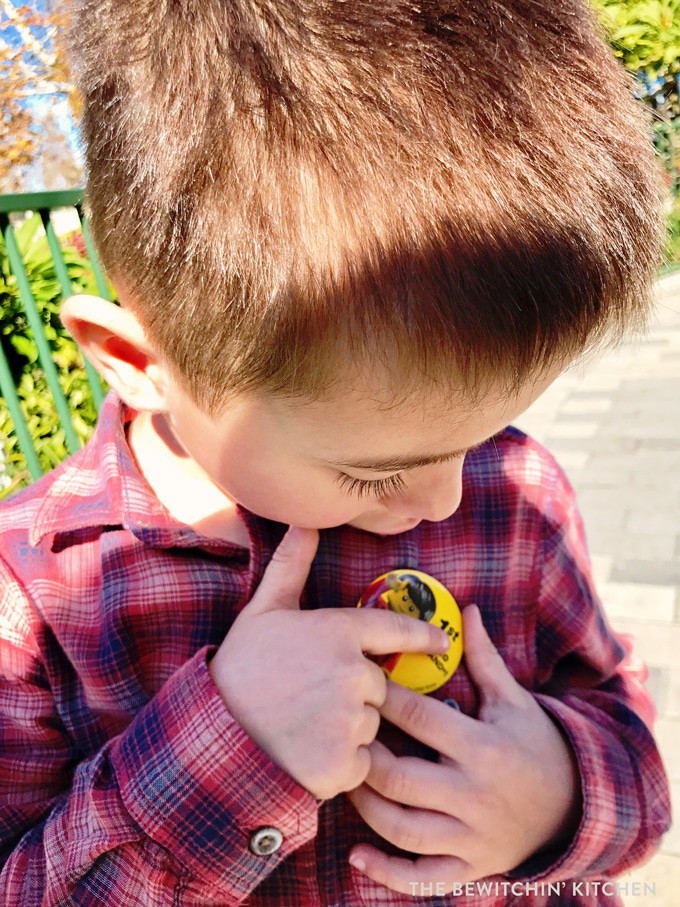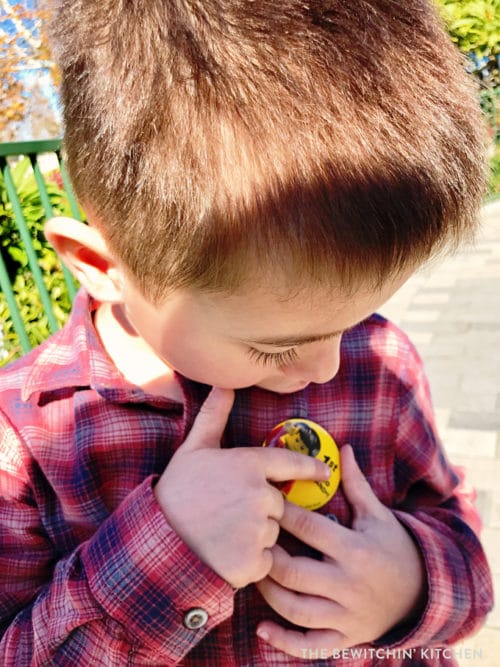 First-time visitor? Let the person running the ticket booth know, they'll give you a special button!
2. Granny's Apple Fries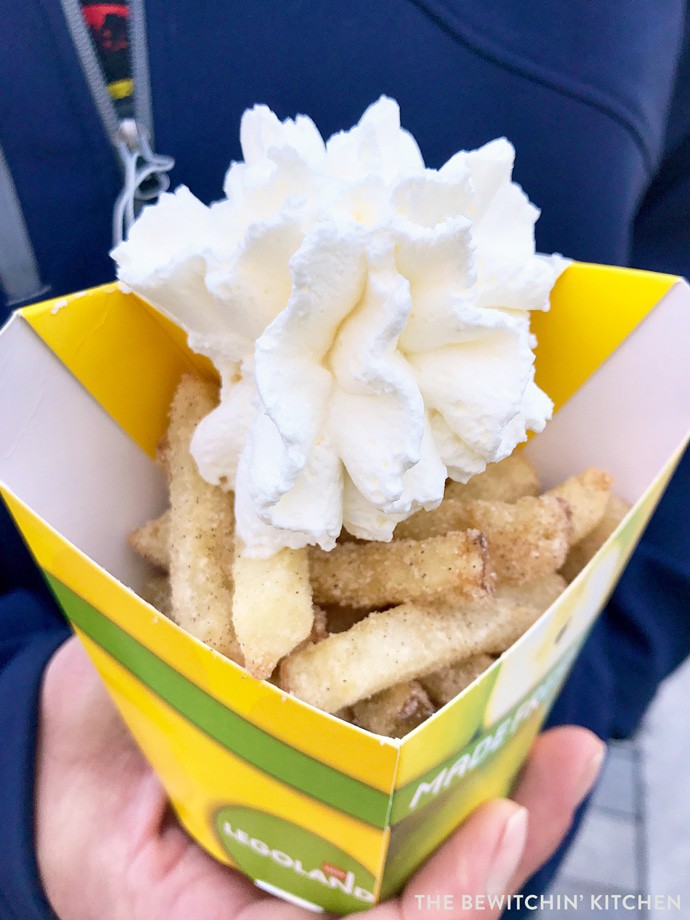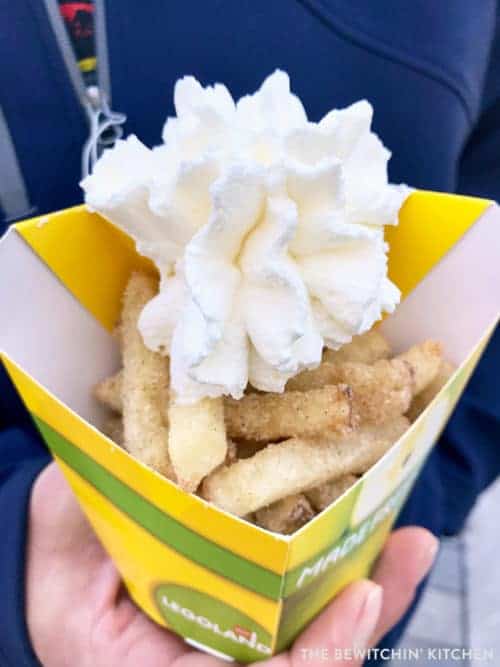 Over past the Castle Hill area is a delicious treat stand called Granny's Apple Fries. Get yourself an order, they're delicious! Apple fries are fried apples, sprinkled with cinnamon sugar with whipped cream for dipping.
3. Miniland
Spend time over at Miniland. Legoland in itself is impressive, I can't build anything other than a tower and you find characters and trees entirely built of lego. Miniland is awe-inspiring. You'll find New York City, San Fransico, and many other famous landmarks from the USA in this awesome display.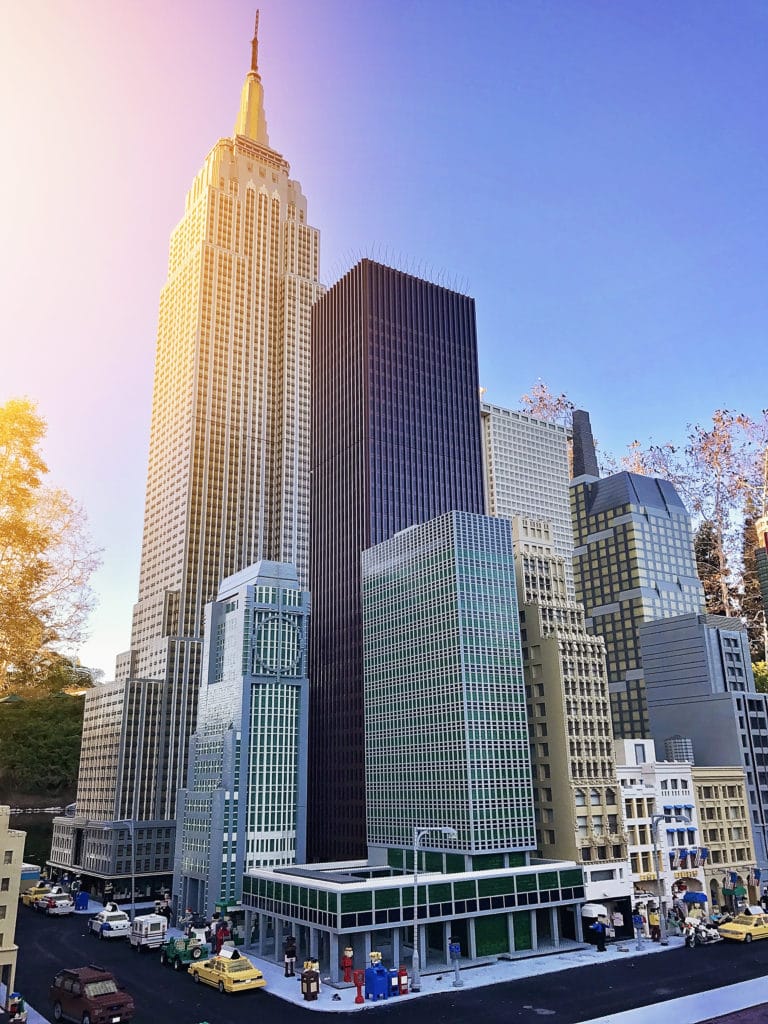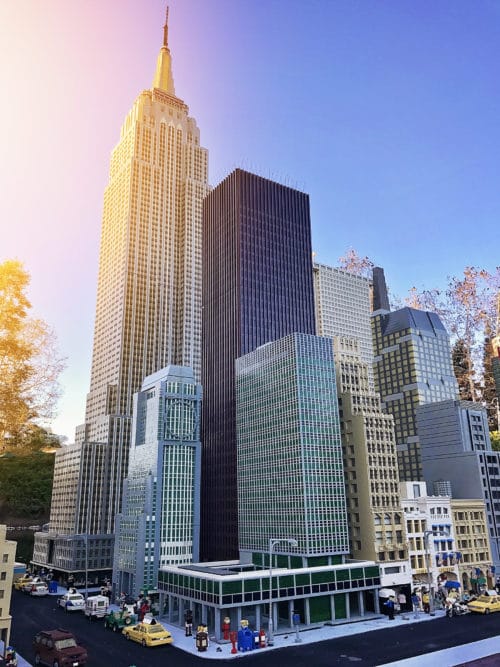 4. Take Advantage of Package Pick Up Service
No one likes to multiple bags around, so take advantage of Legoland California's package pick up service! This service is available for any purchases made at Legoland retail stores inside the park. Simply make your purchase and then grab your souvenirs at the Package Pick Up area in The Beginning near the Locker and Stroller rental.
5. Trade a Minifigure
Did you know that when you bring a Minifigure from home, you can trade that in for a new one? While you're at Legoland California stop by a trading station. There are trading stations at the Dino Dig Store, Wild Woods Golf, and Kings Treasury.
6. Get There Early
I say this from experience. We arrived at Legoland at 1 pm, and we didn't get to experience the whole park since it closed early that day. By getting there early, not only are you beating the crowds (and the lines for the rides) you're also going to be able to ride everything by doing so! There are days that Legoland is open from 9:30-9 but the day we were there they closed at 5. Check out Legoland's hours when you're planning to visit.
7. Take Video
I wish I took more video of our time at Legoland. Our time at the park was so excited for my (then) four-year-old. Looking back on the video, and hearing his squeals of joy make me feel so happy. Pictures are fun, but there is something so special about capturing the moments in real time.
8. Eat!
The food at Legoland is really good, and that's something I wasn't expecting. Our family shared some snacks (Granny's Apple Fries and Ninja Kitchen's Bánh Mì Vietnamese sandwich) and had lunch at Knight's Smokehouse BBQ and I wasn't disappointed. After each snack and meal, I left thinking to myself that the food was really good. I also wasn't blown away by the prices, I found they were fair. That being said, check the promotions for deals because some restaurants will hold a kids eat free deal.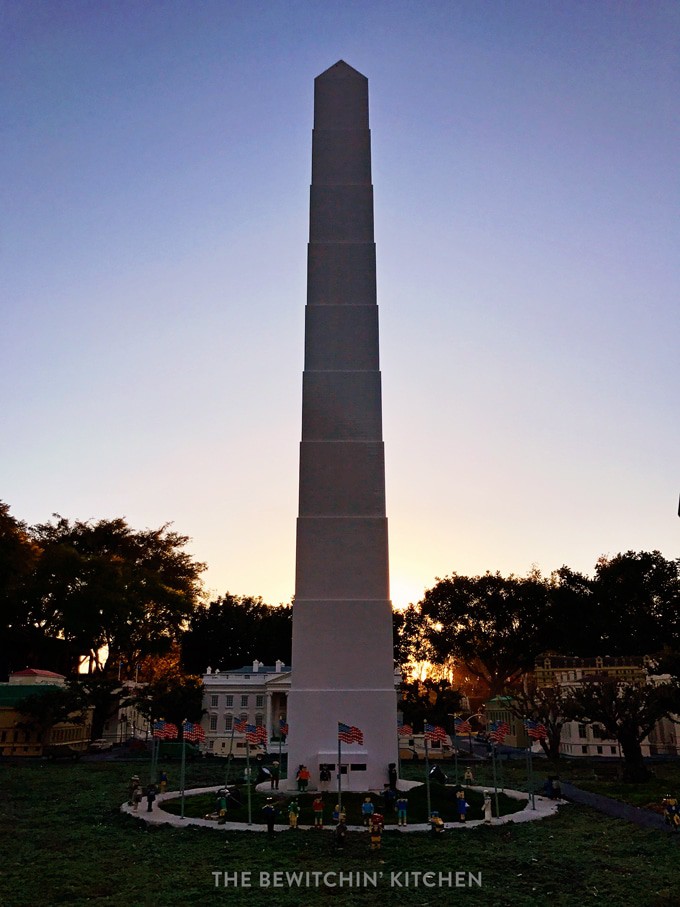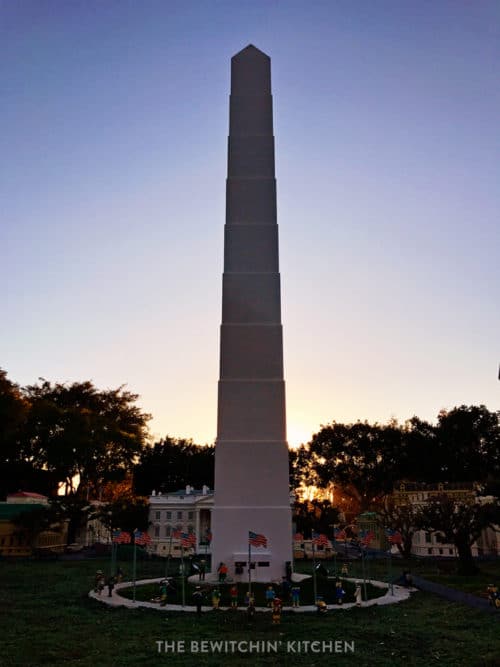 9. Bring a Change of Clothes
There is a lot of water at Legoland California. Rides that squirt water, the Legoland Waterpark, The CHIMA Waterpark, splash parks, and all the water attractions at Pirate Shores. Even if you're not going to the waterpark, you'll still get wet. Throw a suit under the kid's clothes and bring an extra pair of dry clothes (just in case). Legoland does have family dryers where you can purchase time and you stand in a big dryer to dry off!
10. Shop First
If you're planning on doing some shopping, do it as soon as you get there. If you wait until the end of the day to hit up the souvenir shops, it will be busy. Do it first thing and take advantage of tip 4!
TBK's Pro Tip: Save money on your tickets by purchasing a Southern California City Pass, buying on Groupon, or by taking advantage of the Early Bird deal.
What I loved about Legoland California was that my four year old was able to go on every ride he wanted to. The park is perfect for children under the age of ten, there are truly no restrictions and I love how family friendly it is. We're heading to Orlando in the new year and we're off to check out Legoland Florida to compare and because we know that it's a sure thing with our son.