Low Sugar Cookies Recipe
I was skeptical if I could make a low sugar cookies recipe work, but man did I ever deliver! I couldn't even tell that these cookies were low in sugar, let alone less than 0.1 grams of sugar per serving.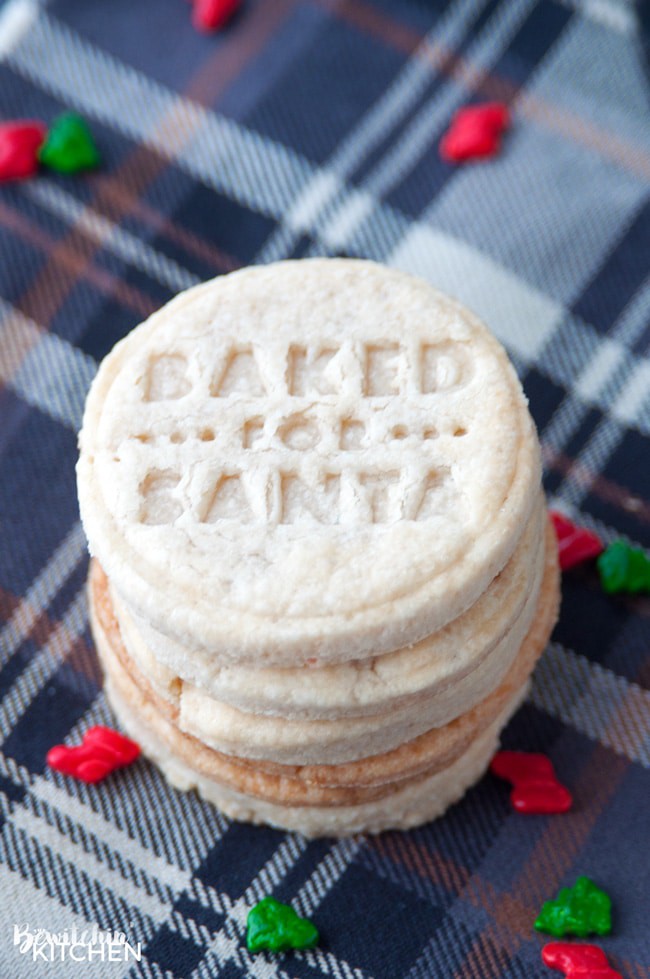 I've been a little bit of a grinch lately; it wasn't until I picked my son up from his pre-school Christmas party that I was hit with Christmas Spirit. We immediately walked home, put on some Christmas tunes (thanks Songza) and we made up these low sugar cookies.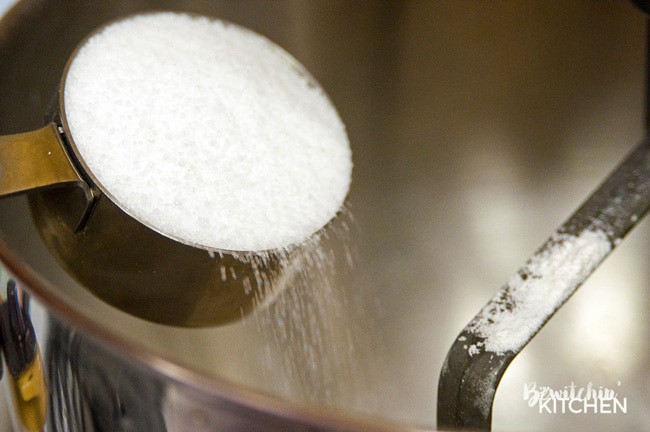 I made these cookies with the Truvia Baking Blend, and this isn't the first time I've used the baking blend before on the blog. It's been mentioned in my Caramel Cream Dip, Caramel Apple Waffles, Gingerbread Dessert Dip, and Cinnamon Whole Wheat Waffles. I've been buying the brand for years because it is my favorite.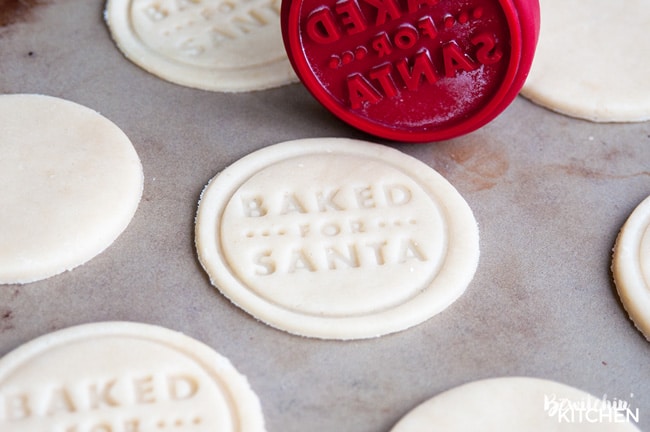 For those of you who haven't tried it before, Truvia Baking Blend is a blend of Truvia Calorie-Free Sweetener and sugar. Truvia Baking Blend bakes and browns like sugar, and you get the sugar-like taste, with 75% fewer calories per serving than regular sugar. In addition to that, you use a lot less because the bag goes a long way. I used the Truvia Baking Blend often and it is the key to my success with these Low Sugar Cookies.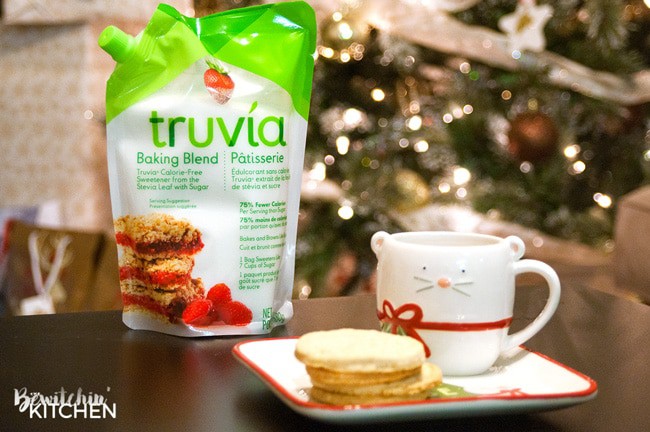 A delicious twist on tradition.
I remember as a child how magical it was to leave cookies out for Santa. It was the last step until I woke up to the big day. Waking up to find half eaten cookies and crumbs always added a special touch to my Christmas morning.
My family's new Christmas tradition warms my heart just the same: two days before Christmas, my son and I bake the cookies ourselves. I say two days before – otherwise all the cookies will be gone before Santa can get to them (like these cookies, I have three in the freezer right now for that reason). My son is three now so he feels extra-special when he can help mom, and I feel extra special because we're making memories together.
Now the fact that Santa is eating many cookies throughout his trip on Christmas Eve calls for a version with less-calories, and less sugar! I'm certain Santa is thankful that we saved him some extra calories with this low sugar cookie recipe.
Low Sugar Cookies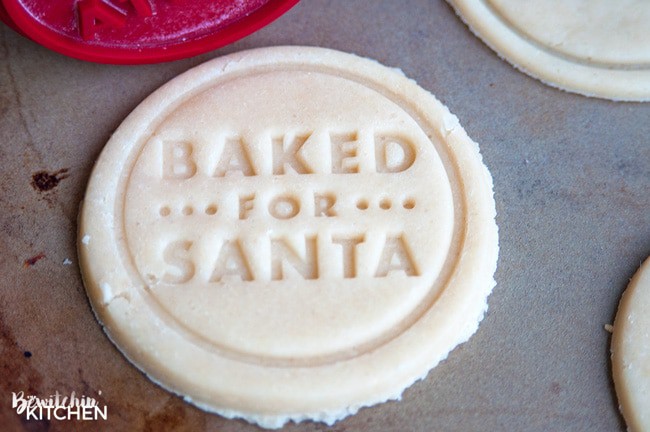 This recipe for Low Sugar Cookies is amazing! Even with less sugar and fewer calories, they still taste like the perfect sugar cookies that have been warm to my heart (and Santa's) for years. Just how many calories does it save? Let me break it down for you:
This recipe with sugar: 252 calories.
Low Sugar Cookies made with Truvia Baking Blend: 110 calories.
That's a savings of 142 calories PER COOKIE!
Note: if you use this cookie stamp (or any stamp) I found that I had better results when I stamped fresh out of the oven. The cookies cracked a bit (like show in the photos) but the phrase was more prominent.
Looking for a gluten free Christmas cookie recipe? Try these gluten free shortbread cookies from my Nutrition website, Randa Nutrition.
Low Sugar Sugar Cookies
This recipe for Low Sugar Cookies is amazing! With 0.1g of sugar per serving, it saves a ton of calories and they still taste like the perfect sugar cookie.
Servings 24 cookies
Calories 124kcal
Ingredients
2 1/2 cups all-purpose flour
1/3 cup Truvia Baking Blend
1/4 tsp salt
1 cup unsalted butter room temperature and cut into pieces
2 tsps vanilla extract
1/4 cup cream cheese softened
Instructions
Preheat oven to 350.

In a mixer (or use a hand mixer) add the flour, Truvia Baking Blend, and salt. Mix around for a few seconds.

Add the butter, one piece of a time and mix until it's crumbly – this took me a few minutes on low speed.

Add the vanilla extract and cream cheese and combine until the batter clumps together and can be formed by hand.

Form the cookie dough into two balls, wrap with plastic and put in the fridge for at least half an hour.

When firm, roll dough out to, roughly, 1/4 inch thick. Stamp with cookie stamp or cutter and lay on either a baking sheet with parchment paper or a stone baker.

Bake for 15-20 minutes.

Cool.
Nutrition
Serving: 1cookie | Calories: 124kcal | Carbohydrates: 10g | Protein: 1g | Fat: 8g | Saturated Fat: 5g | Cholesterol: 22mg | Sodium: 33mg | Potassium: 19mg | Vitamin A: 270IU | Calcium: 7mg | Iron: 0.6mg
Follow On Pinterest
Follow @bewitchinkitchen On Pinterest for more delicious recipes!
If you want to save this recipe, be sure to Pin it. You can pin it by either rolling over any photo or click the Pinterest logo on either the side or the bottom of this blog post.
This recipe has been sponsored by my friends over at Truvia. As always, all opinions are my own.