Champagne Floats
Champagne floats are an effervescent indulgence that's perfect for parties, poolside lounging in summer, or as a fun, fruity beverage any time of year. Plus, they are so easy to throw together! Combine your favorite sorbet with champagne and get to sipping.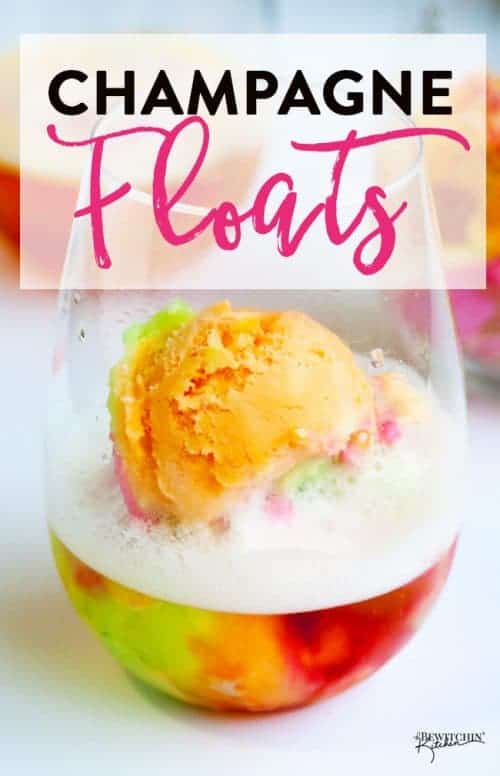 Champagne With Sorbet
Disclosure: This post contains affiliate links.
I was first introduced to champagne with sorbet when I visited my friend Britney (The Drunk Runner). They were so delightfully sweet and boozy, I've been thinking about them ever since.
It's surprising how two little ingredients can become such a delicious adventure. Who knew dessert could be so fun? I'll admit the sparkling wine does help with that a bit.
The first time I experienced this sparkling goodness, we used an orange sorbet. All I can say is — holy mother of yum. You guys, it was like an adult orange creamsicle. So darn good.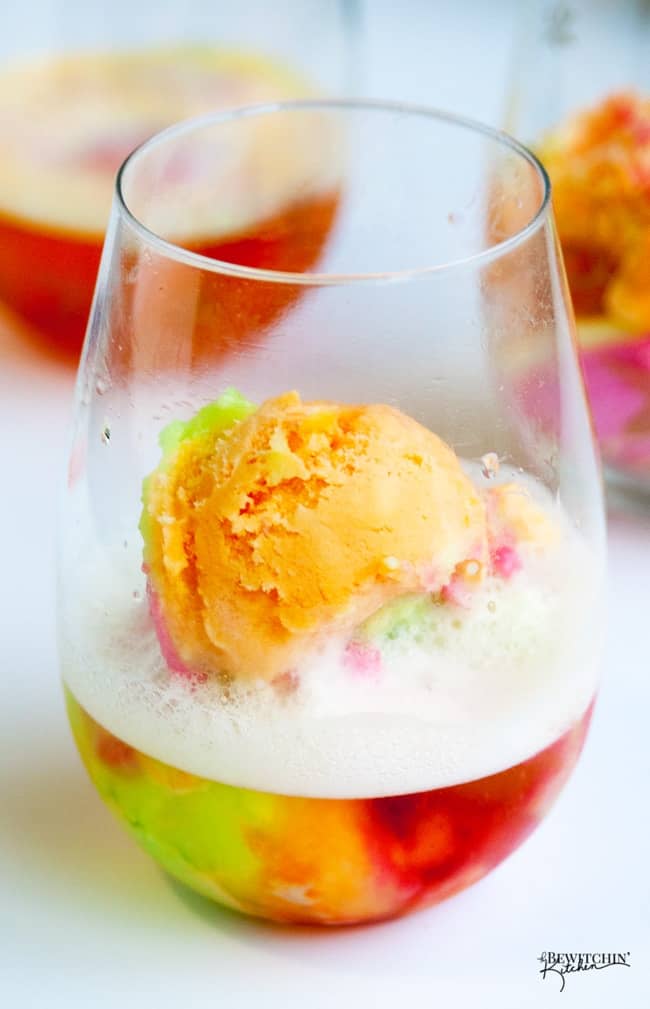 I used a colorful rainbow sorbet, but you can use any flavor you want. Champagne adds a sophisticated sparkle to any fruity sorbet.
You can also make your champagne floats sans alcohol for kids' birthdays or dry parties.
Why You'll Love Champaign Sorbet
Champagne floats add color and pizazz to so many occasions:
Pastel sorbets for Easter and springtime gatherings
Strawberry / mint sorbet with champagne for Christmas parties
My rainbow version for summer picnics
Any favorite flavor for a refreshing afternoon pick-me-up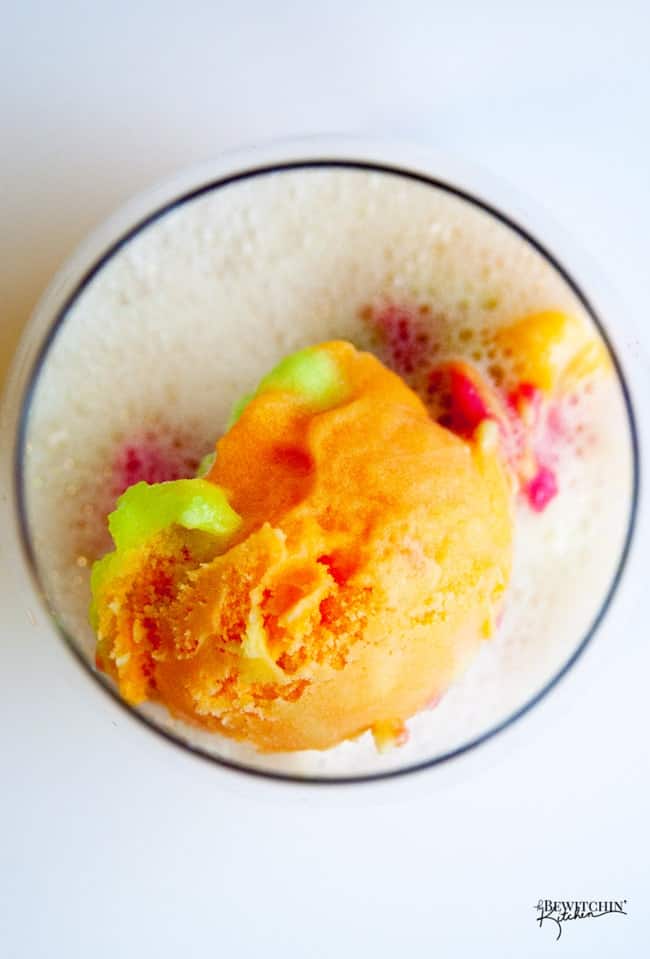 How To Make A Champagne Float
Champagne floats are pretty simple, and the amount of champagne you use is up to you. I like to keep it sweet, so I don't use much champagne (plus it looks prettier this way and less like swamp water).
Pro Tip: Avoid accidental breaks and broken glass by making your champaign sorbet floats in these unbreakable wine glasses.

2 Simple Ingredients
Champagne floats are super easy to make. All you need is:
Your favorite sorbet
Champagne or sparkling wine
Combining Sorbet With Champagne
All you need to do is scoop your sorbet into your glass, followed by the desired amount of champagne. And there you have it! Your champagne float is ready to party.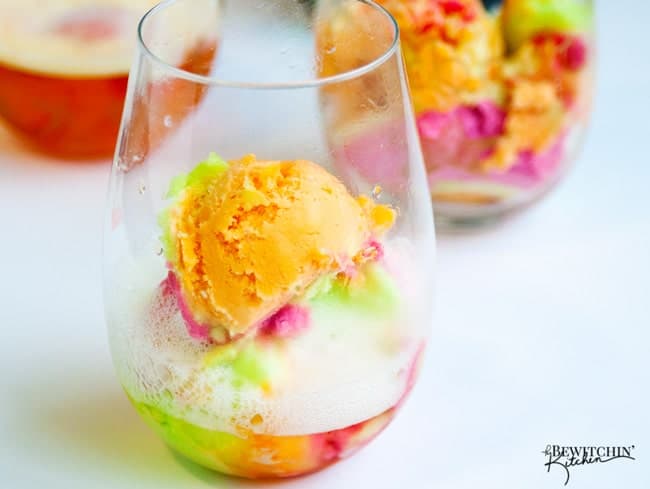 Frequently Asked Questions about Champagne Floats
How long before the sorbet melts?
Depending on the ambient temperature, champaign sorbet floats hold up well for about half an hour. While these are great for parties throughout the year, their frozen nature means they can only stay fun for so long — especially in the summer.
They're still super tasty when melted, of course. But the texture and the beauty will definitely change.
How do I make the kid-friendly version?
Just replace the champagne with any sparkling juice. Kids love sorbet with champagne! Sans the alcohol, of course.
The sparkling cider version of champagne with sorbet will be sweeter and will taste even more like dessert.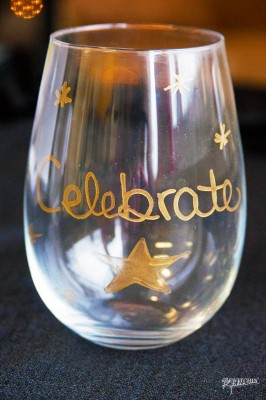 Dress Up Your Champagne Float
Dress up your wine glasses with this craft for DIY Gold Wine Glasses. It adds a little bit of elegance to your dessert (and they make a great hostess gift). Plus the craft is super easy, and that's probably what I love the most about it.
More Fun Drink Recipes
23 Mocktail Recipes That Look Damn Tasty
Strawberry Lemonade (replace the water with moscato!)
Champagne Floats
Champagne floats are a tasty indulgence that's perfect for parties, poolside lounging, or as a fun, fruity beverage any time of year.
Servings 4
Calories 103kcal
Ingredients
4 scoop sorbet I used rainbow sorbet
sparkling wine of choice
Instructions
This recipe is pretty straightforward, just scoop the sorbet and pour. That's it.
Nutrition
Serving: 1g | Calories: 103kcal | Carbohydrates: 22g | Protein: 2g | Fat: 0.4g | Sodium: 56mg | Fiber: 2g | Sugar: 16g
Follow On Pinterest
Follow @bewitchinkitchen On Pinterest for more delicious recipes!