Champagne Floats
I was first introduced to champagne floats two years ago when I visited my friend Britney (The Drunk Runner). I've been thinking about it ever since, and today I finally go around to making it. I'm so glad I did.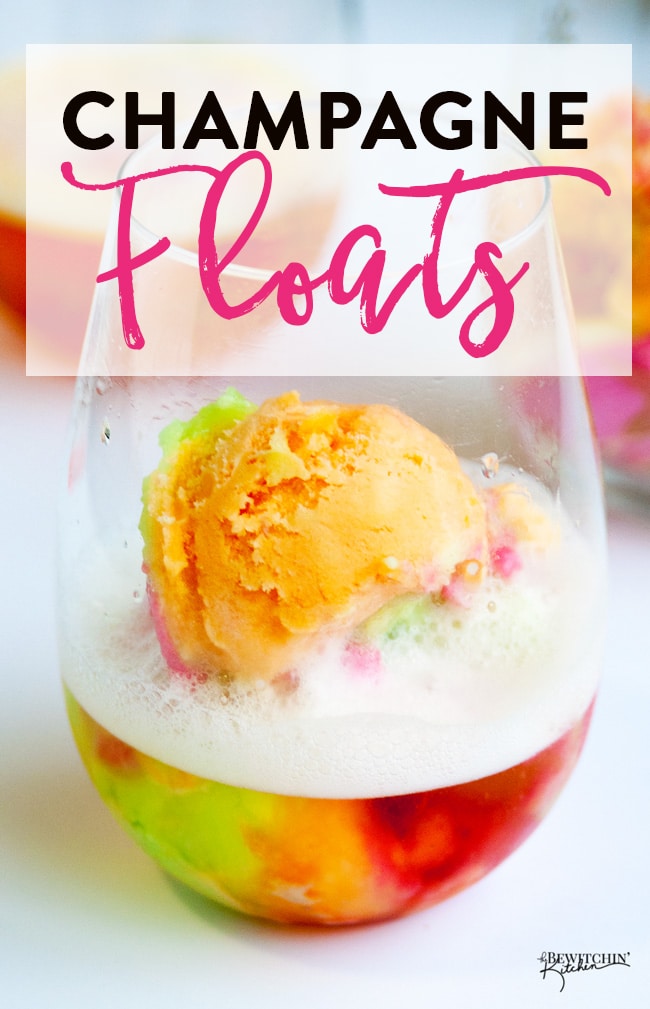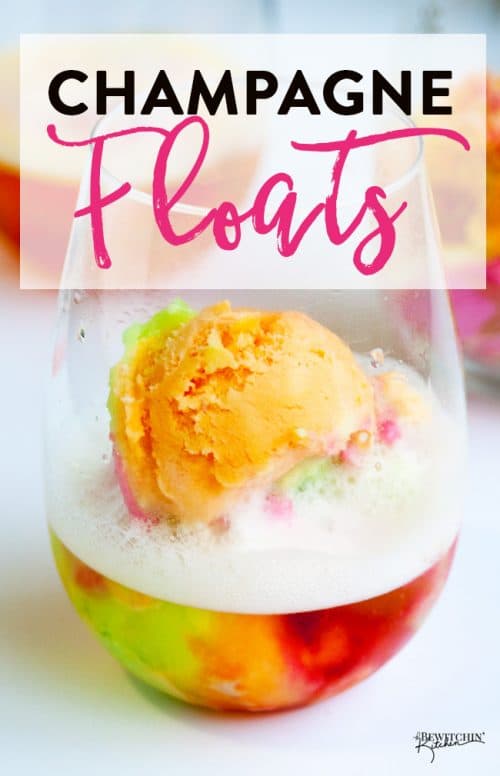 Champagne Floats
Disclosure: This post contains affiliate links.
When we made it two years ago we used an orange sherbert and all I can say is holy mother of yum. You guys, it was like an adult orange creamsicle. So darn good.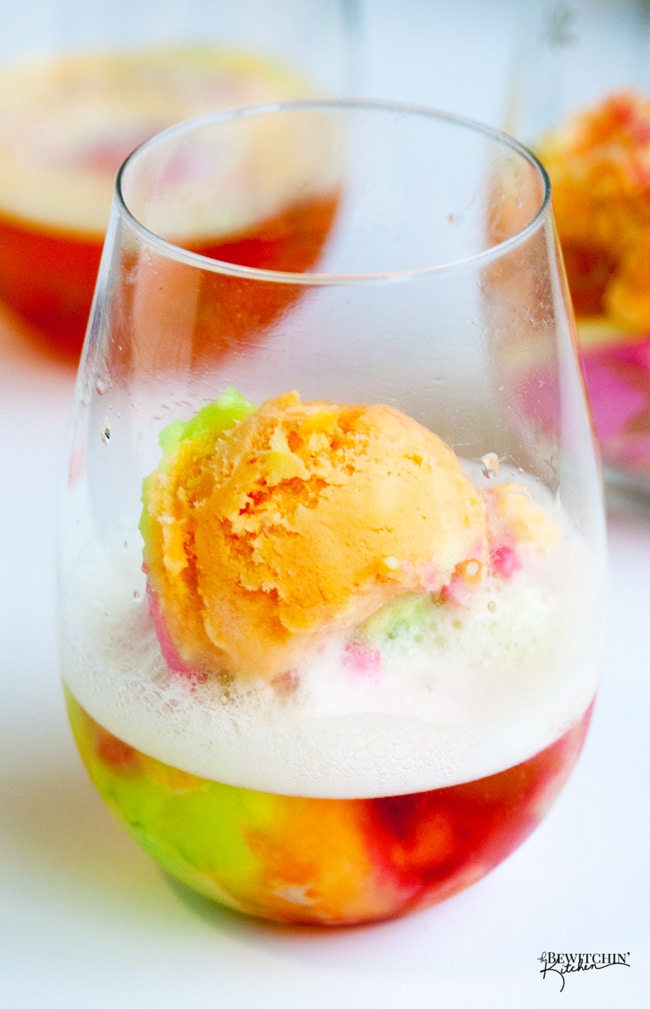 I originally wanted to create it with a raspberry sorbet, I thought it would be more "new years eve-ish" but all my local Save On had was rainbow. So it looks a little more like a summer treat than a holiday dessert.
That's alright, it still tastes good. It also made me realize how perfect champagne floats are for summer. It also inspired me for the upcoming post, Unicorn Floats (a kid-friendly version).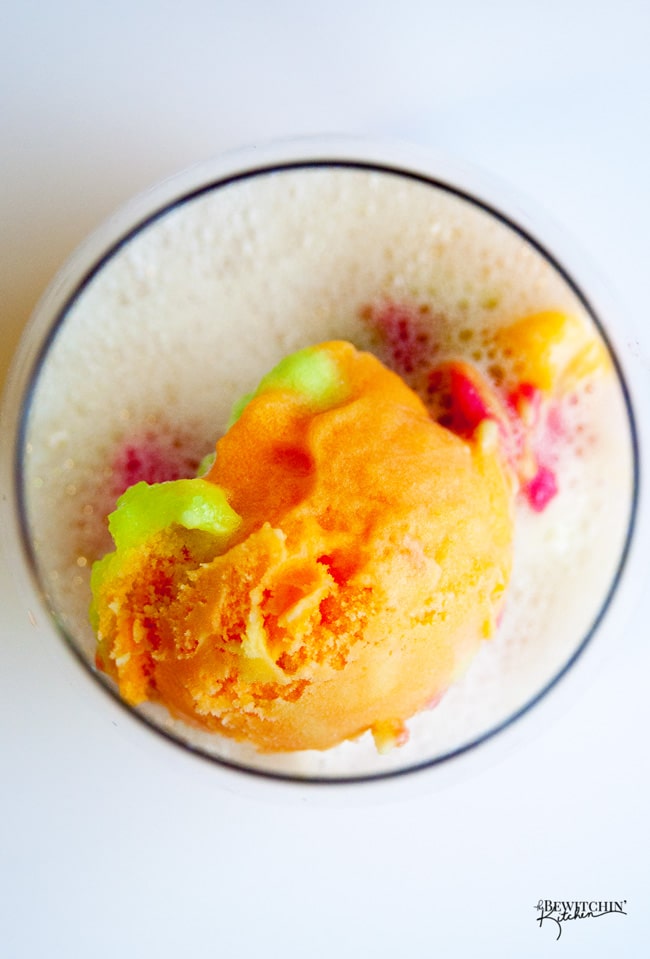 Sparkling Wine Floats
Looking for another amazing drink recipe? Add replace water for moscato in this recipe for Strawberry Lemonade.
It's pretty easy to make, the amount of champagne you use is up to you. I like to keep it sweet, so I don't use much champagne (plus it looks prettier this way and less like swamp water).
PS – if you're super clumsy like I am, maybe you should make these in these unbreakable wine glasses.

Champagne Floats
So simple, you'll be asking yourself why you haven't made these champagne floats before!
Servings 4
Calories 59kcal
Ingredients
4 scoops sorbet I used rainbow sorbet
Sparkling wine of choice
Instructions
This recipe is pretty straightforward, just scoop the sorbet and pour. That's it.
Nutrition
Serving: 1g | Calories: 59kcal | Carbohydrates: 1g | Sodium: 8mg | Potassium: 103mg | Sugar: 1g | Calcium: 11mg | Iron: 0.5mg
Follow On Pinterest
Follow @bewitchinkitchen On Pinterest for more delicious recipes!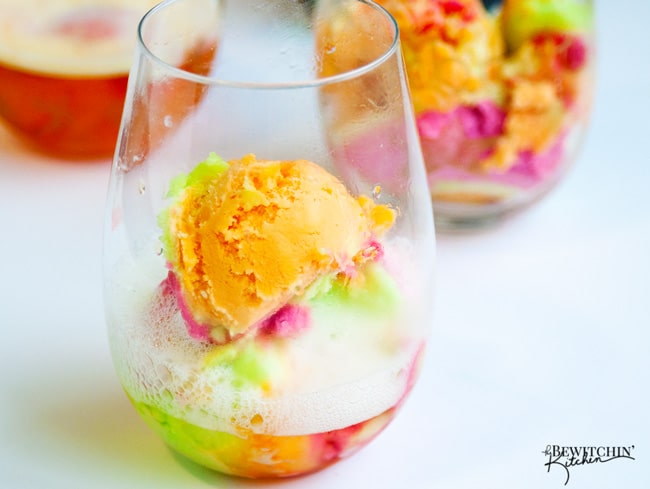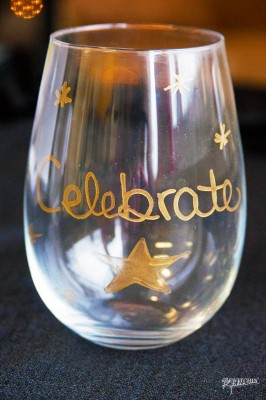 Dress up your wine glasses with this craft for DIY Gold Wine Glasses. It adds a little bit of elegance for your dessert (and it makes a great hostess gift). Plus the craft is super easy, and that's probably what I love the most about it.
Like this recipe? Don't forget to "Pin It". You can "Pin It" by clicking the P symbol below, or on the side of this post. Another option is to hover over any image and click the heart logo that pops up.