Why I Was Disgusted When I Used The Dyson V8 Absolute #DysonClean
I'm not one to build up suspense, so I'm going to come right out and say it: the Dyson V8 Absolute rocks my socks, all while making me feel disgusted. Don't worry, I'll explain.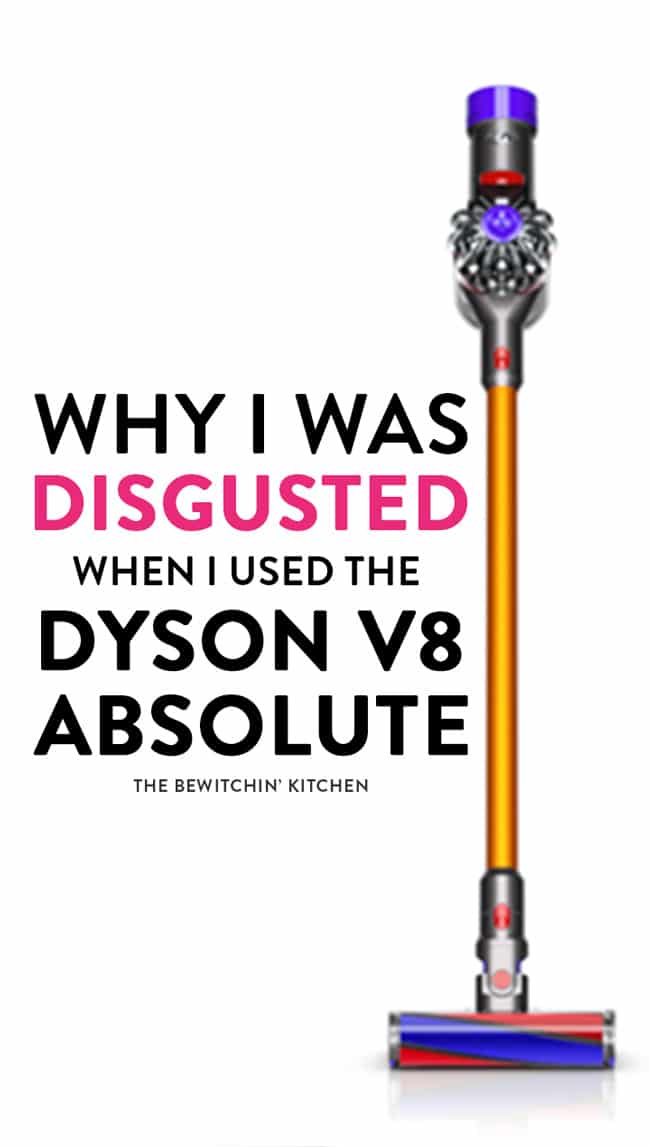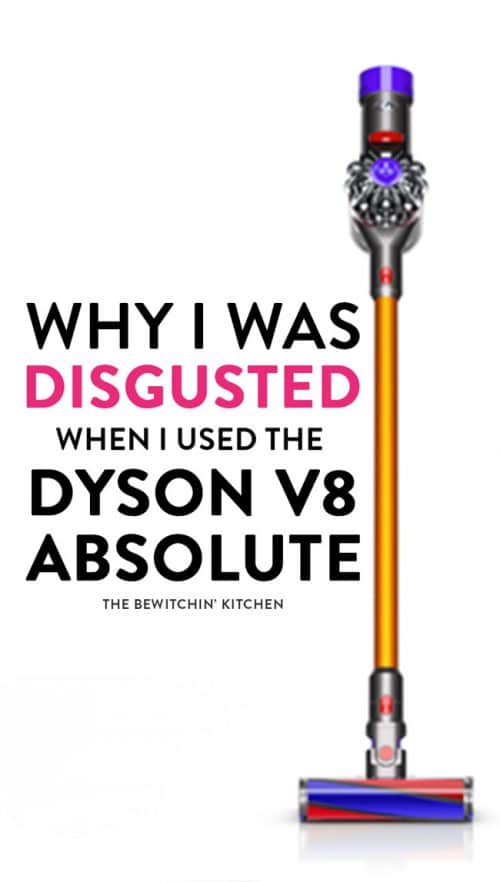 I've been a fan of Dyson since 2010, which was the year I received my first Dyson – the Dyson Animal DC61. I was amazed by Dyson's cleaning power then and with each Dyson I have tried that never goes away. I own the Dyson DC78 Cinetic Turbinehead Animal and the Dyson V6 Absolute already and I have bought the Dyson V6 Slim and the Dyson Small Ball Animal as Christmas gifts for loved ones and I tell everyone how much I love their products. I love this brand, and when you speak to the majority of Dyson owners we all say the same thing – we would never go back to any other vacuum.
So with that being said, here's the weird part. 
I only use my Dysons on my main level and basement, both don't have carpet. I know, I know. Before the Dyson V8 Absolute, I was using another brand of wireless vacuum, an expensive brand, on the upper level and stairs. I knew it wasn't living up to it's claim because I could see the fuzzies on the carpet and along the edges of the stairs.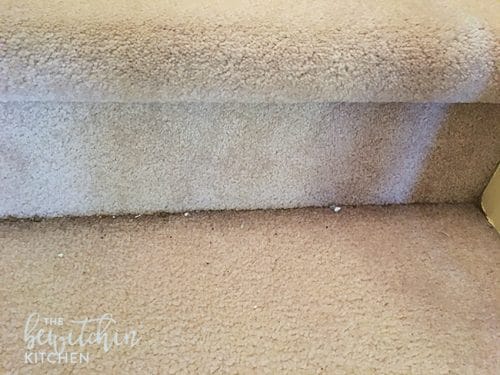 You have no idea how mortified I am to share the above image. Before my Dyson V8, the only way I could get this hard to reach area was a damp cloth, and I was usually too lazy to put in that extra effort. It's a hard to reach area but with the included mini motorized tool I almost got it all, and the little bit I couldn't get, I was able to suck up with the rigid crevice tool.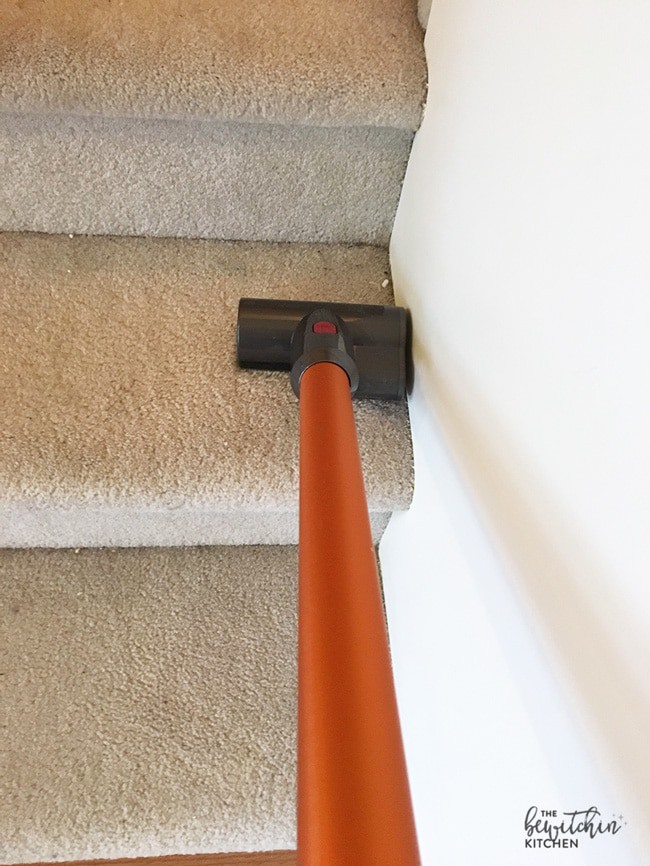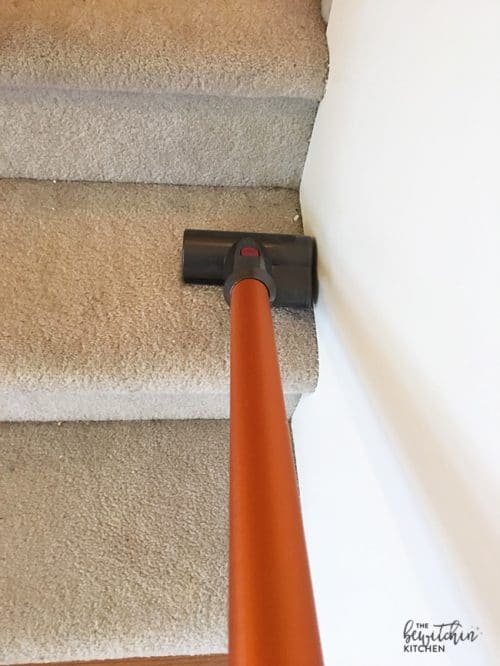 The Dyson V8 Absolute comes with the following attachments: mini motorized tool (seen above), soft roller cleaner head (for hard floors, it catches the tiny debris), direct driver cleaner head (perfect for carpet), combination tool, rigid crevice tool, extension hose, mattress tool, and the mini soft dusting tool (a great way to clean computers).
Dyson V8 Absolute
Day 1 with the Dyson V8 Absolute, well here, let me show you.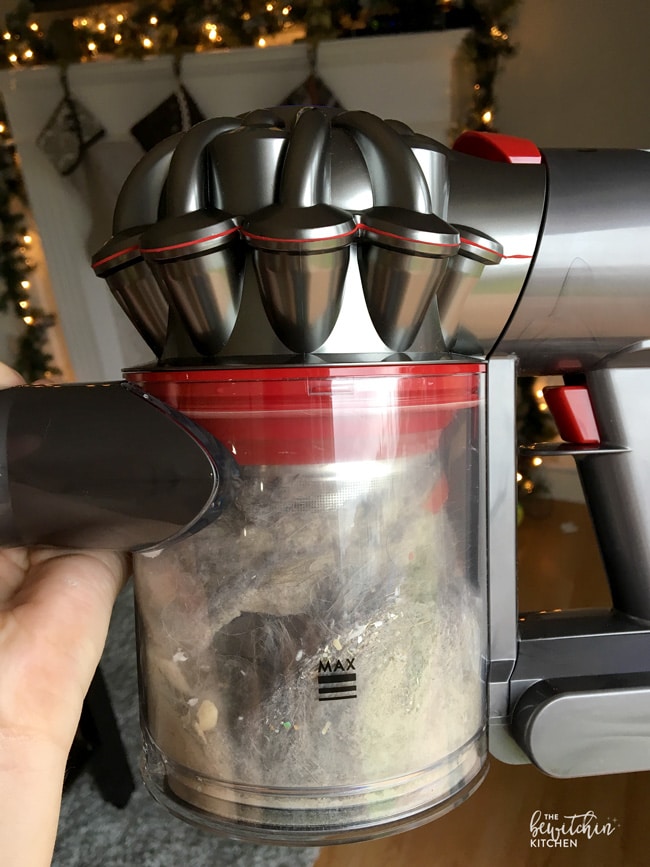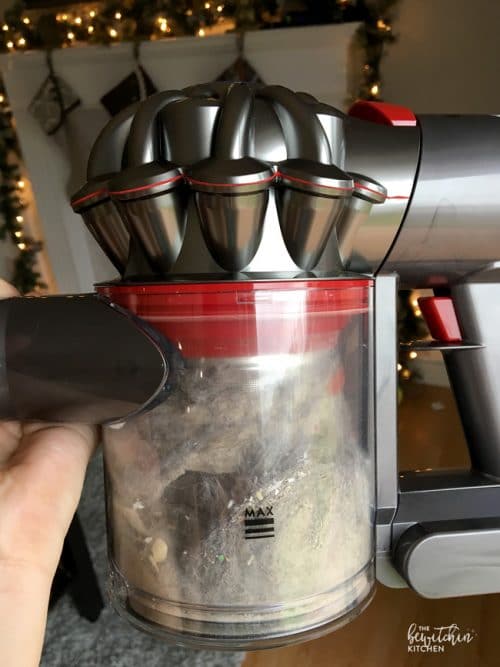 The above photo is absolutely disgusting. No, that's not a kitten stuck in the canister that is all the dirt I picked up on my stairs, my room, my son's room and the upstairs hallway. I knew my previous vacuum wasn't picking up everything but I didn't realize that it wasn't picking up anything. I maxed out the canister in less than 5 minutes.
Here are a few before and afters: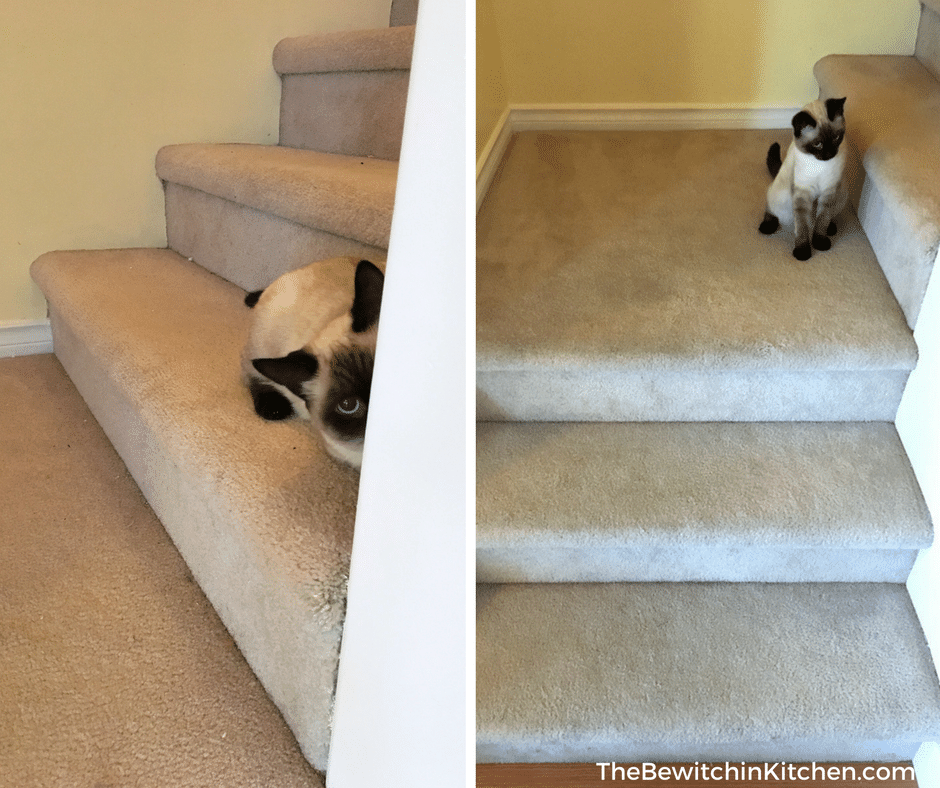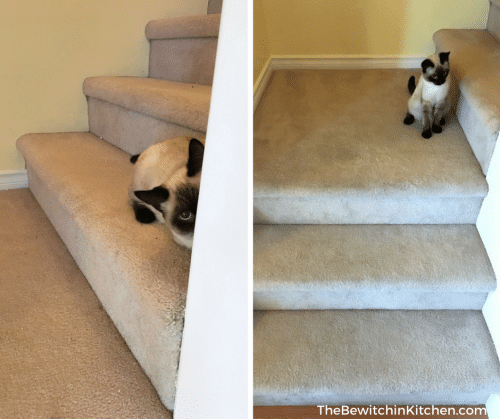 I have a new furry friend in our house, his name is Carl. Not only does he love to be in photos but he also loves to rip apart toilet paper, packing paper, and packing styrofoam and scatter it around the house. Yes, the Dyson V8 picks that up no problem (and it also serves as a warning to the cat when it's on, it's not loud but it's loud enough to startle a kitten).
The fact that it's wireless and only weighs 5.7 pounds makes hauling it up and down the stairs super easy, so I no longer have to have designated vacuums for all three levels of my house. Don't get me wrong, I love my Dyson V6 but I'm giving it away to my mom, the V8 has now taken it's place. The battery lasts twice as long too (40 minutes, 25 minutes with the floor tool).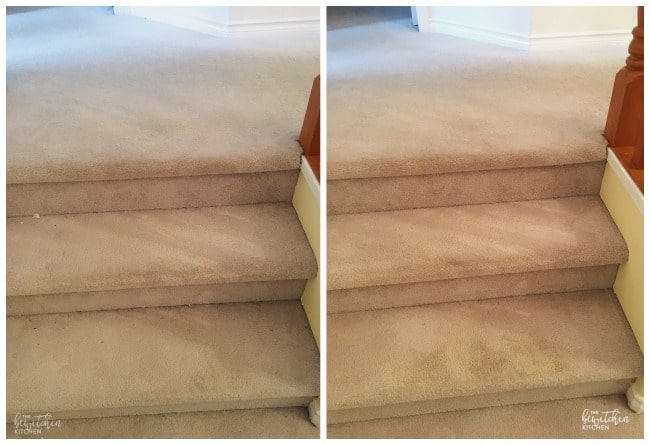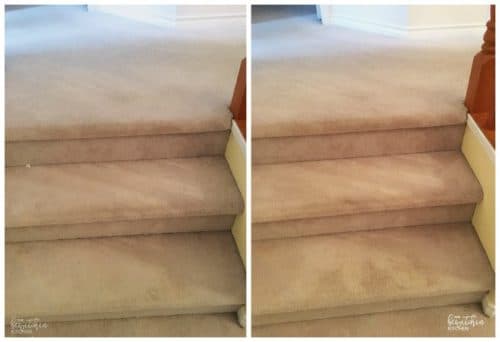 My Favourite Feature
My favourite feature of the Dyson V8 Absolute is the hygienic dirt ejector. I was always grossed out when cleaning my canisters in the past because the fuzzies, lint, and dirt would clump up and I would have to scrape it out. The new hygienic dirt ejector dispenses it all with a pull of a lever, and I don't have to touch the grossness!
I focused on my stairs on this post, because the carpet in my house is my cleaning problem area. However, I love this Dyson because it has the ability to clean all your floors, your sofa, and even the cobwebs off the wall top corners without switching tools. It makes cleaning so much easier (and almost enjoyable).
I love my Dyson and if you guys can be patient, I will post a YouTube video later on going into detail and giving examples. When it's live I'll be sure to embed it in the post. For a complete list of features that the Dyson V8 Absolute products, visit Dyson Canada.
WIN ONE
Dyson V8 Giveaway
Disclosure: this post has been sponsored by Erica Ehm's Yummy Mummy Club. The fact that I love Dyson and all my opinions, are my own.