Paleo Zuppa Toscana
One of the popular recipes on The Bewitchin' Kitchen is Zuppa Toscana soup recipe. That post is back from 2009, it's an oldie but a goodie. I was making it again this weekend and I had a thought, what about a Paleo Zuppa Toscana soup? Here is what I did: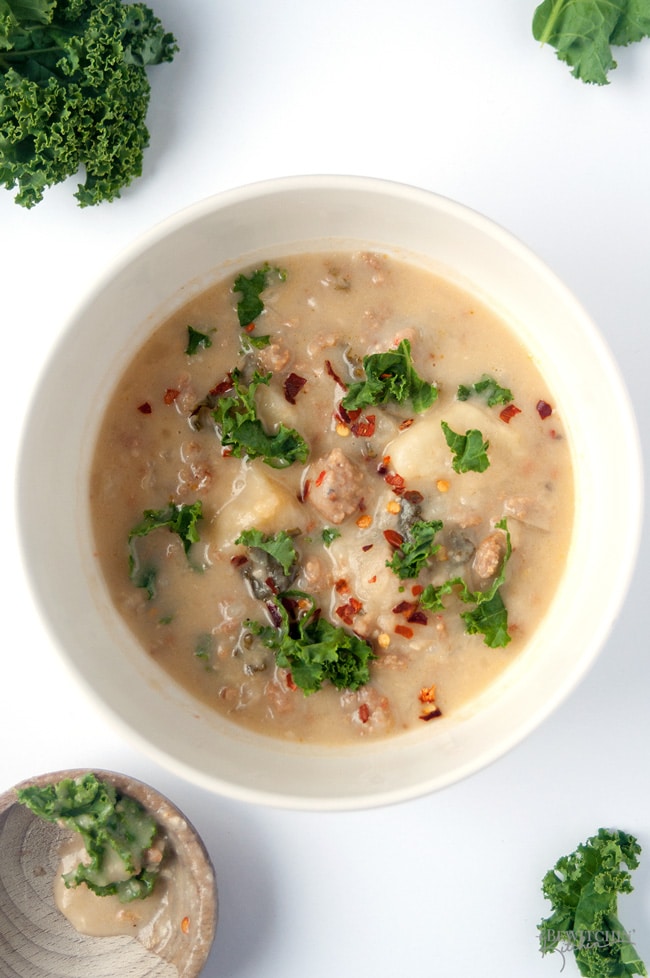 First of all, I had to Google if hot Italian sausage could be classified as paleo. I know there is pork and spices, and that's paleo, but I was curious about the rest.
The common verdict was yes, its paleo if it doesn't have the fillers and additional ingredients. It was highly recommended that you find a good butcher and get to know him (ask questions) if you're wanting to be 100% paleo.
We're going to pretend that the hot Italian sausage I have for this Paleo Zuppa Toscana isn't from the grocery store and that I bought it from a local butcher and it uses paleo ingredients with no additives (I'm just being real here).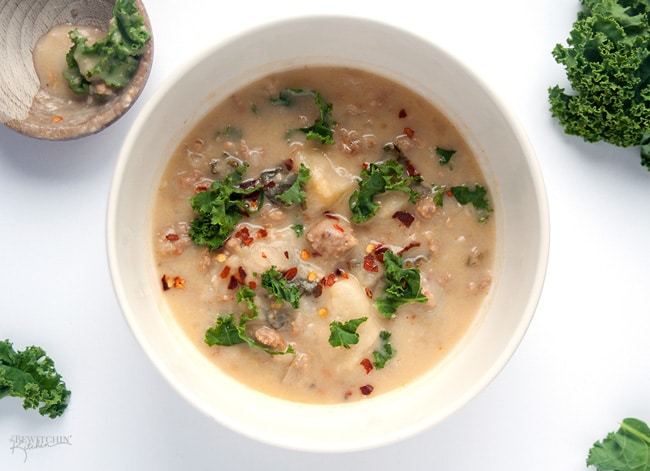 Paleo Zuppa Toscana Soup
FYI: zuppa means soup, so putting "Paleo Zuppa Toscana Soup" is redundant. I do it anyway out of habit.
The soup recipe is basically the same from the original Zuppa Toscana but I swapped out a cup of whipping cream for 1/2 cup of coconut milk. Just half a cup adds the creamy comfort that a full cup of cream provides. That's the secret, but here's the full recipe.
Want another version of Zuppa? Try this Slow Cooker Zuppa Toscana recipe or this Baked Zuppa Toscana.

Paleo Zuppa Toscana
An easy and simple paleo twist on one of my favorite soups, Zuppa Toscana. It's so creamy and delicious! Perfect for chilly winter nights.
Servings 8 servings
Calories 369kcal
Ingredients
1 lb hot italian sausage
1 onion
2 russet potatoes cubed
2 cloves garlic minced
2 cans chicken broth
4 cups water
3 cups torn kale
1 tsps red pepper flakes
1/2 cup canned coconut milk
Instructions
Fry up the hot italian sausage, drain the fat and set it aside .

In a large pot: add the onions, potatoes, garlic, chicken broth and water. Cover the pot, and bring to a boil over medium heat. Cook until potatoes are done (about 30 minutes).

Add the cooked hot italian sausage to the pot along with the kale and red pepper flakes, let it simmer for another 30 minutes.

Bring the simmer down to a lower heat and add your cream and red pepper flakes. Heat through.
Nutrition
Serving: 1g | Calories: 369kcal | Carbohydrates: 17.4g | Protein: 12.8g | Fat: 28.3g | Saturated Fat: 14.1g | Cholesterol: 50.8mg | Sodium: 773.2mg | Fiber: 2g | Sugar: 2g
Follow On Pinterest
Follow @bewitchinkitchen On Pinterest for more delicious recipes!
If you like this recipe, and want to try it – don't forget to pin it! You can either hover over an image on the post, or click the Pinterest symbole on either the left hand side or below the post.