Baked Zuppa Toscana
This cheesy recipe for Baked Zuppa Toscana is one of those recipes where I kick myself for not thinking of sooner. A delicious twist on the classic zuppa and french onion soup, this dinner is 100% comfort food.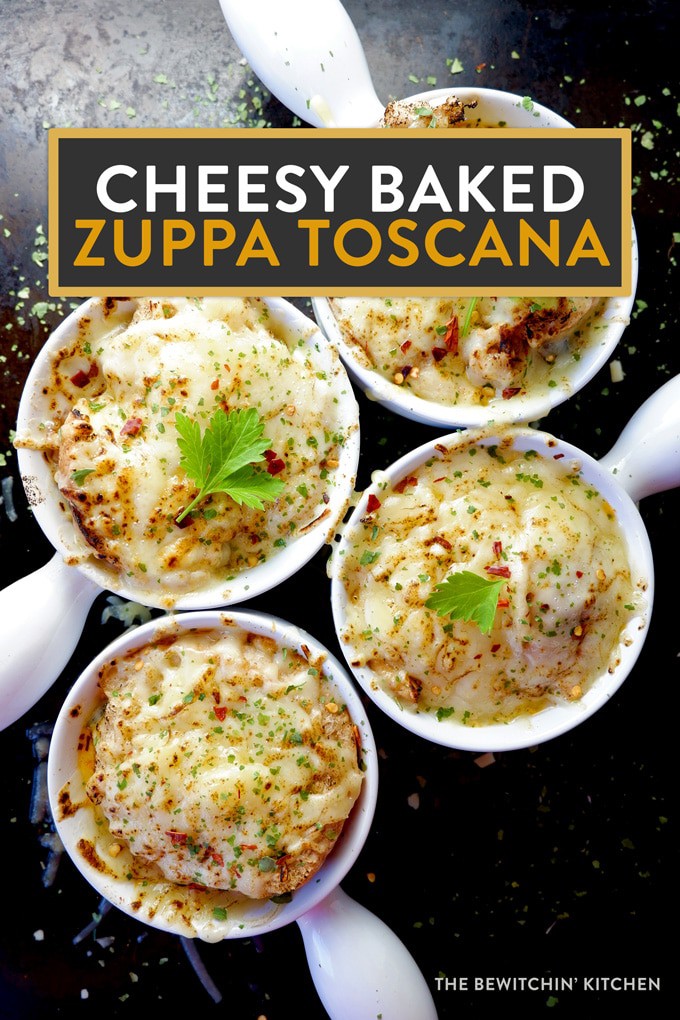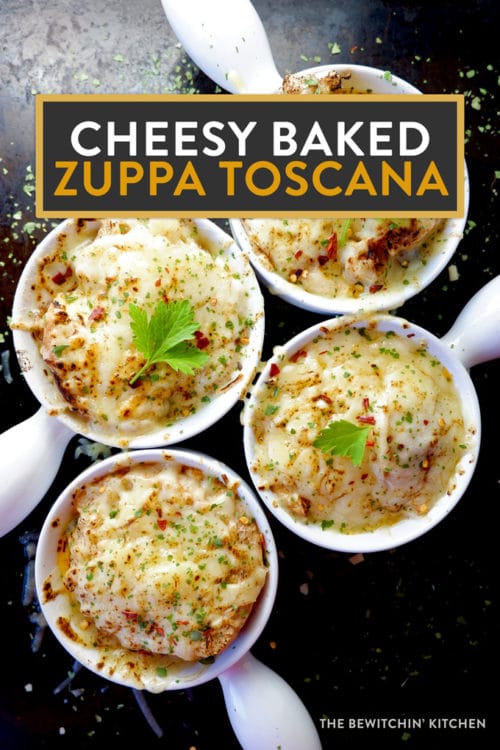 This is the fourth Zuppa Toscana recipe that I've published here on The Bewitchin' Kitchen. I guess you can say that my family loves the base of this soup.
How this recipe came to me a few months ago hit me like a freight train.
I usually add parmesan cheese to my regular Zuppa Toscana, I've been doing it for years, one day I added mozzarella and that led my brain on a french onion soup trail of thought (in addition to this Irish Onion Soup, I was thinking of different ideas and twists on the standard version). When I finally realized I could do a french onion twist on this Zuppa to make this Baked Zuppa Toscana, I had a total "well duh" moment.
Well duh! Come on, cheese goes well with everything.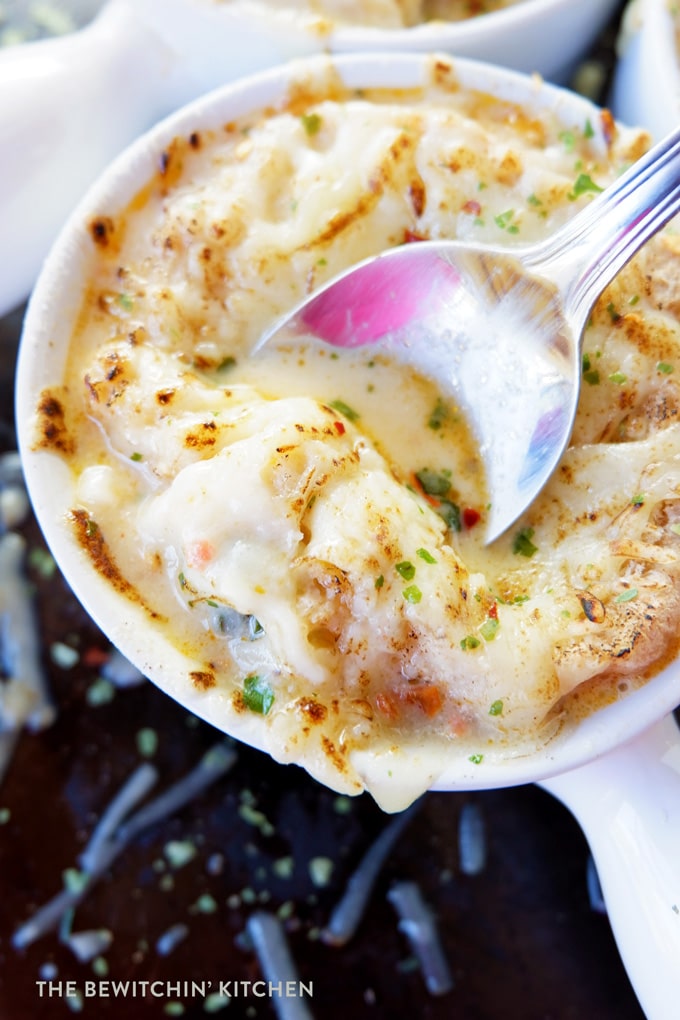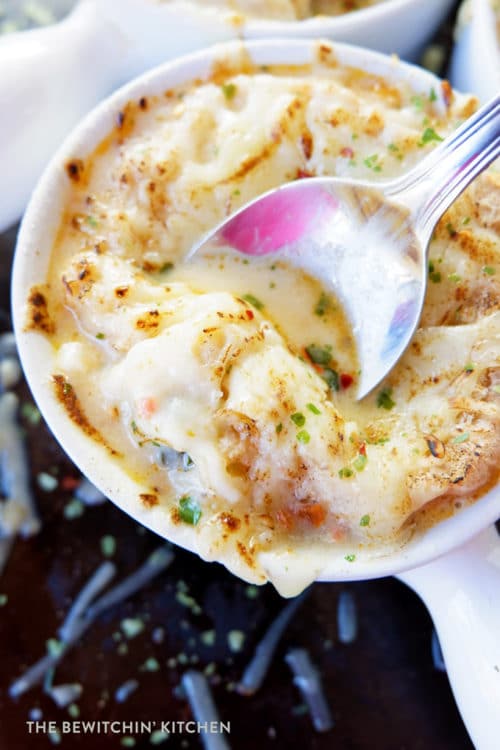 Just look at that delicious, creamy goodness.
Zuppa Toscana Soup Recipes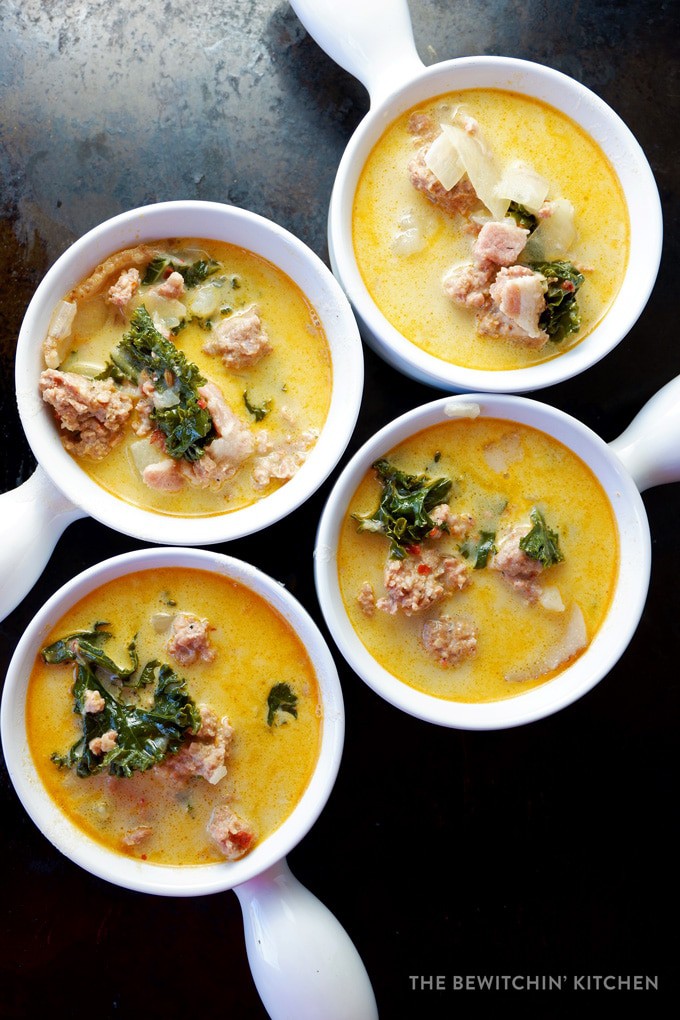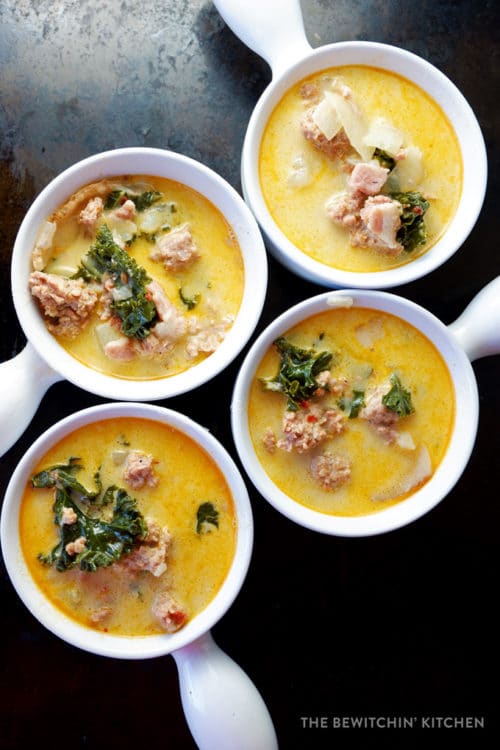 Different versions of this Olive Garden classic here on The Bewitchin' Kitchen:
Zuppa Toscana (the original)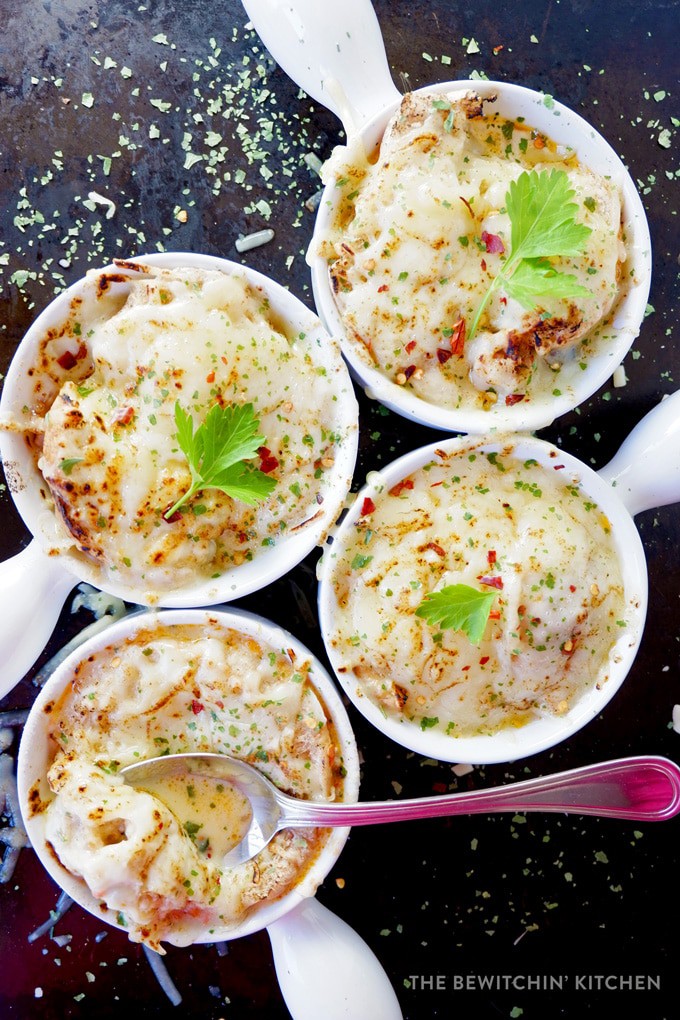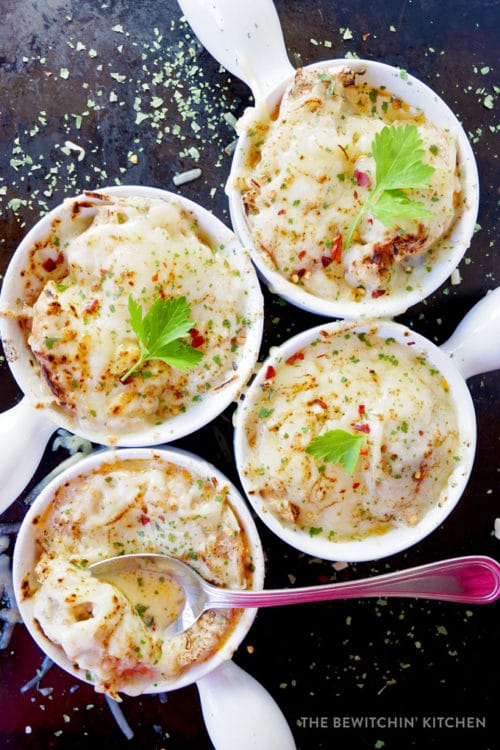 There are many different things you can do with this base for Zuppa Toscana. My next adventure will be a lightened up version of this creamy favorite, I'm thinking I'll use a chicken Italian sausage and see how that goes.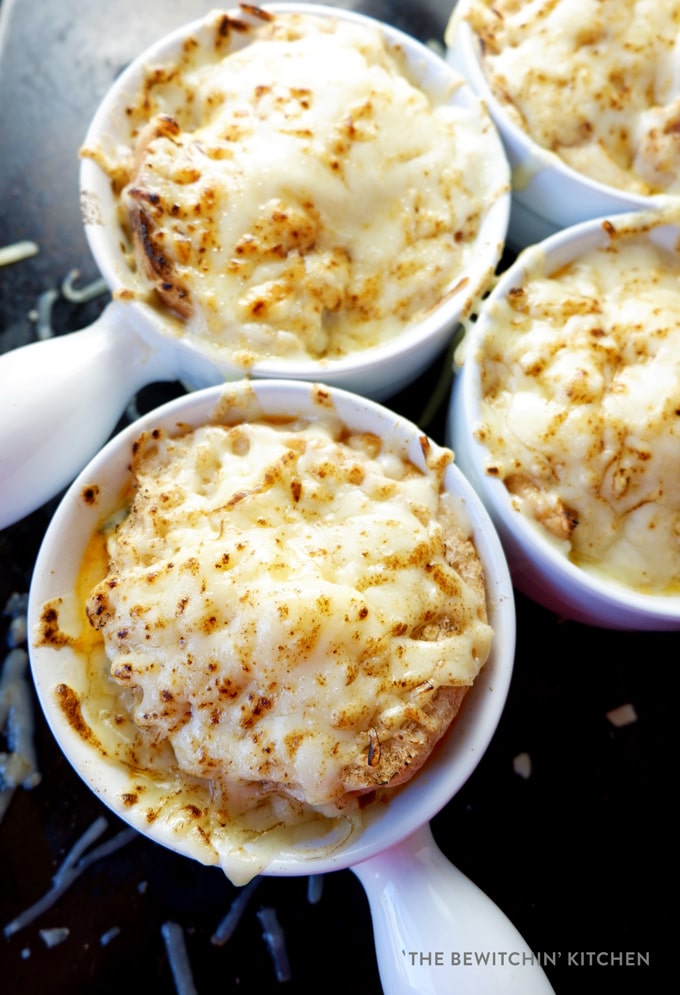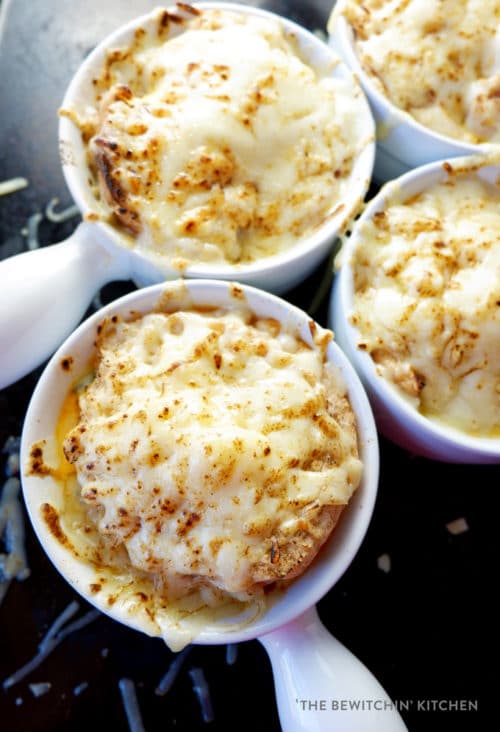 TBK's Pro Tip: If you're as impatient as I am and don't want to wait for the broiler, a culinary torch works well.
Another tip? Add some red pepper flakes and parsley for presentation, check out the above photo and the bottom for a little before and after. The two seconds it takes to add the garnishes is worth it in pretty factor. It also interests my picky eater that much more and increases the odds he will actually eat it (I wish I was kidding).
Baked Zuppa Toscana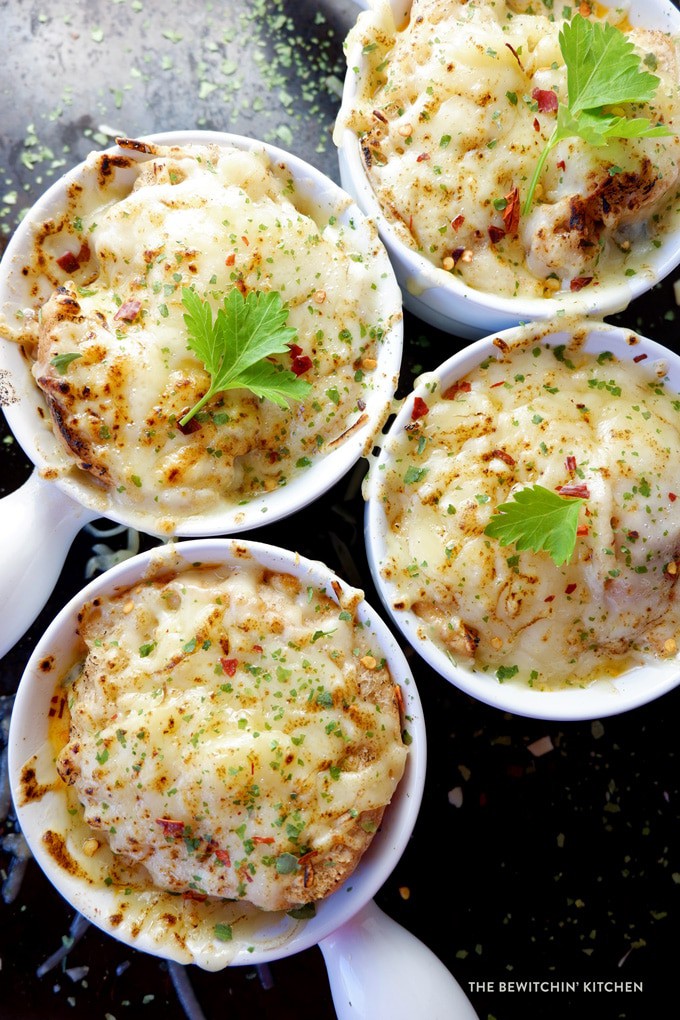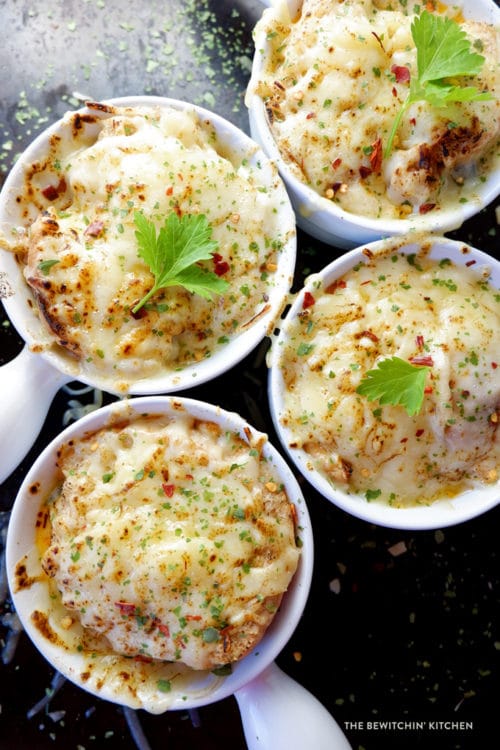 I used parmesan and mozzarella but feel free to experiment with different cheeses. I'm a big fan of Swiss, so I'm going to attempt that with my next go around.
Baked Zuppa Toscana
This recipe for Baked Zuppa Toscana is a cheesy twist on an Olive Garden soup favorite. Inspired by both zuppa and french onion soup, this easy dinner is 100% comfort food.
Servings 10 cups
Calories 349kcal
Ingredients
1 lb hot Italian sausage or five links, without casings
3 strips of bacon cubed
1 onion diced
2 cloves garlic minced
2 russet potatoes peeled and cubed
2 cans chicken broth
4 cups water
2 cups kale shredded by hand
1 cup heavy cream
1 tsp red pepper flakes
10 slices french bread dried
1 1/2 cups shredded parmesan cheese
4 cups shredded mozzarella cheese
optional: parsley and extra red pepper flakes for garnish.
Instructions
Cook the hot Italian sausage and bacon, drain grease and set aside.

Add the onions, garlic, potatoes, chicken broth, red pepper flakes, and water into the large pot you cooked the meat in. Bring to a boil over medium heat, cover, and simmer for 30-45 minutes.

Add back the bacon and hot Italian sausage. Bring to a boil and add the kale. Cover and simmer for 30 minutes.

Add the cup of cream and heat through.

Broil until cheese is melted, bubbly, and gold.
Nutrition
Serving: 1g | Calories: 349kcal | Carbohydrates: 15g | Protein: 14.2g | Fat: 26g | Saturated Fat: 12.2g | Cholesterol: 75mg | Sodium: 709.1mg | Fiber: 1.1g | Sugar: 1.8g
Follow On Pinterest
Follow @bewitchinkitchen On Pinterest for more delicious recipes!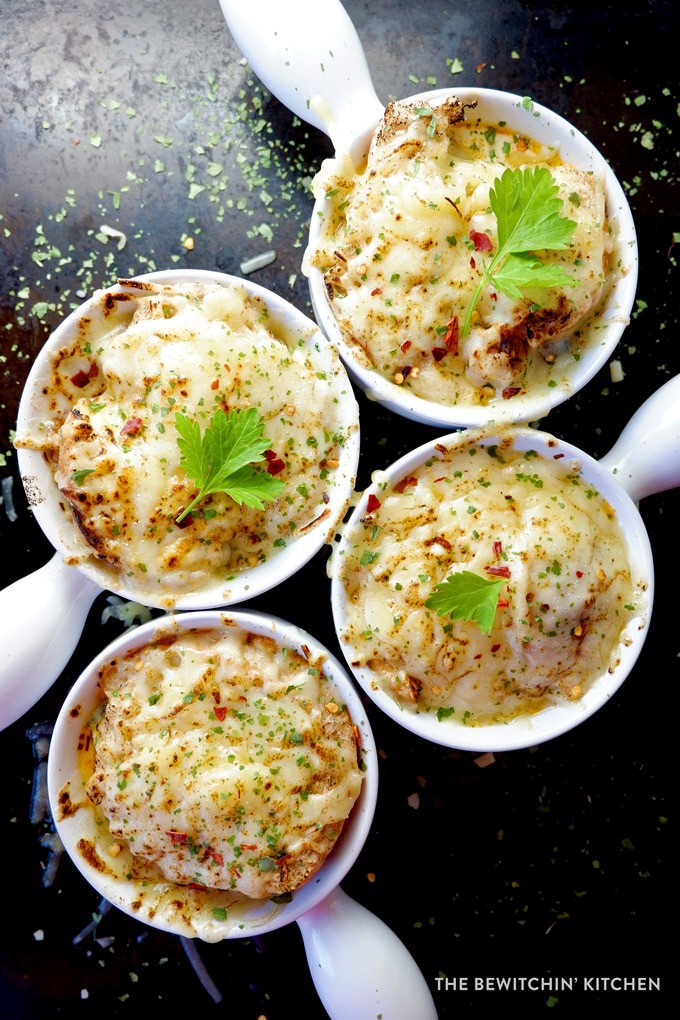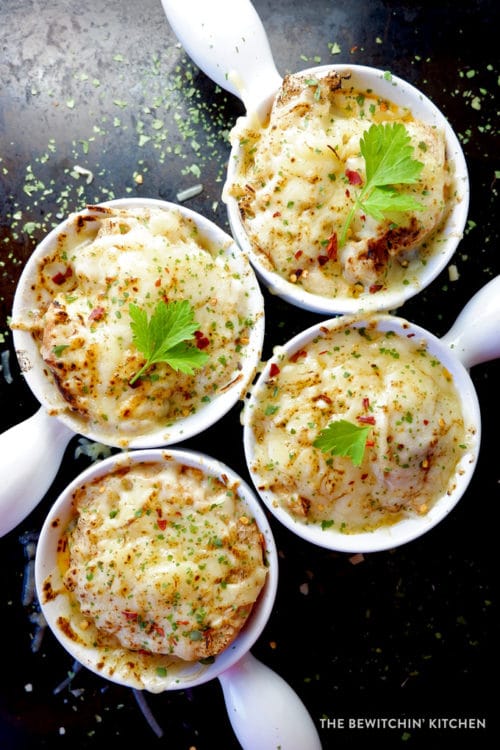 Disclosure: this post contains affiliate links. Thank you for your continued support of The Bewitchin' Kitchen.