Zuppa Toscana Crock Pot Recipe
This Zuppa Toscana Crock Pot Recipe is the perfect way to make mouthwatering Zuppa Toscana soup without needing to spend much time in the kitchen. This sensational, slow simmered soup is chock full of hearty and zesty ingredients including hot Italian sausage, fresh kale, and tender potatoes in a satiny, cream-based broth.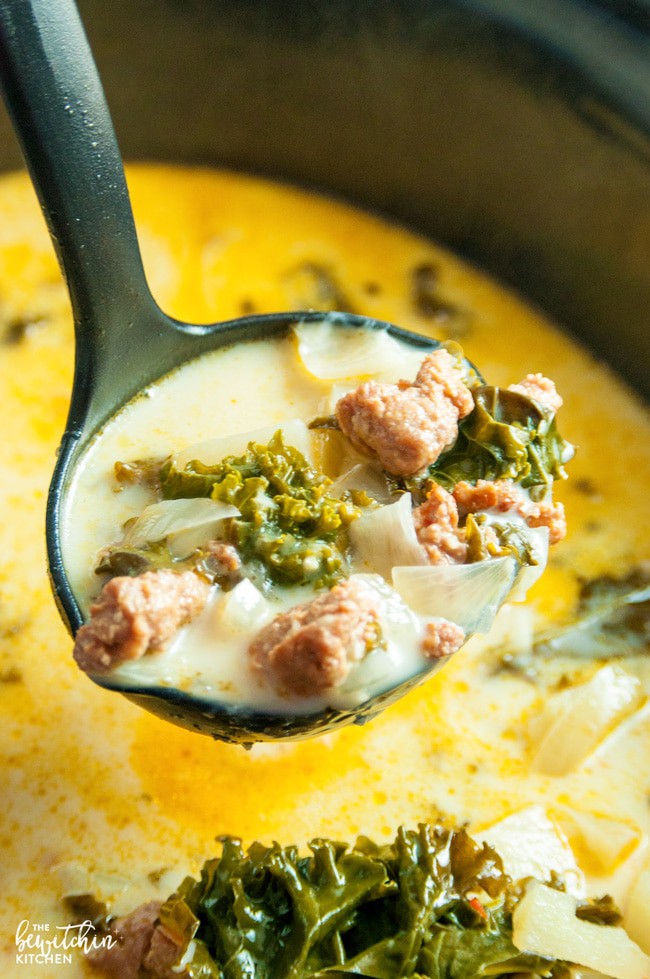 Zuppa Toscana Crock Pot Recipe
Zuppa Toscana soup, crockpot style, is rich, creamy, and comforting with just the right amount of zesty heat. This simple, scrumptious soup is inspired by Olive Garden's Zuppa Toscana soup — one of my family's all-time favorites.
Something I love about this Zuppa Toscana crock pot recipe is that it's so simple. The flavor and spice comes from the hot Italian sausage, onions, garlic, and bacon. The first time I made it, I was shocked there were no extra spices. I fried up the hot Italian sausage and bacon first because I didn't want the soup to be too greasy. If you leave out the bacon, it's probably safe to chuck everything in at once and set it to forget it.
In the original recipe, I always simmered the recipe longer than needed to wilt the kale as much as possible. Because of that, I knew that this crockpot Zuppa Toscana would be perfect. No crunch, no bitterness — just soup that's perfection.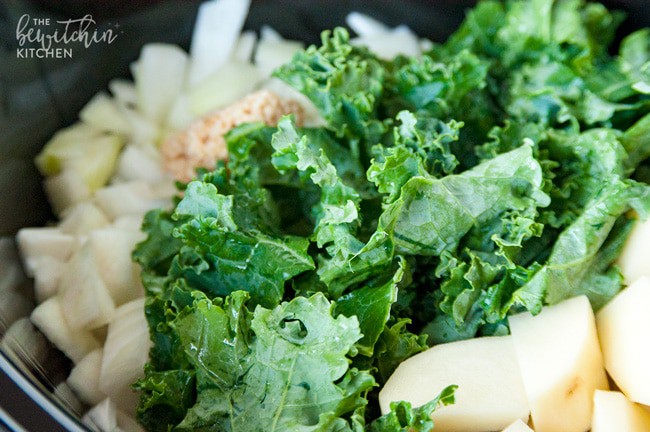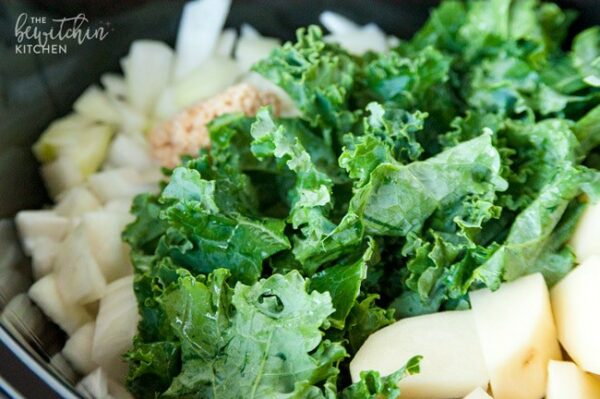 Why You'll Love Crock Pot Zuppa Toscana
Simple ingredients – Everything you need is easy to find and inexpensive.
Easy preparation – 5-10 minutes of prep and the slow cooker does the rest of the work for you.
Hearty and healthy – Each bowl is packed with protein and loads of vegetables.
Delicious flavors – Sensationally savory and earthy with a dash of vibrant spice.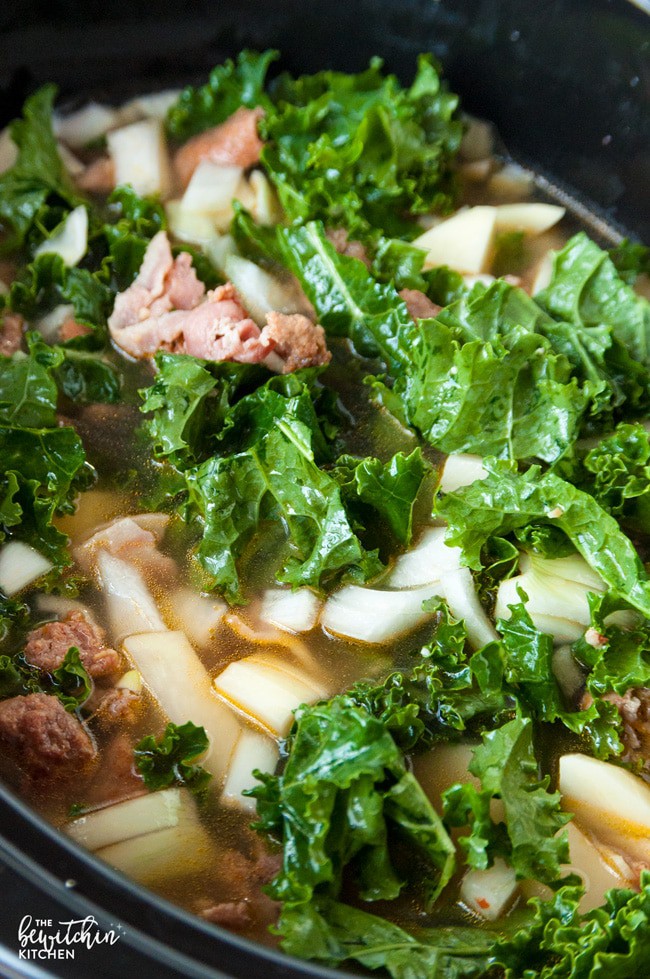 Crockpot Zuppa Toscana Tips and Tricks
Boost the Flavor
If you have the time, you can crank up the flavor of your slow cooker Zuppa Toscana by sauteeing the onions and garlic before tossing them into the crock. I like to do so in a bit of fat from the meat for even more flavor. This is totally optional but makes a huge difference.
Easy Variations
Here are a few easy ways to customize your slow cooker Zuppa Toscana recipe.
Toss in extra vegetables like zucchini, carrots, tomatoes, or beans.
Switch the pork for chicken sausage or even veggie sausage.
Sprinkle in some of your favorite cheese for an extra layer of richness.
For a dairy free version, substitute coconut milk for the cream or simply skip it altogether.
Check out my other Zuppa Toscana recipes including my Paleo, Olive Garden Copycat, and Baked Zuppa Toscana recipes for more inspiration.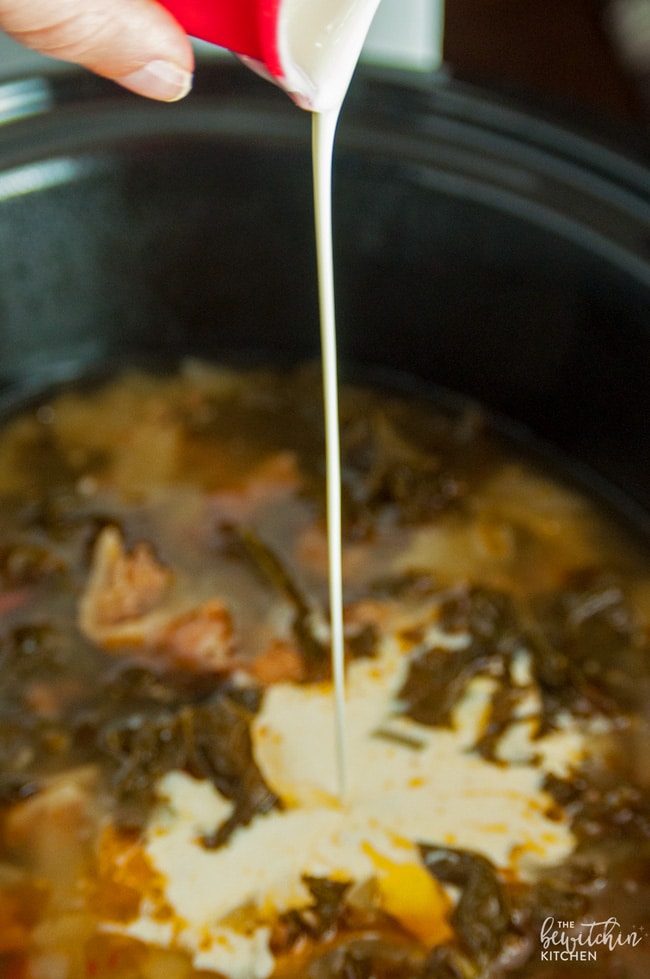 How To Make Zuppa Toscana Soup Crockpot Style
You are going to love how easy it is to make this Zuppa Toscana crock pot recipe. With only 3 simple steps, it just about makes itself!
Fry the Meat
Use a skillet to scramble fry the hot Italian sausage and bacon pieces until fully cooked. Use a colander to drain the fat thoroughly, then transfer to the crock pot.
Combine Ingredients
Add all ingredients (except for the cream) to the slow cooker. Give everything a quick stir to combine and then cover. Cook the soup for 4-6 hours on the high setting or for 8-10 hours on low.
Add Cream and Serve
Wait until right before you are ready to enjoy your crock pot Zuppa Toscana to add in the cup of heavy whipping cream. Stir well to combine and allow the soup to heat up again. Serve and enjoy!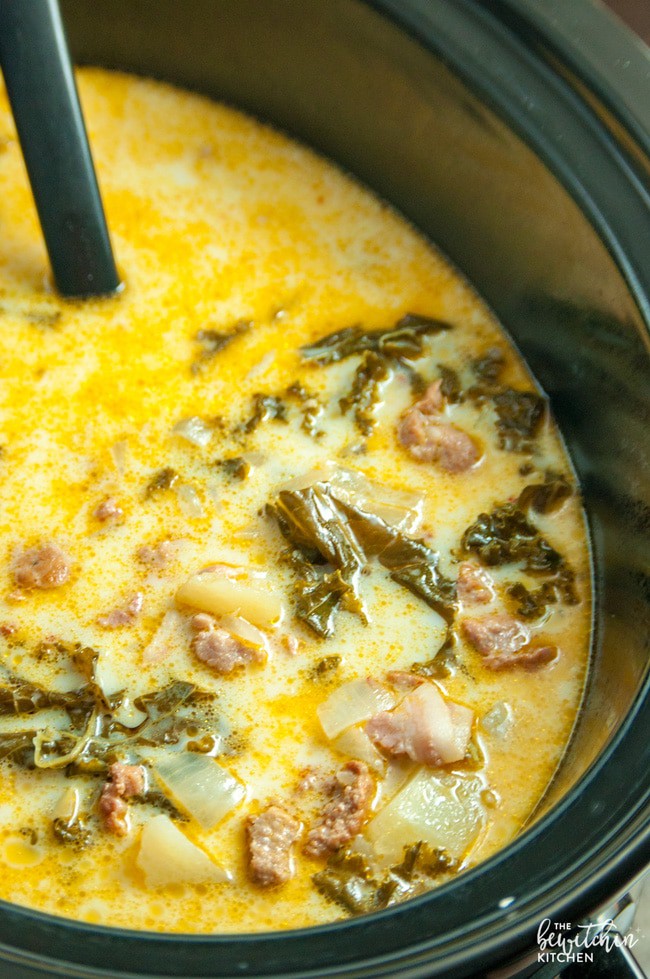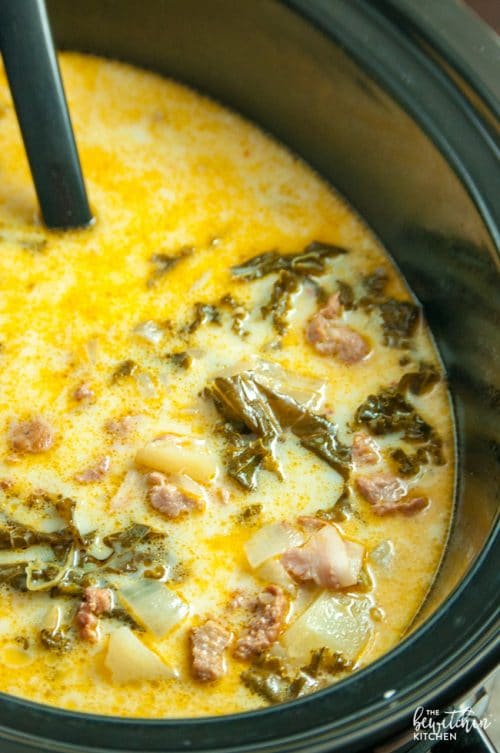 Slow Cooker Zuppa Toscana Frequently Asked Questions
What Are The Ingredients In Zuppa Toscana Soup?
This zuppa toscana soup crockpot recipe features ingredients that are simple, hearty, and nourishing. Potatoes, onions, garlic, and kale are slow cooked for hours in a savory chicken broth along with spicy sausage and salty bacon. Heavy whipping cream is added at the very end, giving the soup an intense creamy richness.
Can You Freeze Crockpot Zuppa Toscana?
Definitely! You can keep any leftover crock pot Zuppa Toscana in an airtight container for 3 days in the refrigerator or for up to 3 months in the freezer.
I think plastic containers with tight-fitting lids are the best way to go for freezing your leftover soup. Freezer bags are an option too, but I worry about leaks. Either way, cool the soup down completely before transferring to freezer-safe containers.
Stir the soup well and try to get an even amount of ingredients in each separate portion. Otherwise, you might end up with all the sausage in one bowl and all kale in the next.
For the best texture, thaw your Zuppa Toscana in the refrigerator overnight once you are ready to enjoy it again. Reheat gently, at a low temperature. Feel free to use your crockpot for this step!
Zuppa Toscana Crock Pot Recipe
This Zuppa Toscana Crock Pot recipe makes a simple and scrumptious soup based off the famous Olive Garden favorite. Set it and forget it!
Servings 10 cups
Calories 217kcal
Ingredients
1 lb ground hot Italian sausage 6-7 links, not including the casings
2-3 strips of bacon cubed
2 large russet baking potatoes cubed
1 large onion chopped
2 cloves garlic minced
4 cups kale torn by hand
2 cans chicken broth canned works better than in a box
4 cups water
1 cup heavy whipping cream
1 tsp red pepper flakes optional
Instructions
In a medium skillet, over medium heat, scramble fry the hot Italian sausage and bacon. Drain the fat.

Add all the ingredients (except for the cream) to the slow cooker, cover and cook on high for 4-6 hours or low on 8-10 hours.

Right before serving, add 1 cup of cream, stir and heat through.
Nutrition
Serving: 1g | Calories: 217kcal | Carbohydrates: 17g | Protein: 6g | Fat: 14g | Saturated Fat: 7g | Polyunsaturated Fat: 1g | Monounsaturated Fat: 5g | Trans Fat: 0.01g | Cholesterol: 40mg | Sodium: 367mg | Potassium: 500mg | Fiber: 2g | Sugar: 2g | Vitamin A: 3090IU | Vitamin C: 31mg | Calcium: 106mg | Iron: 1mg
Follow On Pinterest
Follow @bewitchinkitchen On Pinterest for more delicious recipes!
Have you tried Zuppa Toscana before?
If you like this recipe for Slow Cooker Zuppa Toscana, then please spread it around to your friends. You can also Pin any image by hovering over the photo and click on the "Pin It" graphic.