Zuppa Toscana Soup
For those of you who have tasted and fallen in love with the Olive Garden's Zuppa Toscana Soup, this is the recipe for you! I find that it tastes just like the restaurants! It is known at our house as "The Olive Garden Soup". What is so fantastic about the soup is the flavor, but yet you don't add any seasoning. I know all of you will love this recipe.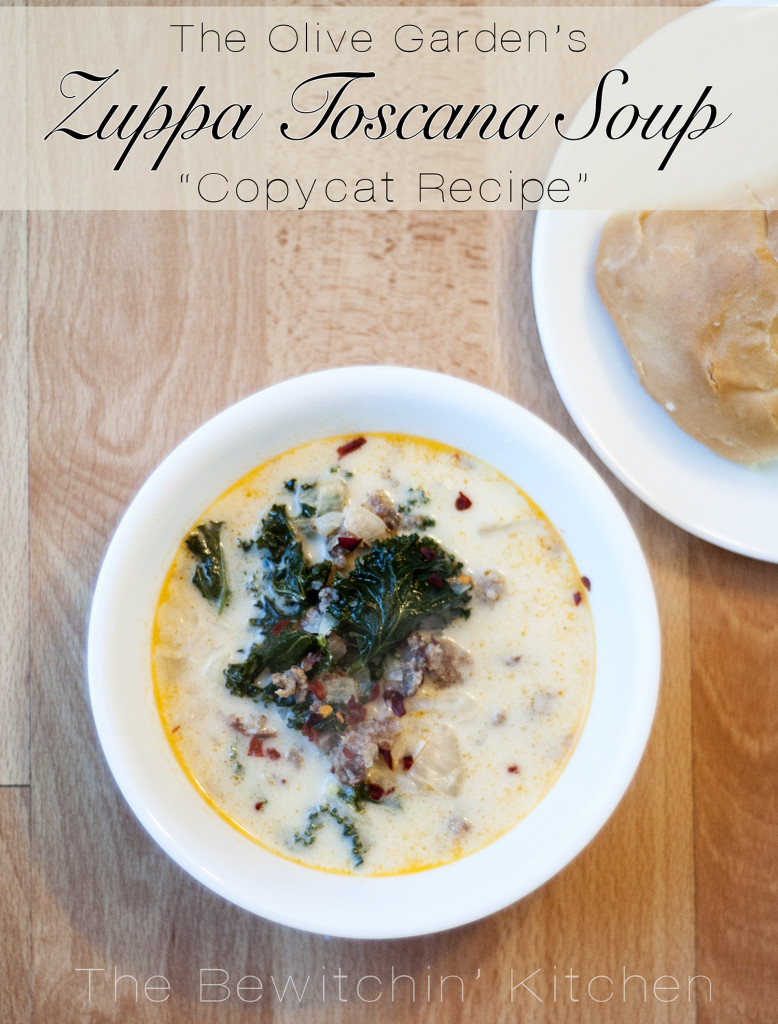 Updated November 2017: There are a few other versions I have made that originated from this recipe. Last year, I made this Paleo Zuppa Toscana recipe that uses coconut milk, instead of whipping cream. It worked really well, and my picky husband loved it.
One day last week, I knew that I was going to have no time in the afternoon to let a soup simmer so I fried up the hot Italian sausage and bacon, tossed everything in the slow cooker and put together a Crockpot Zuppa Toscana.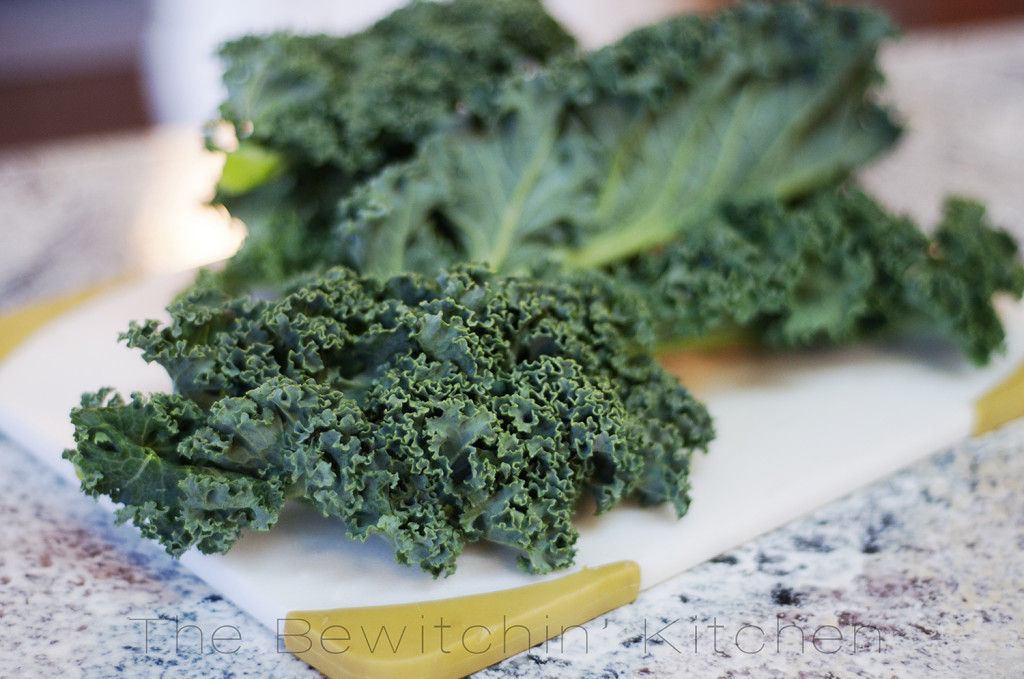 Of course the longer you simmer the soup, the better it tastes. Like all soups, this recipe tastes AMAZING the next day (that's if there are any leftovers).
*Updated September 2010: I have taken the bacon out of the recipe. I find it doesn't need it, I don't notice any flavor difference. However, if you're a bacon lover, feel free to keep it.*
Zuppa Toscana Soup
This recipe is such a comfort in the winter and fall months. This is my husband's favorite soup recipe. He's always asking for "The Olive Garden Soup". I make it so often that I no longer need to read the recipe, it's engraved in my brain – and those are the best kind of recipes
Don't forget to check out a cheesy twist on this soup with this Baked Zuppa Toscana.
Zuppa Toscana (Olive Garden Copycat Recipe)
Copycat recipe for The Olive Garden's Zuppa Toscana Soup. This soup is gluten free is a great soup for winter and fall. Comfort in a bowl!
Prep Time 10 minutes
Cook Time 1 hour 20 minutes
Total Time 1 hour 30 minutes
Servings 10 cups
Calories 291kcal
Ingredients
1 lb ground hot Italian sausage casings removed
2 large russet baking potatoes peeled and cubed
1 large onion chopped
2 cloves garlic minced
4 cups kale torn by hand.
2 cans chicken broth
4 cups of water
1 cup heavy whipping cream.
1 tsp red pepper flakes optional
Instructions
Fry up the hot Italian sausage, drain the fat and set it aside when done.

In a large stock pot: add your onions, potatoes, garlic, chicken broth and water. Cover and bring it to a boil, and then reduce to medium heat. Cook until potatoes are done, about 30 minutes.

Add the cooked hot Italian sausage to the pot. Let boil for ten minutes. Then at the kale, simmer for another ten minutes. Make sure you don't add the stems to the soup. Personally, I don't like the texture and I find the taste is bitter. *Updated February 12, 2014: I have found the kale to still be a little too crunchy so I simmer for twenty minutes*.

Bring the simmer down to a lower heat and add your cream and red pepper flakes. Heat through, I usually let it go from another ten or so minutes.
Nutrition
Serving: 1cup | Calories: 291kcal | Carbohydrates: 12g | Protein: 9g | Fat: 23g | Saturated Fat: 10g | Cholesterol: 67mg | Sodium: 357mg | Potassium: 461mg | Vitamin A: 3085IU | Vitamin C: 36.6mg | Calcium: 73mg | Iron: 1.4mg
Follow On Pinterest
Follow @randaderkson On Pinterest for more delicious recipes!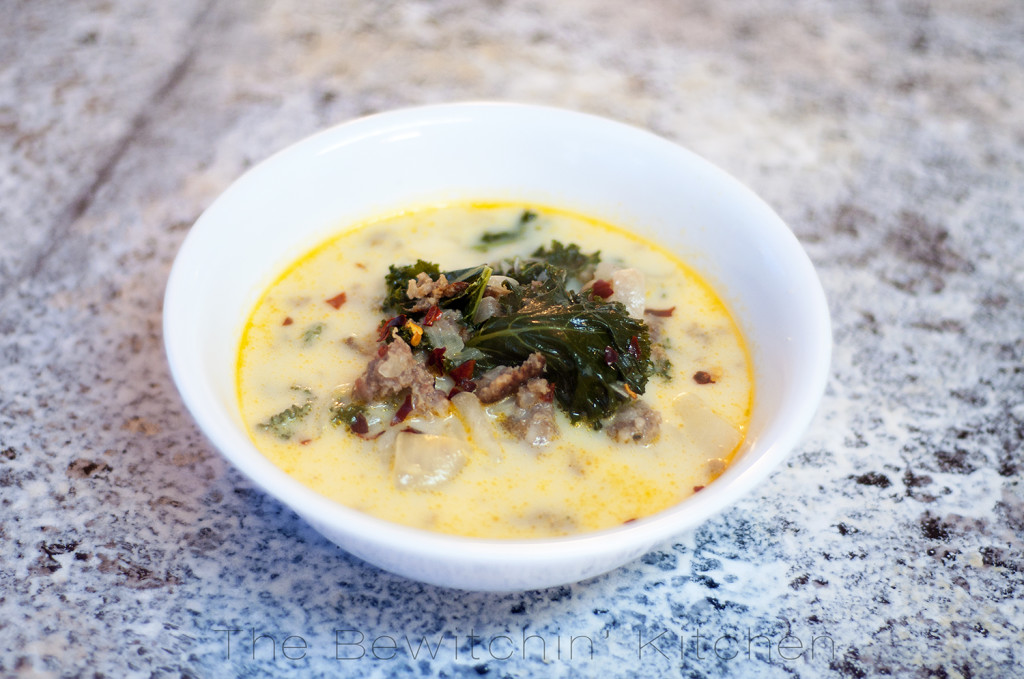 What's your favorite comfort soup?
Looking for more great ideas? Click here to follow me on Pinterest!
Visit Randa | The Bewitchin' Kitchen's profile on Pinterest.
FREE Recipe Binder
Are you constantly wondering what's for dinner?
When I don't meal plan I feel behind, and we usually end up ordering take out. This recipe binder will keep you organized and make life a little bit easier.