Zuppa Toscana Soup [Olive Garden Copycat]
For those of you who have tasted and fallen in love with the Olive Garden's Zuppa Toscana Soup, this is the recipe for you!
I find that it tastes just like the restaurants! It is known at our house as "The Olive Garden Soup".
What's sp fantastic about the soup is the flavor, but yet you don't add any seasoning.
I know all of you will love this recipe.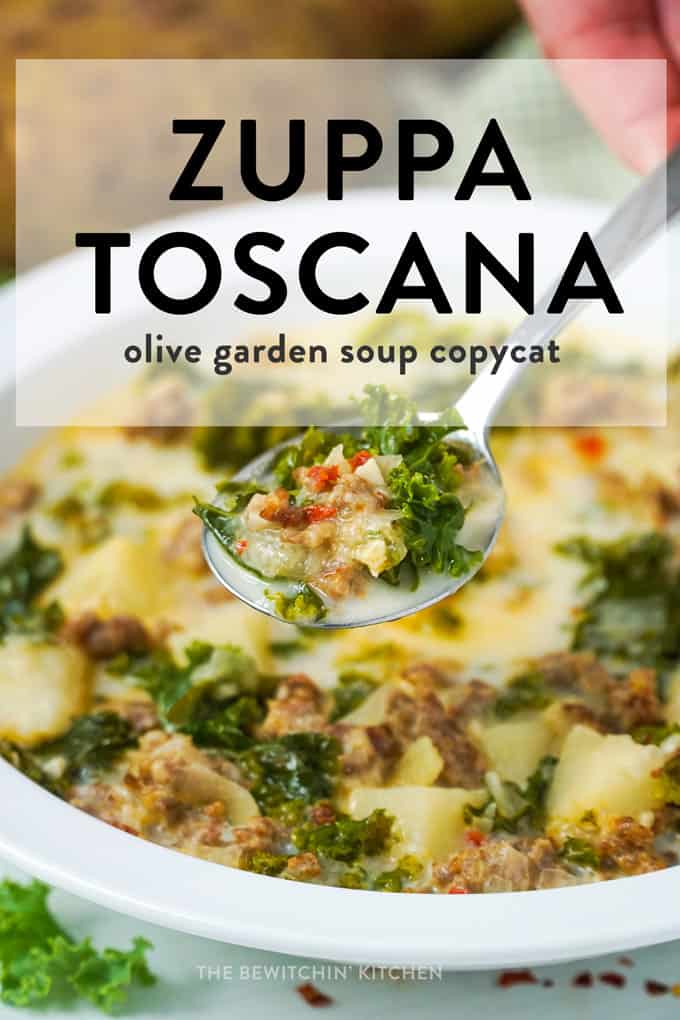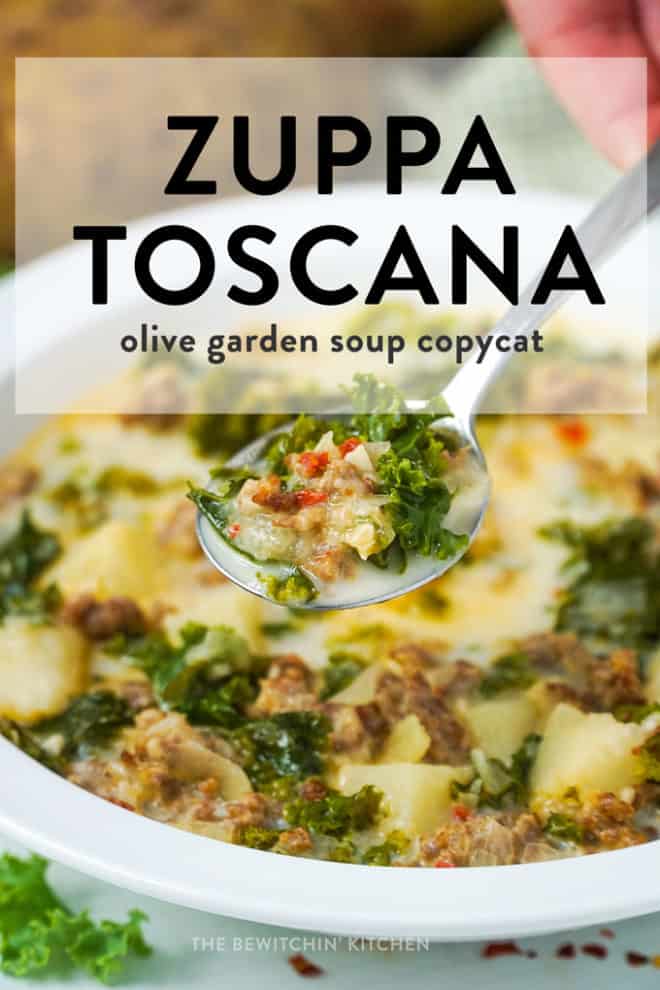 Disclosure: This post contains affiliate links for your convenience. As an Amazon Associate, I earn from qualifying purchases.
Updated November 2017: There are a few other versions I have made that originated from this recipe. Last year, I made this Paleo Zuppa Toscana recipe that uses coconut milk, instead of whipping cream. It worked really well, and my picky husband loved it.
Zuppa Toscana
This copycat Olive Garden soup is a recipe I make often. Sometimes I swap ingredients to try something new, but most of the time I stay pretty darn close to this recipe.
Did you know that Zuppa means soup? So to call this recipe Zuppa Toscana soup is a bit redundant, but this recipe was originally posted way back in 2009 before I knew this fun fact.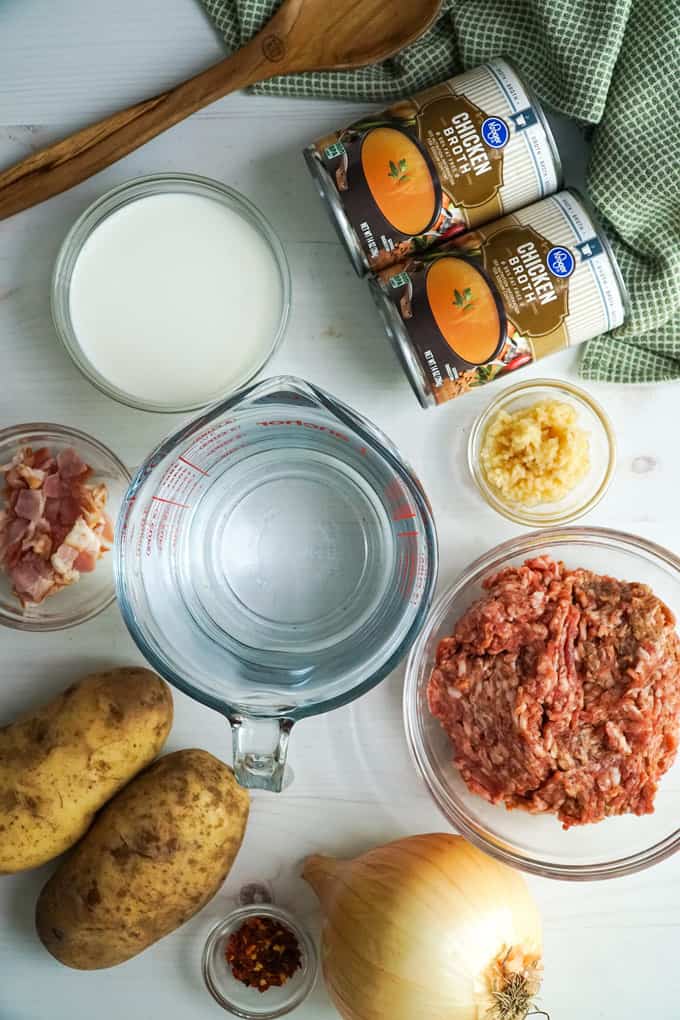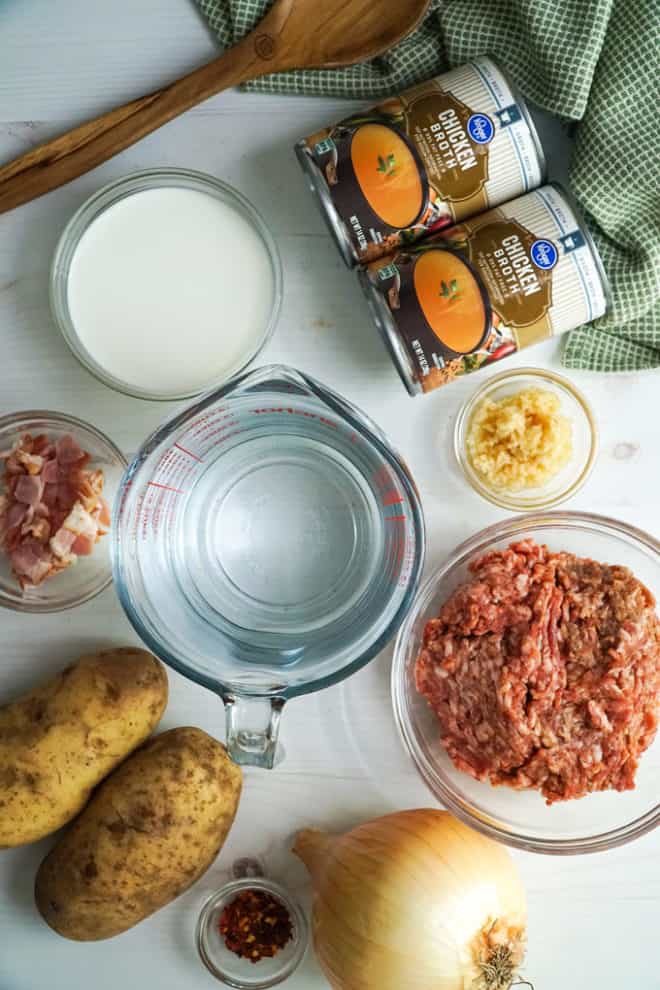 Zuppa Toscana in the CrockPot.
One day last week, I knew that I was going to have no time in the afternoon to let a soup simmer so I fried up the hot Italian sausage and bacon, tossed everything in the slow cooker and put together a Crockpot Zuppa Toscana.
To make it in the Instant Pot would be similar to the slow cooker. Saute the sausage, drain, then add the ingredients and hit the soup button (or go for 10 minutes).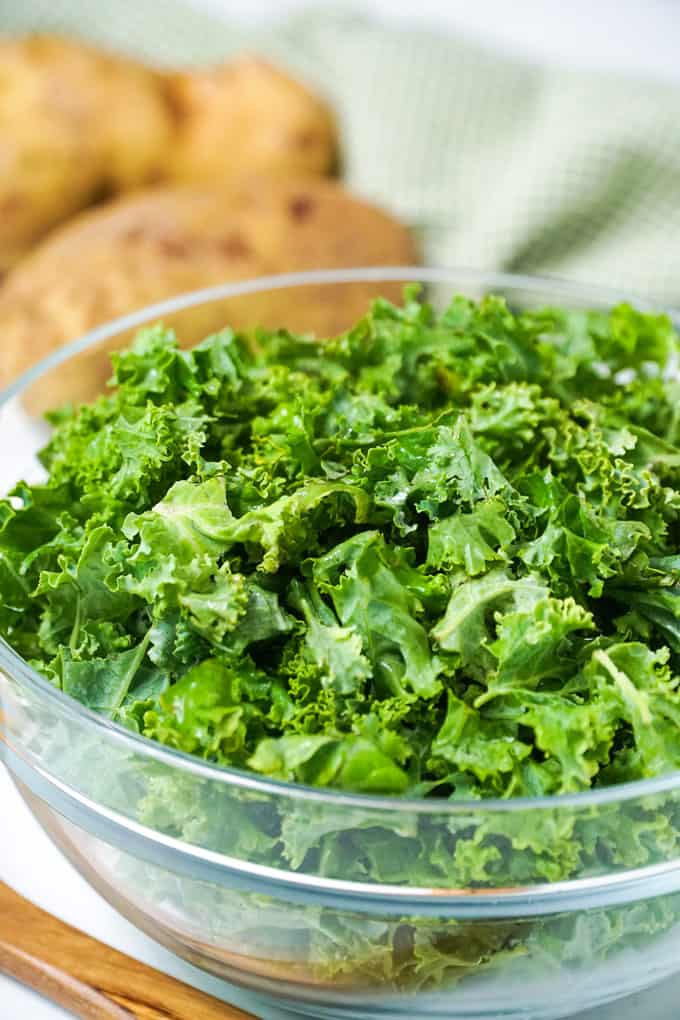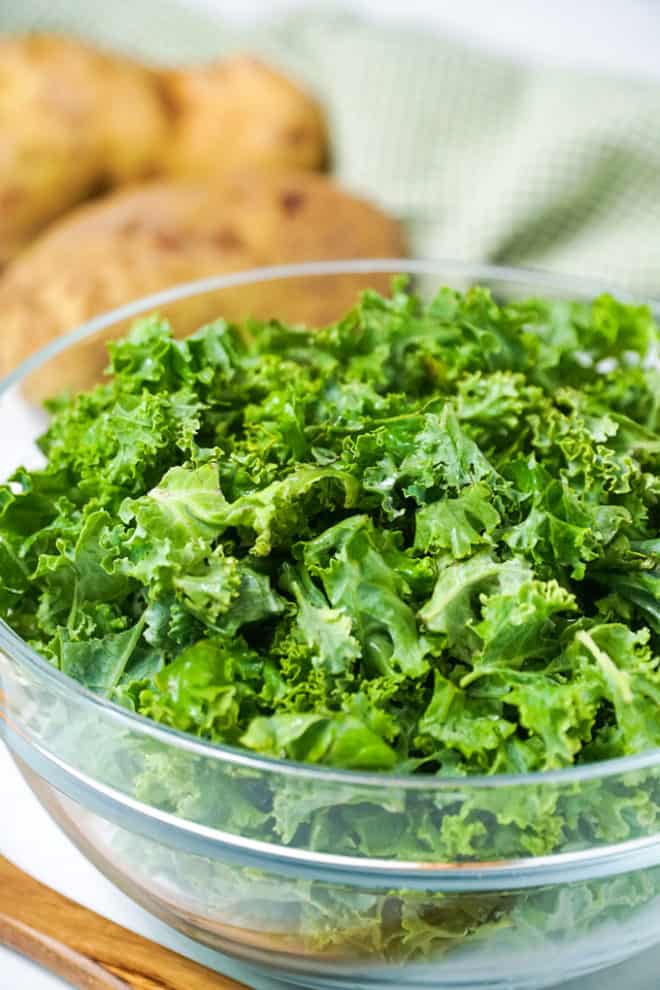 TBK's Pro Tip: The longer you simmer this zuppa toscana copycat, the better it tastes. Like all soups, this recipe tastes AMAZING the next day (that's if there are any leftovers).
Variations of the recipe
Originally this classic soup recipe had bacon, but after making it almost every month I didn't notice a difference with taste with or without bacon. So to keep the caloric content down a bit I made it without.
If you love bacon, feel free to add it back in but I don't find it makes a difference.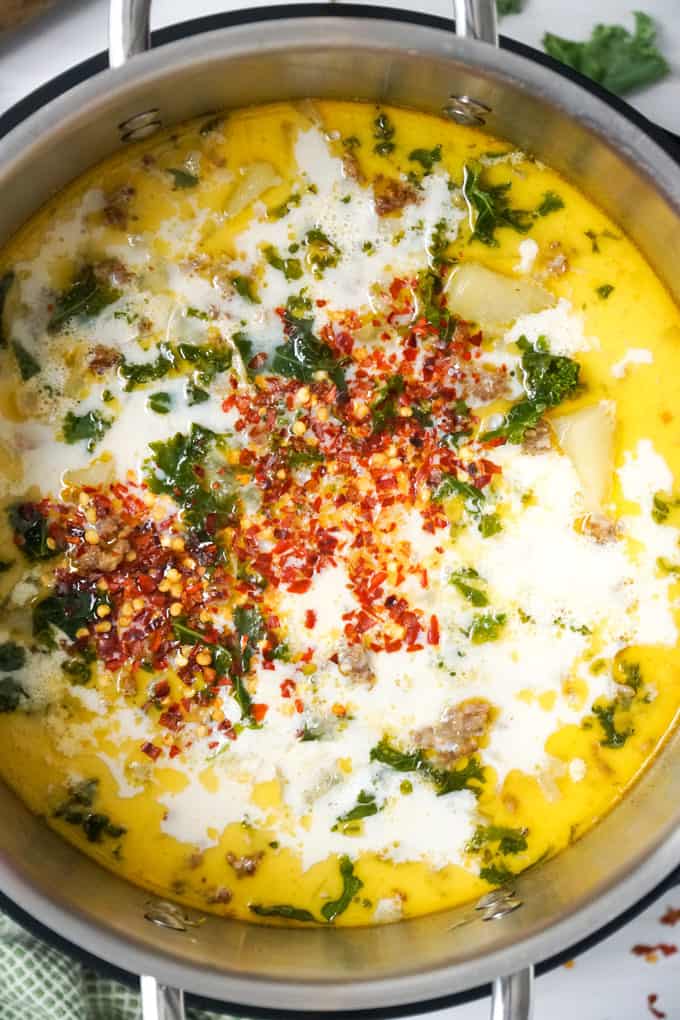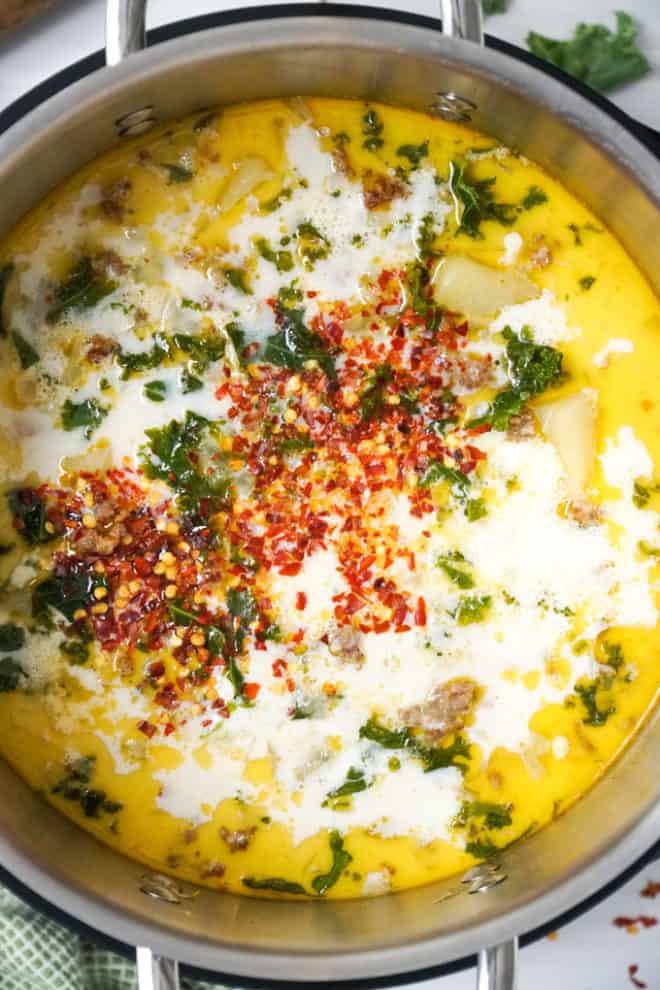 That's the amazing thing about homemade soups.
You can always play around with the recipe and see what works best for your family. I have deviated away from the original recipe many times.
If you don't like kale, try spinach or swiss chard. That being said, I find you don't "taste" kale and its heartiness makes this recipe work. If you find the kale too tough, simmer double the time I suggested in the recipe card below.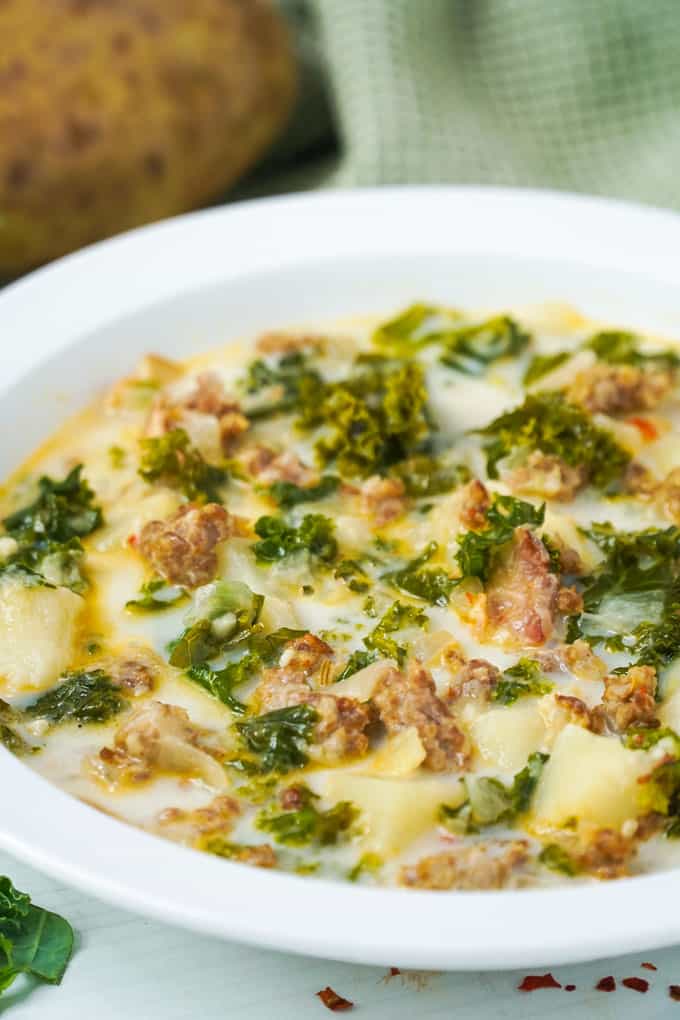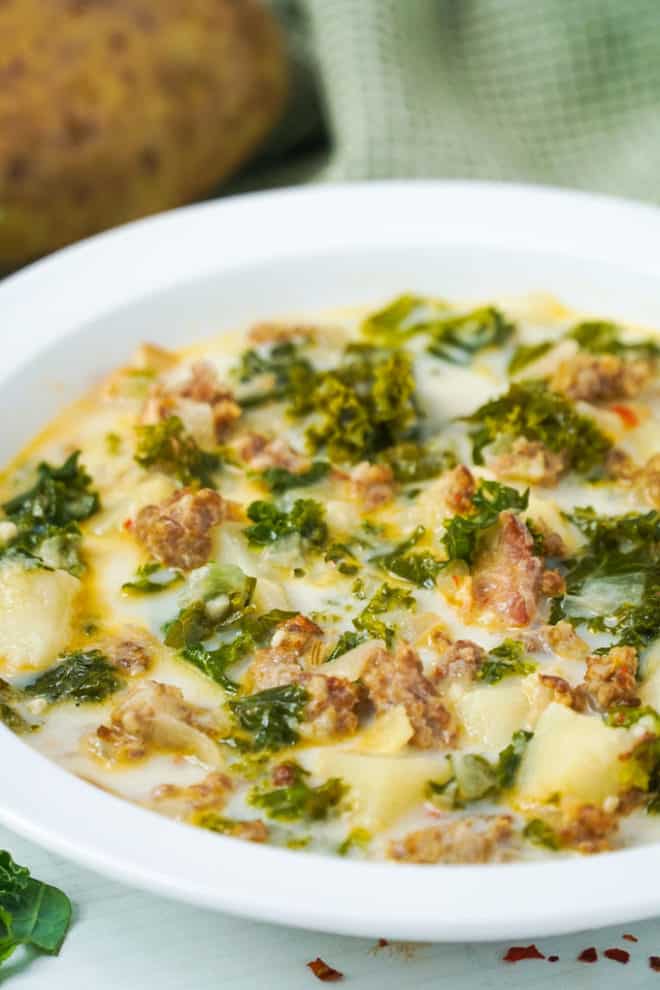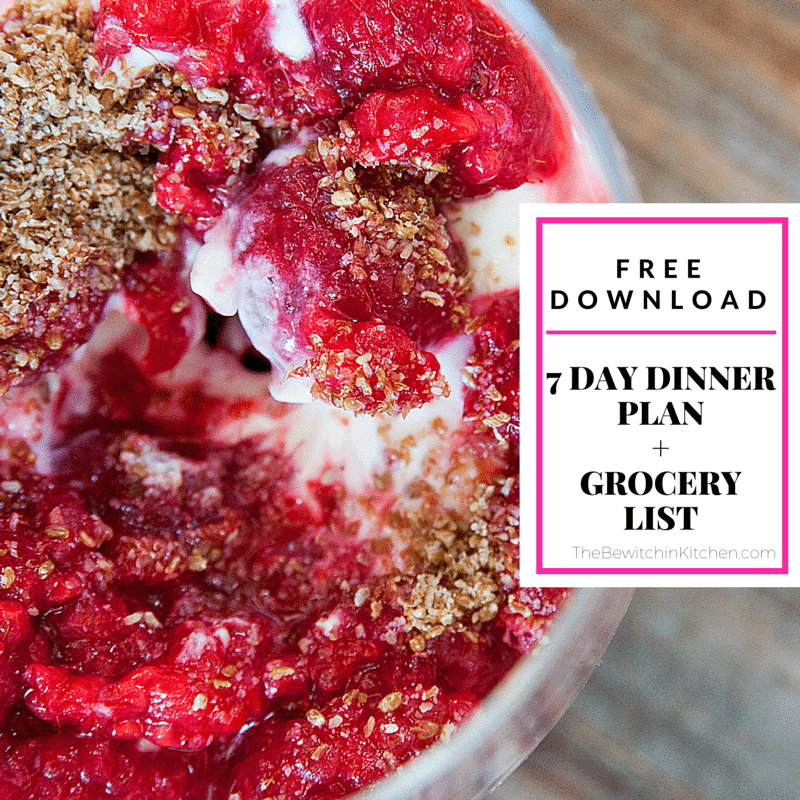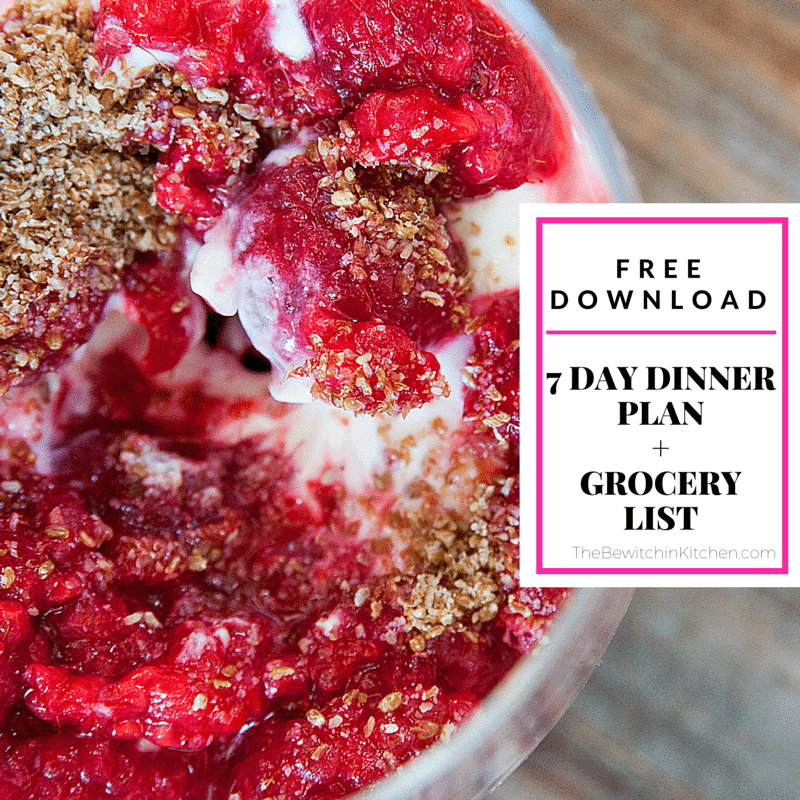 How to make Zuppa Toscana
This recipe is such a comfort in the winter and fall months. This is my husband's favorite soup recipe. He's always asking for "The Olive Garden Soup". I make it so often that I no longer need to read the recipe, it's engraved in my brain – and those are the best kind of recipes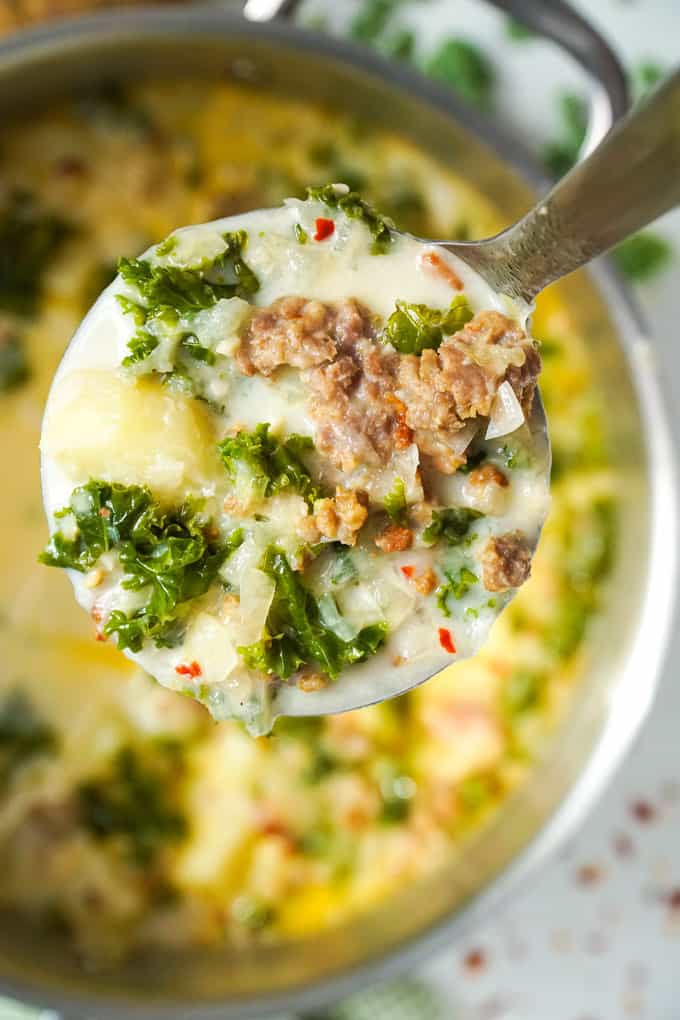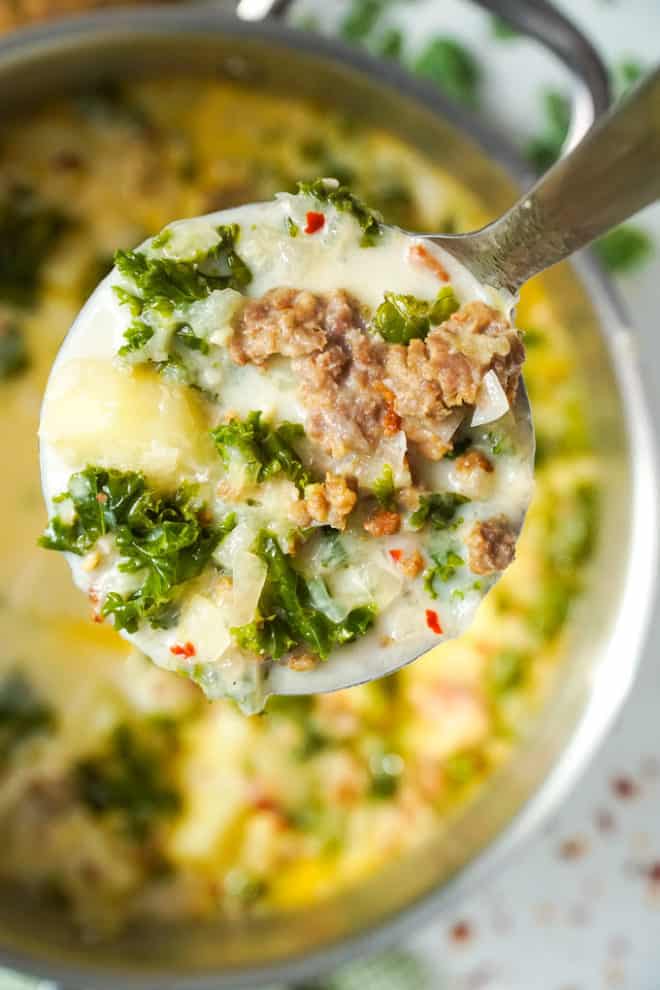 21 Day Fix Container Counts
By popular demand, I am now offering the container counts for the Ultimate Portion Fix. I'll be slowly updating all my recipes so you can use my recipes for Beachbody programs like 21 Day Fix, 80 Day Obsession, Liift4, and more.
Here are the counts for this creamy scallops recipe:
The full recipe has: 6 green, 8 red, 4 yellow, 4 blue.
Per 1 cup serving: 2/3 green, 3/4 red, 1/3 yellow, 1/3 blue.
Cream isn't technically 21 Day Fix approved, but if it's something you love and want to have every so often, I don't believe in deprivation. I believe in living your life so I made it fit for this recipe.
Hearty Soup Recipes on The Bewitchin' Kitchen
You may also love these soup recipes (I have a ton of soup recipes here on the blog because I am a soup fiend).
What's your favorite soup recipe? Leave me a comment and let me know.
Supplies needed:
The key to this recipe is canned broth. I have used broth and it's not the same as canned soup.
A quality stockpot is also important. This one on Amazon has some great reviews for a low price.
Zuppa Toscana (Olive Garden Copycat Recipe)
Copycat recipe for The Olive Garden's Zuppa Toscana Soup. This soup is gluten free is a great soup for winter and fall. Comfort in a bowl!
Servings 10 cups
Calories 197kcal
Ingredients
1 lb ground hot Italian sausage casings removed
2 large russet baking potatoes peeled and cubed
1 onion onion chopped
2 cloves garlic minced
4 cups kale torn by hand.
2 cans chicken broth canned soup is the key
4 cups water
1 cup heavy whipping cream.
1 tsp red pepper flakes optional
Instructions
Fry up the hot Italian sausage, drain the fat and set it aside when done.

In a large stock pot: add your onions, potatoes, garlic, chicken broth and water. Cover and bring it to a boil, and then reduce to medium heat. Cook until potatoes are done, about 30 minutes.

Add the cooked hot Italian sausage to the pot. Let boil for ten minutes. Then at the kale, simmer for another ten minutes. Make sure you don't add the stems to the soup. Personally, I don't like the texture and I find the taste is bitter. *Updated February 12, 2014: I have found the kale to still be a little too crunchy so I simmer for twenty minutes*.

Bring the simmer down to a lower heat and add your cream and red pepper flakes. Heat through, I usually let it go from another ten or so minutes.
Video
[adthrive-in-post-video-player video-id="cVSy0GUe" upload-date="2019-11-06T23:30:05.000Z" name="ZUPPA TOSCANA REC" description="A simple and rich homemade soup recipe that's inspired by The Olive Garden classic. This zuppa toscana is my husband's favorite!"]
Notes
21 Day Fix Container Counts
The full recipe has: 6 green, 8 red, 4 yellow, 4 blue.
Per 1 cup serving: 2/3 green, 3/4 red, 1/3 yellow, 1/3 blue.
Cream isn't technically 21 Day Fix approved, but if it's something you love and want to have every so often, I don't believe in deprivation. I believe in living your life so I made it fit for this recipe.
Nutrition
Serving: 1cup | Calories: 197kcal | Carbohydrates: 17g | Protein: 5g | Fat: 13g | Saturated Fat: 7g | Polyunsaturated Fat: 1g | Monounsaturated Fat: 4g | Cholesterol: 41mg | Sodium: 333mg | Potassium: 540mg | Fiber: 1g | Sugar: 1g | Vitamin A: 3088IU | Vitamin C: 41mg | Calcium: 75mg | Iron: 1mg
Follow On Pinterest
Follow @bewitchinkitchen On Pinterest for more delicious recipes!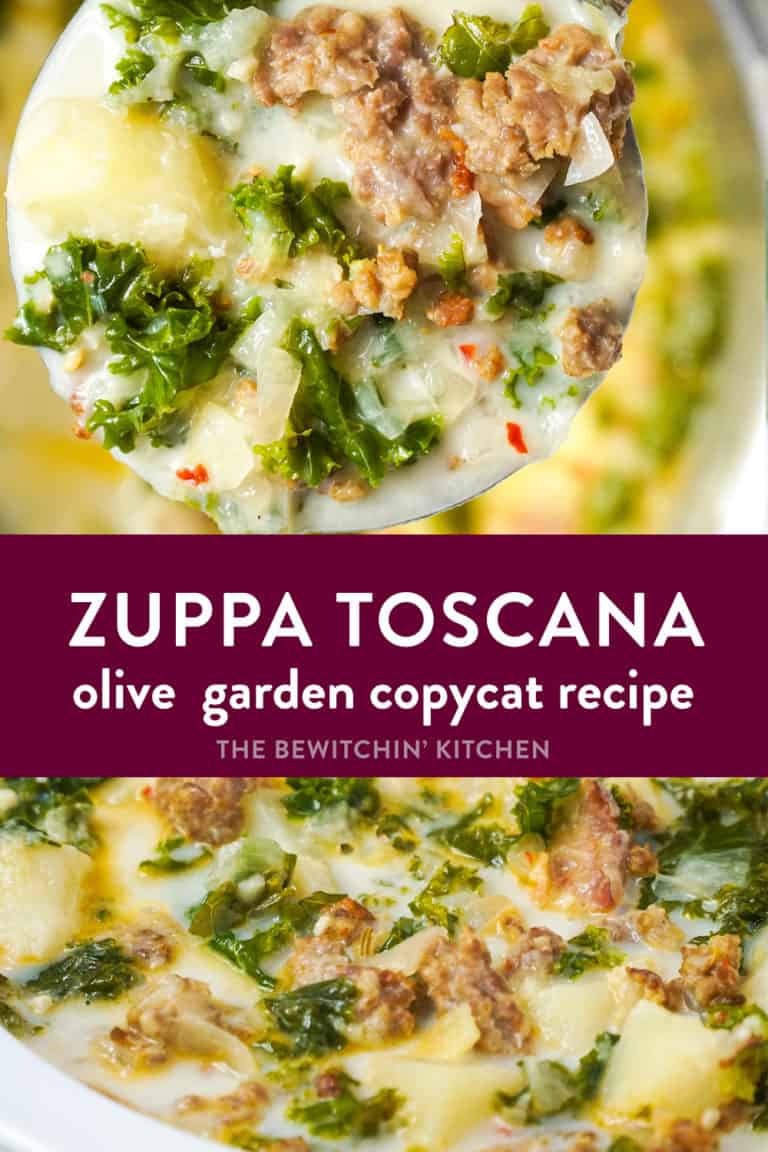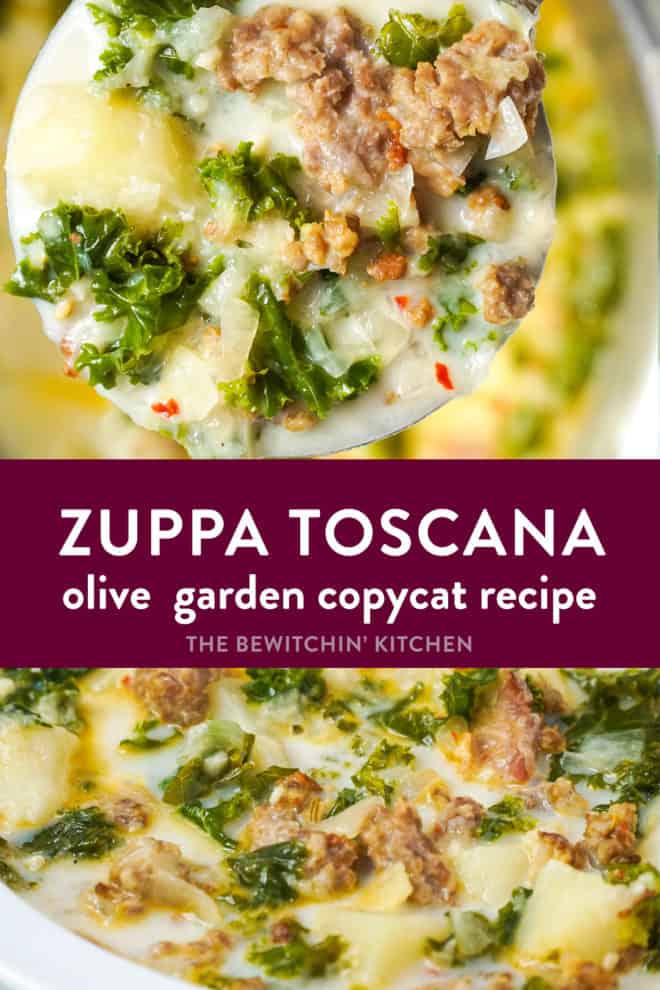 Looking for more great ideas? Click here to follow me on Pinterest!
Visit Randa | The Bewitchin' Kitchen's profile on Pinterest.