Snuggin' Go from Peace Of Mind Baby | Baby Gift Guide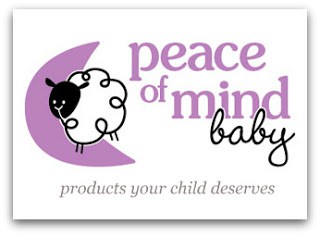 New parents and caregivers should be able to shop from the comfort of their own home. The concept of a virtual boutique makes your shopping convenient, more accessible and eliminates travel time, thus reducing your carbon footprint. A couple clicks and a few days later your package arrives.
Peace of Mind Baby  prides itself on being accessible to a broad range of clients. Although they often speak of parents and caregivers as their clients, the new site is tailored to anyone who knows a child, a soon-to-be-mom or is simply, just young at heart. They strive to offer you a collection of eco-friendly, natural and organic products. 
All merchandise offered through Peace Of Mind Baby is non toxic, chemical free, and eco-friendly, which will surely maintain your Peace of Mind. 
 The first product I was sent to review from Peace Of Mind Baby is something called Lulaclips. Before I installed them on my car seat, the first impressions were not the greatest. I didn't understand how the clips could be of benefit for myself and my husband. I put them on my using the safety pin attachment and then I got it. These clips are such an awesome idea.
The clips are magnetic, and you place the clip on either side of the baby and when you have the harness straps unfastened, the clips hold them for you! So you can get your baby settled or take your baby out of your car seat without hassle. Brilliant.
Lulaclips retail for $14.99 and can be found on this page at Peace Of Mind Baby. 
The second product I reviewed from Peace Of Mind Baby is called the Snuggin Go. The Snuggin Go is an infant positioner that was created by a neonatal nurse practitioner. You can use this Snuggin Go on premature babies (beneficial in my case) starting at four pounds, and can be used up to the age of one year (after that you can upgrade to a different size).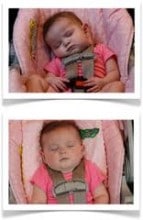 You can use the Snuggin Go in strollers, car seats. swings, bouncy chairs, jogging strollers and more.
I already have adequate support in his car seat, but I am worried about the B.O.B jogging stroller I just bought. It doesn't lay completely flat so Carter is at risk for having his head fall down, which can restrict breathing. The B.O.B isn't even recommended until he's about six months old. I think the Snuggin Go would be perfect for the stroller. It will give him proper support and help him breathe (and it also helps reduce reflux, which is a problem he currently has). One of the best parts of the Snuggin Go? It's machine washable, so if baby has a spit up, it's easy to clean.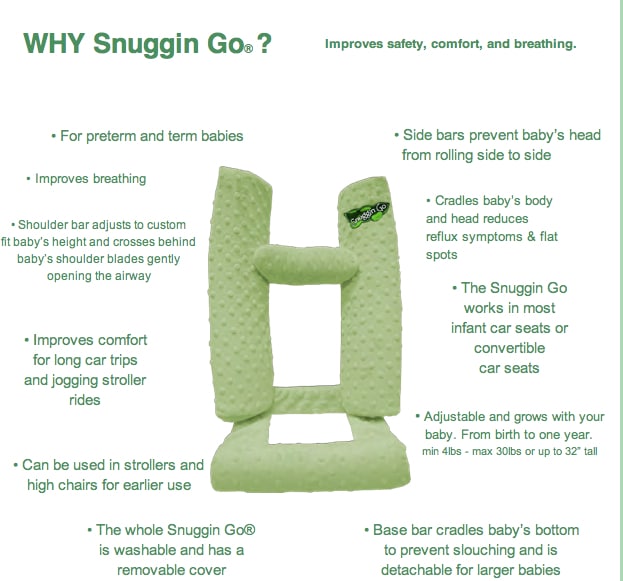 Do not use in crib, bassinet, cradle, or bed.
Products are designed only to be used in seating products.
Never lie a child face-down on Snuggin Go® or Snuggin Go Too®.
Improper use of the product could result in serious injury or death.
If you are interested in purchasing the Snuggin Go or learning more about, please visit the Snuggin Go page of Peace Of Mind Baby.
Pin It
FREE Recipe Binder
Are you constantly wondering what's for dinner?
When I don't meal plan I feel behind, and we usually end up ordering take out. This recipe binder will keep you organized and make life a little bit easier.