Peppermint White Chocolate Cheesecake Bars [Gluten Free]
The holidays are a time to get together with loved ones, enjoy each other's company and nibble on seasonal treats. These creamy Peppermint White Chocolate Cheesecake Bars scream Christmas. They're simple to throw together, and because I used PHILADELPHIA Original Cream Cheese 250g, you know they taste delicious!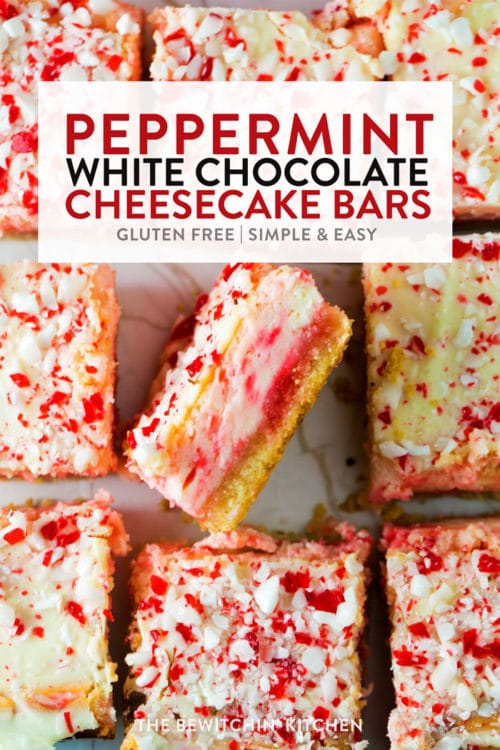 Peppermint White Chocolate Cheesecake Bars
Disclosure: This post has been sponsored by Kraft Heinz Canada ULC. All thoughts and opinions are my own. Check out Kraft Canada for more delicious recipes and a complete list of PHILADELPHIA Cream Cheese products.
I'm not much of a baker, this is common knowledge around here. I don't post many sweets but when I do you bet your butts it's because it's so easy even I can do it. These gluten free cheesecake bars are no exception.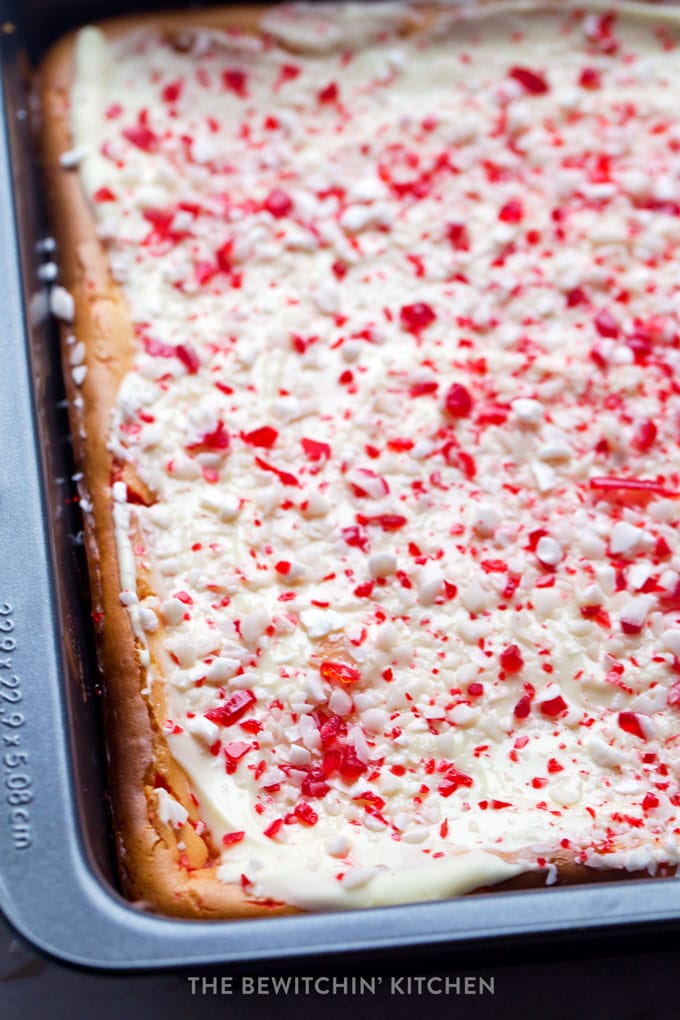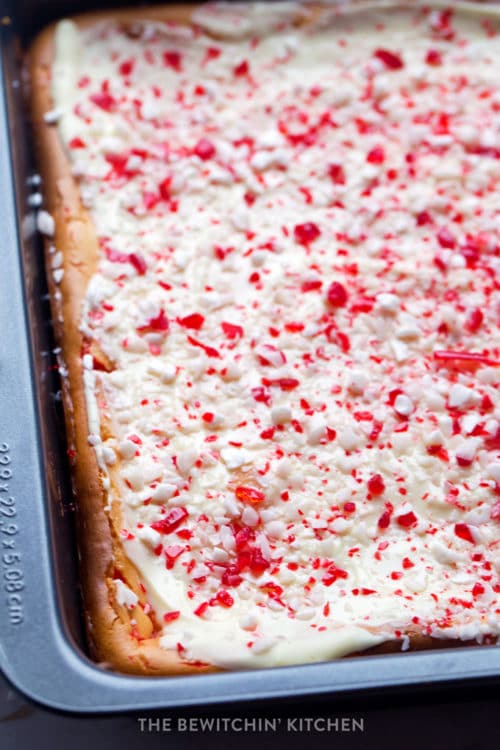 I've partnered with PHILADELPHIA for this post because it's the cream cheese I use for all of my recipes. It's the brand I grew up with, and you know if Grandma only ever used one brand, there's a reason.
Why trust your cheesecake to anyone but PHILADELPHIA? They're the only original cream cheese with no artificial colours or flavours.
There has been a lot of trial and error but PHILLY is the only cream cheese that I know will give me consistent results, whether it's in creamy holiday baking, savoury dinners, or smooth and delicious appetizers (like these spinach and artichoke dip stuffed peppers).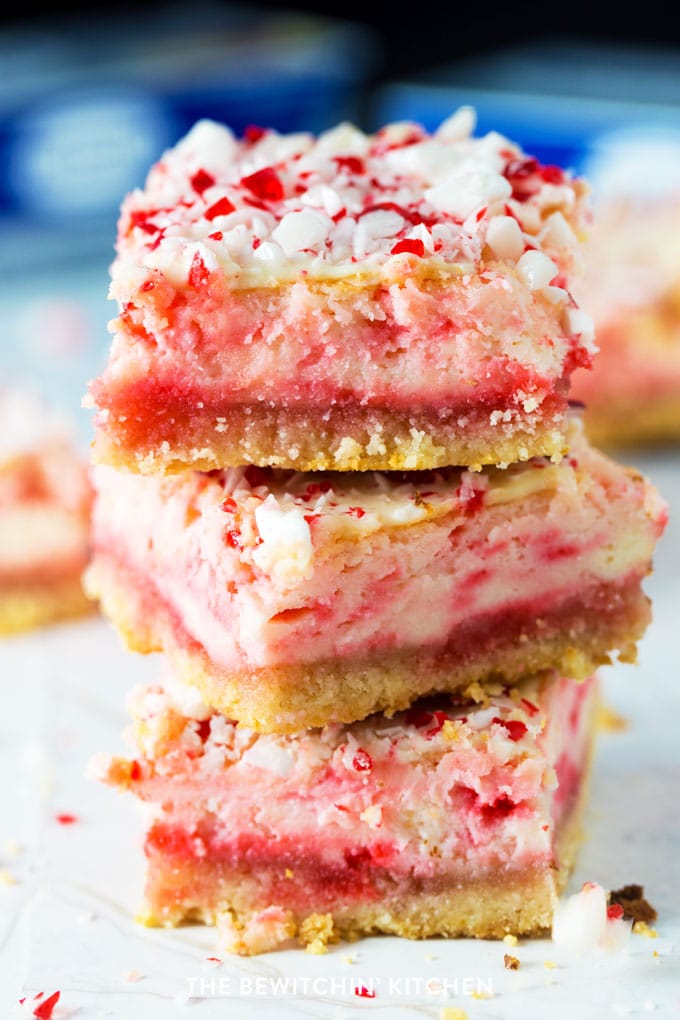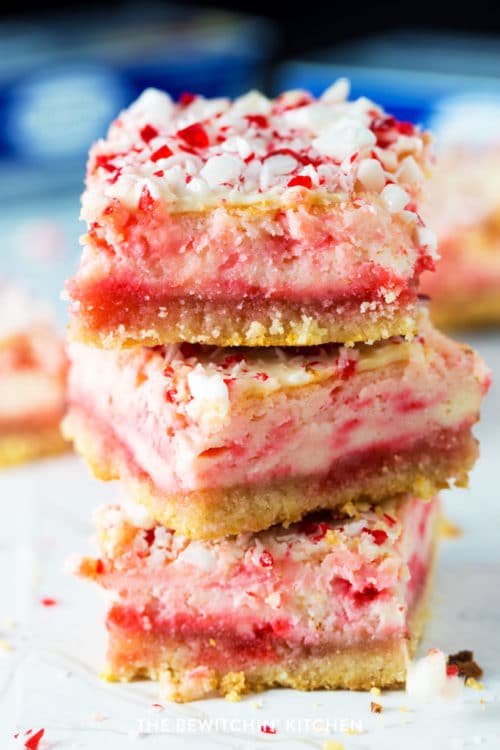 These peppermint cheesecake bars are perfect for holiday entertaining. They're rich, they're easy, and they leave you wanting more. I made them with an almond flour crust to make them gluten free but you can use traditional graham cracker crumbs.
Chocolate Crust for Cheesecake Bars
I noticed with a lot of white chocolate cheesecakes that it was common to use a dark chocolate crust for a beautiful contrast.
If you want to make a gluten free chocolate crust add the following to the peppermint cheesecake recipe:
1/4 cup – 1/2 cup dark cocoa powder (start with 1/4, then adjust to taste). Swap with the same amount of almond flour.
1-2 tbsps melted butter. You will want it to have a crumbly consistency, this way it's easy to press into the pan and maintain the crust.
Freezing Cheesecake Bars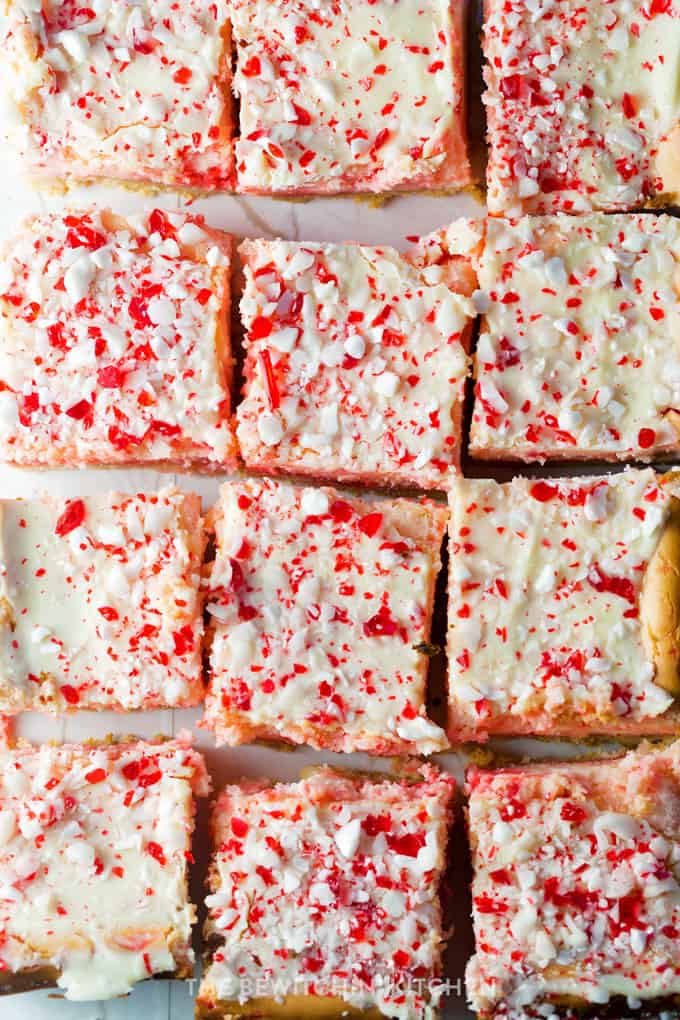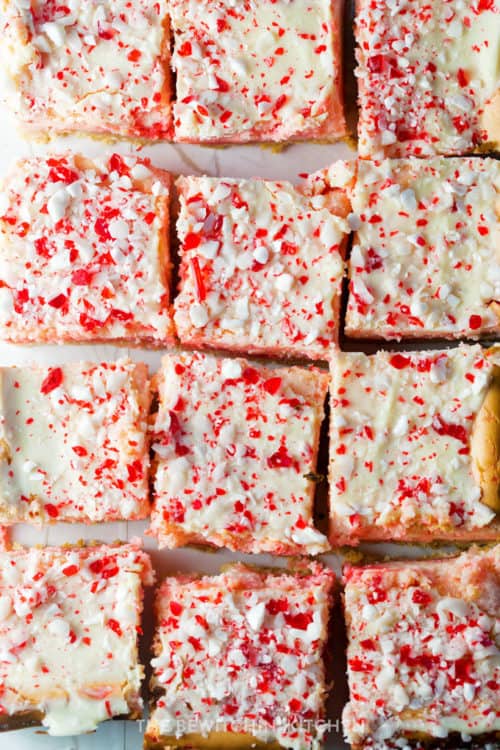 These cheesecake bars can be frozen, just make sure they're cooled completely before tossing them in your freezer.
I recommend freezing them until sold on a baking tray (flash freezing) and then adding them to a resealable bag.
How long can cheesecake bars be made ahead of time?
You can make these three days before serving. I recommend making them the day before, if possible.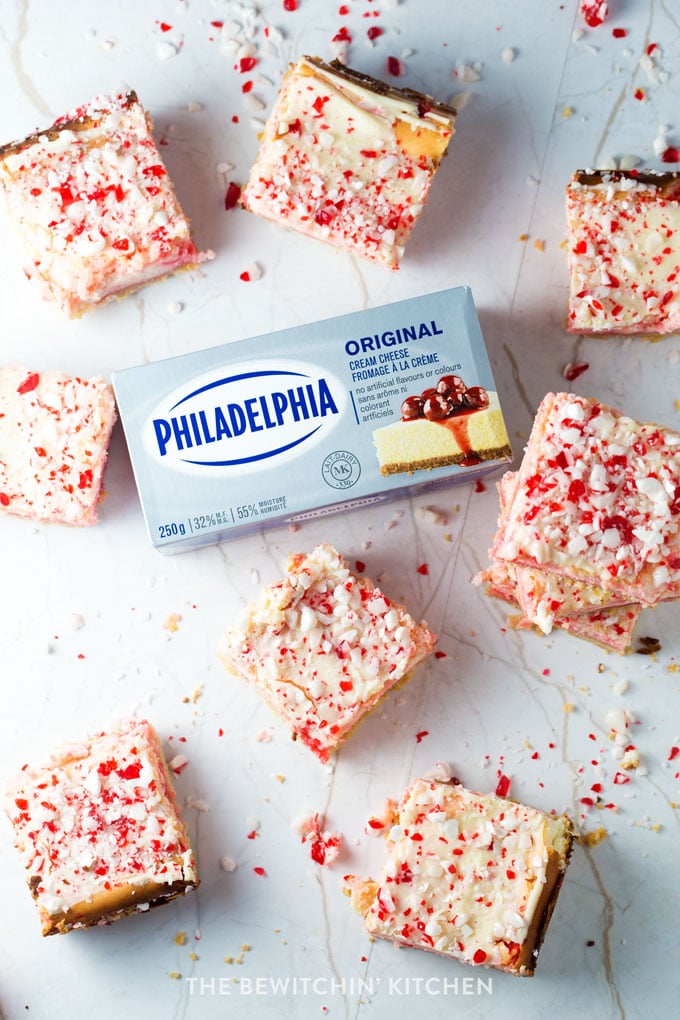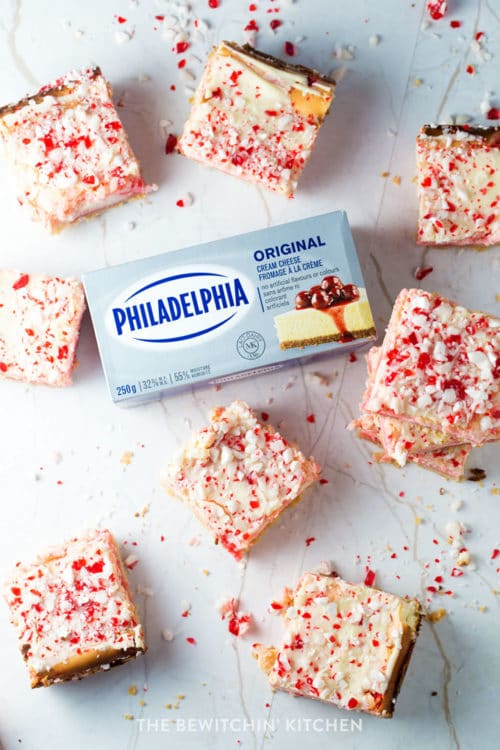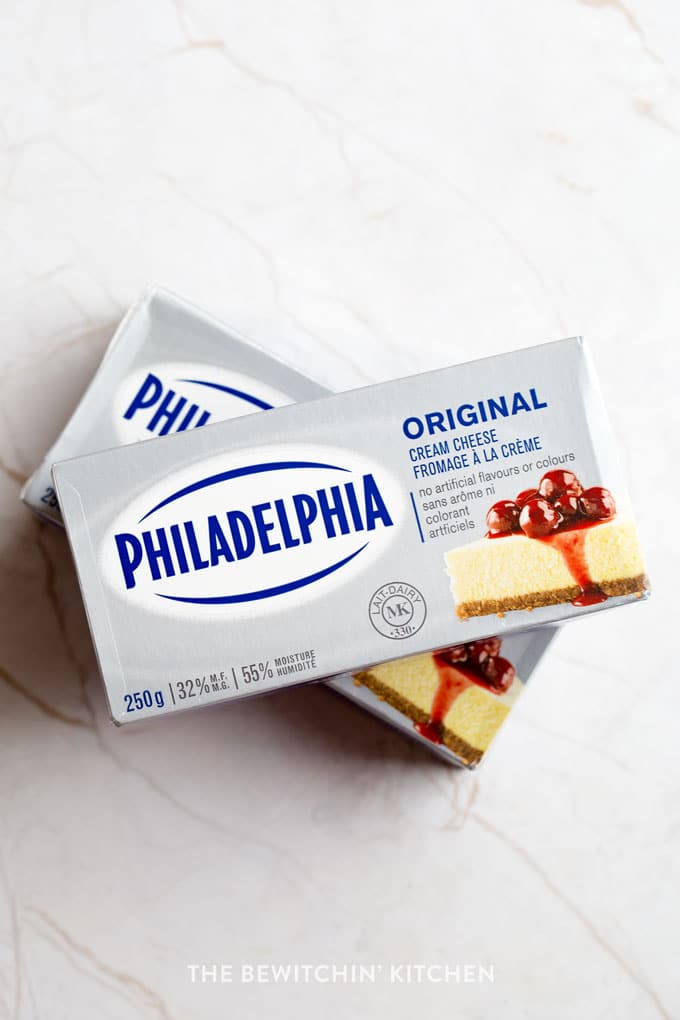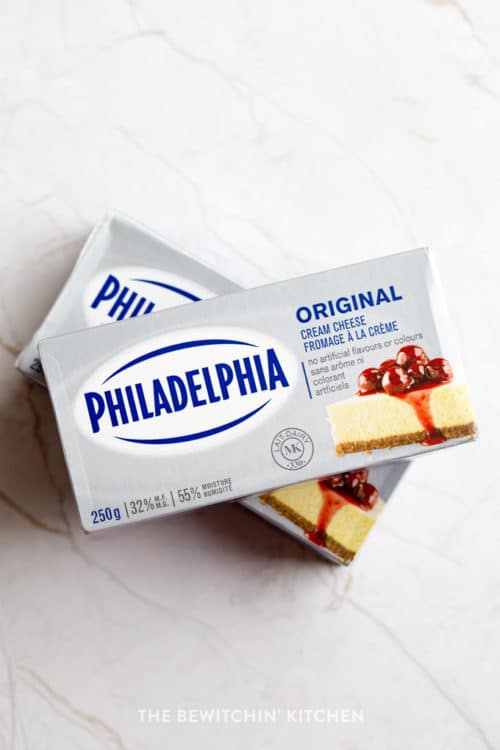 How to make peppermint cheesecake bars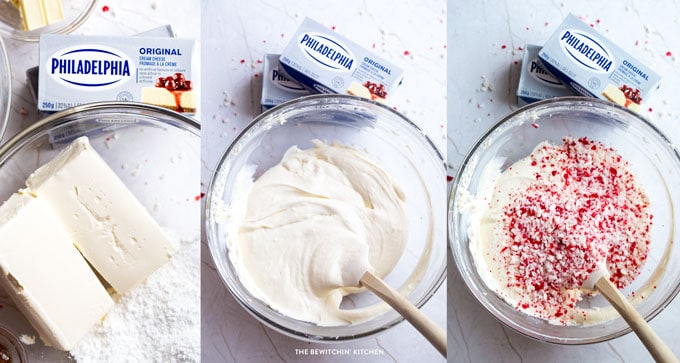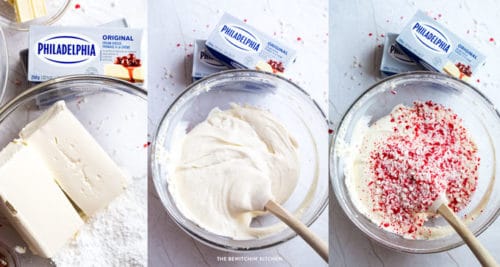 These Christmas cheesecake bars are so easy to make. They have simple ingredients and require minimal effort.
The biggest hurdle? Waiting for them to set in the fridge because you'll be wanting to dive in.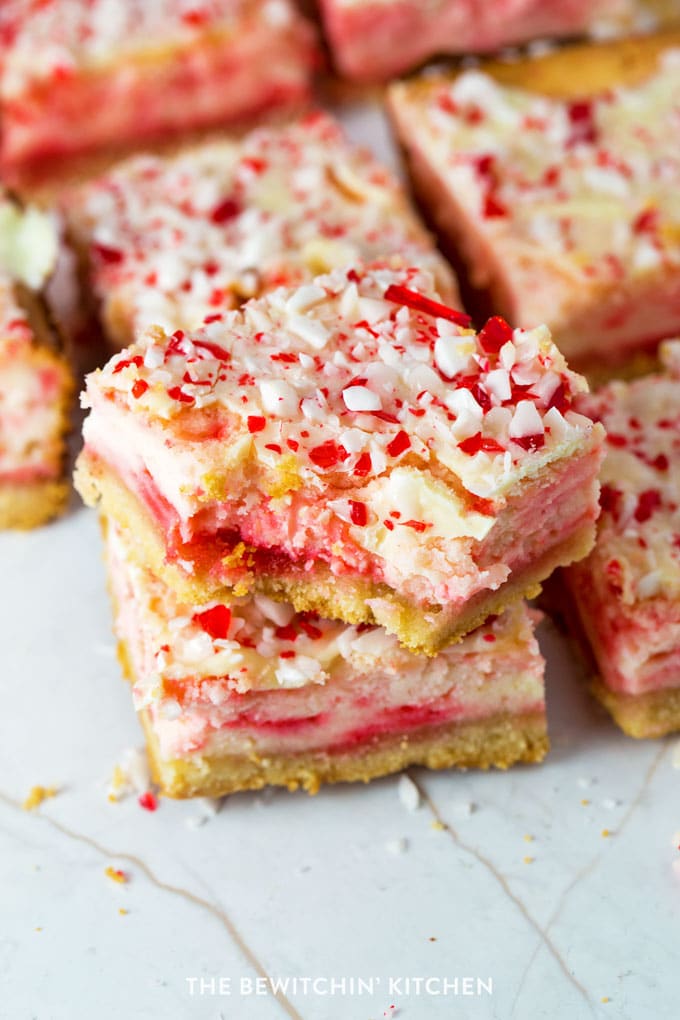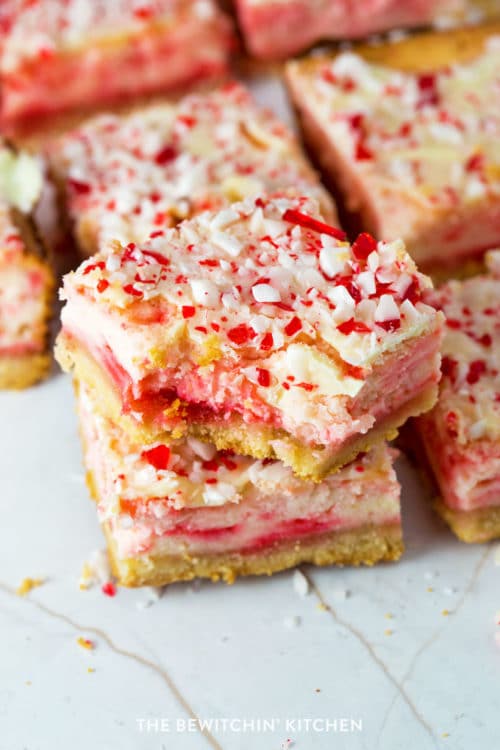 TBK's Pro Tip: These white chocolate cheesecake bars taste the best after being refrigerated overnight. I highly recommend making them the night before serving, but if you're reading the recipe the day of (I'm guilty of this too) let chill as along as you can, at least four hours).
Peppermint White Chocolate Cheesecake Bars
These tasty cheesecake bars are made with leftover candy canes and they're gluten free! Easy, delicious, and a fun Christmas baking treat.
Servings 16 bars
Calories 311kcal
Ingredients
Gluten free crust
2 cups fine almond flour
1/3 cup butter
3 tbsps sugar
1/2 tsp Salt
Cheesecake
2 8 oz packages PHILADELPHIA cream cheese (250g) room temperature
1/2 cup powdered sugar
1 tsp vanilla
2 eggs
1/2 cup crushed candy canes gluten free
Topping
4 oz white chocolate baking squares melted
3 tbsps crushed candy canes gluten free
Instructions
Gluten free crust
Line the bottom of a 9x9 square baking pan with parchment paper.

In a small bowl, melt butter in the microwave.

In a medium bowl combine the almond flour, sugar, salt, and butter. Mix until combined. If you would like a chocolate crust, add 1/4-1/2 cup cocoa powder (to taste) + 2 tbsps more butter.

Press into a square 9x9 baking pan.
Cheesecake Filling
In a large bowl beat the PHILADELPHIA cream cheese and powdered sugar until smooth, using an electric beat or a stand mixer.

Add the eggs and vanilla. Beat on medium high for 1-2 minutes.

Fold in the crushed candy canes with a spatula or wooden spoon. Do not beat (it will dye the whole batter pink).

Pour over the almond flour base and bake for 40 minutes. the top should be slightly jiggly.

Take out of the oven and let sit for 30 minutes.
Candy Cane Topping
Melt the white chocolate over a double boiler (or melt in the microwave if you're short on time). Drizzle over the cheesecake and top with the rest of the crushed candy canes.

Transfer to the fridge and let sit overnight night, or at minimum 4 hours.

Slice into 12 squares.
Notes
This recipe can be made up to three days in advance.  Freezing cheesecake bars These cheesecake bars can be frozen, just make sure they're cooled completely before tossing them in your freezer.
Nutrition
Serving: 1bar | Calories: 311kcal | Carbohydrates: 22g | Protein: 6g | Fat: 23g | Saturated Fat: 10g | Polyunsaturated Fat: 1g | Monounsaturated Fat: 4g | Trans Fat: 1g | Cholesterol: 60mg | Sodium: 210mg | Potassium: 67mg | Fiber: 1g | Sugar: 17g | Vitamin A: 525IU | Vitamin C: 1mg | Calcium: 75mg | Iron: 1mg
Follow On Pinterest
Follow @bewitchinkitchen On Pinterest for more delicious recipes!
Christmas Baking Recipes
Want more holiday recipes? Head HERE for more inspiration.