Turkey Gravy Without Drippings
Savory, creamy, and served steaming hot, this Turkey Gravy made with or without drippings will be the hero of any turkey dinner!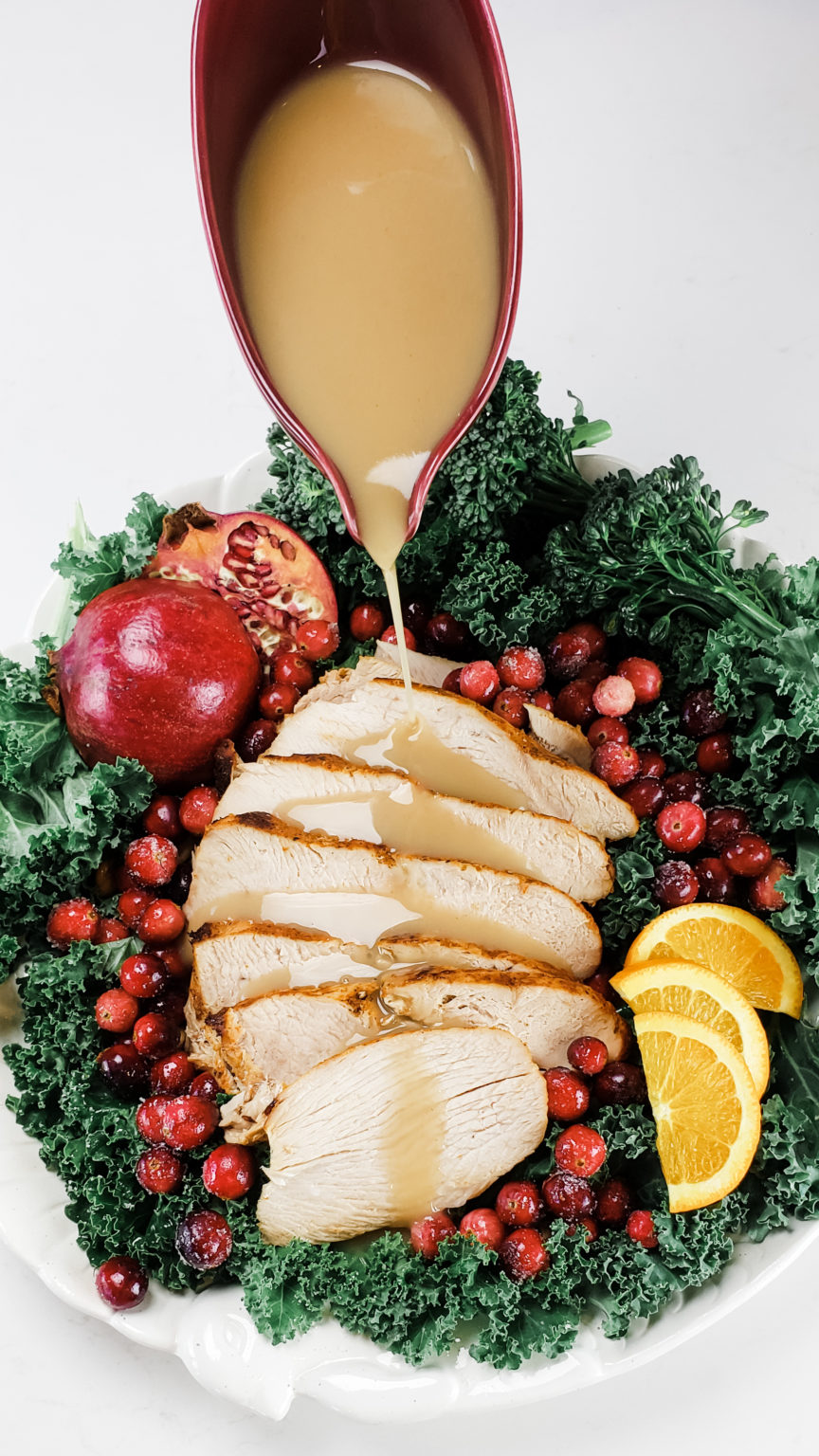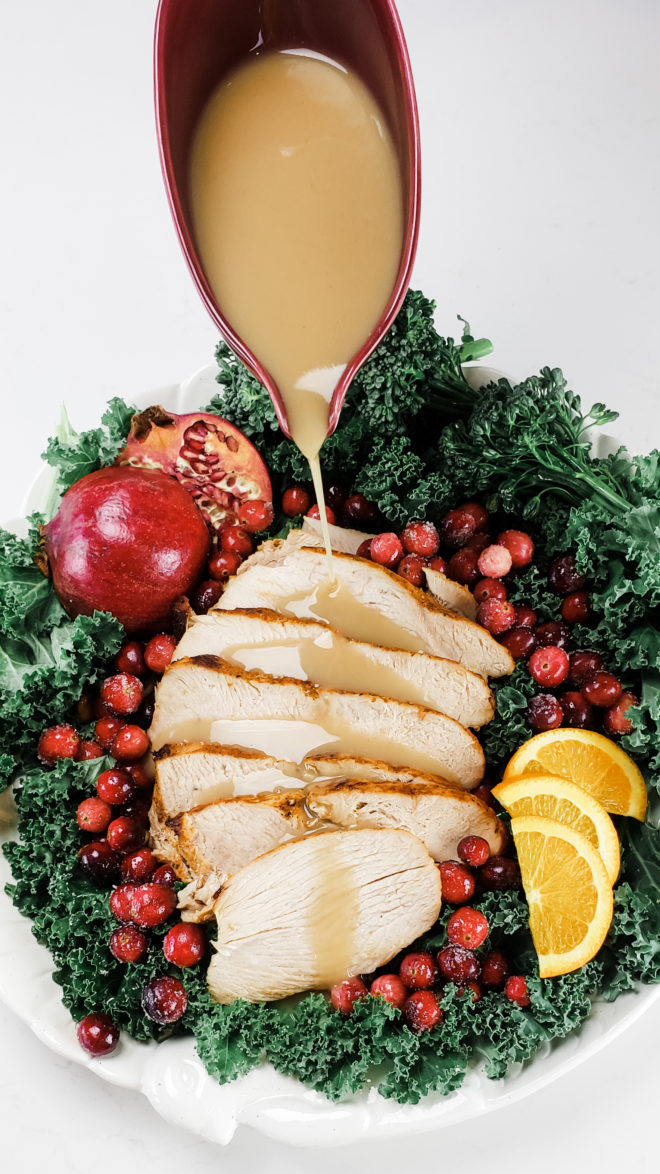 Thanksgiving Made Easy
Piping hot gravy is an essential compliment to any turkey dinner. It's also great for all of the Thanksgiving leftovers or sandwiches you'll make the next day. To get a full flavored gravy, you should use the drippings from the pan. However, sometimes there aren't enough or there are simply none, like when you buy a pre-cooked turkey.
I don't know how many times I've wanted to make gravy but had zero base to start with. Don't worry. We've got you covered. This recipe was created with the no drippings problem in mind.
I've tailored it so that you can either use some juices from the pan or none at all. Either way, your gravy will star in your next meal!
Why you will love this recipe
No roasting turkey required
4 easy steps
Salt content and ingredients are adjustable to taste.
How to Make Perfect Turkey Gravy Without Drippings
Main Ingredients:
Turkey Gravy Flavor Packets– If you have no turkey drippings, use flavoring packets as a replacement. They're found next to chicken bouillon at your local grocer.
Milk– Whole milk will work best, but you can also use 2%.
Butter
Flour
Chicken Stock– You can substitute chicken bouillon cubes with extra water.
Step 1: Replace Drippings with Flavor Packets
(If you do have drippings, you can use them instead of the flavor packets. You'll need 2 cups.) If you do not have any: in a medium saucepan bring chicken stock and packets of flavoring to a boil.
Step 2: Add in Butter and Milk
Step 3: Create a Slurry
In a separate mug or bowl, combine hot water and flour. Be sure to get the lumps out of the flour so that it is a smooth combination.
Step 4: Whisk and Flavor to Taste
Whisk until you find the right consistency. For a thicker consistency, add more slurry. For thinner, use less. After tasting, adjust with salt and pepper.
Optional: For added flavor, add freshly chopped parsley or thyme in step one.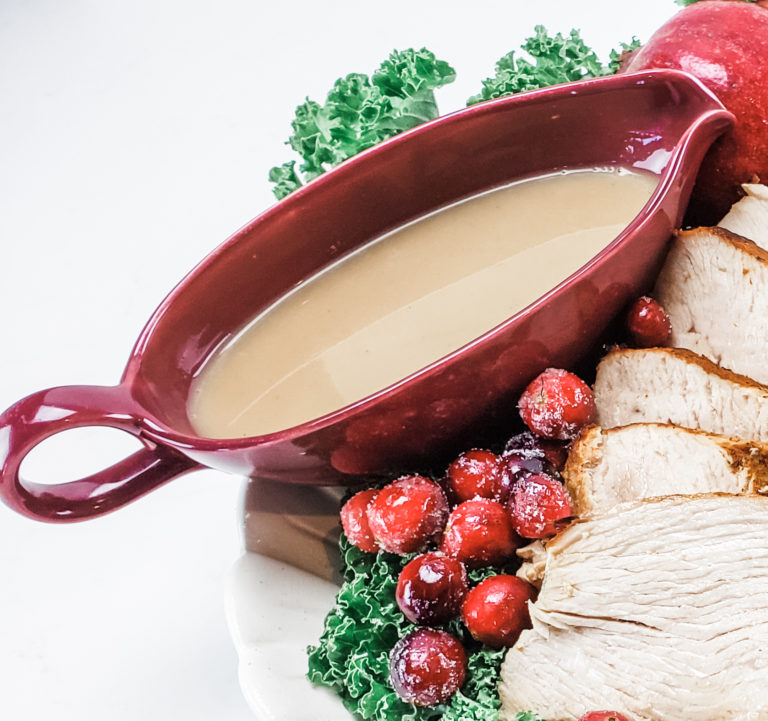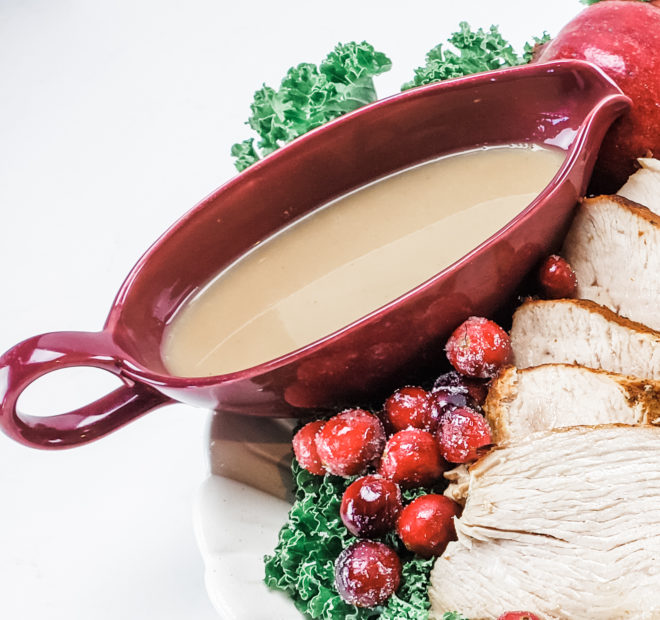 Looking for more turkey dinner recipes?
How to Make Turkey Gravy without Drippings
An easy and delicious way to make turkey gravy without drippings for the big turkey dinner.
Servings 10
Calories 101kcal
Ingredients
2 packets Turkey Gravy Flavoring
3 cups chicken stock
1 cup milk whole
1/4 cup flour
1 cup water hot
1/4 cup butter
Instructions
In a medium saucepan, bring Turkey Gravy Flavor packets and chicken stock to a boil. (If you have turkey drippings, add those in. To replace the flavor packs, you need 2 cups of strained drippings.)

Create a slurry in a separate bowl or mug with flour and hot water. Stir hot water and flour until there are no lumps.

Whisk slurry into the saucepan a little at a time until you get the consistency of gravy you prefer. The gravy should start to thicken within a few minutes.

Add 1 cup of milk and 1/4 cup of butter.

Taste test and adjust with salt and pepper. If the gravy is to thin, add more slurry. If the gravy is too thick, add more chicken stock.
Nutrition
Serving: 8g | Calories: 101kcal | Carbohydrates: 7g | Protein: 3g | Fat: 7g | Saturated Fat: 4g | Polyunsaturated Fat: 1g | Monounsaturated Fat: 2g | Trans Fat: 1g | Cholesterol: 17mg | Sodium: 871mg | Potassium: 122mg | Fiber: 1g | Sugar: 3g | Vitamin A: 184IU | Vitamin C: 1mg | Calcium: 38mg | Iron: 1mg
Follow On Pinterest
Follow @bewitchinkitchen On Pinterest for more delicious recipes!